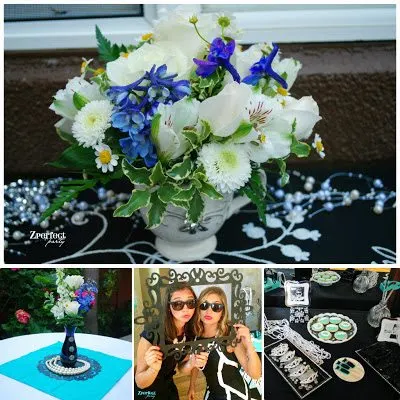 In January of this year I decided to walk out of my comfort zone a bit and introduce myself to new people. This may not seem like a big deal really but when you're a working mama and and your life revolves around your family and your business there are not a whole lot of opportunities to make new friends. When I saw that Pat from Zperfect Party lived in Carlsbad I reached out to her and asked if she would like to have coffee. We met at my favorite little French bakery in town and became fast friends. Since then we have collaborated on a number of events and her daughter has become one of my little girl's favorite people.
Zperfect Party recently helped some lovely bridesmaids put on a swanky Audrey Hepburn-inspired bridal shower for their bestie and a beautiful bride-to-be. Here are some budget-saving tips they employed that you can use to plan your own bridal shower.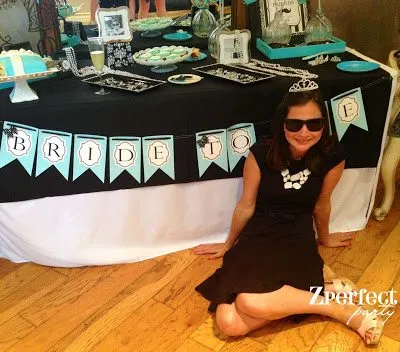 Timing: If you have budget constraints, schedule your bridal shower around the afternoon tea-time, say 2pm to 4pm. You'll save on food costs by not serving a full lunch or dinner. We indulged with a few specialty desserts from San Diego based
Roni's Sugar Creations
and the bridesmaid created the cake.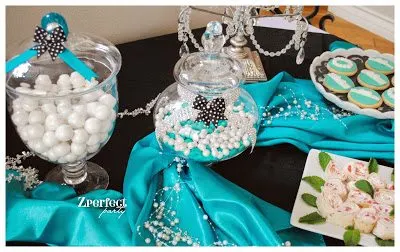 Organizing: Hosting the event in someone's home not only provides you with a relaxed and flexible setting, it gives you the freedom to choose a menu that fits your budget rather than having to meet a restaurant's per-head minimum.
Mimosa Bar Menu: Cost-saving tips
Instead of choosing a pricey champagne or a head-banging lower quality label, we recommend serving a Prosecco which is a sparkling white wine from north-eastern Italy. We like the La Marca Prosecco brand, not only for its award-winning taste, but with its beautiful blue label fit our décor perfectly.
Buy alcohol in bulk and ask friends to bring a bottle! If you live in Southern California, shop this week. Our Vons/Safeway Supermarket is offering a 30 percent off coupon when you buy at least six bottles and you can get an additional 10 percent off. La Marca Prosecco is also available at your Costco Wholesale store. Price per bottle ranges from $10 to $14, depending on your shopping prowess. Also, most guests will ask you what they can bring to a house party, so be specific and tell them to bring your chosen brand of bubbly.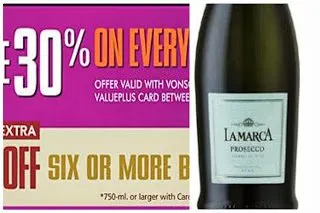 Serve your guests fruit with their sparkling drink. You can choose from fresh or frozen fruit. Be sure to shop the best deals online before you head out to your local grocer. Prices for fruit can vary widely. Frozen fruit or freezing your fruit ahead of time is a great add to your of bubbly or even to a glass of sparking water for those who prefer not to drink alcoholic beverages. Whatever you do, find a way to keep fruit chilled.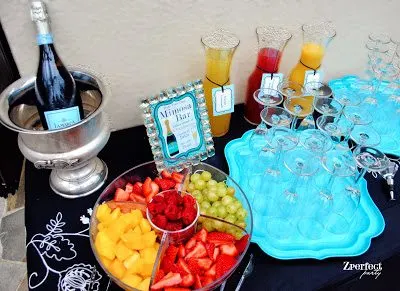 Offer your guests a variety of fruit juice mixers. Our current favorites are the Trader Joe's Pomegranate Limeade and Mango Lemonade. Kern's also offers a nice selection of fruit juices.
Finally if you are thinking of organizing a themed bridal event, consider hiring a party planning expert. They should have access to custom accents, unique décor and serving pieces that will add to the

ambiance

and make your bride feel extra special. I know this bride-to-be sure did!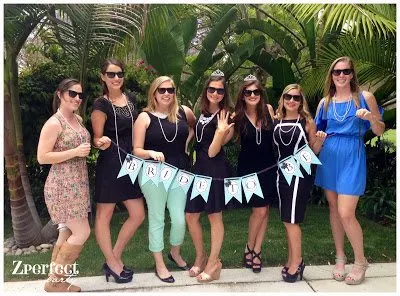 Thank you for sharing, Pat! Makes you want to plan a Mimosa Bar party right? Me too!