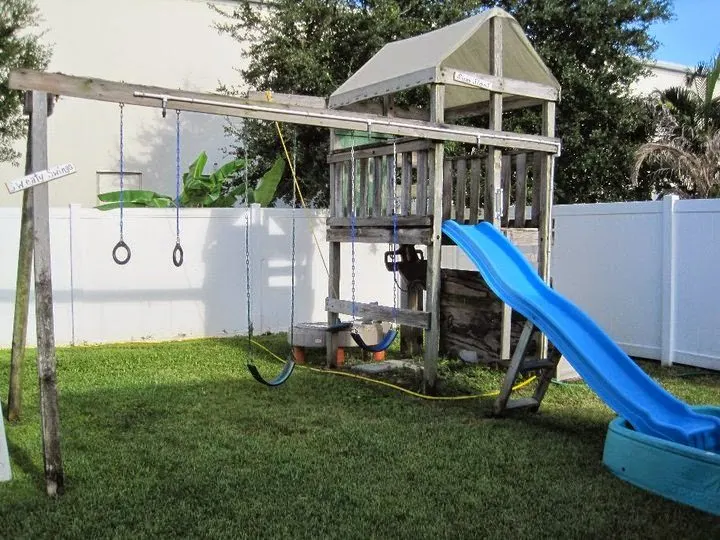 Today I am so pleased to be featuring one of my dear party girls, Jessica from Let's Get This Party Started! She is also the editor-in-chief of Everyday Party Magazine. Jessica is a Jill of all trades really. She is a photographer, party planner, publisher, problem solver, and mom to four boys. Yes, that's right…4! She and her husband created this sprinkler swing set at the request of one of her boys and I tell you what…it makes me want to have one of those things in my backyard! I'm going to let Jessica tell you all about it…

"Several years ago, my third son asked for a water park birthday party. He didn't mean *AT* a water park, he wanted us to turn the back yard INTO a water park for him. Sure, easy task…The boy is very adamant about what he wants and doesn't want at his parties, so my husband and I knew we had to find a way to make it happen. We have a pool, an inflatable water slide, a few slip and slides, and a giant swing set. My hubby and I KNEW we had to incorporate the swing set into the party, and we wanted to make it more fun, so we added sprinklers to it! The kids love this, and, even though it has been 3 years since the water park party, the boys all still love playing on the "Sweaty
We didn't take pictures when we put the sprinklers on the swing set, but it is so simple without pictures, I promise! It took my husband and I less than an hour and cost just about $20.
• 1/2'' PVC pipe – measure your swing set, awing, or whatever you will put the sprinklers on and add another 2 feet for mistakes, and bends. PVC is very affordable and is about $2 for an 8' section at Lowe's or Home Depot
• 1/2" PVC pipe connecters – elbows/90* angles for every turn or bump out, "T" connecter to attach the sprinkler heads, a hose adapter, and an end cap to close the pipe.
• Adjustable sprinkler heads – we used (3) 360* spray heads on ours.
• 1-2 packages of plastic c shaped pipe holders (see image)
• Hack saw or PVC pipe cutters
We measured out all of our straight distances and cut the pipe accordingly. Once it was pre-cut, we laid it out on the grass under the swing set and decided where we wanted the sprinklers to be placed. Our swing set has 3 swings, and a clubhouse with a slide. We chose to put two sprinklers over the swings and one over the slide.
We marked the pipe where we wanted the sprinklers, and then cut it. With the pipes cut, we added the T-connectors. (Be sure to get the top of the T as a slide on part, and the bottom as a screw in so that your sprinkler head can be screwed on) We applied the PVC glue and laid the pipes back on the ground to dry.
We also added the 90* elbow connecters for turns and bump outs on the swing set, as well as the end cap, and the hose adapter.

Once all the pieces were dry, we were able to start putting them on the swing set. Do
this in steps, I promise it makes it easier that way! We began at the hose adapter, and
worked up and over. Use the C- shaped pipe holders and place it over your pipes and
screw it into the wood swing set.
Apply PVC cement to pipes that aren't already connected, and continue until you are finished. The sprinkler heads were the last thing we put on, so that we could measure how long we wanted them to hang down. The hardware store sells threaded pipes that can break off to your desired height or a reset length. The sprinkler head easily screws into place. We waited about an hour, or an eternity for my kids before we tested the sprinklers with the hose. I can honestly tell you that that hour and $20 was one of the very best investments we made for our back yard! Our kids and the party guests LOVED it!
Jessica is a party planner and magazine publisher that lives in Central Florida with her husband and their 4 boys. More images of Colby's Crashin' Waves Water Park can be seen here and here.
Thank you so much friend for sharing this with us! I love it!
If you would like to get in touch with Jessica you can find her at [email protected], Facebook, or check out her magazine. Issue 2 comes out July 30th!