It's the 4th of July and my boys are out riding bikes enjoying this gorgeous weather so while little Miss Sassy Pants is taking a nap I am making peach and apple cobbler.  It smells so good in my house right now!  This recipe is adapted from Paula Deen's Peach Cobbler.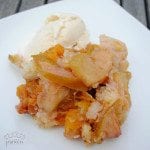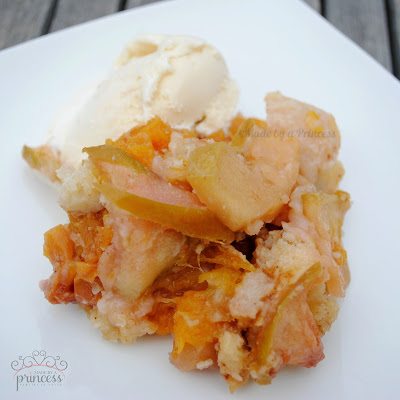 Recipe for Peach and Apple Cobbler
Ingredients
2

cups

sugar

divided

2

cups

sliced peaches

peeling optional

2

cups

sliced Granny Smith apples

peeling optional

1/2

cup

water

Juice from half lime

8

tbsp

1 stick butter

1 1/2

cups

self rising flour*

1 1/2

cups

milk

room temperature

1

tbsp

pumpkin pie spice

1

tsp

freshly ground nutmeg

optional but I really think it makes a difference

Salt

*if you don't have self rising flour add 1 1/4 tsp baking powder and 1/4 tsp salt for every cup of flour used
Instructions
Preheat oven to 350 degrees.

Put peach and apple slices, 1 cup sugar, water, juice of half of a lime, and about 1/4 tsp salt in a saucepan and mix well. Bring to a boil and simmer for 10 minutes. Remove from heat.

Place stick of butter in a 3-quart baking dish and place in oven to melt. While butter is melting mix 1 cup of sugar and flour in a mixing bowl. Slowly add milk to prevent clumping. Add 1/4 tsp of salt and 1 tbsp pumpkin pie spice and incorporate well. Pour mixture over melted butter in baking dish but don't stir it. Spoon fruit on top and then gently pour in syrup. Sprinkle pumpkin pie spice or cinnamon on top if you like. Bake for 30 to 45 minutes, batter will rise to the top and through the fruit while baking.

Bake 350 degrees for 3-45 minutes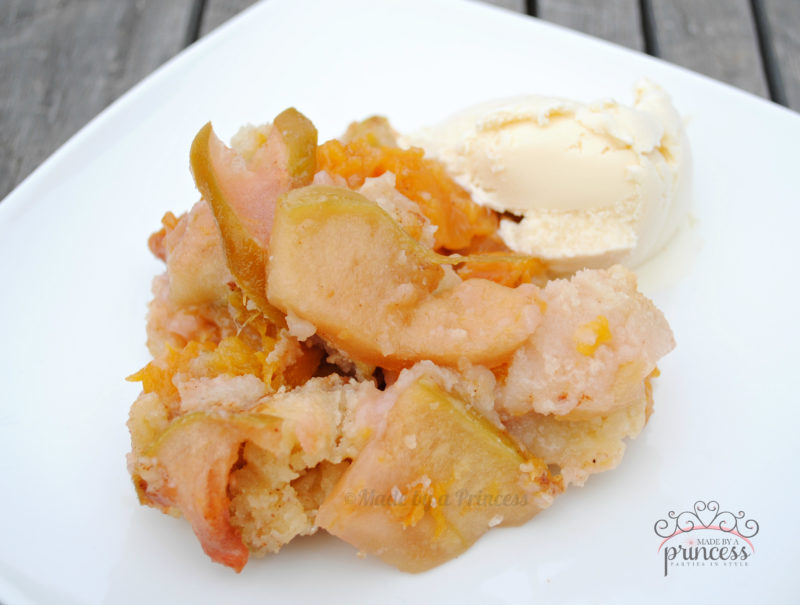 Thanks for checking out my recipe for peach and apple cobbler! Serve warm with a scoop of ice cream. Enjoy!