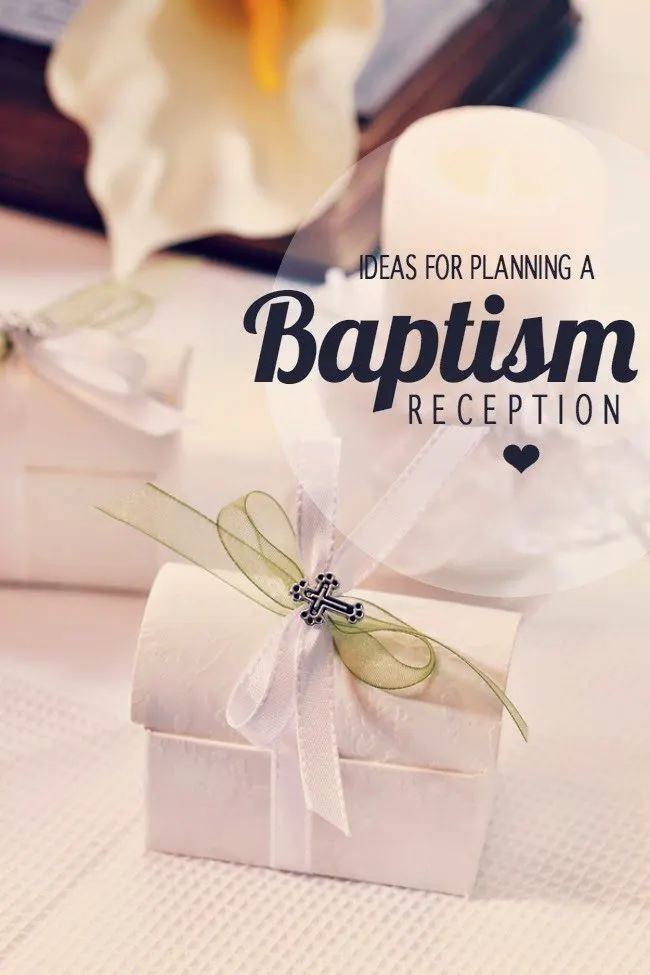 Planning a religious celebration such as a baptism or christening reception requires extra special consideration. Milestone moments such as these are occasions where family and friends often travel to be in attendance, and a meaningful and memorable atmosphere is desired. Jennifer Carver, of Spaceships and Laser Beams, is sharing her tried and true tips for planning a celebration that will honor the reason behind the gathering and create a wonderful experience for guests. Jennifer focuses on the best practices for invitations, decor and refreshments. Below are some great ideas for planning a baptism or christening.
Impressive
invitations
are an essential part of any party, but they're especially important for a once-in-a-lifetime celebration. While many invitations may be tossed following an event, it is customary for special invitations to be saved in scrapbooks and cherished for years to come. Work with a graphic designer to create a personalized invitation to coordinate with your chosen color palette and décor style. Consider adding a professional photo of the guest of honor to memorialize them on their important day. While working with the invitation designer, keep your reception date in mind. Remember to allow plenty of time for proofing, printing and mailing. Because many guests may need to plan for travel, you will want to send out your invitations 6 weeks or more in advance.
A traditional baptism/christening celebration is generally designed around a simple, reverent color palette and décor style. White is a popular color of choice, but a pop of blush pink or pale blue incorporated into the decorations make a lovely setting. Even touches of silver or gold can add an upscale sophistication to your reception, setting this celebration apart from everyday occasions. Bring out your nicest linens to create a fresh canvas for adding classic place settings and tabletop décor. If budget allows, order fresh flower centerpieces or opt for a less expensive display made from balloon bouquets, candles and framed images of the guest of honor. To create a focal point for a refreshment table, print a large, poster-sized print of the honoree and frame it for that wow factor. Many frames can be purchased inexpensively from a thrift store and refurbished with a fresh coat of paint. Add a personalized banner with the word "baptism" or "christening" or perhaps even the honoree's name.
Because many guests will have traveled for the event, a meal provides a nice opportunity to mingle and catch up. Hire a catering service or come up with a great prepare-ahead menu. Salads, soups and sandwiches make a lovely luncheon or dinner, with side dishes of fruit and vegetables. However, a beautiful brunch bar could also be arranged should your religious ceremony take place in the morning. Pastries, muffins, bagels and fresh yogurt and fruit would be appropriate for a morning meal.
Don't forget the dessert! A special celebration is always sweeter with a dessert display—big or small. Ideas include ordering a custom cake with the honoree's monogram; sugar cookies, brownies and truffles are all scrumptious options that can be prepared ahead too.
With a little forethought, you can host a lovely baptism/christening reception. From invitation to dessert, planning the details will make your milestone event a joyous occasion to remember.
STEPHANIE KEEPING
Chief Navigator | Spaceships and Laser Beams