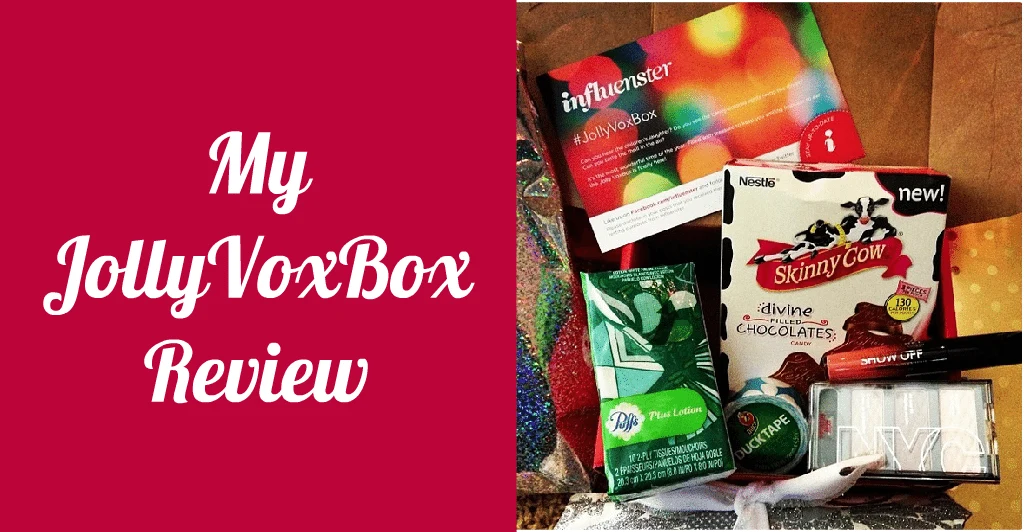 I am super late on this but better than never! I received this Jolly VoxBox from Influenster over the holidays and wanted to share my thoughts on all the goodies!
Puffs Lotion Tissue: I love this brand of tissue and have been using it for years. It's soft and does not irritate my skin at all. I have really sensitive skin and am prone to allergies so this is a must have in my purse.

Skinny Cow Divine Chocolate: I received the peanut butter one and really liked it. I'm really more of a caramel kind of girl but I thought the flavor was great and it didn't taste "diet". I shared some with friends and all of them enjoyed it.

NYC Color Trio: Love this! The colors are great and go with everything. It is a really neutral palette and would work well with many skin tones. One of my favorite things was the little insert that told you which colors to use where on your eyes. I don't wear a ton of makeup so I really appreciated the "how to". I will definitely buy this eye-shadow pack when it's gone.

DuckBrand Mini Duckling: Super cute. I got the blue and white tropical looking pattern. There are so many things you can do with these little rolls like decorate your phone chargers, a cute little box, make bookmarks, or even make jewelry if you are crafty like that!

Rimmel Show Off Lip Lacquer: Ok, so, I have to be honest…not a fan. I don't like the way it feels and I really don't like the color Luna I received. It's sort of a funky salmon orange shade. This lip lacquer feels wet and tacky on my lips and for a girl with long hair that just won't work. I normally really like Rimmel products but this product I really don't. Sorry Rimmel.

I love being an Influenster and am grateful for the opportunity to try new products. I have found a lot of new favorites by being in this program. Thanks for checking out my Influenster Jolly VoxBox Review!

*I received these products complimentary for testing purposes from Influenster.