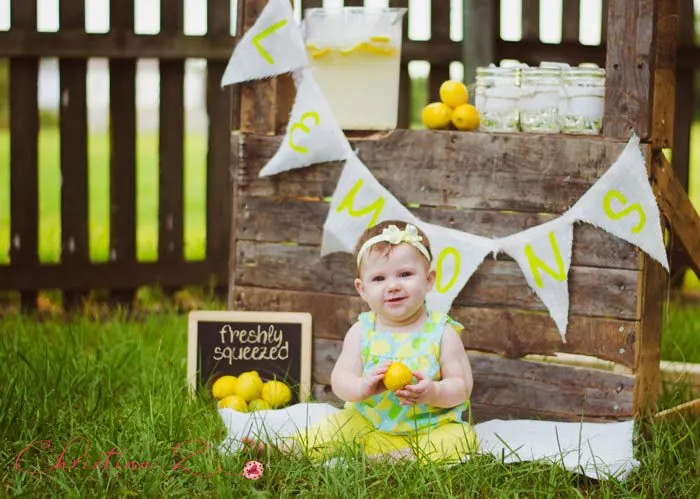 Obviously I am a sucker for a lemonade stand since I have featured so many here lately but I am also a sucker for a super cute kid! Look at this little squeeze…adorable! I'd buy some lemonade from you darlin'.
Christina Zieschang of Christina Z Photography is here today sharing her lemonade stand photo shoot she did with her daughter.
Christina says: "She's at the perfect age (8 months) where she will sit and look at me (the camera) long enough to get a few shots before crawling away. My handy husband built the lemonade stand out of pallets (sorry, no tutorial due to him kicking me out of the garage haha). I made the burlap pennant banner and grabbed some mason jars, a pitcher, a few dozen lemons, and WALA! She didn't have any paying customers but we enjoyed the lemonade all weekend long."

Christina will be hosting a Lemonade Stand Mini Session Event in East Orlando, FL in September, more details can be found here http://wp.me/p2ZdTV-iT so if you live in or around Orlando contact Christina to set up your own adorable lemonade stand photo shoot!
If you would like to contact Christina you can find her [email protected], Facebook, or her website.
Thank you for sharing your Lemonade Stand Photo Shoot, Christina!