Take a trip to France with me as we celebrate our favorite French queen, Marie Antoinette. Versailles serves as the inspiration for this elegant and grand Marie Antoinette party.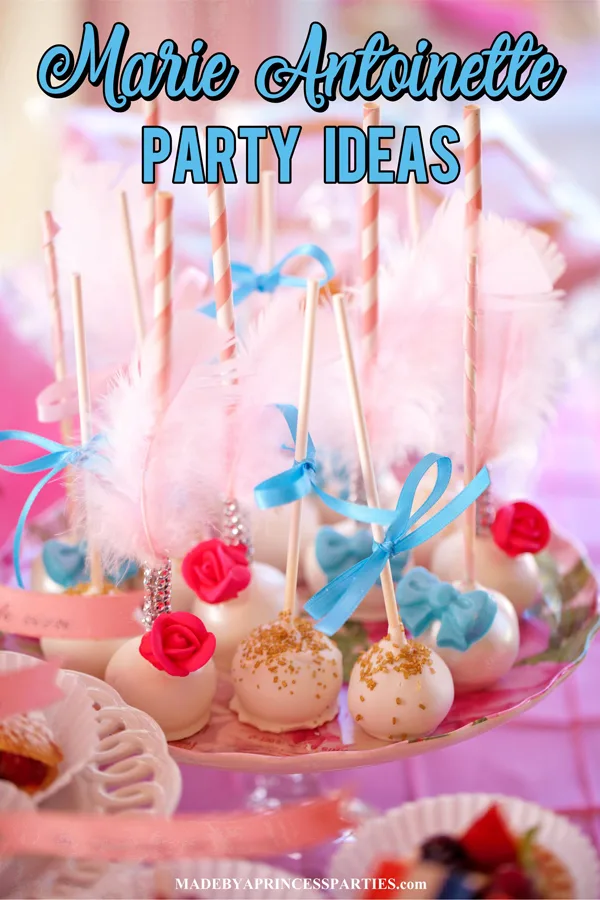 Everyone gets cake at this elegant affair celebrating Queen Marie Antoinette! From the Tree of Mirrors to a Royal Court, we had it all! Check out all the details of my Versailles garden party to honor Queen Marie!
Marie Antoinette Party Ideas
Who is Marie Antoinette?
18th Century France was not an easy time to be a monarch. Marie Antoinette was the last Queen of France before the French Revolution and the wife of Louis the XVI. While the Queen attending lavish balls and gambling, the United States was fighting with Great Britain to gain independence. The year Marie Antoinette was killed, George Washington was sworn in as our first president.
Did She Actually Say Let Them Eat Cake?
I have always loved Marie Antoinette. Queen Marie had impeccable style, loved sweets like me, and loved her family. Marie Antoinette really got a bad wrap in history. She was accused of adultery, collusion, treason, and insensitivity to the plight of her starving citizens. Yet, despite all that she greeted the end of her life with grace and dignity. She lost her head and was thrown in a ditch with her husband, but she did it with style.
As far as the cake quote, it is highly unlikely Marie Antoinette ever said, "Let them eat cake!" It is now thought to have been propaganda to get the people all riled up and hate her. They did hate her but she really wasn't all that bad.
Favorite Things Party
When it came time to start planning my annual Favorite Things party I knew right away the theme had to be Marie Antoinette. For months I planned every detail. Eight months to be exact. I planned this Marie Antoinette themed party for eight months. I told my friends, if you do Marie you have to go big or go home.
My good friend Jen of
BlushPrintables,
creates really gorgeous wedding invitations so when I approached her to create the printables she couldn't type "yes!" fast enough. We worked closely together on the invitation which reflected the vision in my head perfectly. Everything she designed after that fell into place like magic.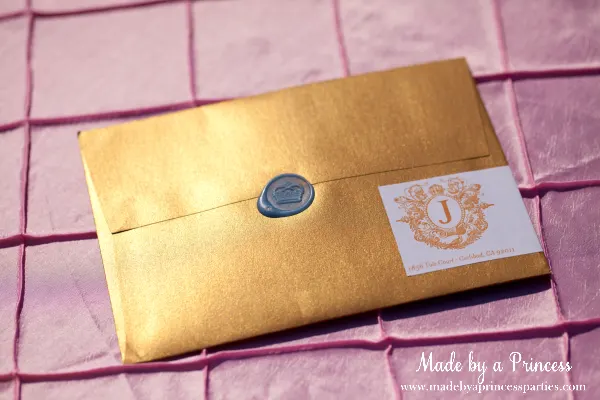 Crown wax seals were used to secure the ribbon around the invitation and on the outside of the envelope.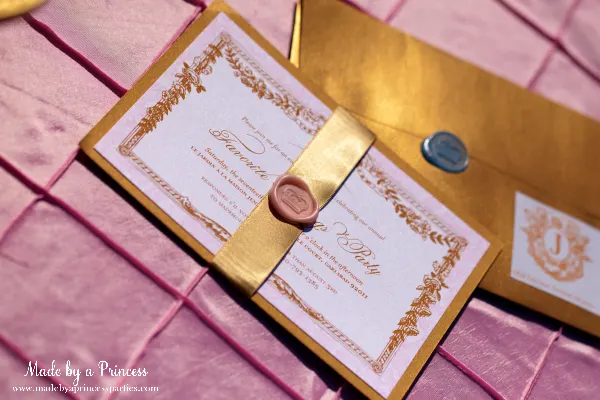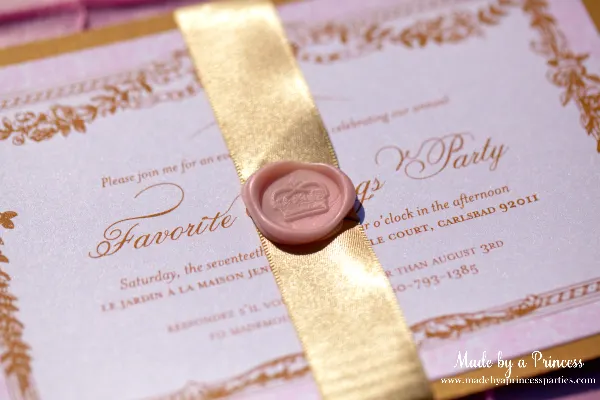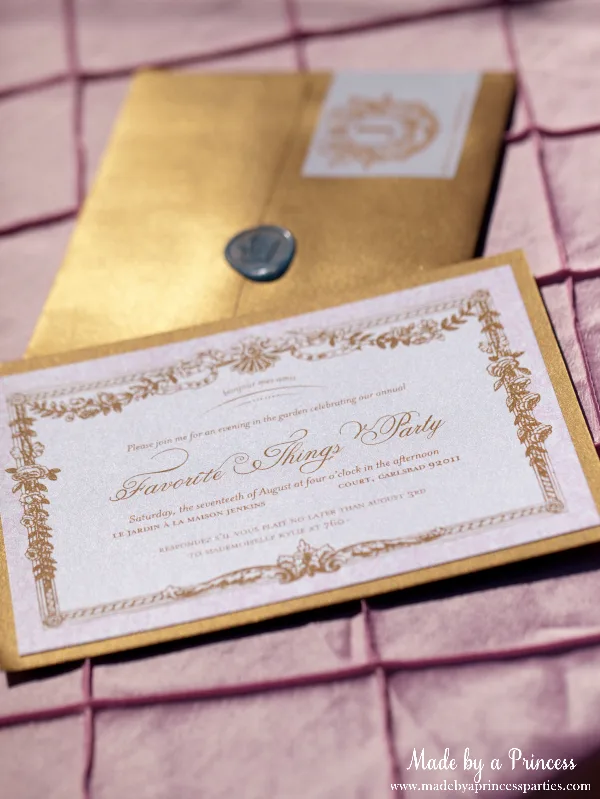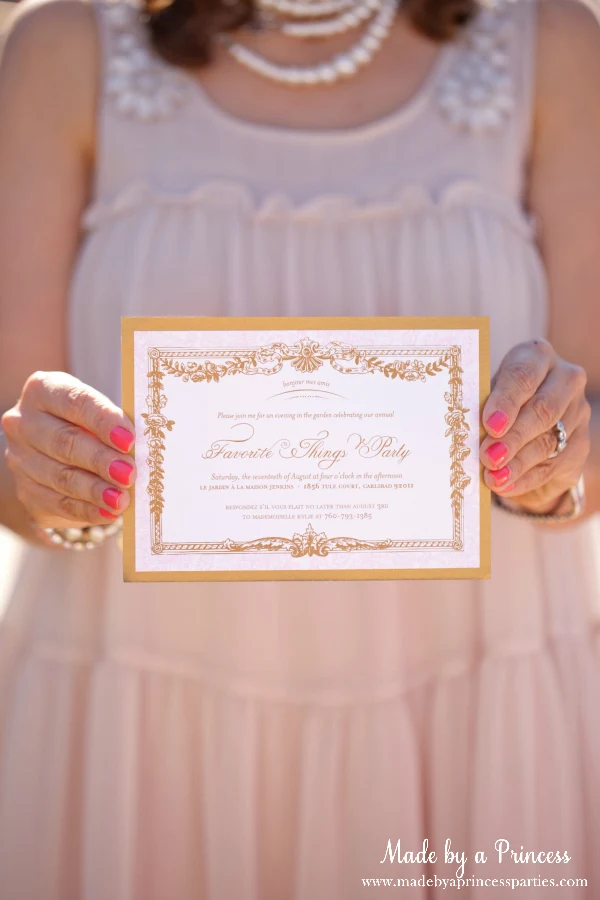 If you've never attended or hosted a Favorite Things Party I highly suggest you do. They are so much fun! This was my third
Favorite Things party
, the first one was rainbow themed.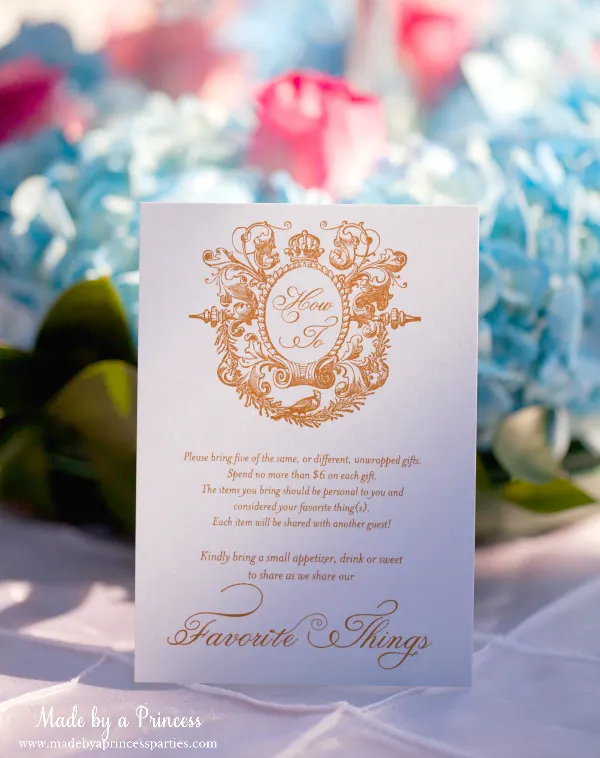 Choosing Your Party Colors
Color is so important when throwing a party. Along with the style of the invitation, color helps set the mood and tone of the party. The colors I chose to work with were pink, raspberry, light blue, and cobalt blue, with lots of gold accents. When I was creating my storyboard, I thought they looked so royal and feminine when all put together.
Decorations
Banners and Balloons
Guests were greeted by a gold lettered banner that said, "Bonjour Mes Amis" which was on the invitation and on several of the printable pieces. The banner was strung with a custom made tulle garland from TiTi's TuTus and completed with 36" pink balloons from Bloom Designs Online. There was no mistaking the house.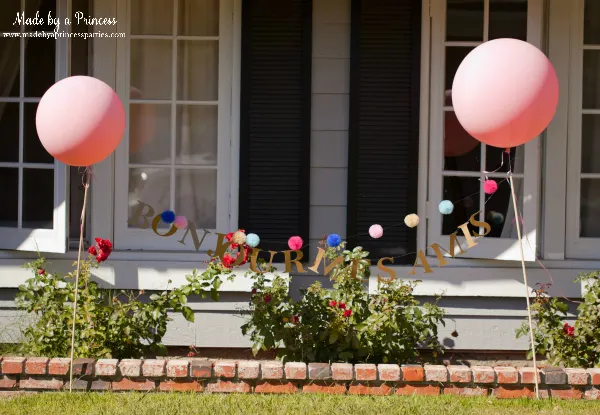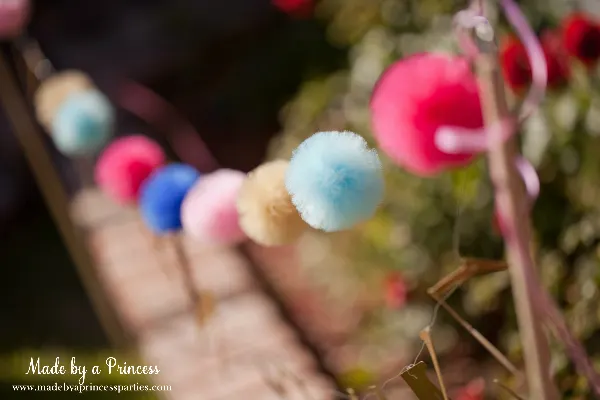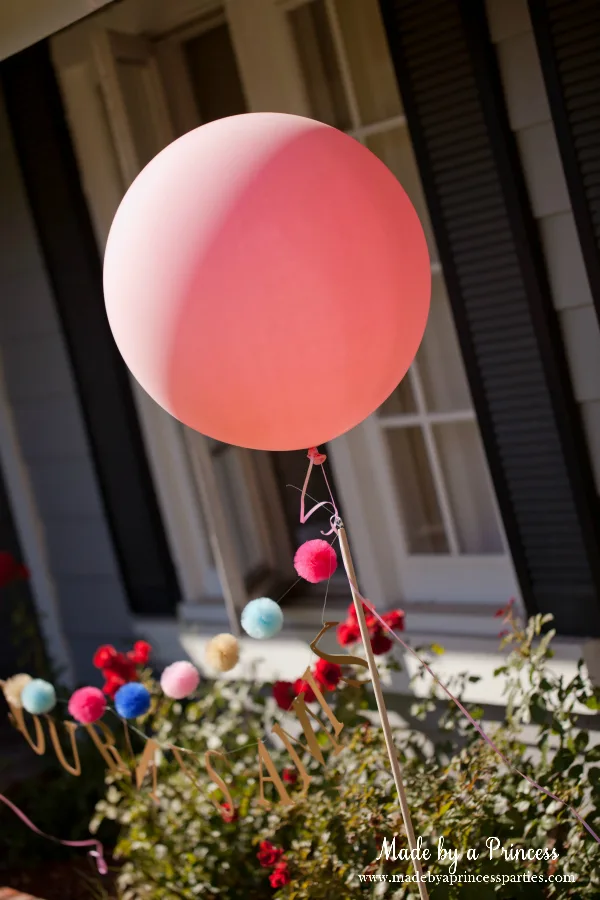 A beautiful pink feather wreath with a crystal mask from JP Alexander Events led to way to the party in the backyard.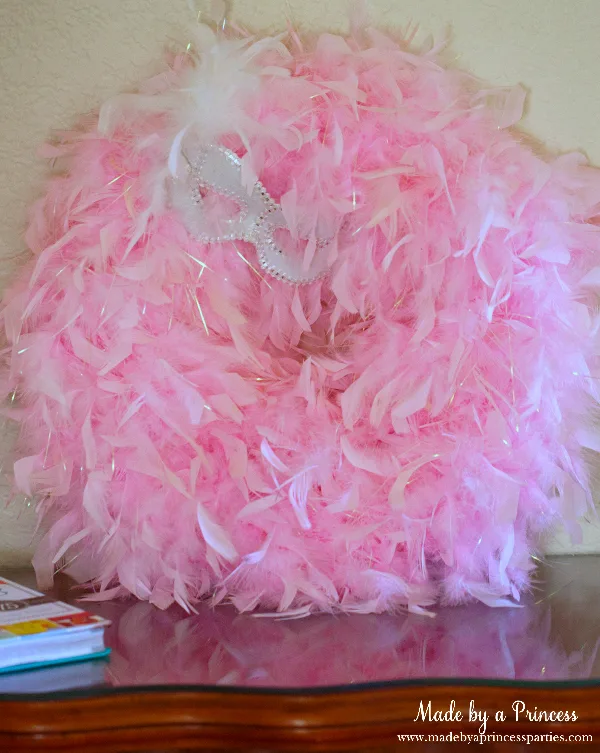 Take the Party Outside
I created a Tree of Mirrors (instead of a Hall of Mirrors) by spray painting laser cut frames gold and gluing mirrored cardstock onto the backs of them. Ribbons were attached and hung in the tree along with crystal garlands and a gold chandelier.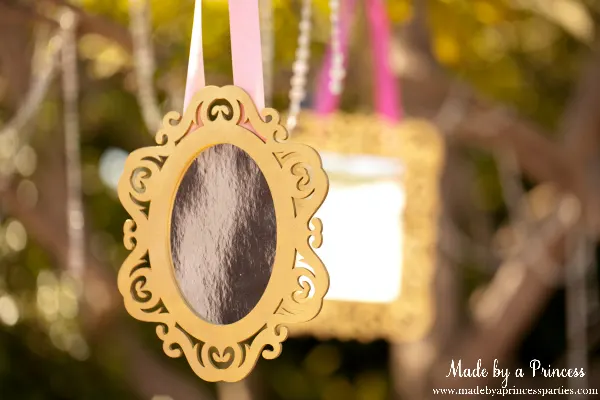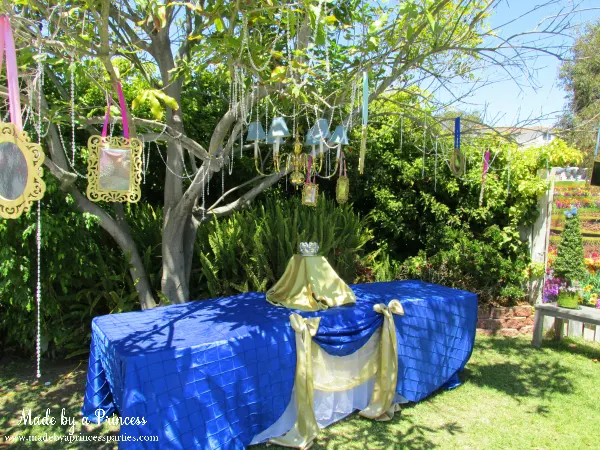 I found a chandelier on Craigslist and used a swag kit from HomeDepot to convert it to a plug in. The chandelier hung over the gift table.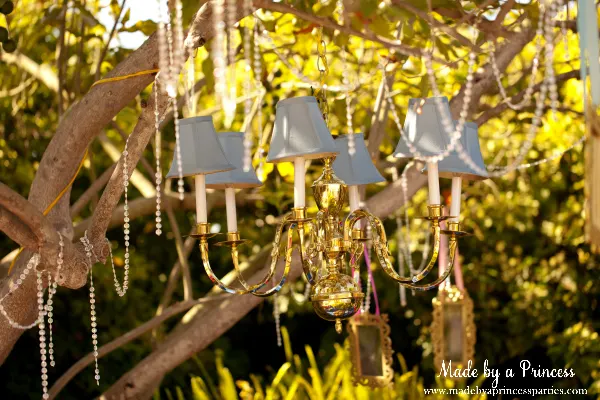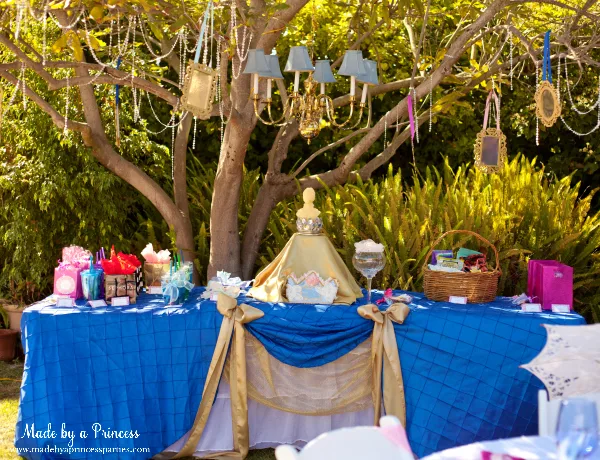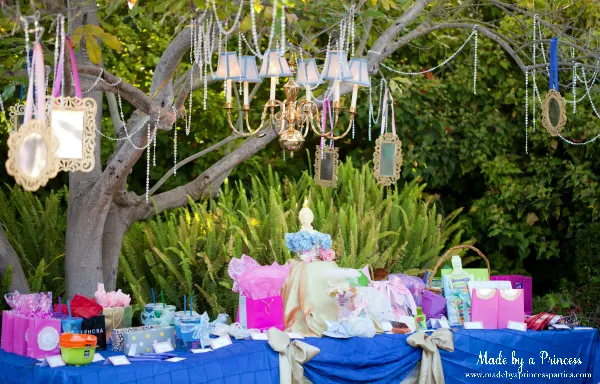 My best friend had sent me a Cire Trudon Marie Antoinette candle which I placed in a candle holder that looked like a crown in the middle of the table. I knew as soon as I saw her she had to have a place of prominence!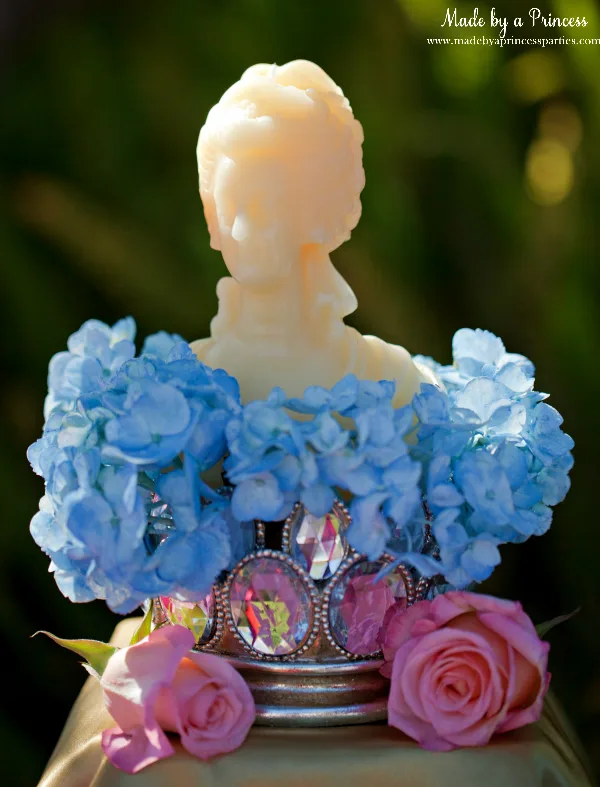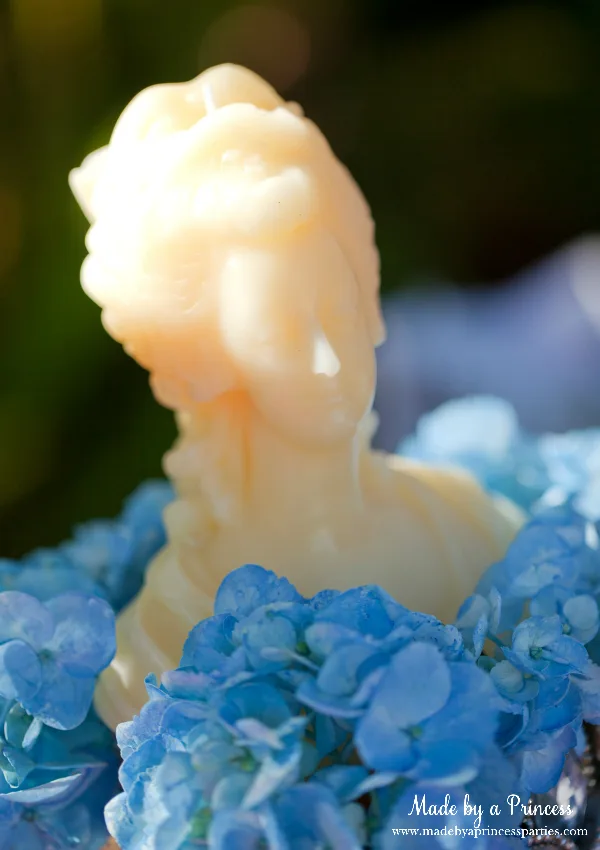 Marie Antoinette Paintings
I painted several large laser cut frames gold and placed paintings of Marie and her family around the courtyard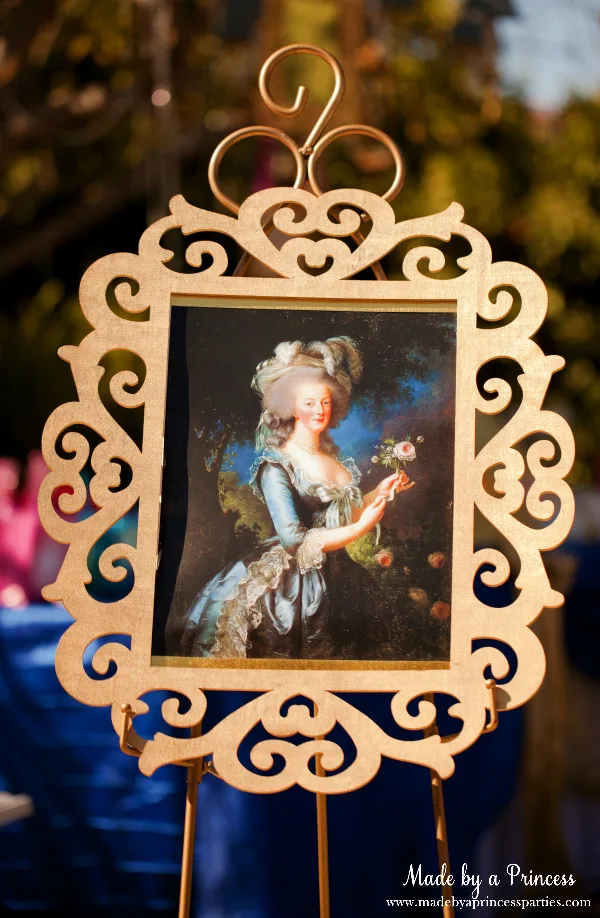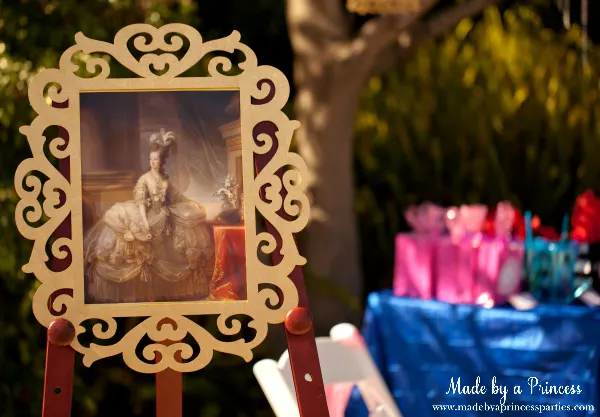 Lights and Tissue Pom Poms
Pink and blue pom poms also from Bloom Designs Online were hung from lights above our heads which looked just magical when it got dark. I spray painted gold glitter paint on the edges of the poms so they would shimmer in the sunlight and reflect with a little sparkle under the lights.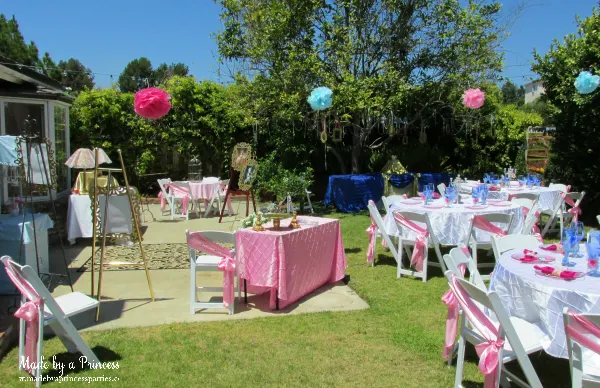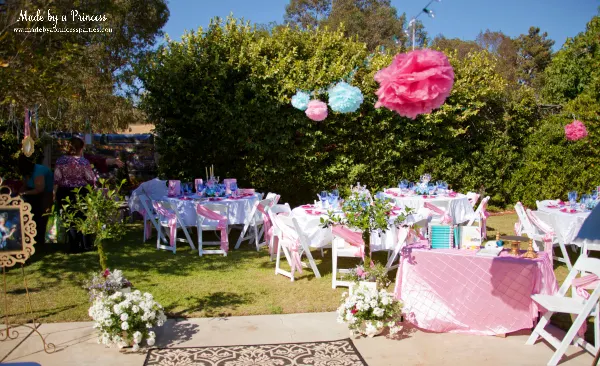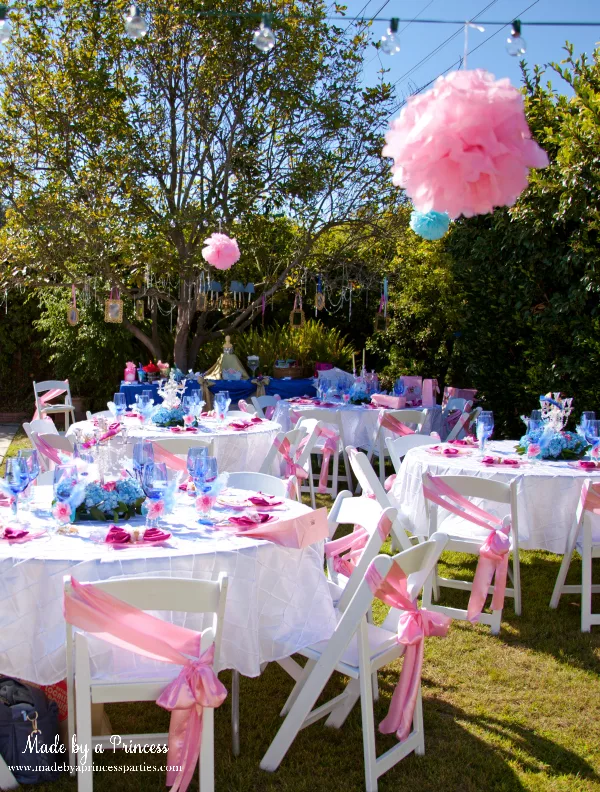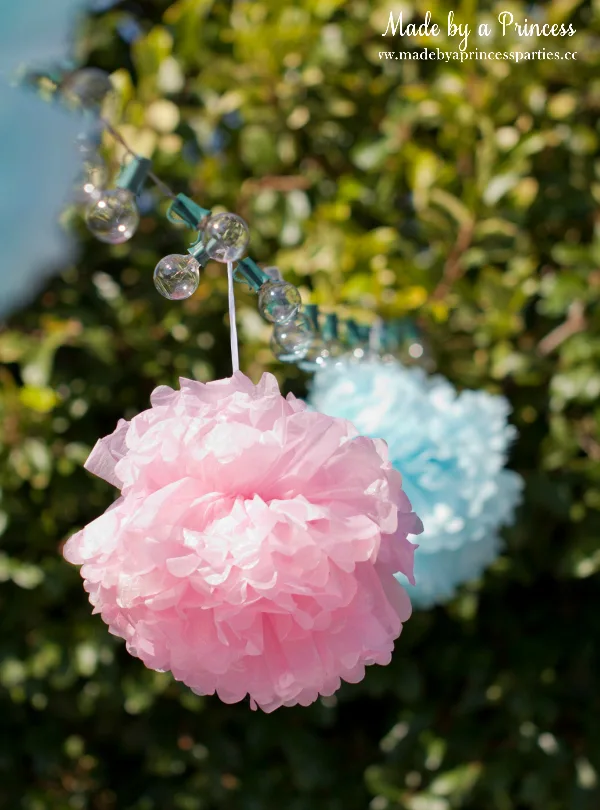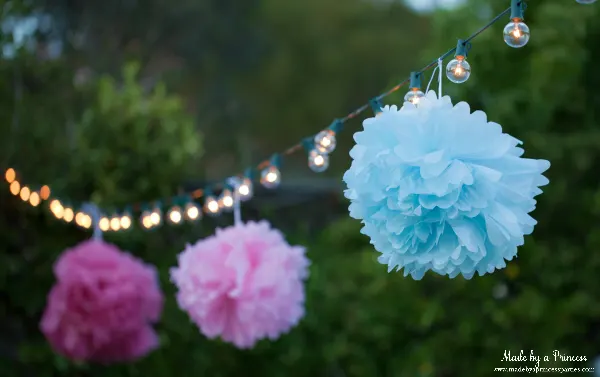 Versailles Gardens Vinyl Banner
Tania Fischer Designs created an 8'x5' banner of the Versailles Gardens…it was resplendent. When you walked into the backyard your eye immediately went to the
banner and you felt like you were having a lovely lunch in the gardens.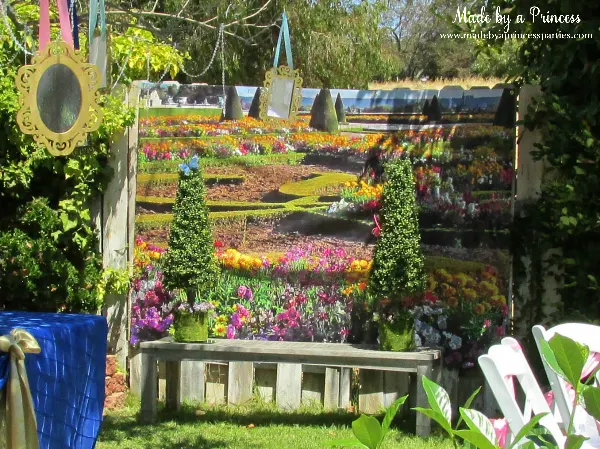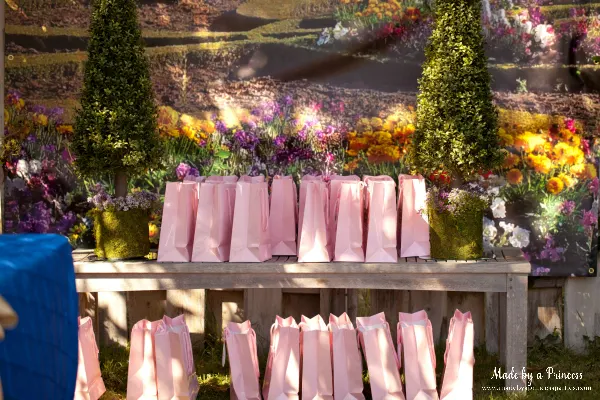 Favorite Things Party Gift Table
Since it was a Favorite Things party the focus of the backyard was the 10' table guests put their gifts on. The rules for a Favorite Things Party are pretty simple. Bring 5 gifts, about $6 each, and after drawing 5 names, leave with wonderful new favorite things! Hardly anyone brings the same things, however this year my friends Shelly & Tricia both brought champagne and chocolate as their favorite gifts…I love my friends!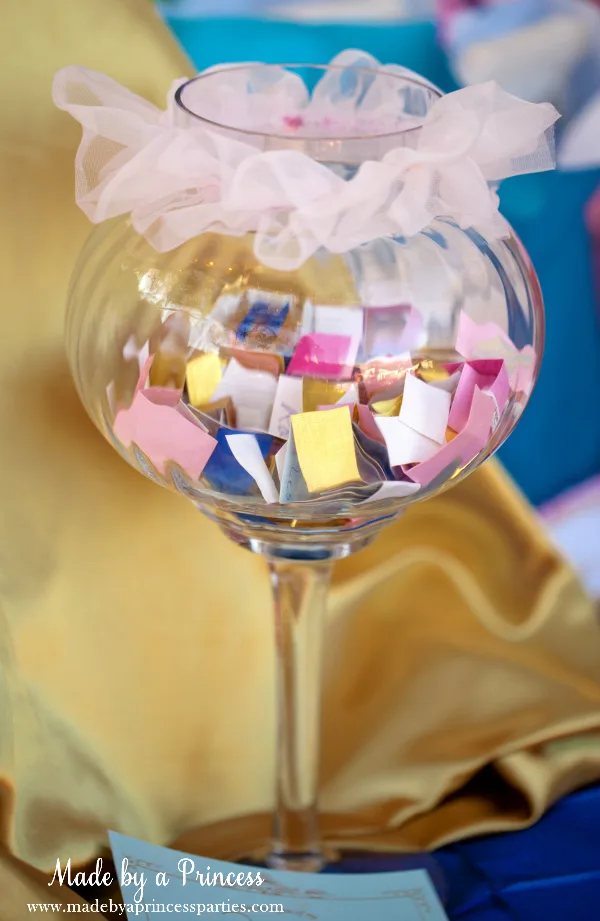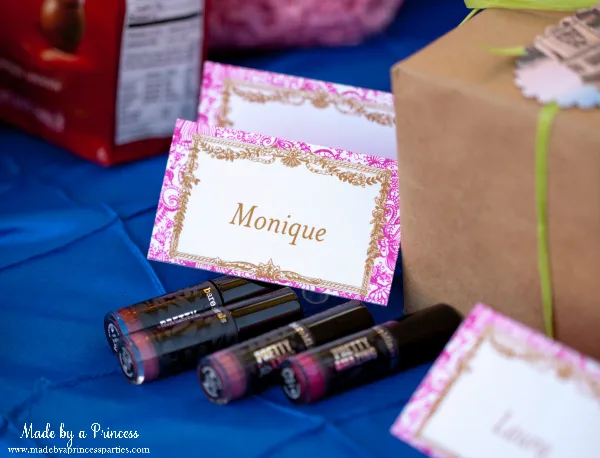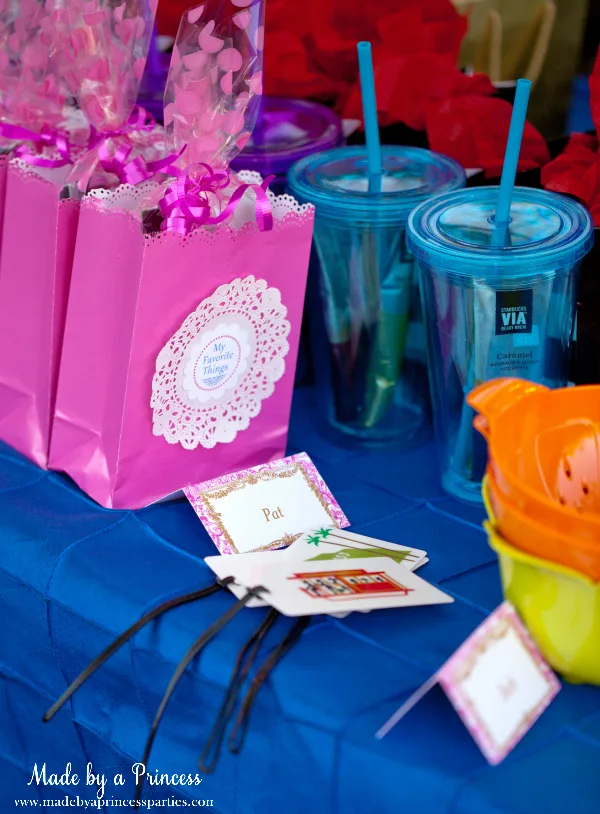 Each guest also brought something to share which is always one of my favorite parts because I get to sample some fabulous food.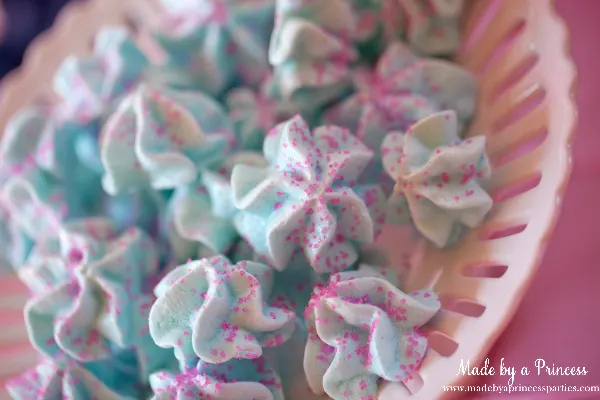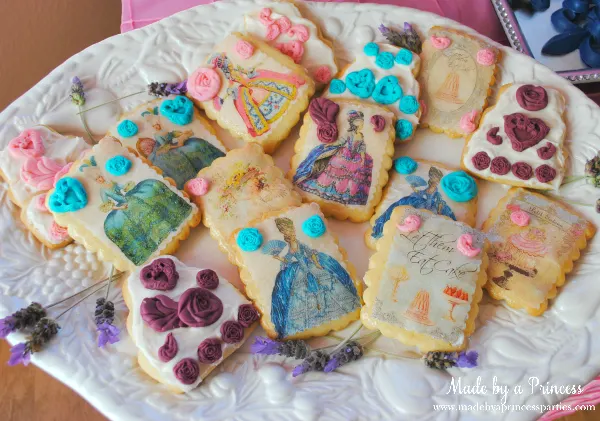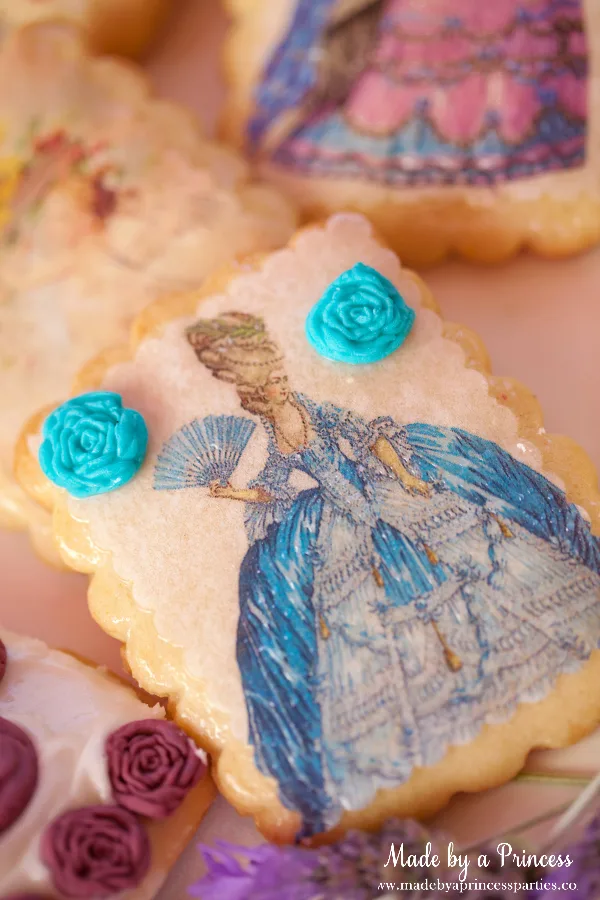 Jen of Blush created a questionnaire card for us with things like Royal Name, favorite royal feast, favorite jewel, and favorite room in your castle. It was fun to learn about our friends and some of their favorite things. Diamonds won hands down as a favorite jewel.
When it was one of the Queen's turn to choose her gifts, she wore her own crown, but everyone got a chance to be Queen by putting on a custom handmade fabric crown embellished with trim from France created by Shawna of Shawna Brockmeier Styled Events.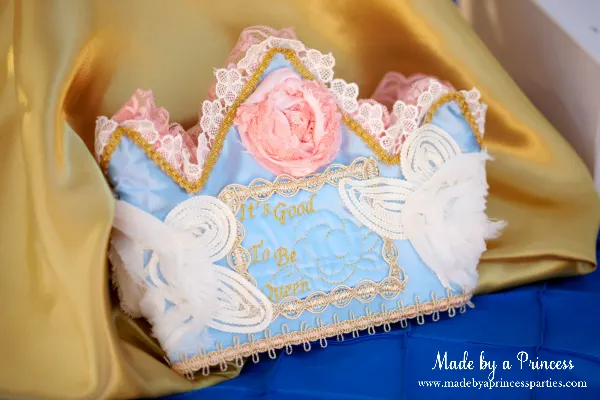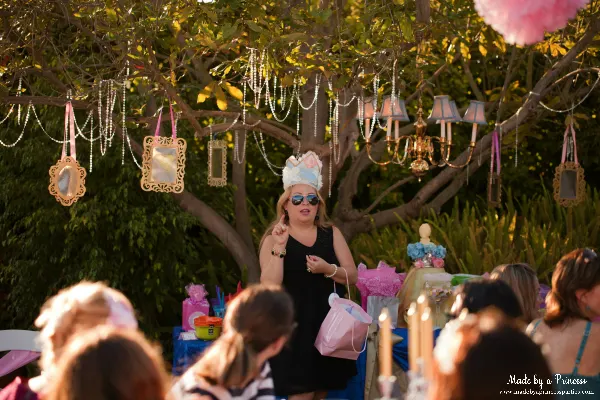 Hand Painted Plates
I found cobalt blue wine glasses at Dollar Tree and hand painted glass plates I found at the $.99 Store. I hand painted 30 glass plates with a mix of three Martha Stewart pink paints.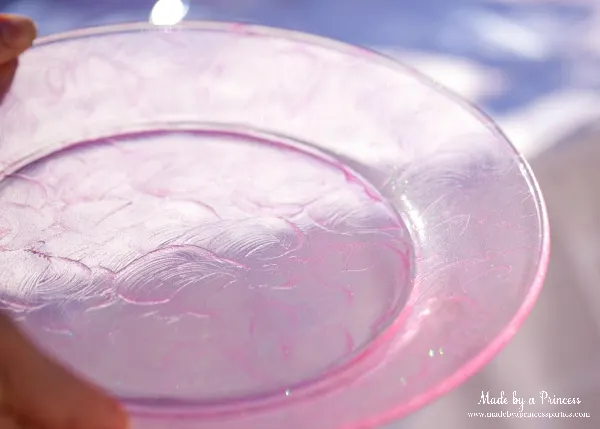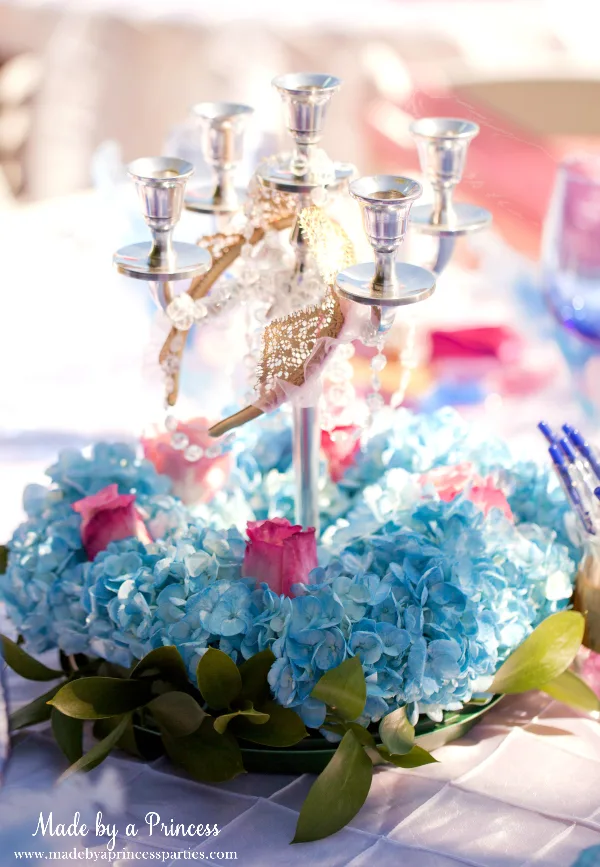 My mom found the perfect shade of blue hydrangeas and beautiful pink roses at our local flower mart for our centerpieces. My friends, Beth & Emily, arrived before the party and quickly jumped into their "here-to-help" modes and put some appetizers and the centerpieces together.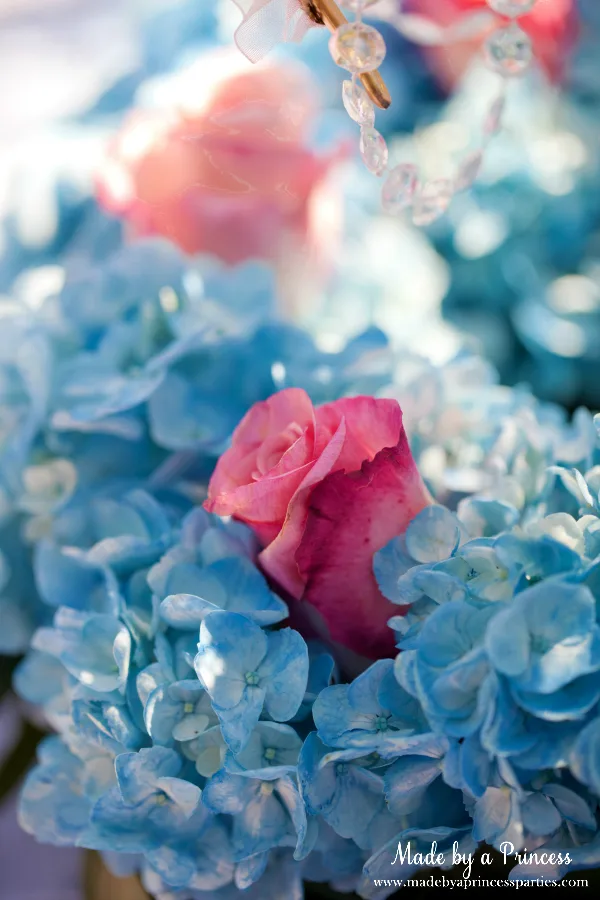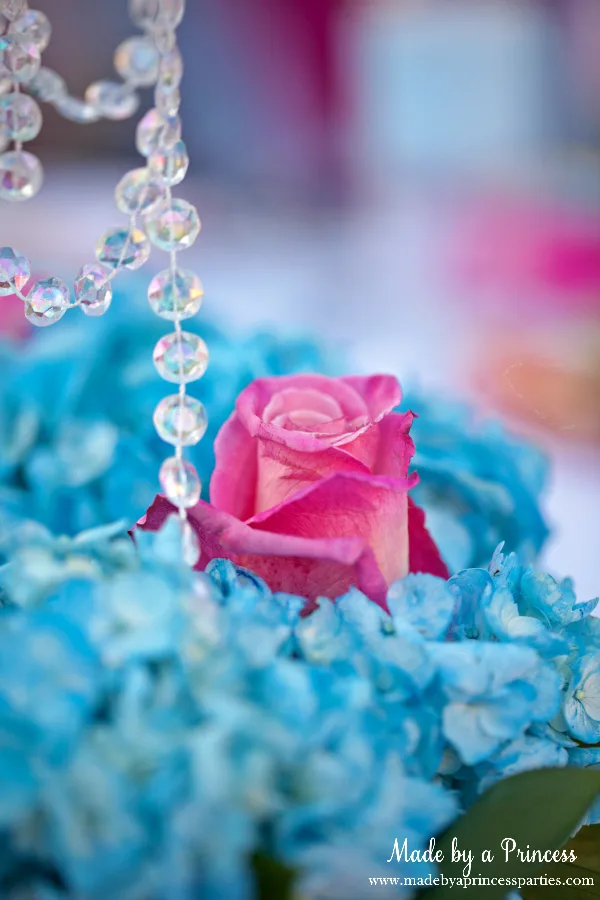 The candelabras were set into the middle of them and finished off with custom made masks from Tiffany of Fizzy Party.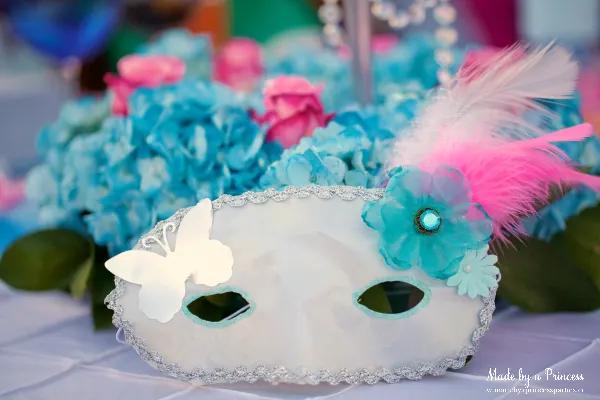 Each guest was to find her personalized goody bag (where she would place all of her new favorite things!) and found a seat.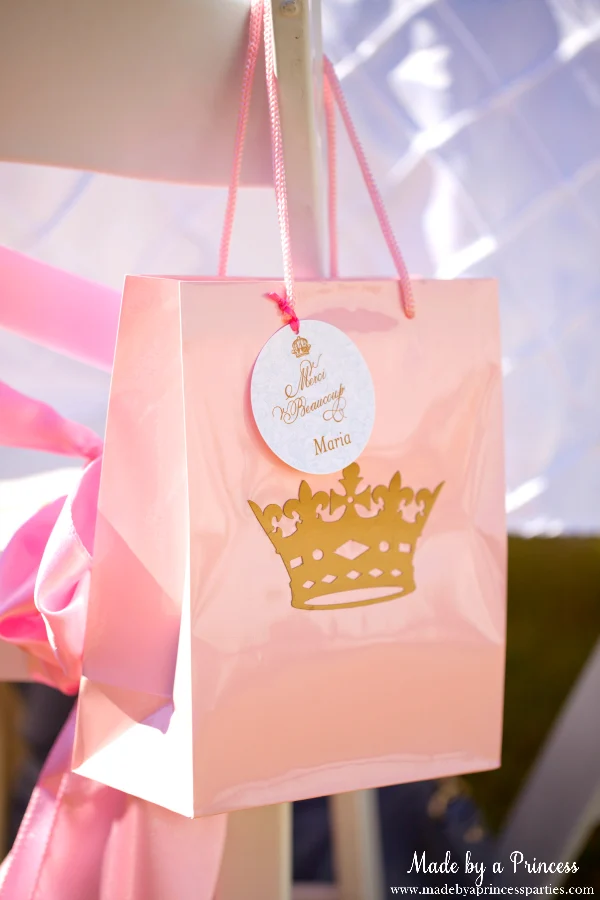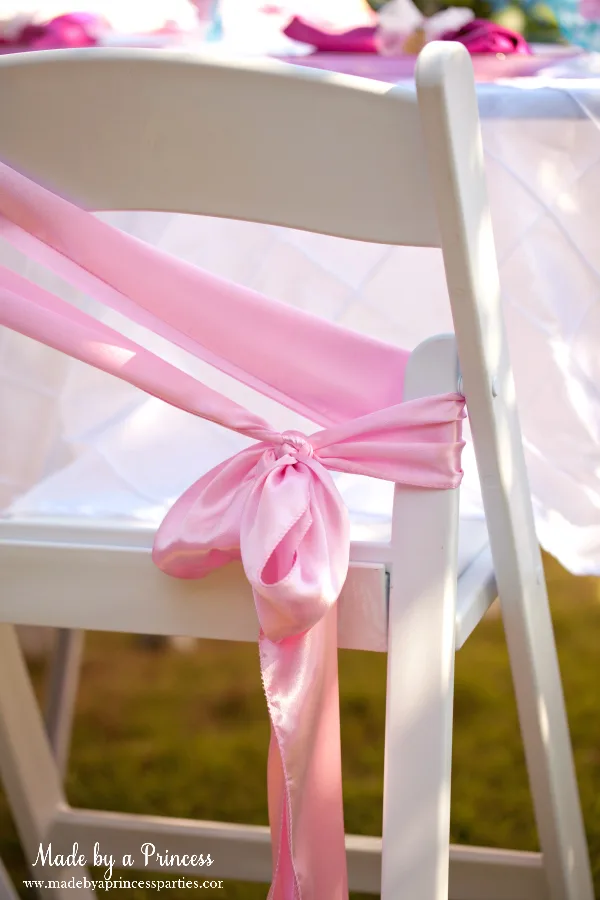 Roni had the most splendid lace umbrella that shielded her from the blazing sun. Smart woman!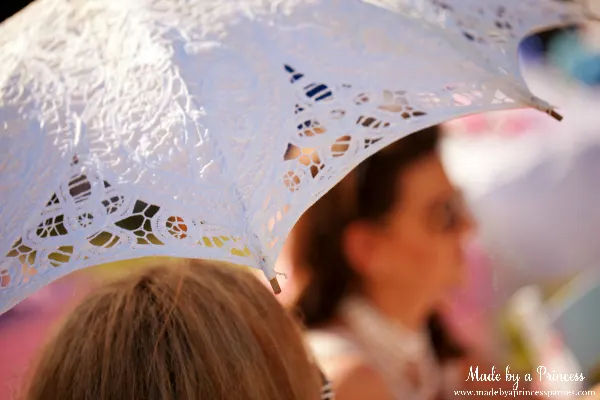 Dressed Up Wine Glasses
LaTreece of I Do Too Events made 36 hand sewn floral and ribbon wine glass embellishments which were affixed to the glasses and added the most elegant touch to something so simple as a blue wine glass. I also made wine charms with the name of every guest so they could keep track of their glass.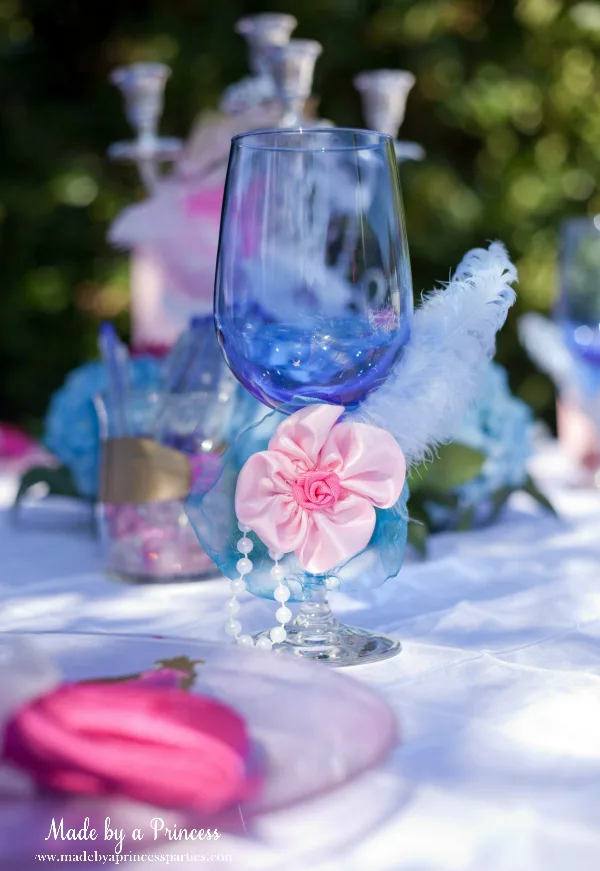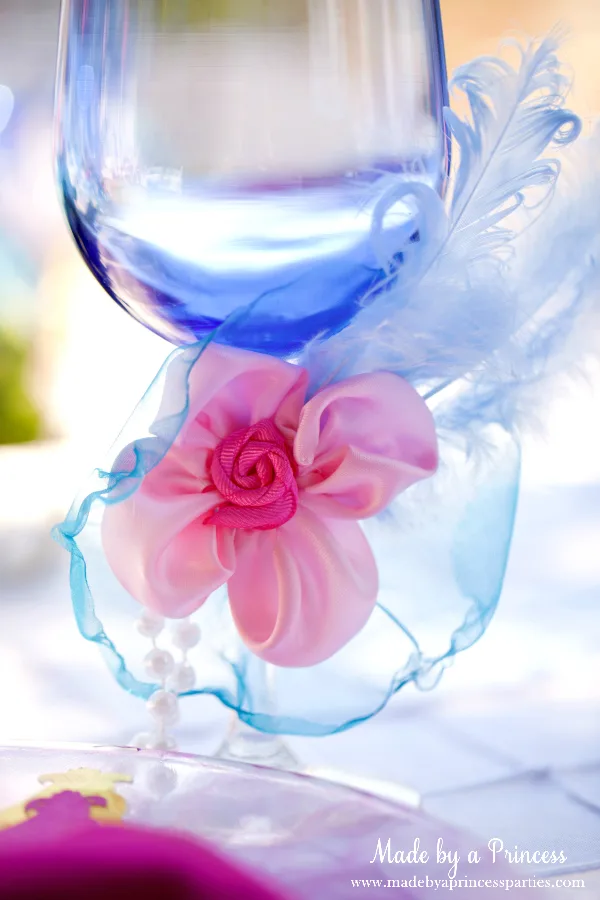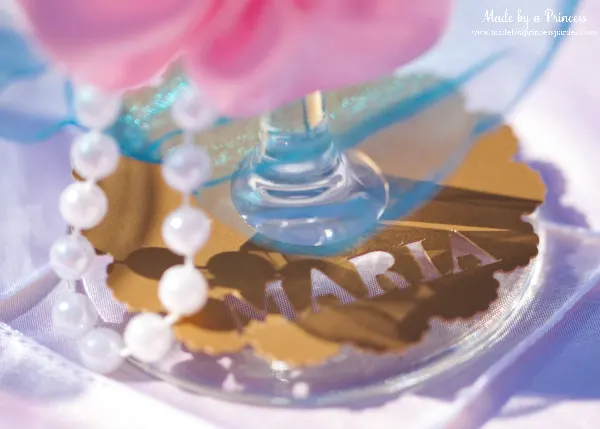 At each place setting was a masquerade mask which and a handcrafted napkin ring around raspberry napkins.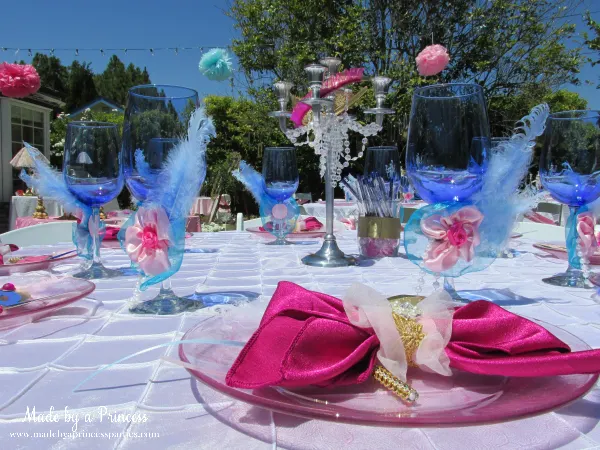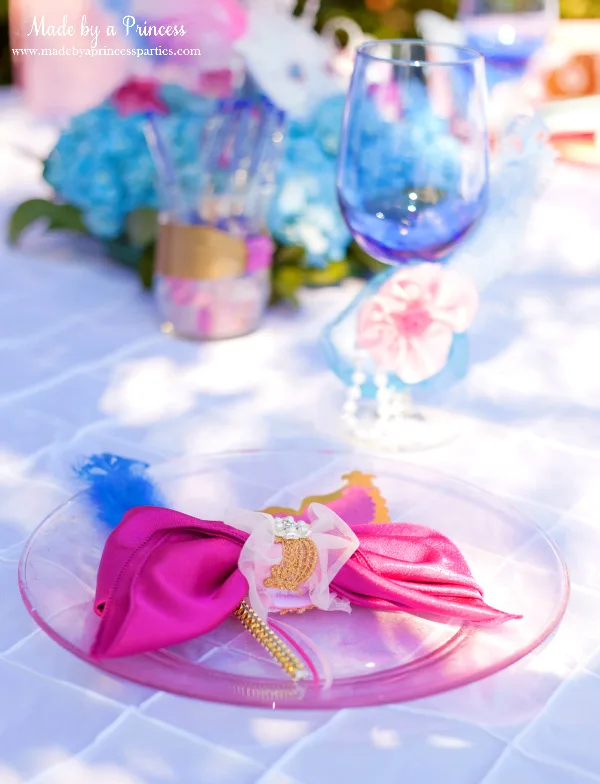 Chelsea of Ribbon Revelry sent me a collection of rhinestone and pearl buttons that were to die for. Each napkin was lovingly handmade by me. After making the ring of ribbon, soft tulle, and gold trim, I affixed to the buttons to the middle which finished the piece off beautifully.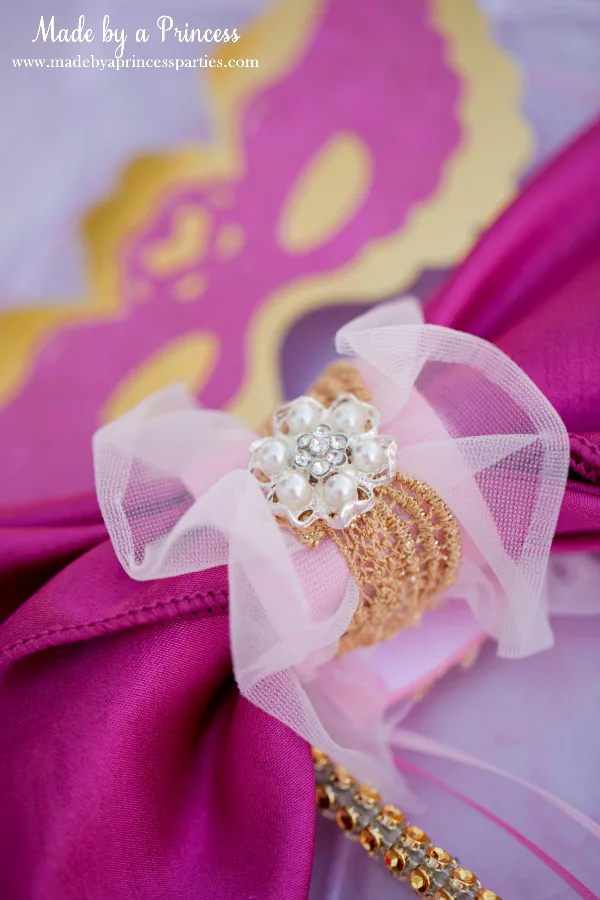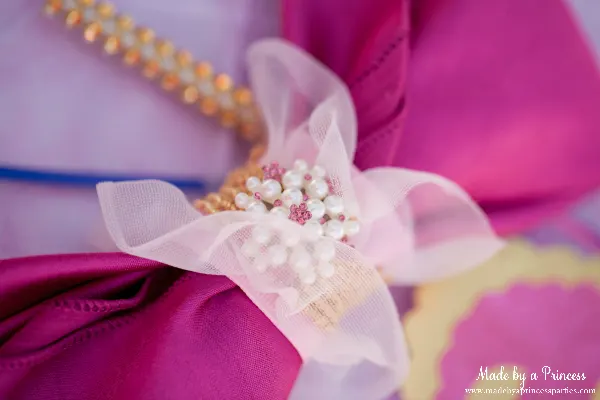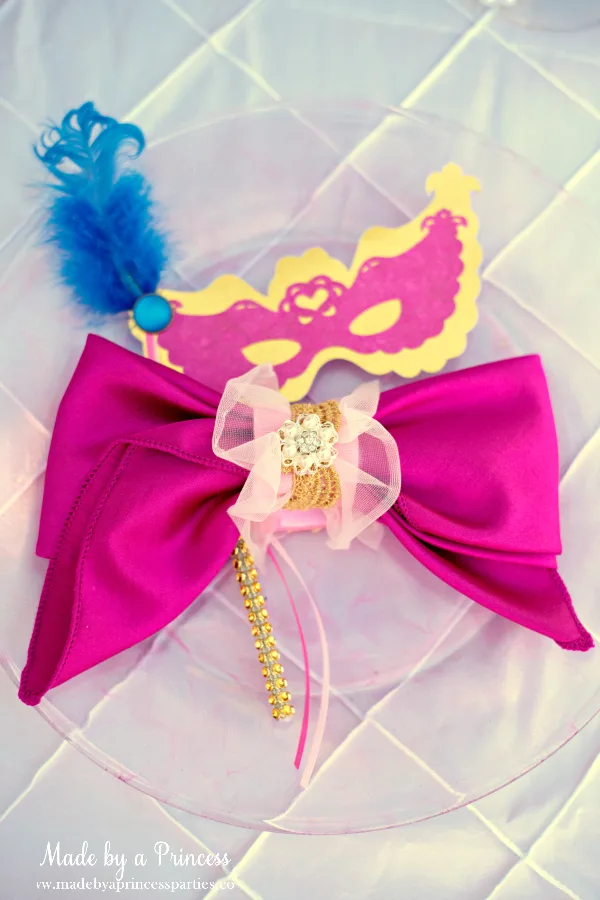 I also made myself a Marie inspired headband with a little bling tiara.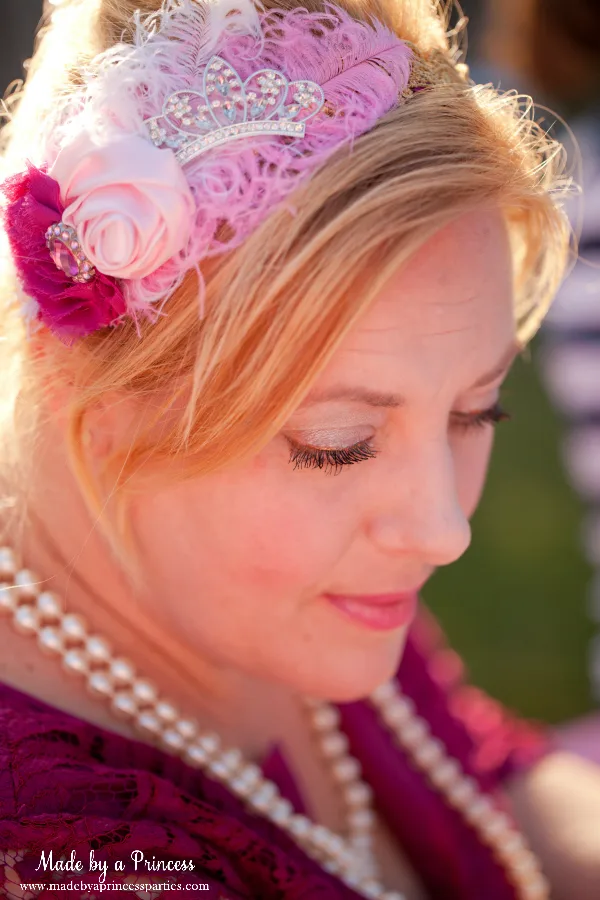 The Queen's Court
At every place setting there was a mask. Each mask denoted your royal rank. There was one Queen at every table and at least one Empress, Duchess, Princess, Countess, and Dame.
The Queen had a crown on her napkin ring instead of a crystal or pearl embellishment and also had a crown to wear which I made out of a plastic headband, lace, ruffled trim, and gold spray paint. The Queen at each table went first followed by her court. No one knew I was going to do this so wherever you sat determined your place in the royal line.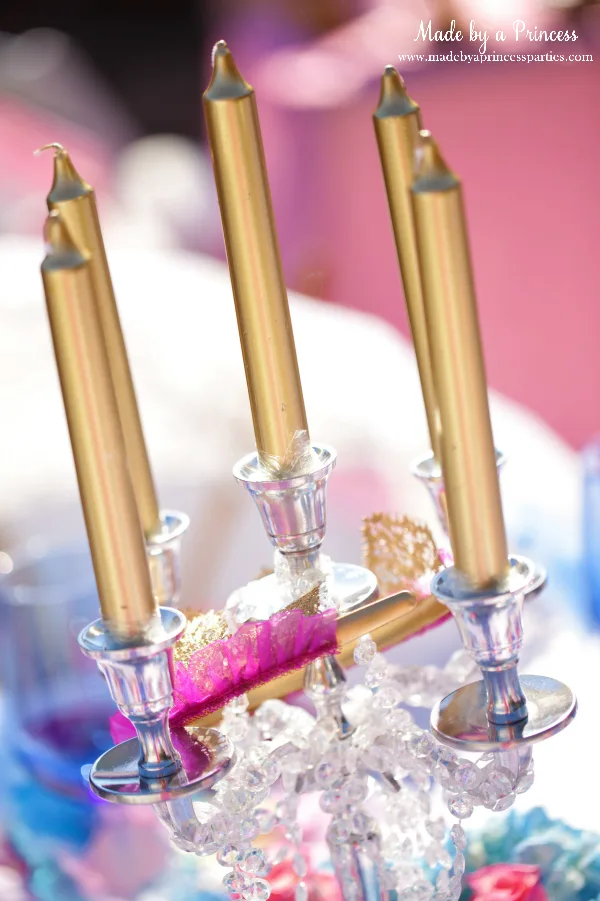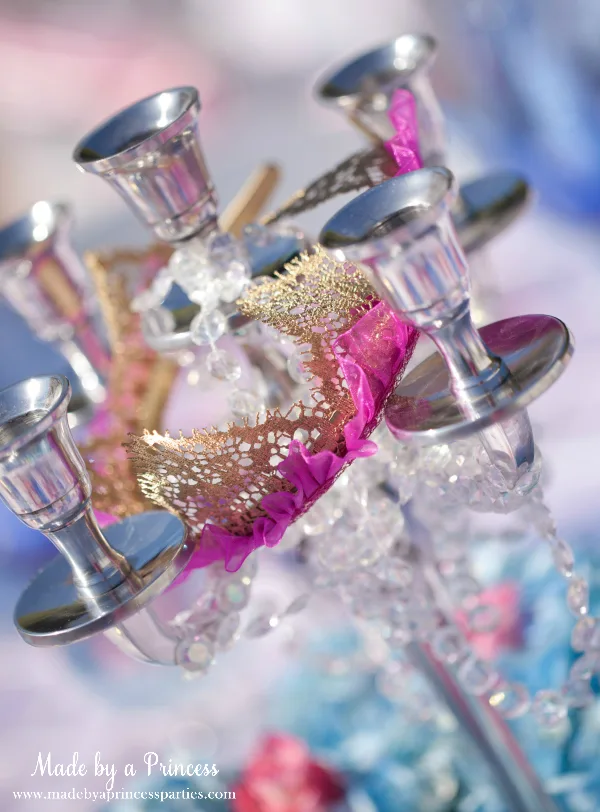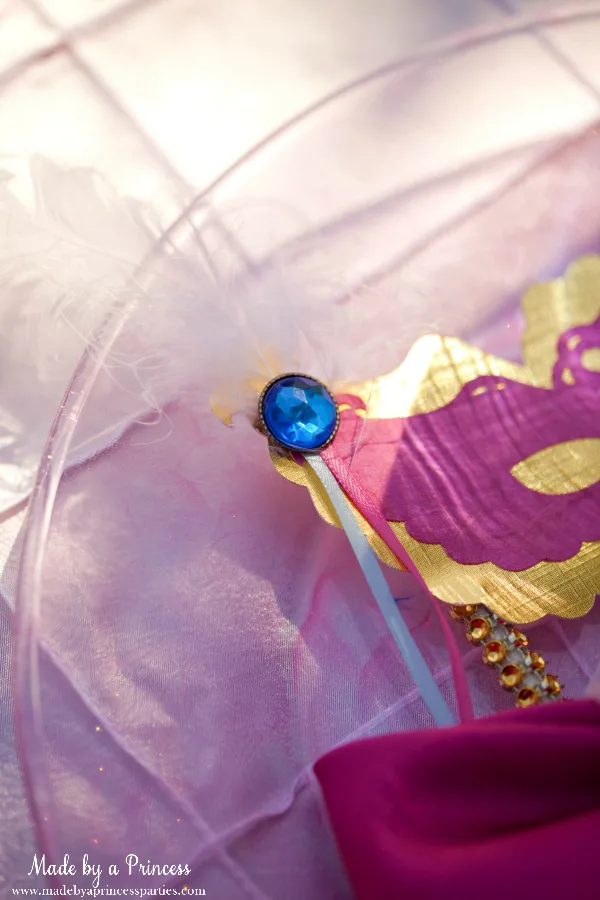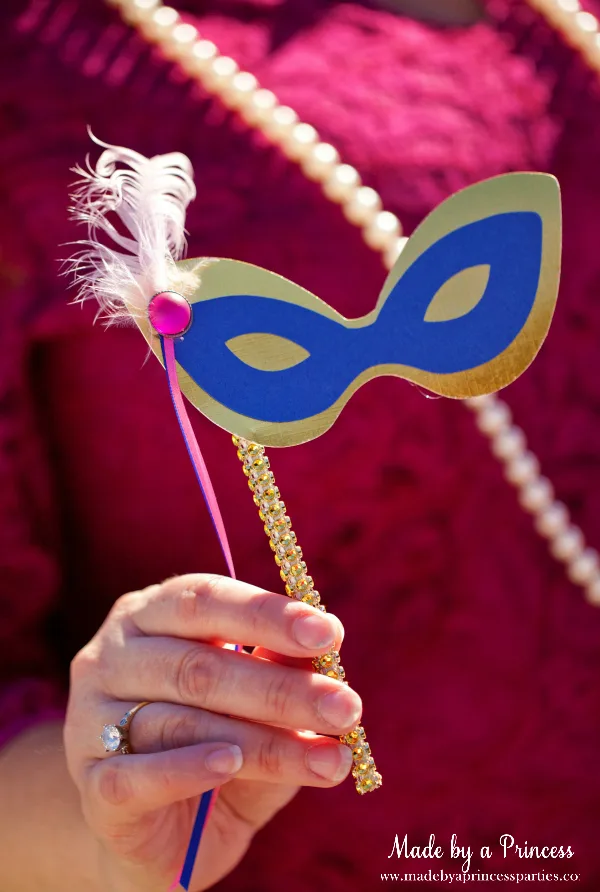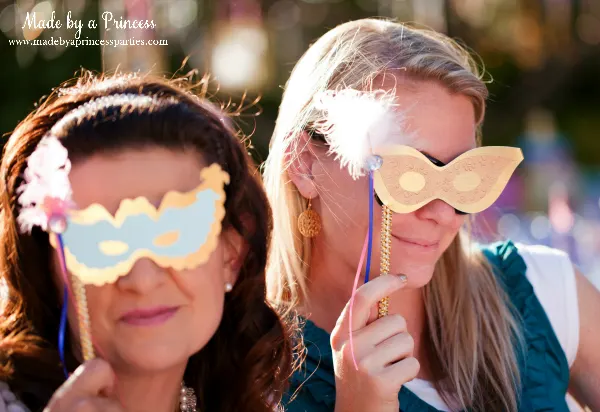 Royal Floral Arrangements
Pat Letsos of Zperfect Party designed floral arrangements to complement to the Gardens and the décor perfectly. She brought in topiaries to mirror those in Versailles and made several trips to the flower mart to find the most spectacular flowers and greenery available which included white hydrangeas, bright pink roses.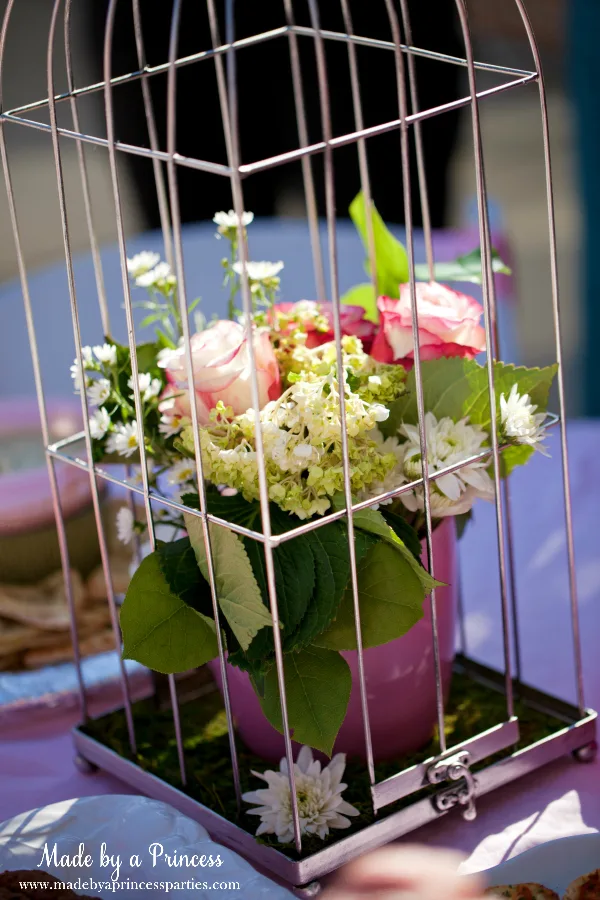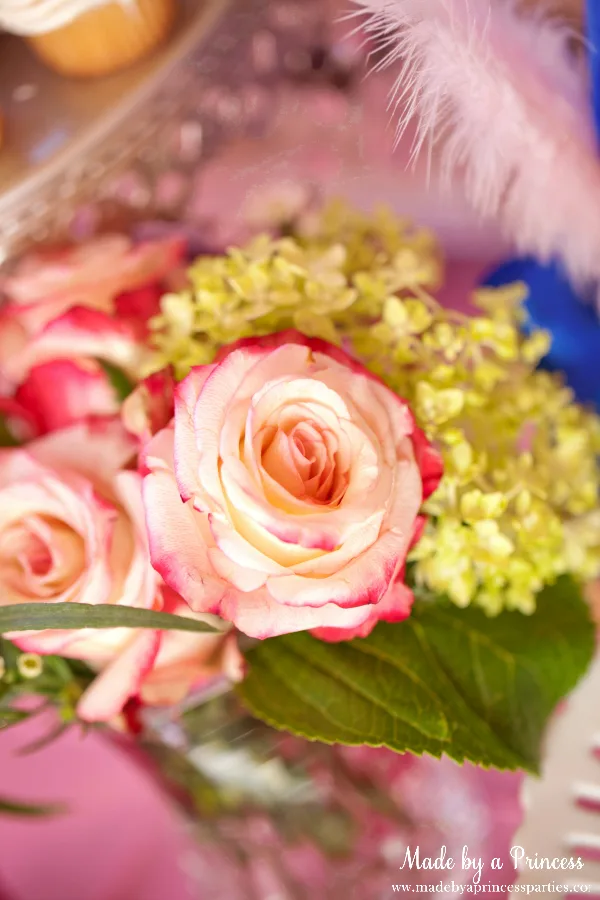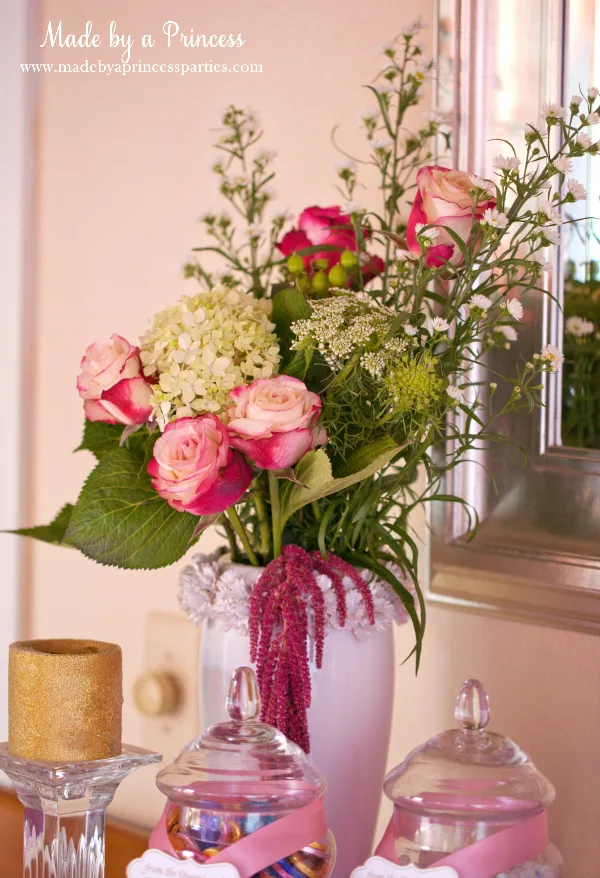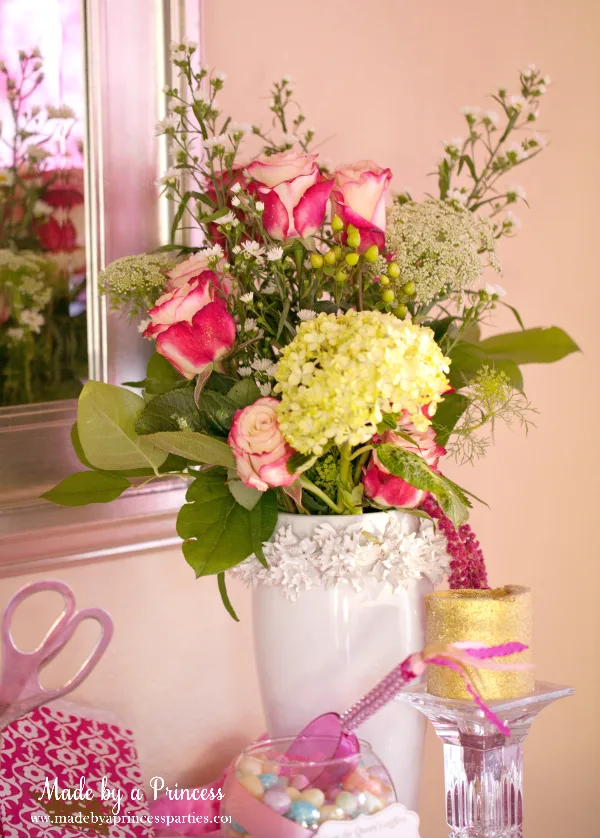 Marie Antoinette Party Food
I am connected with a group of amazing and talented women who collaborated with me for this event. I was sent the most beautiful sweets, decorations, and supplies which enabled me to carry out my vision perfectly and seamlessly for which I am eternally and humbly grateful for.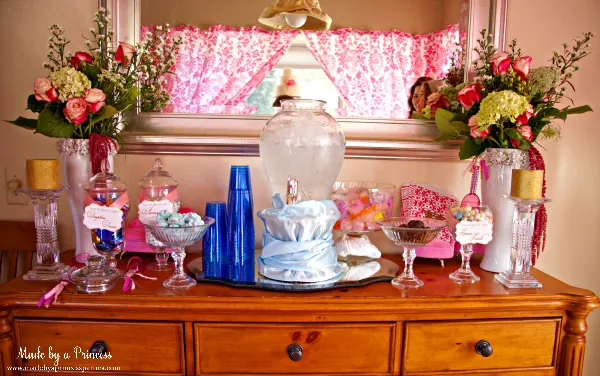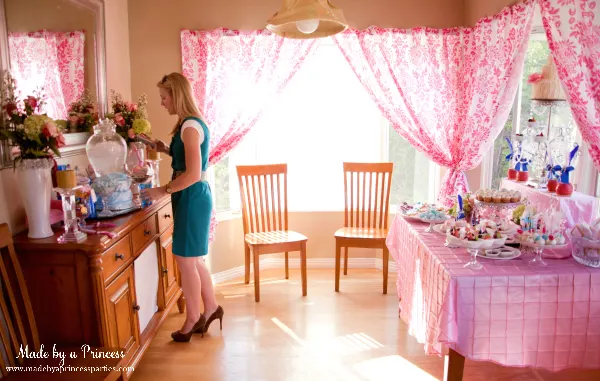 Pretty My Party sent me pink paper straws and sweets bags for the candy buffet which included Princess Pearls (sixlets), Dauphine Ducats (foil coins in pinks, blues, and gold), and Crown Jewels (pastel jelly beans).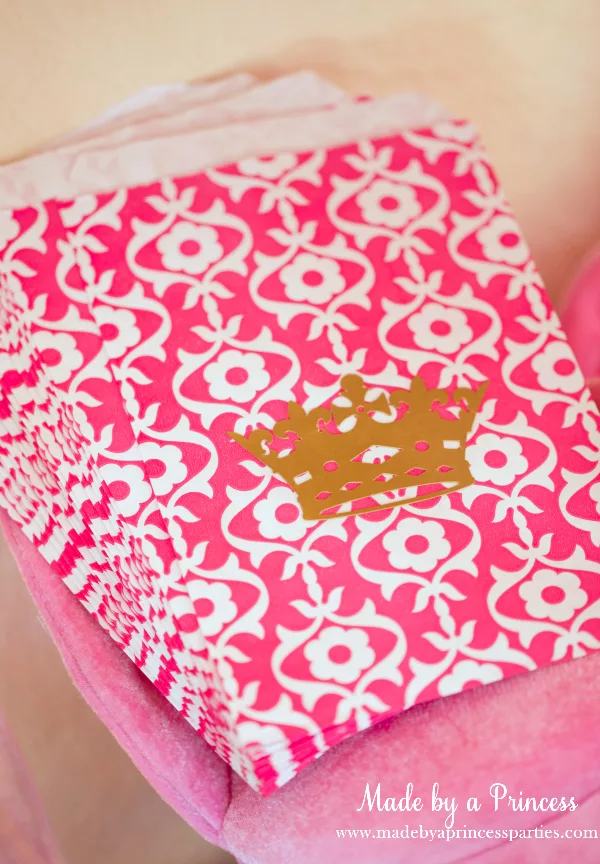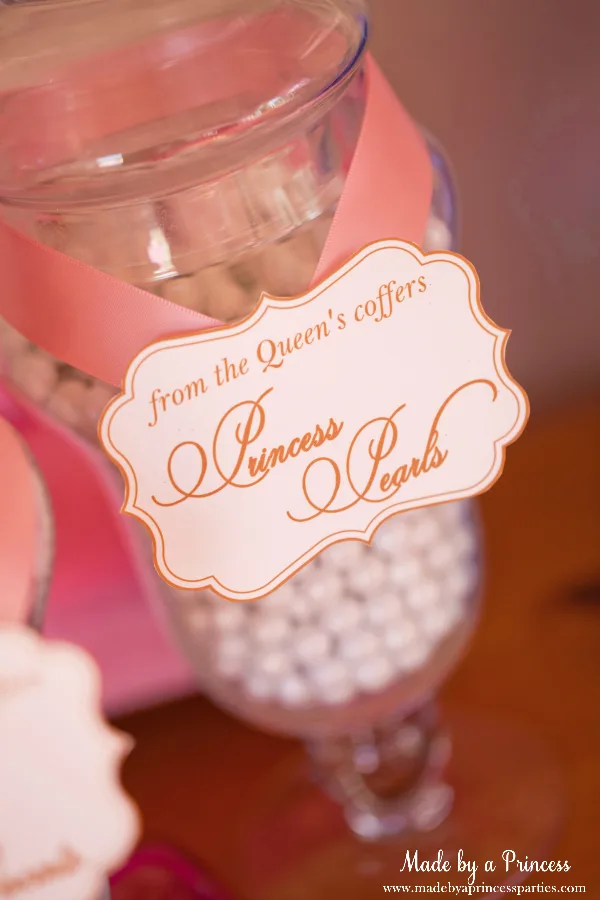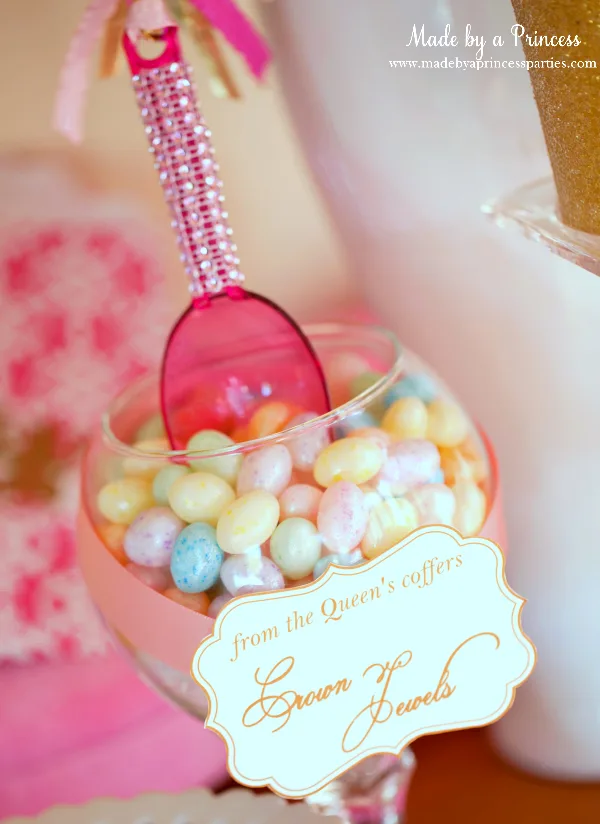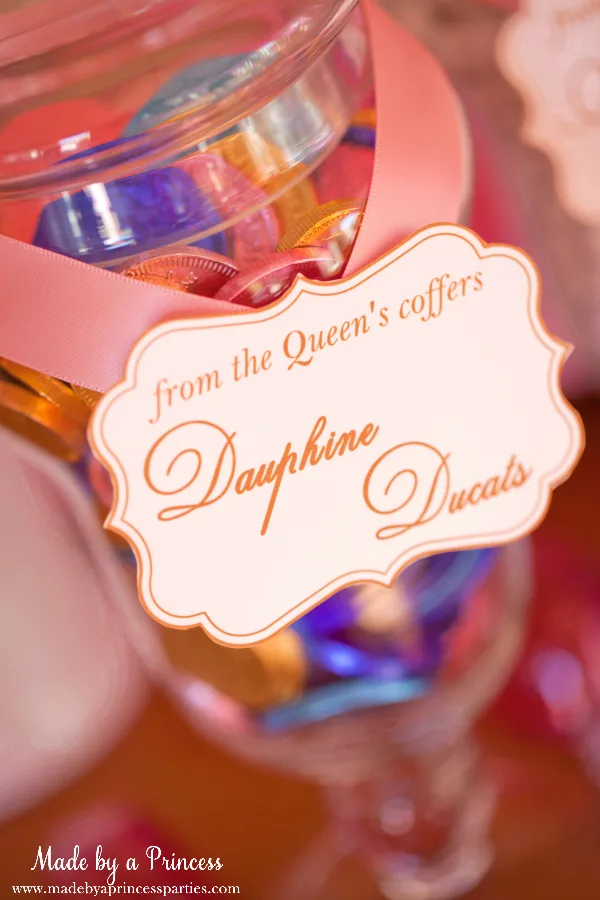 Marie Antoinette Party Dessert Table
Our sweets table was filled with cake pops decorated with pearls, crystals, ribbons, and feathers from MKR Creations.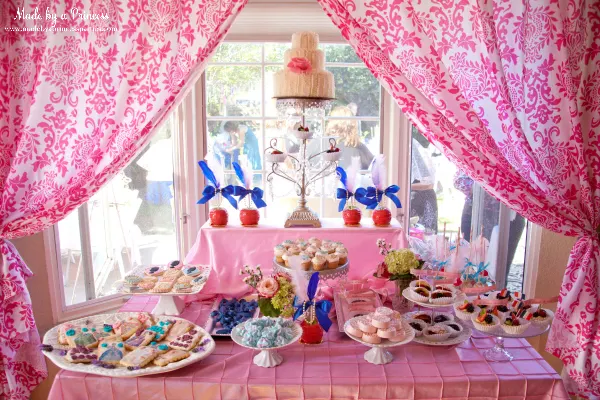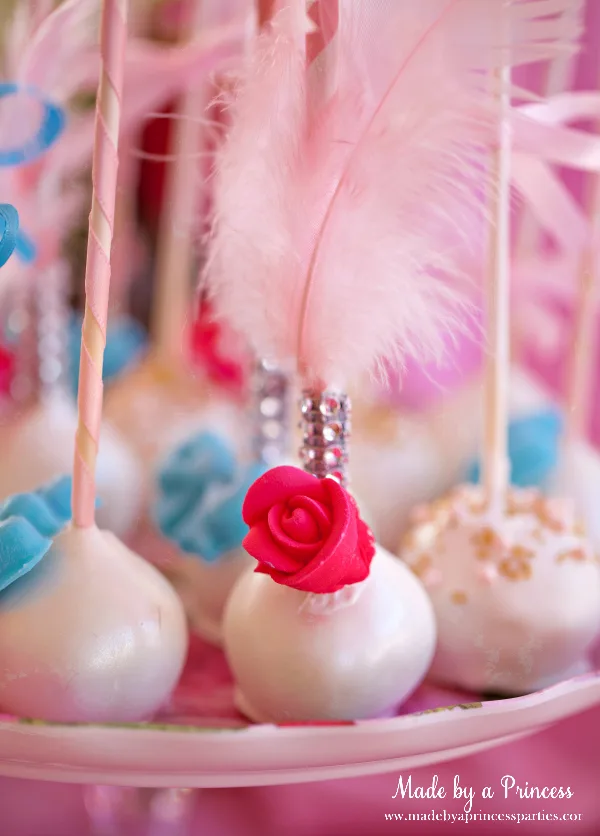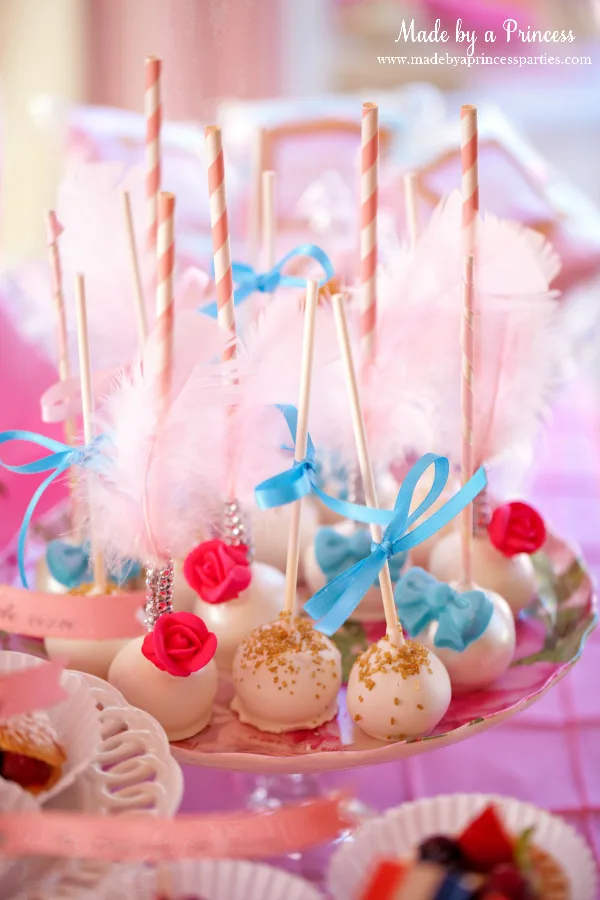 Cookies with gold crowns, fans, and silhouettes of Marie from She Wears the Crown.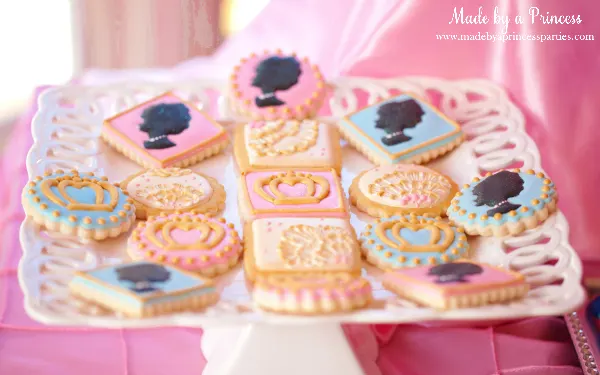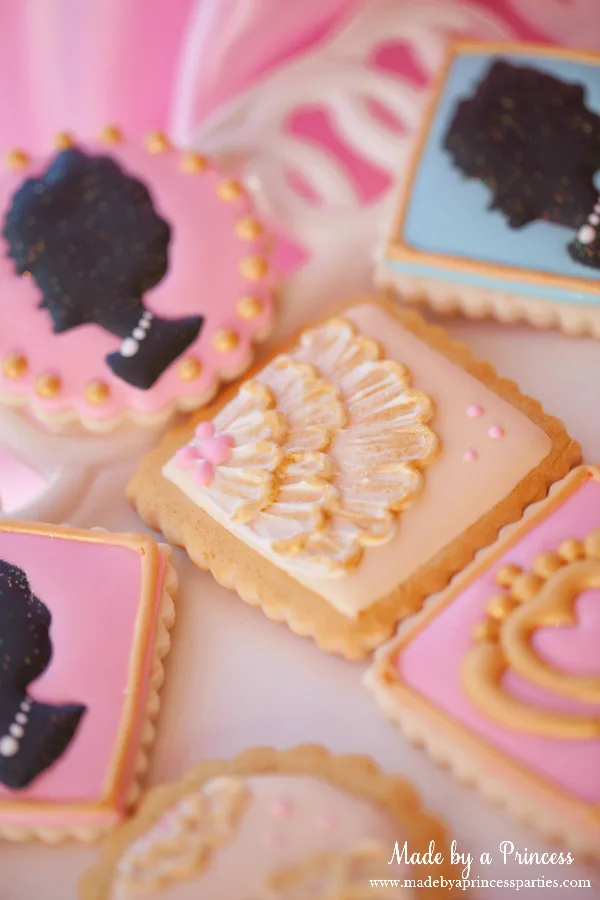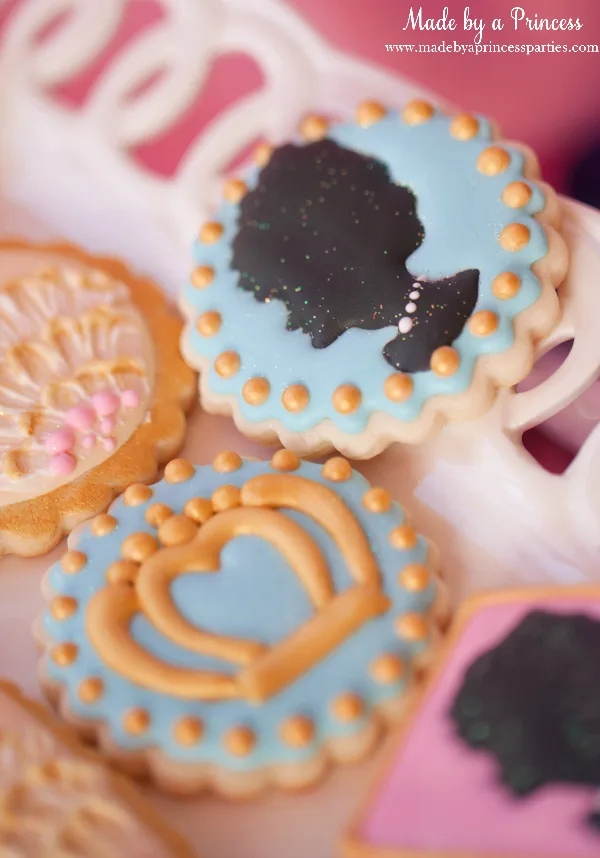 The most amazing éclairs, fruit tarts, profiteroles, and candy apples from Roni's Sugar Creations.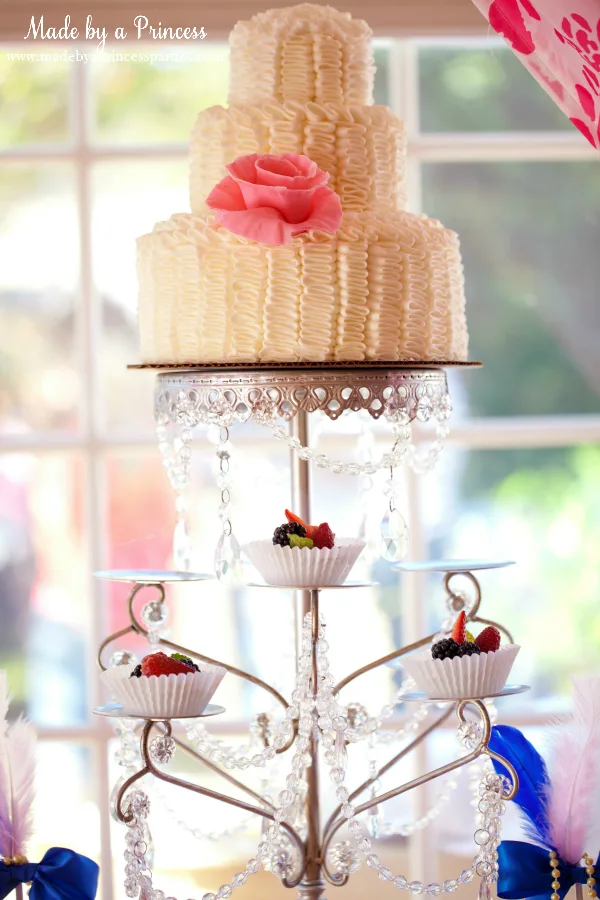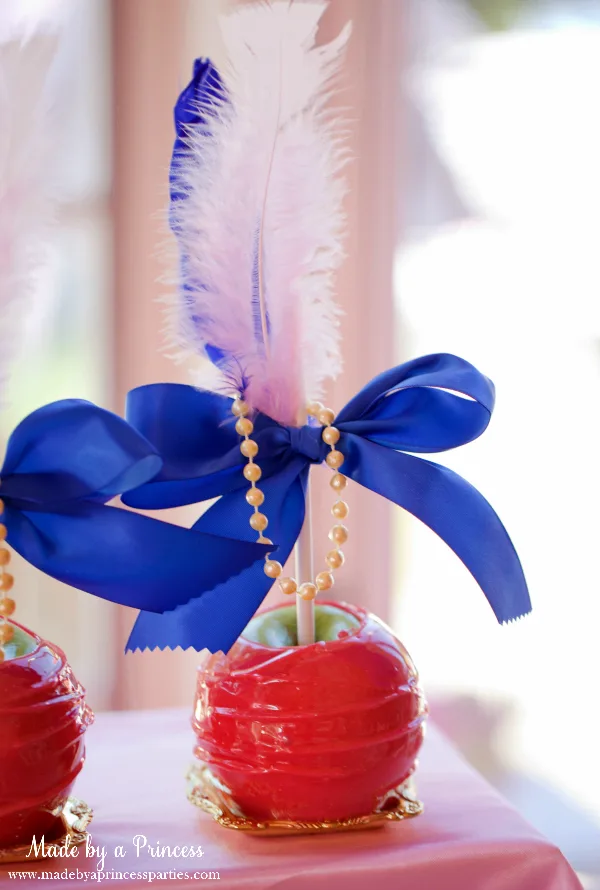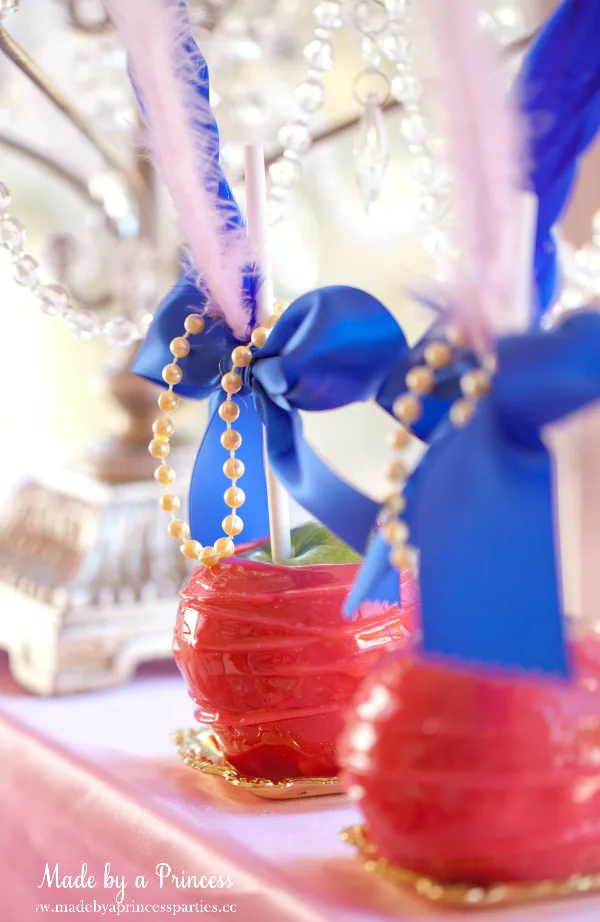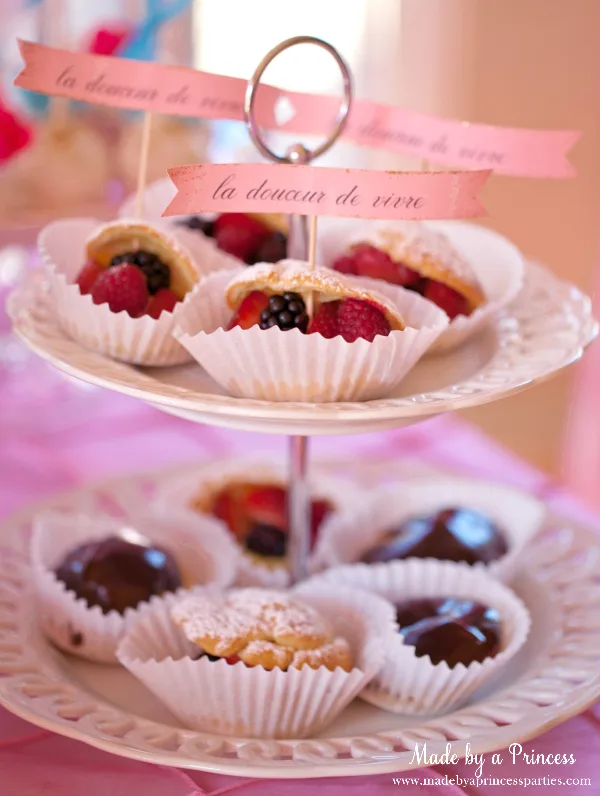 Sweets flags edged in gold glitter were created by Go Against the Grain and added that extra touch to the tablescape.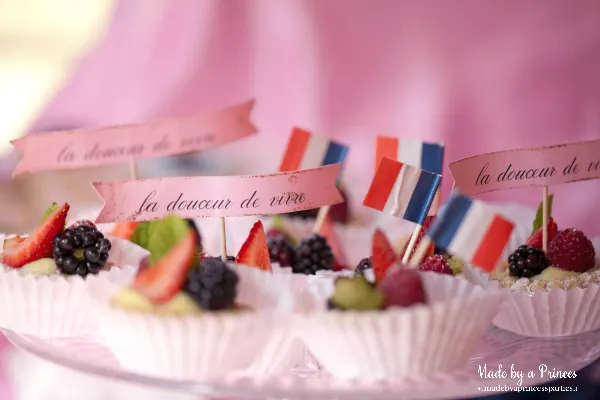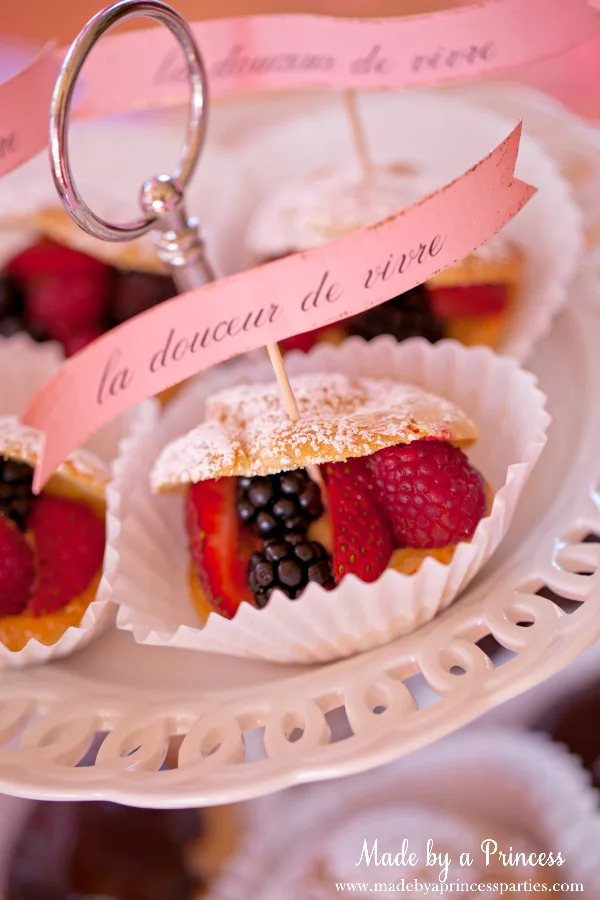 Gold painted fondant crowns, frames and roses from Evie & Mallow.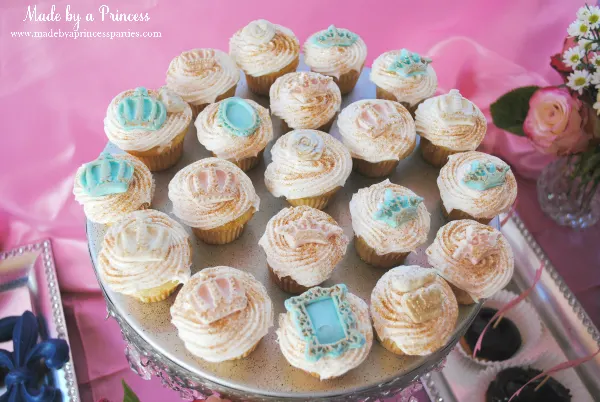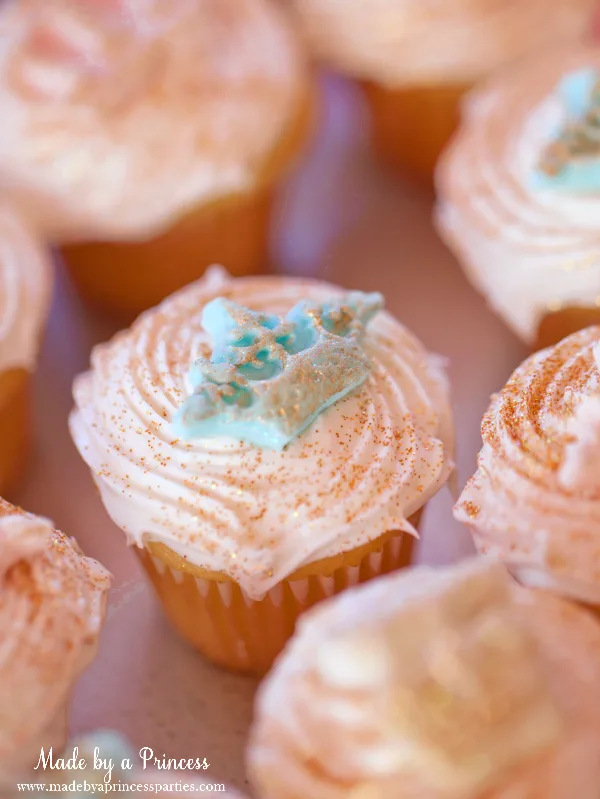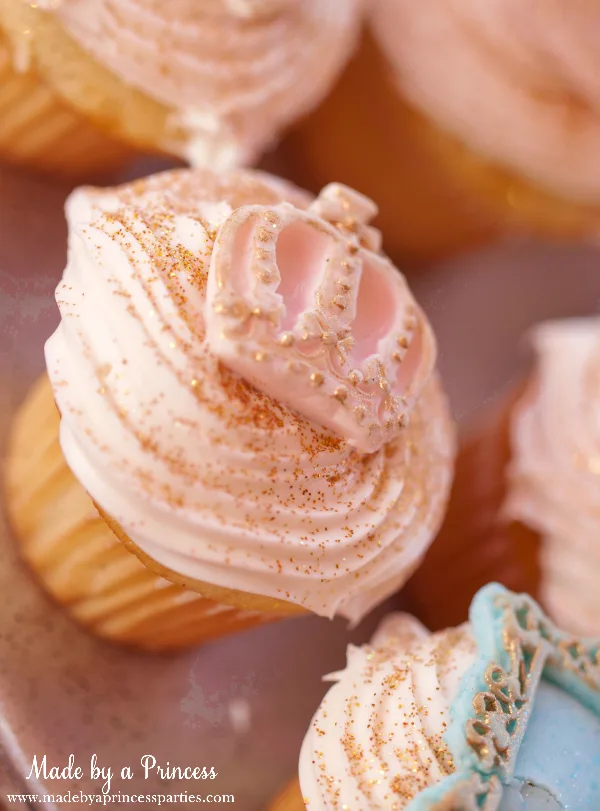 Chocolate covered Oreos with a hand painted gold damask impression from Simply aMayzing Sweets.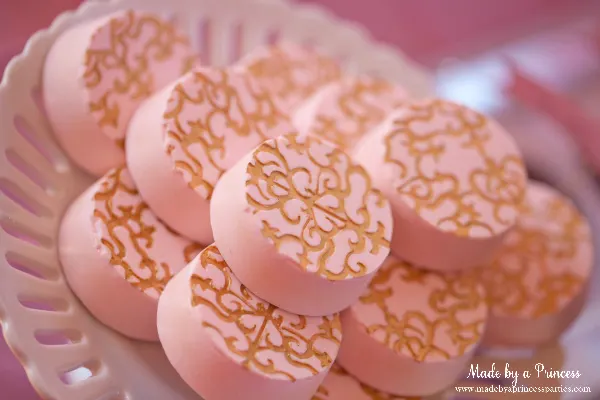 Cotton candy with custom designed labels from Soiree Events.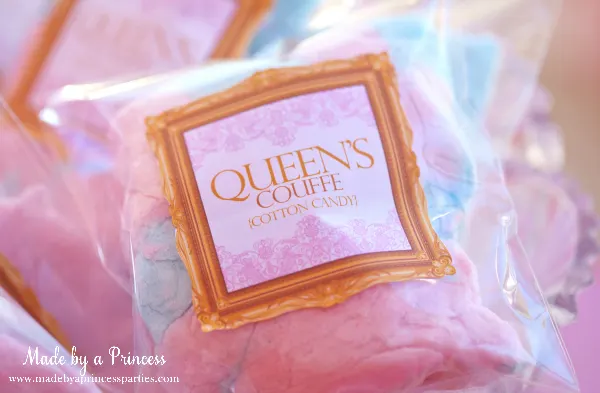 Chocolate fleur de lis from Autumn Lynn's Chocolate Sins.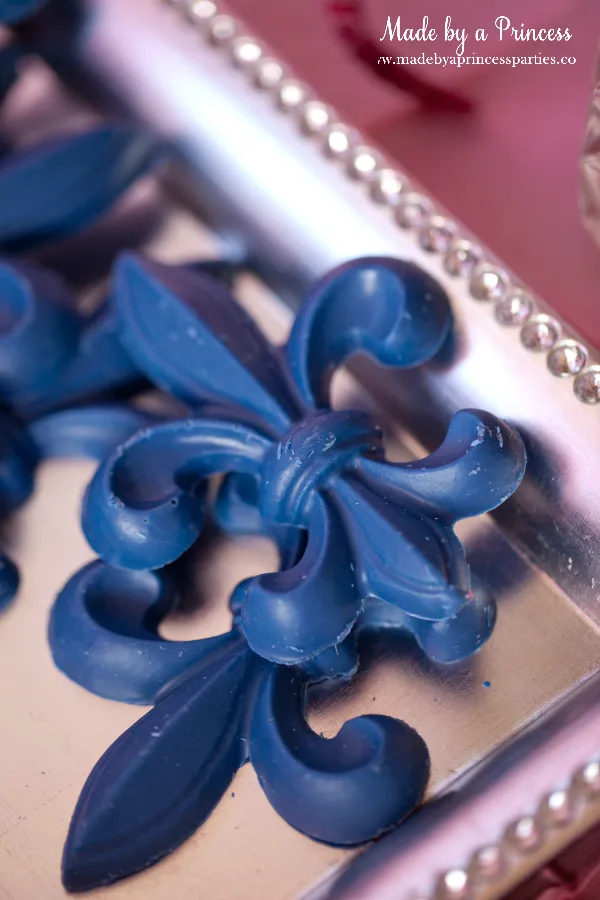 Edible Flowers in Ice Cubes
I purchased edible flowers at Whole Foods and placed them in the ice cube trays for that added elegant touch.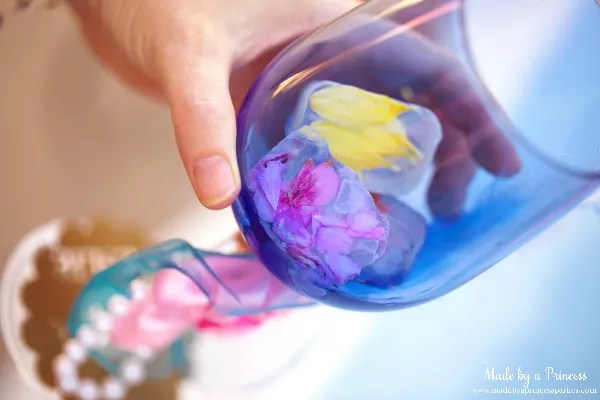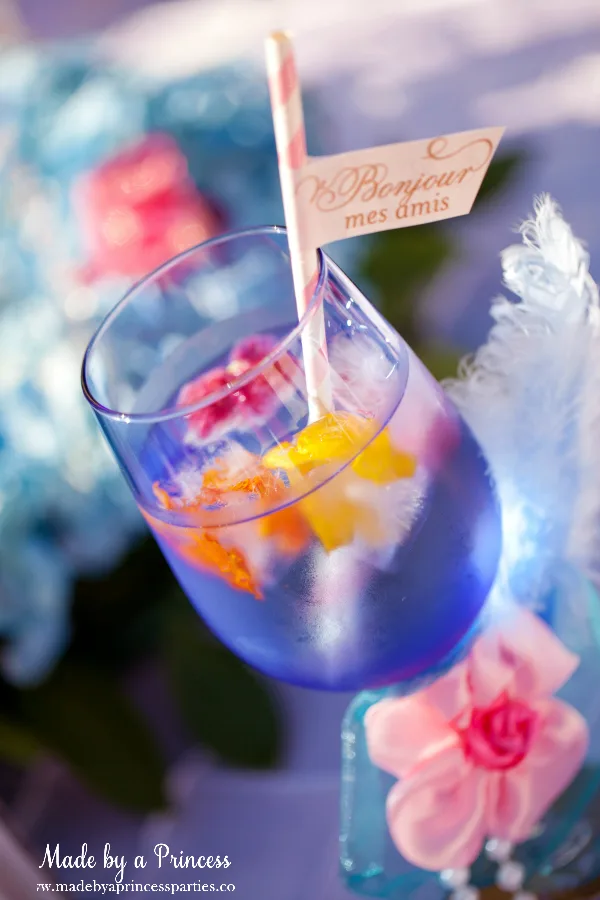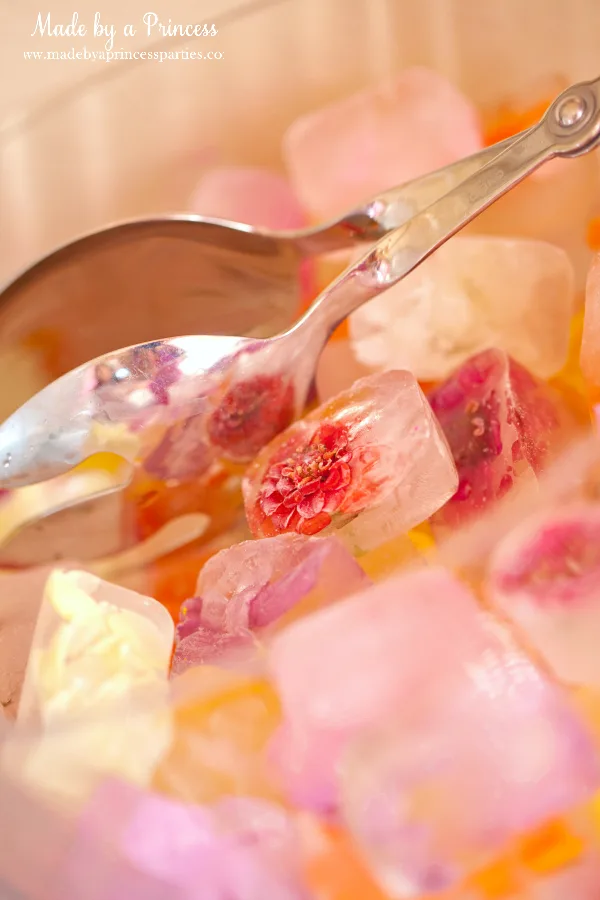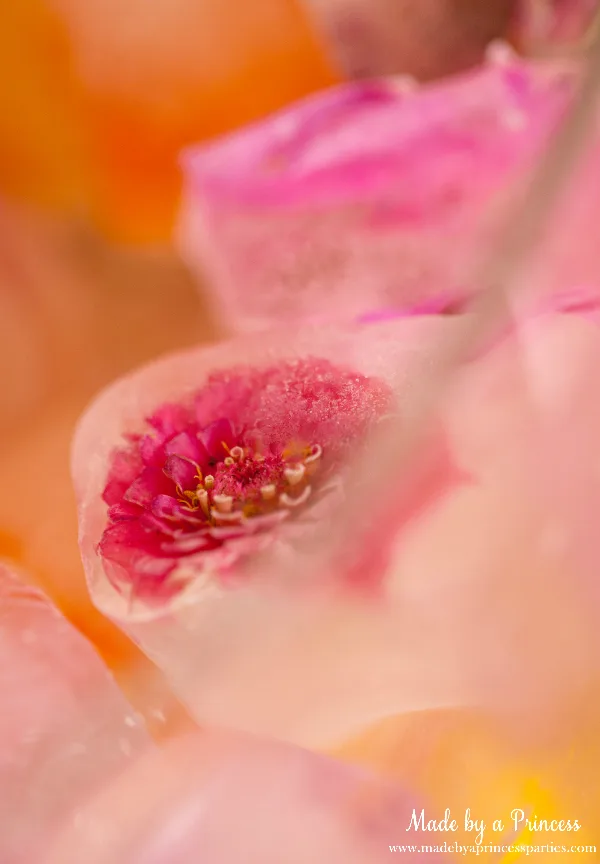 Family & Friends
After months of planning and late night craft sessions, I could not have been more pleased with the party. My guests had a great time, the food was wonderful, there was plenty of wine and treats, and I got to spend the evening with family, some of my best friends, sorority sisters, and many of my fellow "party girls". I cannot thank my friend, Maria Healey, for all of the amazing photos she took. She captured all the little details and I am so grateful and honored she did this for me.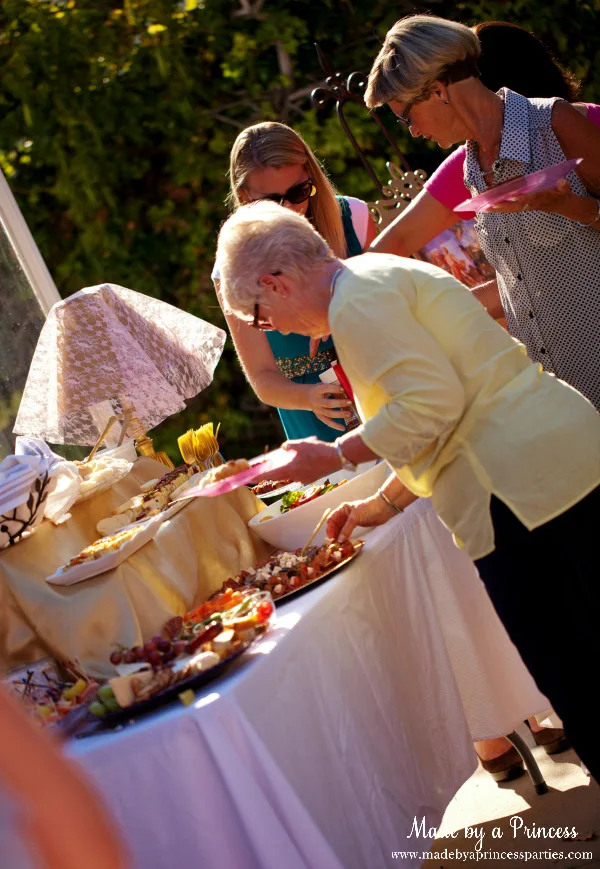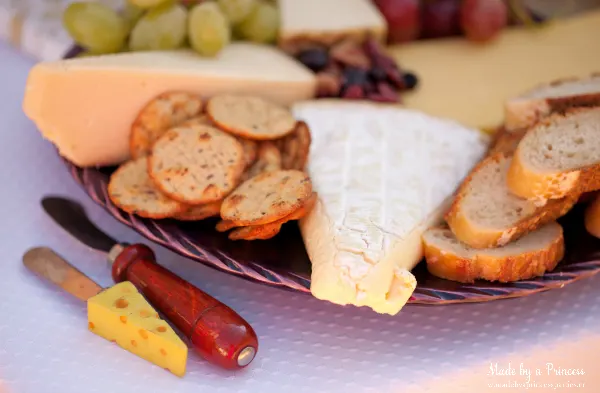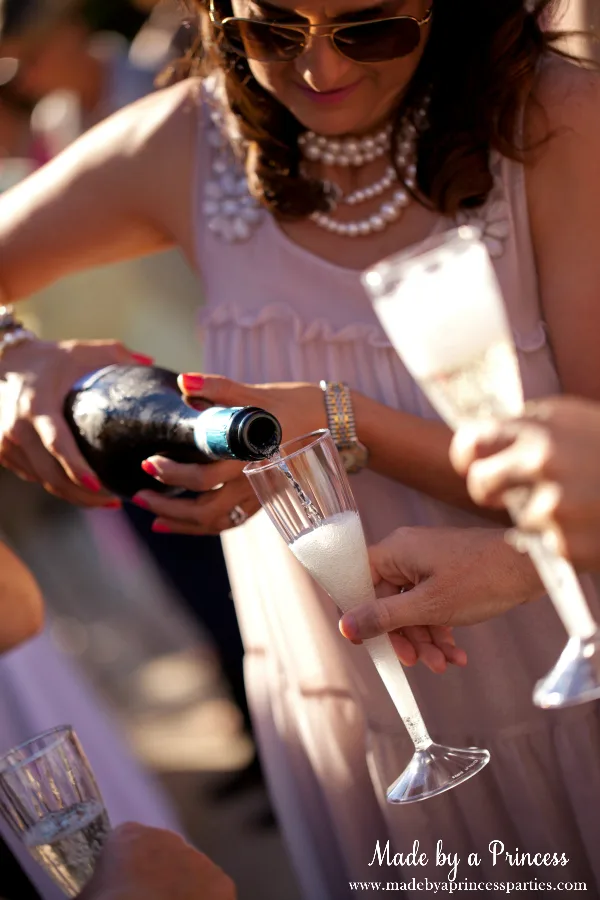 Party Details
Jen also created a number of other printables for me and OnlineLabels.com was kind enough to send me the perfect labels to use for the event.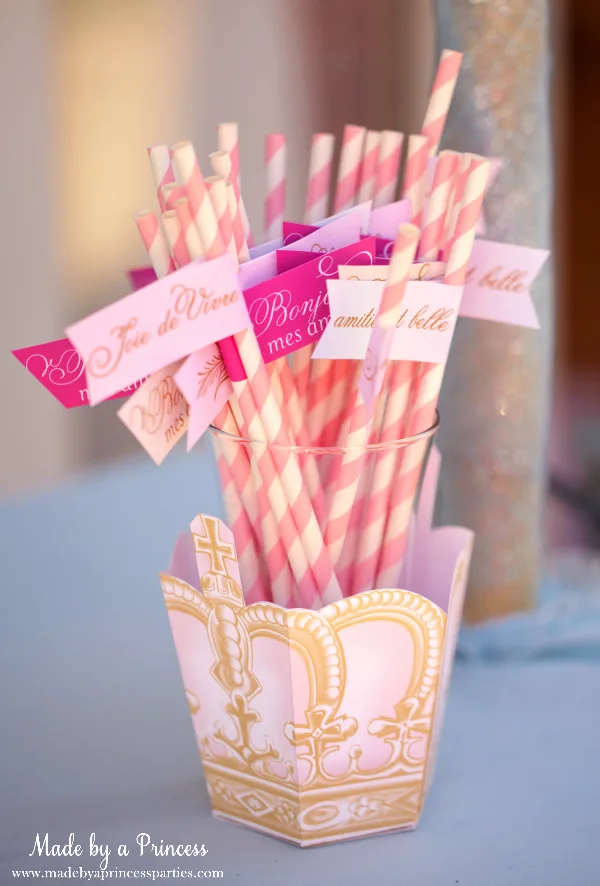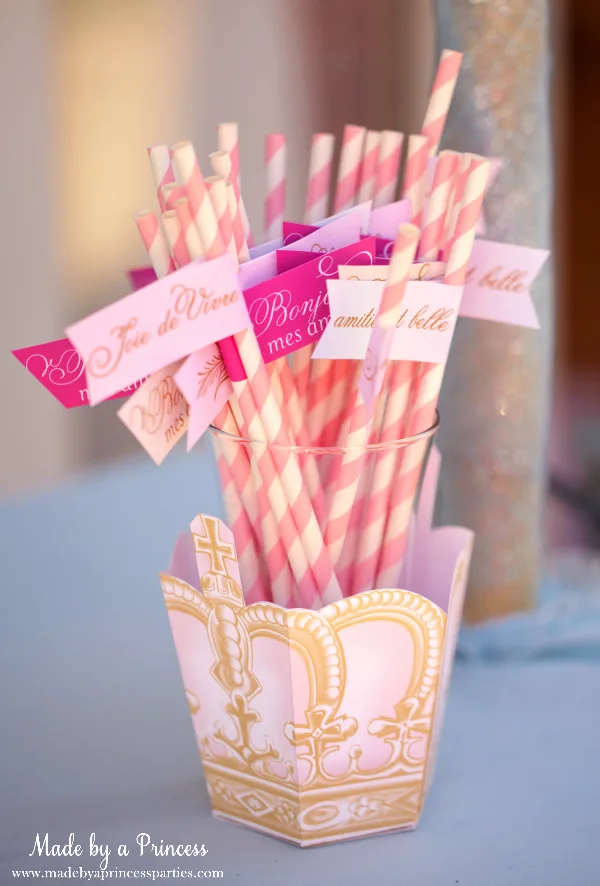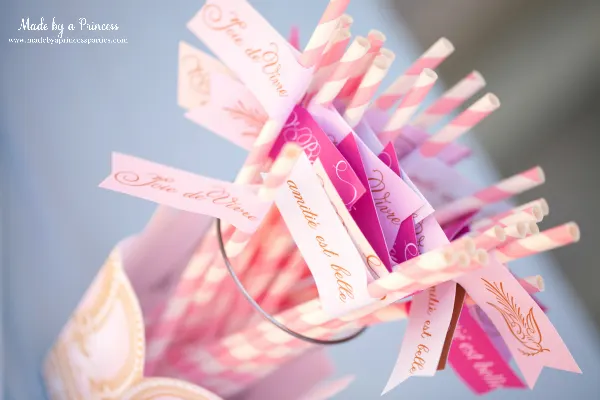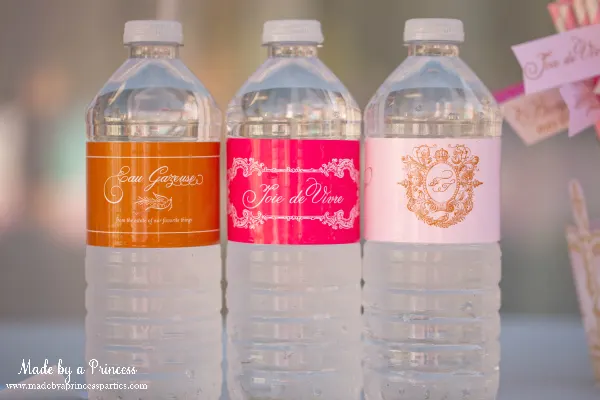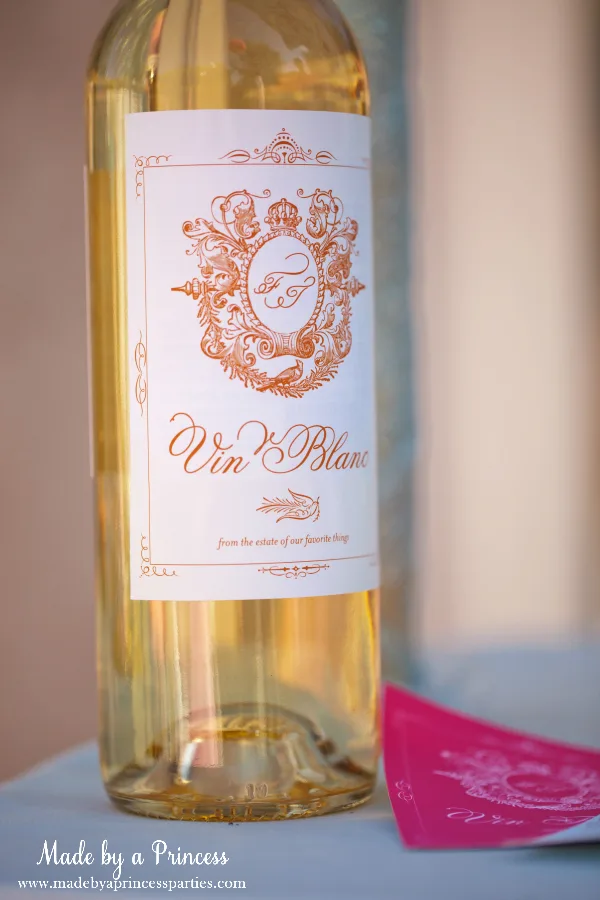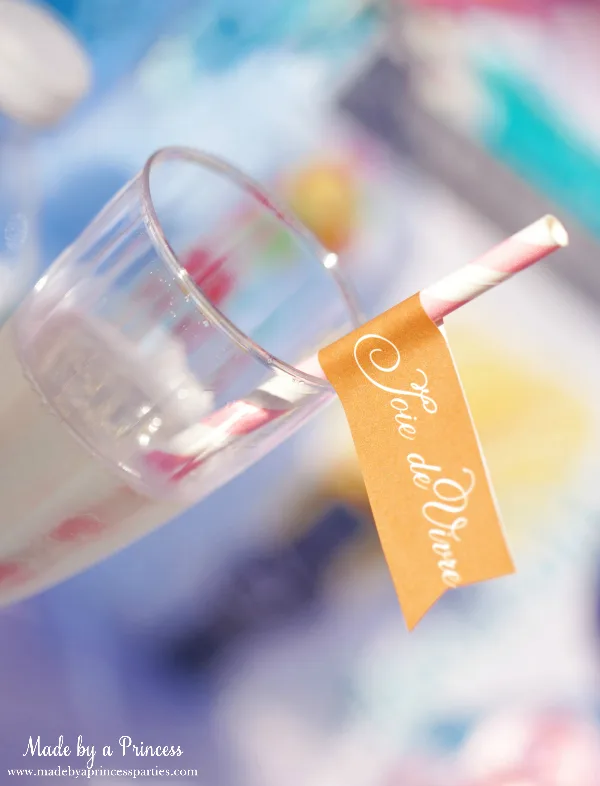 Macaron Cookbook
My friend, Mindy Cone kicked off her book tour here in San Diego and introduced her brand new book, Macarons, at the party while we sampled some yummy macarons and fawned over her
gorgeous cookbook!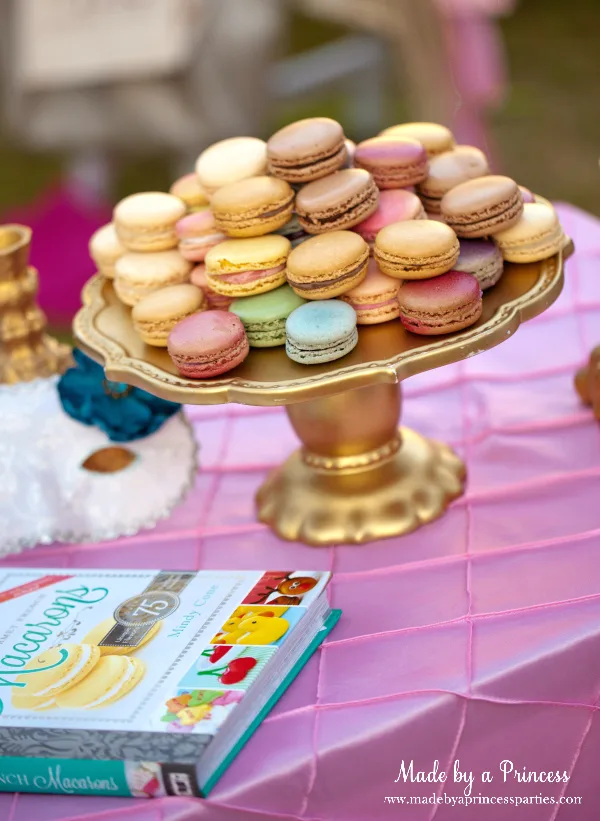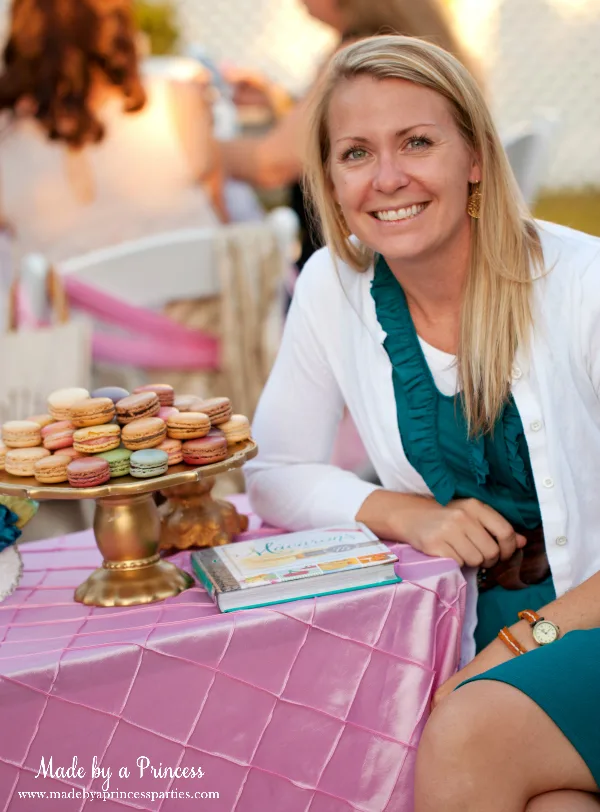 The Party is Over
After just about everyone had gone home, I sat down under this chandelier and smiled. Everything came together just as I had imagined and I was so happy to have spent an evening in my very own gardens of Versailles with my family and friends.
I've thrown lots of parties but I think Marie Antoinette inspired party is my favorite theme so far. You could easily use these ideas for birthday parties, tea parties, bridal showers, or even baby showers. I hope you feel inspired now to throw your own Marie Antoinette party!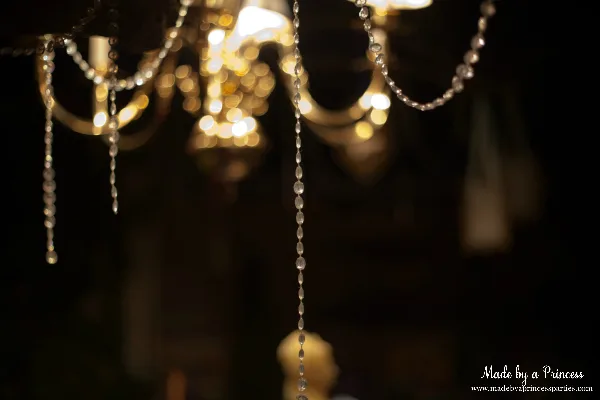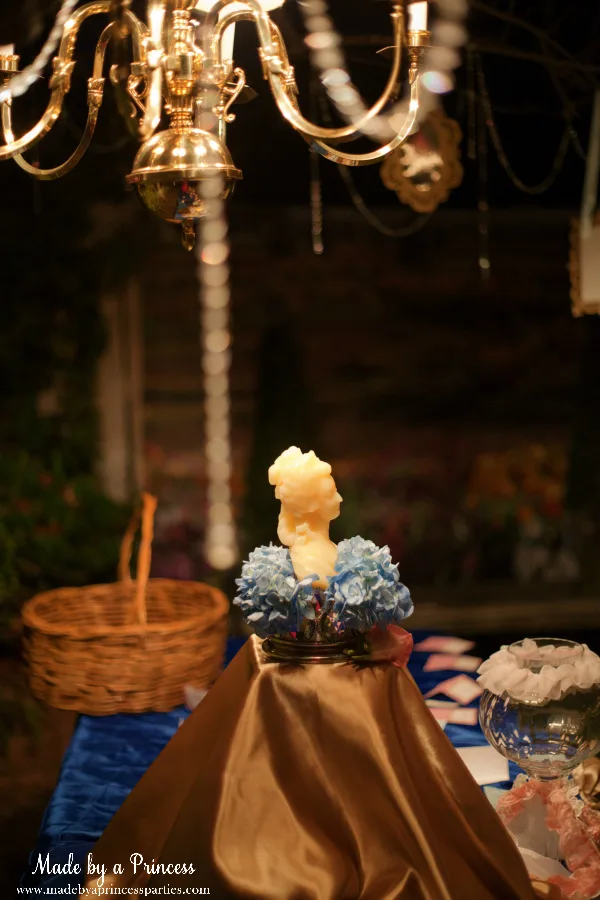 Here's a picture of all my new favorite things! Actually, this is not a pic of everything…many of my friends brought an extra gift of whatever they brought to share to give to me. Aren't my friends the best?!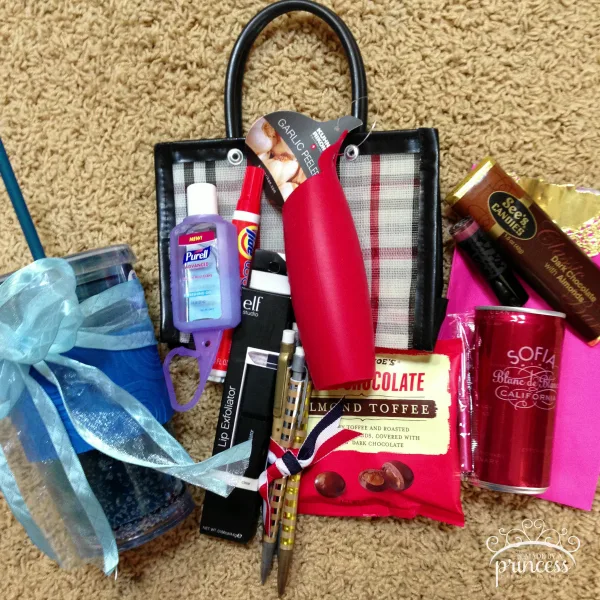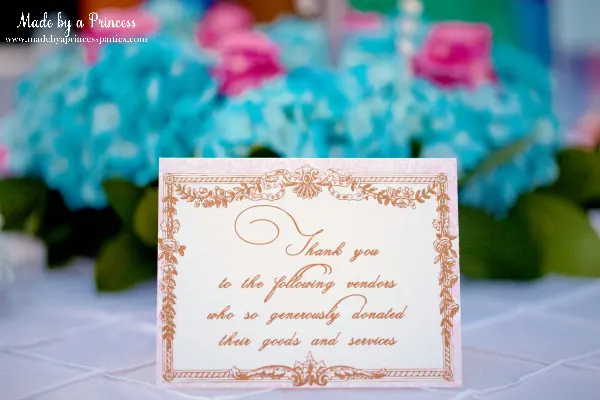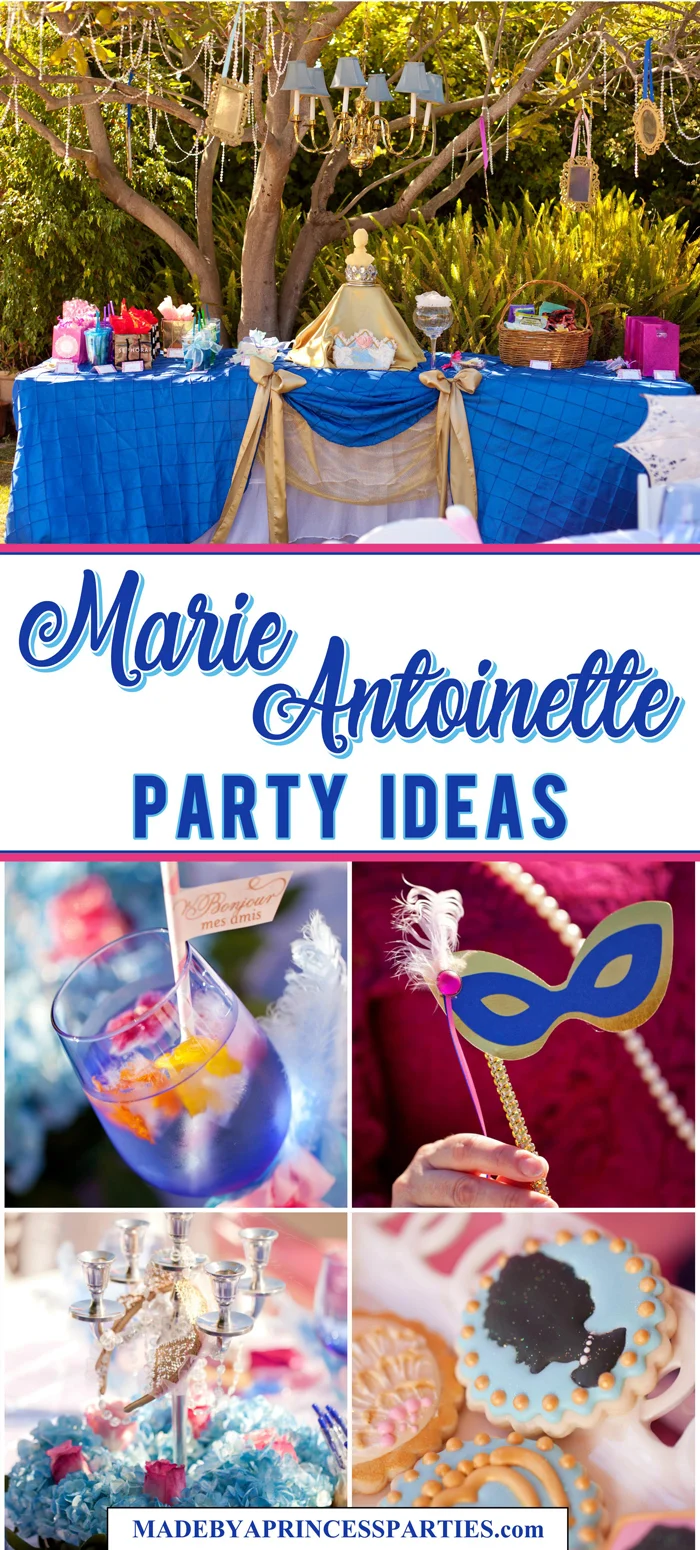 Published October 23, 2013
Updated September 24, 2020