Looking to up your brunch game? Try this decadent Marzipan Stuffed French Toast recipe filled with marzipan cream cheese is perfect for brunch, lunch, or dessert!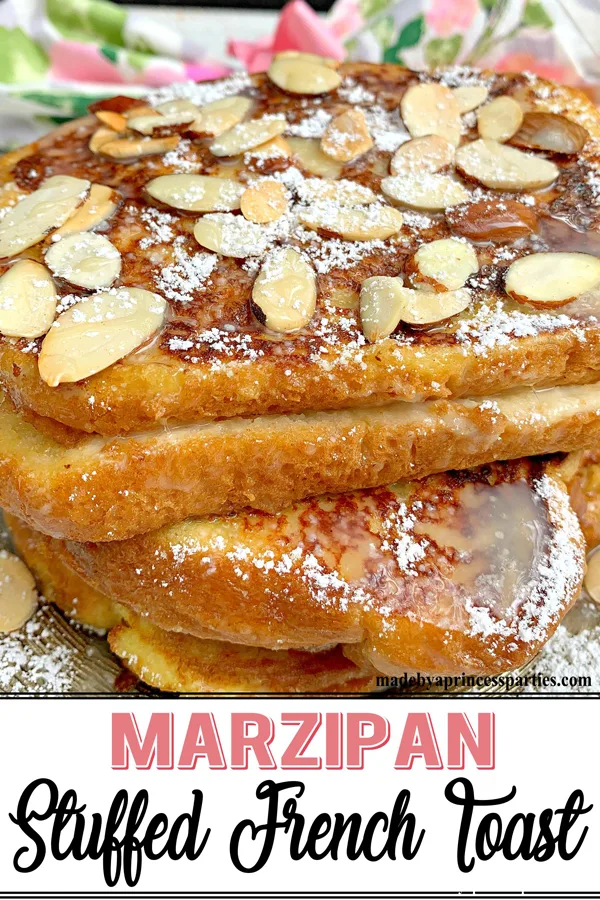 If you love almonds or marzipan this Marzipan Stuffed French Toast recipe is totally up your alley! It's delicious and decadent and just what you need on your brunch table today.
*This post is sponsored by Torani. While I was compensated for this partnership, all opinions are my own. #ToraniWhiteChocolateSauce
*This post contains affiliate links.
Marzipan Stuffed French Toast Recipe
I love, love, love marzipan. Every year "Santa" puts some in my stocking and every year I am pleasantly surprised. There is just something about that soft almond treat that gets me every time. Have you ever had liquor filled marzipan? Oh my that's good! When Torani asked me to create a recipe using their Torani White Chocolate Sauce, I knew it was the perfect time to make this marzipan and cream cheese stuffed French toast recipe.
What is Stuffed French Toast?
Stuffed French toast is a traditional breakfast food that consists of two pieces of bread stuffed with a cream cheese filling. The sandwich is then soaked in a mixture of eggs, milk, a pinch of salt, and vanilla extract. Vanilla extract can be substituted, however, for almond extract for instance.
Best Bread for Stuffed French Toast
You want to choose a sturdy slices of bread that will not fall apart in the egg mixture. Some of the best bread for stuffed French toast are brioche, challah, Texas toast, Artesano Bakery Bread, or day hold or stale country loaf.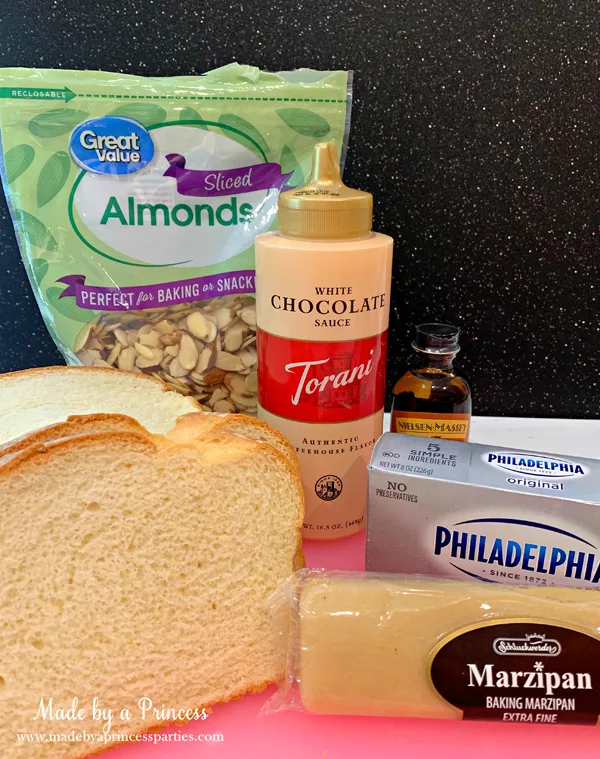 What is Marzipan?
Marzipan is a sweet and smooth confection consisting of sugar or honey, corn syrup, almond extract sometimes, and finely ground almonds. In lieu of grinding your own almonds you can use almond meal. Some marzipan recipes call for egg whites as a binder but if you plan on eating it raw, I would avoid one with egg whites in the ingredients.
Is Marzipan Good to Eat?
Absolutely! If you don't like the taste of almonds it might not be your thing but I definitely recommend trying it. Marzipan is often made into adorable sweets in the shapes of vegetables, fruits, or cute characters like a pig. One of the great things about marzipan is that you can dye it with food coloring to create anything your creative heart desires. You tend to see more marzipan products around the holidays.
How Long Does Marzipan Last?
If you keep it wrapped in plastic wrap in an air tight container in a cool dry place it should last about 3 weeks. Marzipan will harden fairly quickly when exposed to the air for too long. If you don't end up using an entire roll for this recipe, you can wrap it up and put it away or create some cute shapes. Marzipan is kind of like adult Play-Doh except you can eat it when you're done!
Can You Make Your Own Marzipan?
You can definitely make your own marzipan if you have the time or the inclination. It is not difficult but it is a little time consuming. One thing about marzipan is that it is expensive so if you intend on making a big batch of this marzipan stuffed French toast you might want to look into making your own.
How Do You Make Stuffed French Toast?
Now that we have talked a bit about what marzipan is let's talk about how to make stuffed French toast! After you have gathered your ingredients together, you will want to blanch your fresh almonds.
Place a 1/4 cup of almonds in a small pan over medium low heat. Do not be tempted to put no medium high because they will burn and end up not tasting good at all. Move the almonds around so they don't burn. Once the almonds turn lightly golden remove them from the heat.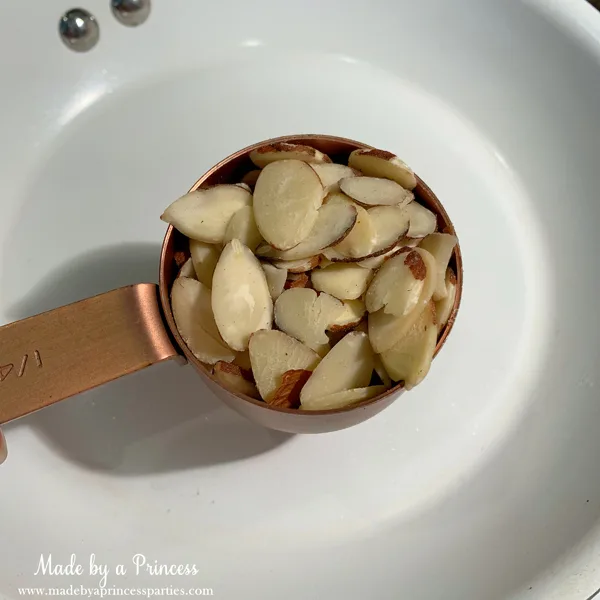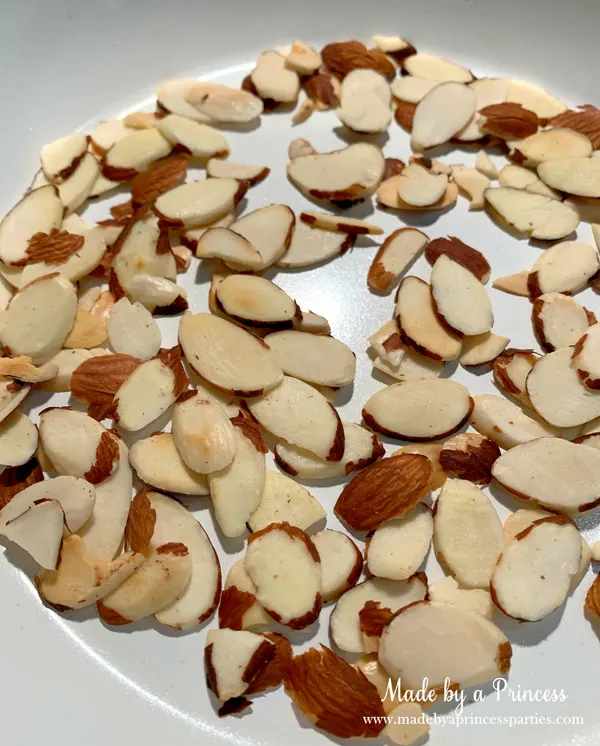 Next, make your cream cheese filling. Place marzipan in a medium microwave safe bowl. Place in microwave for about 20 seconds. You don't want to cook it, you just want to softened it up a bit. Now place room temperature cream cheese in the bowl and cream together on low with a hand mixer. Add a pinch of salt, sugar, and almond extract. With a spatula or butter knife, spread a thick layer of cream cheese filling on one piece of bread.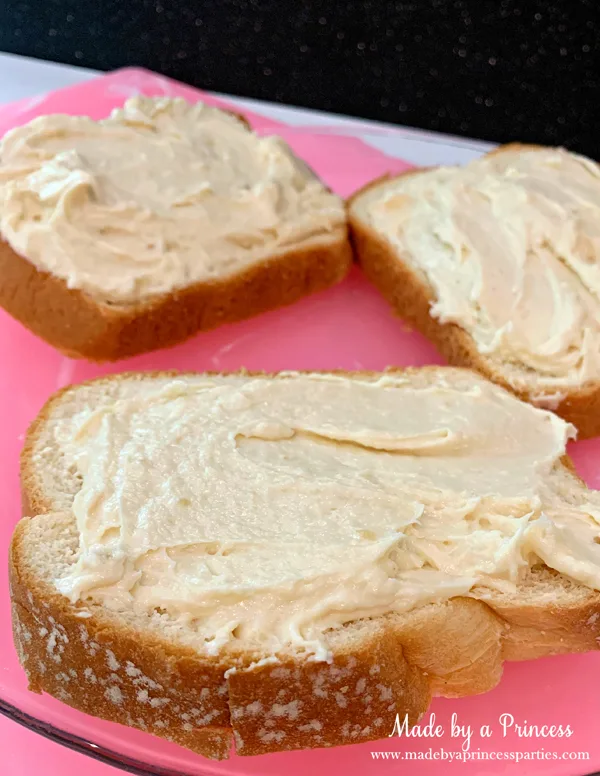 Place the other bread on top to make a sandwich.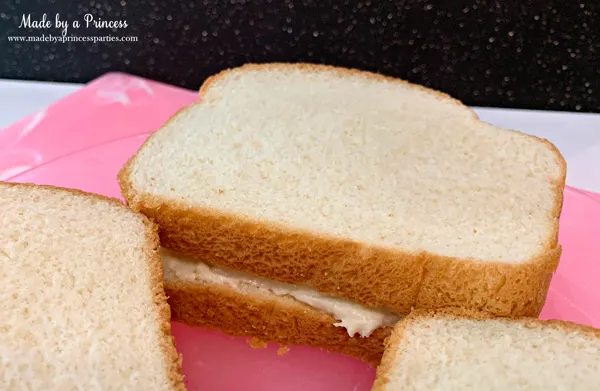 In a medium bowl whisk together the eggs, milk, cinnamon, and almond extract. You can also use a hand mixer.
Shallow bowl works best so you have room to dip. I wouldn't advise using a small bowl.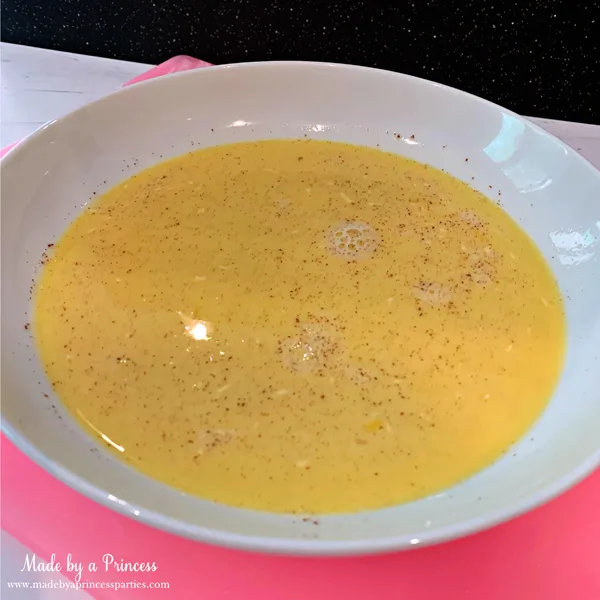 Dip filled sandwich in the egg mixture, making sure all sides are coated. Don't keep them in the mixture too long or the bread will get too soggy.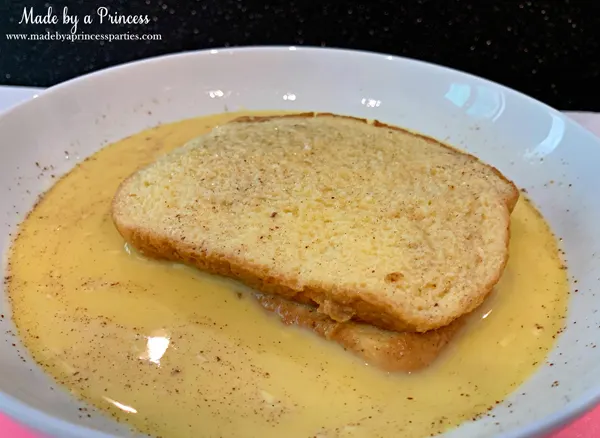 Melt butter over medium low heat and place egg soaked sandwiches in warmed pan.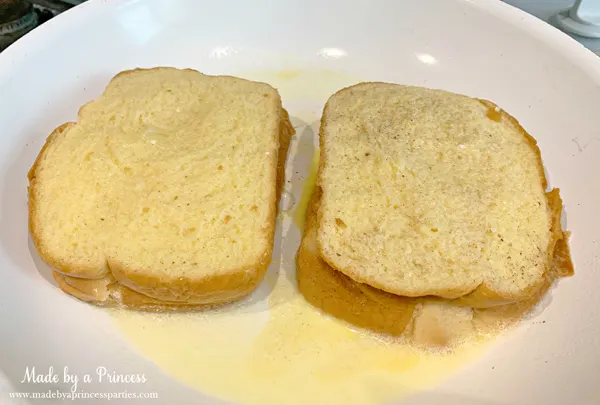 Cook about 4-5 minutes per side. Cook until golden brown.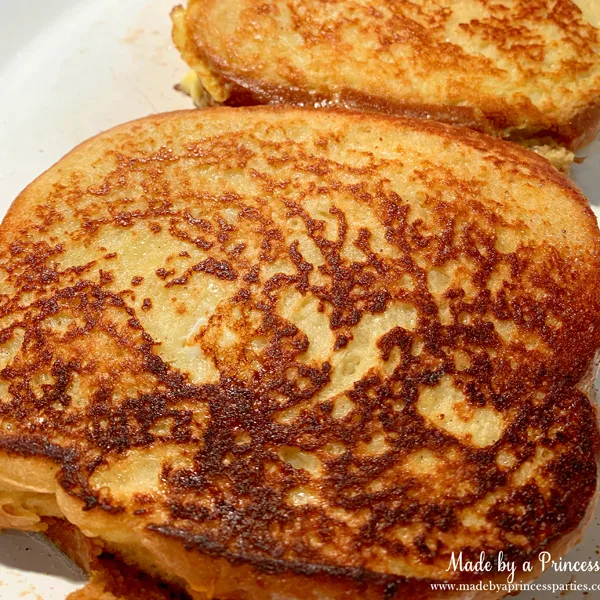 Find a pretty plate and get ready to "decorate"!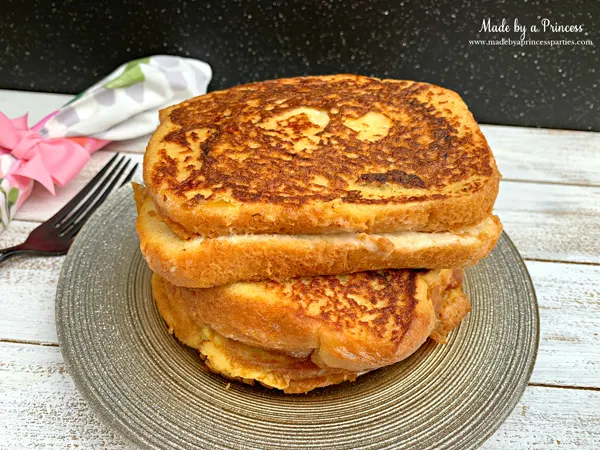 What Can You Put on French Toast Besides Syrup?
That is a fantastic question! Sure you could serve with maple syrup but there are lots of other things you can put on French toast besides syrup. Let's discuss a few…
Honey
Honey butter
Whipped Cream
Applesauce
Yogurt
Lemon Curd
Lemon Zest
Nuts
Powdered Sugar
Jam or Jelly
Fresh or Frozen Fruit
Nutella
Chocolate Sauce
Caramel Sauce
For this special French toast recipe I used powdered sugar, your blanched almonds, and Torani White Chocolate Sauce. Oh yes my friends, we are fancying this up with White Chocolate Sauce and it is gooooood!
You can find Torani products in your local big box stores as well as some grocery stores. Save yourself some time and use their handy dandy store locator. If you prefer, you can order the White Chocolate Sauce online (with a whole bunch of other things you are going to find you need) at www.torani.com.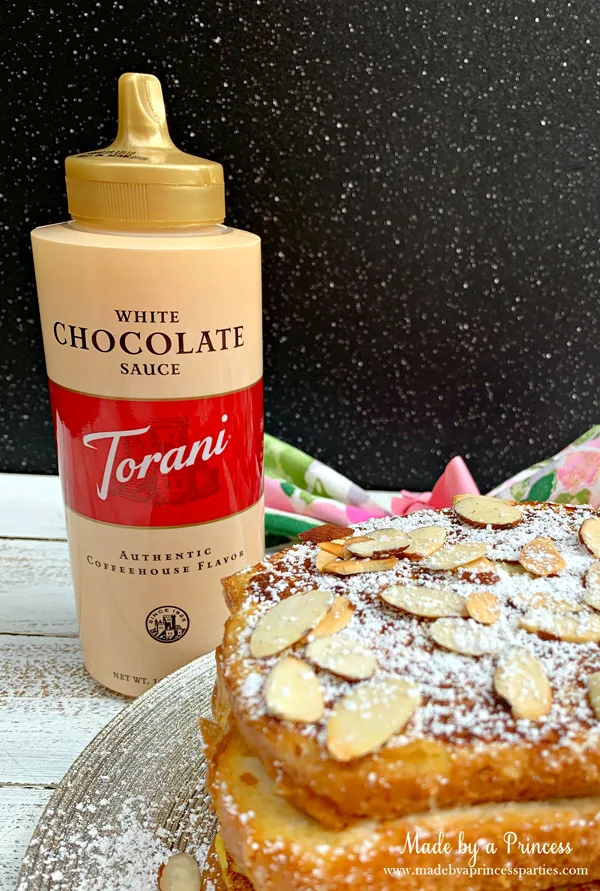 Sprinkle powdered sugar on top with a sifter and then add some almonds.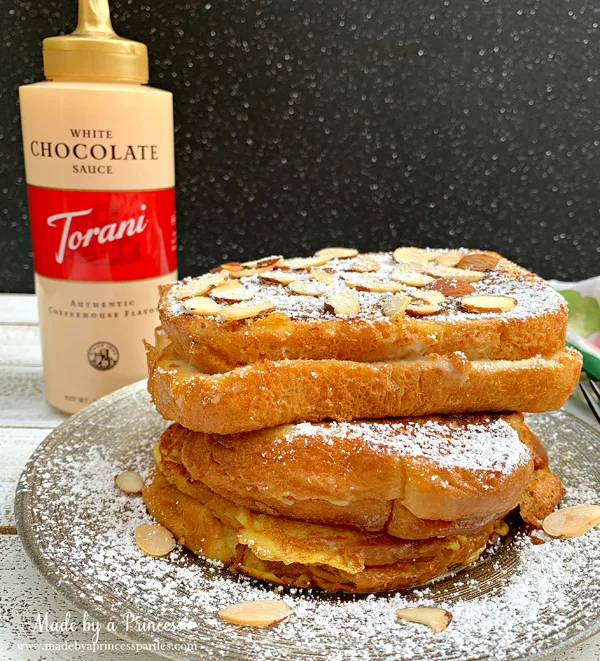 Next, pour on the sauce!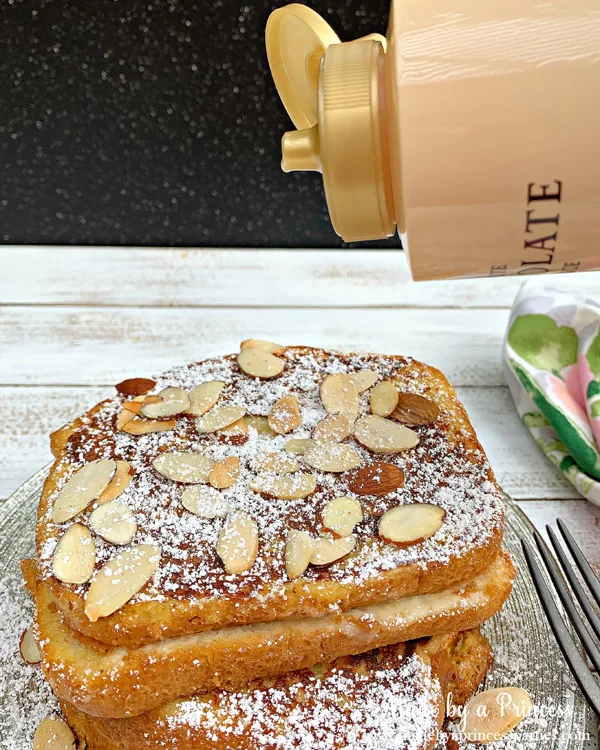 Doesn't that look delicious?!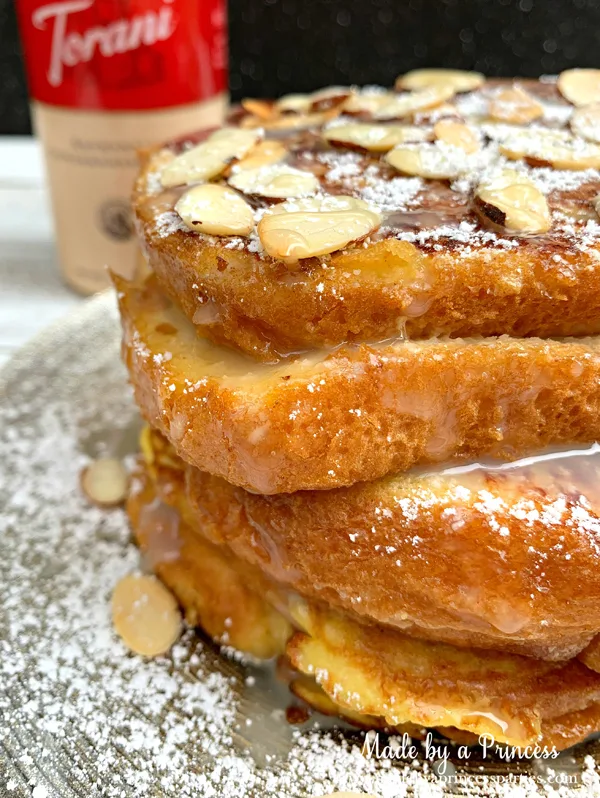 Serve a plate of this at your next brunch, luncheon with the girls, holiday breakfast, or even "French Toast for Two" and you might just hear it is the best stuffed French toast they have ever had. Just sayin'.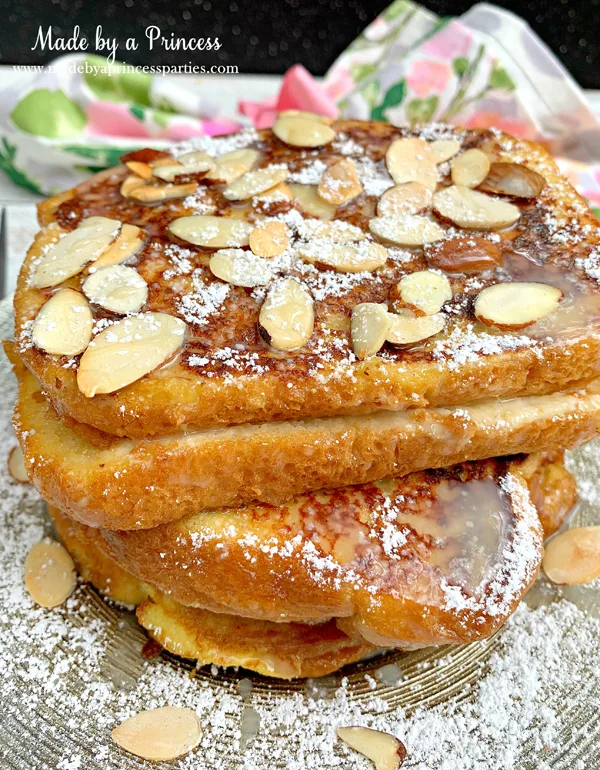 Fun Fact: Wondering how to say cream cheese in French? It is "fromage a la creme". If you want to impress your French friends you can say, "Voulez-vous un morceau de pain perdu farci au fromage a la creme?" To which they will respond, "Oui! Oui? Oui!" I would love a piece of your delicious stuffed French toast!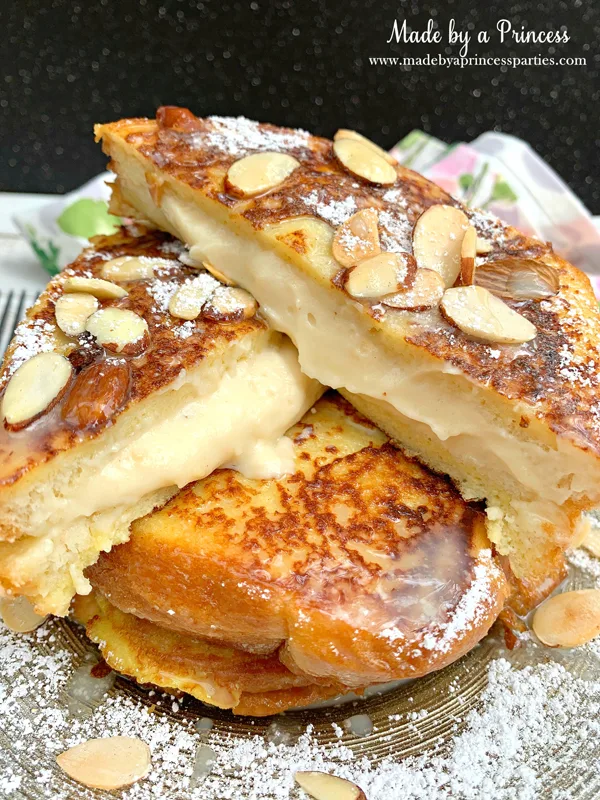 What to Eat With Stuffed French Toast
Stuffed French toast is pretty rich so keep it light with fresh fruit like fresh strawberries, applesauce, or Greek yogurt. If you are looking for some protein you can't go wrong with bacon or sausage. Ooooooh you know what would taste amazing with this? Man Candy Candied Bacon. Oh yes. A little sweet, salty, and spicy would be perfect with this cream cheese French toast.
To drink you can serve coffee with a splash of Torani White Chocolate Sauce and cream, an almond milk slushie, sparkling cider, or a mimosa. My vote is for a mimosa because the answer is always champagne. Always.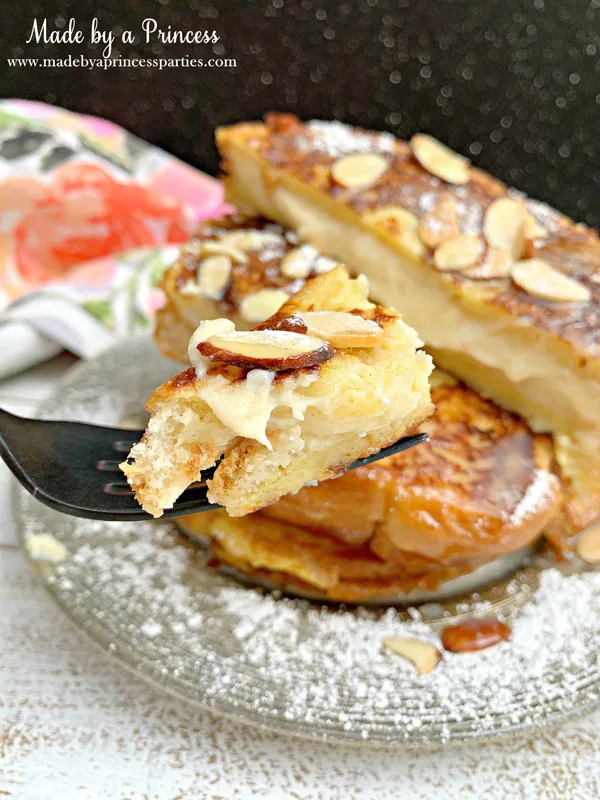 I hope you enjoyed my Marzipan Stuffed French Toast Recipe! I would love to hear from you if you make it. Please tell me what you think!