Get the fireplace ready because we are toasting some marshmallows and making a Dark Chocolate Toasted Marshmallow Martini!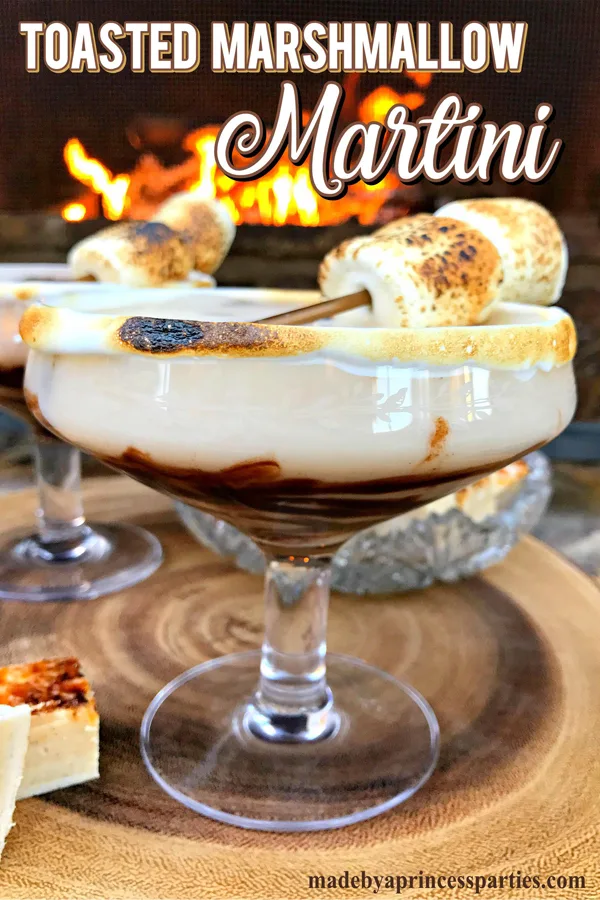 My favorite thing about a s'mores is the toasted marshmallow part. When my kids are asleep my secret guilty mommy pleasure is that I toast marshmallows on the stove. I kid you not. There is just something about that crunchy outer shell and gooey center that I can't stay away from. When I found out Torani had released a new syrup using marshmallows I knew exactly what I was going to make. I called my friend and told her to get the fireplace ready because we were toasting some marshmallows and drinking some cocktails! Keep reading for my Dark Chocolate Toasted Marshmallow Martini Recipe!
Torani Toasted Marshmallow Syrup
I have used Torani syrups for years. They come is so many great flavors and can almost always be found at my favorite coffee house. I typically get a splash of Sugar Free Vanilla and Sugar Free Cinnamon Dolce unless they have some fun holiday flavor then I'm all over that! In college I was obsessed with these Italian Cream Sodas they sold at this little beverage cart near the library They were made with half and half, club soda, crushed ice, whipped cream, and Torani Creme de Menthe syrup. I can still picture them. So good!
In keeping in line with how much I love a good Torani drink I made something really creamy and decadent with the new Torani Toasted Marshmallow Syrup flavor. They also have another new flavor, Bourbon Caramel, which I most definitely will be creating something yummy to go with! You can find both of them at your local Walmart.
Plan Your Holidays with Torani Syrup
Torani is third generation family owned and has been around since 1925. Their syrups are made with real, simple ingredients like pure cane sugar, natural flavors, and nothing artificial. They offer a huge variety of flavors, just like your favorite coffeehouses. You can create your own mixes like I do and really make something special for the holidays. Now that I'm thinking about it…wouldn't it be fun to have a coffee bar on Christmas morning and let your family create their own coffee or hot cocoa concoctions? My party planning wheels are spinning. Connecting with family and friends is what Torani is all about.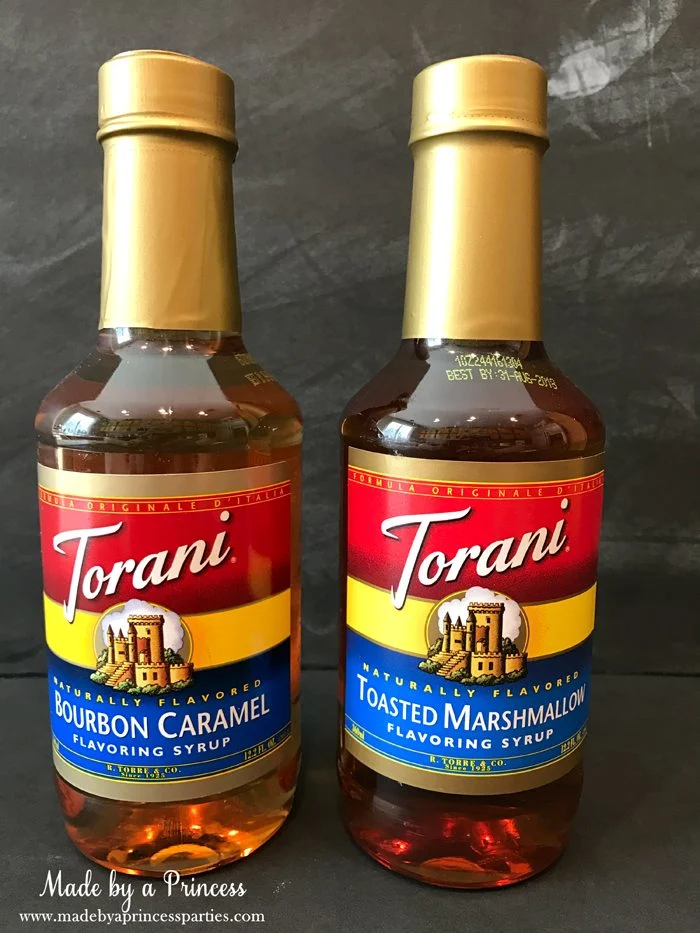 To make this delicious cocktail start with calling your friend who has a great kitchen, has a fabulous backyard fireplace, loves trying whatever you make, and will always photobomb your shots! I love you, A! This has become a thing now. You will find several photobombed pics of her throughout my posts 😉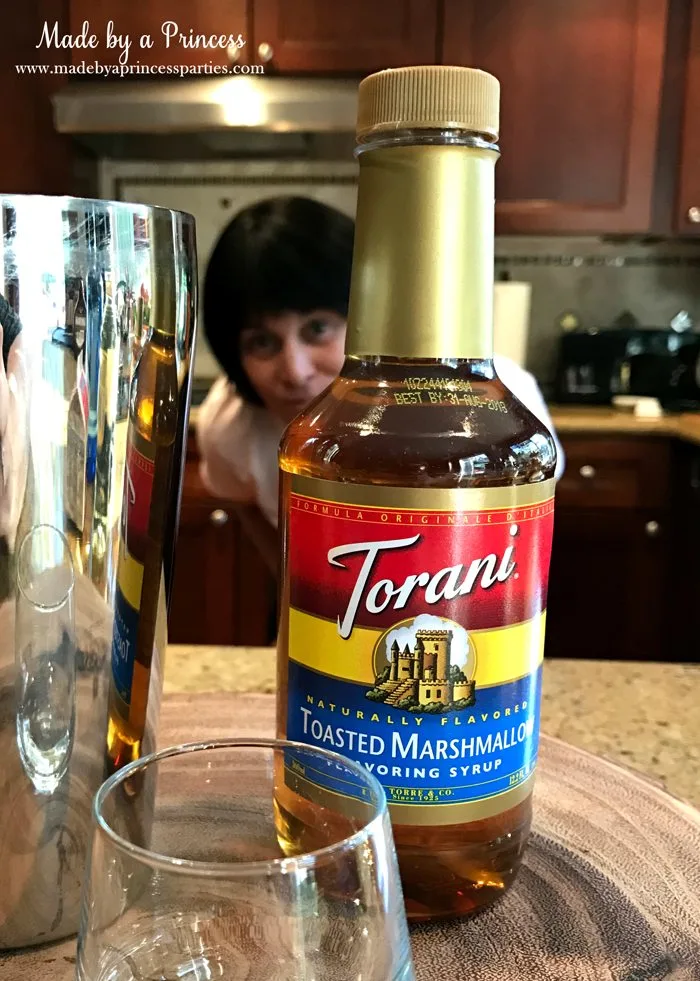 How to Make a Dark Chocolate Toasted Marshmallow Martini
Ok…so…to make enough for two drinks you will need the following:
Torani Toasted Marshmallow Syrup
Vodka
Creme de cacao
Irish cream
Heavy cream
Torani bottles are very easy to use…just open it up and pour. Shake it all up over ice and pour into a fancy glass. Enjoy.
Hold up! Nope. This drink deserves way more than that! Check the rest of the post before you proceed…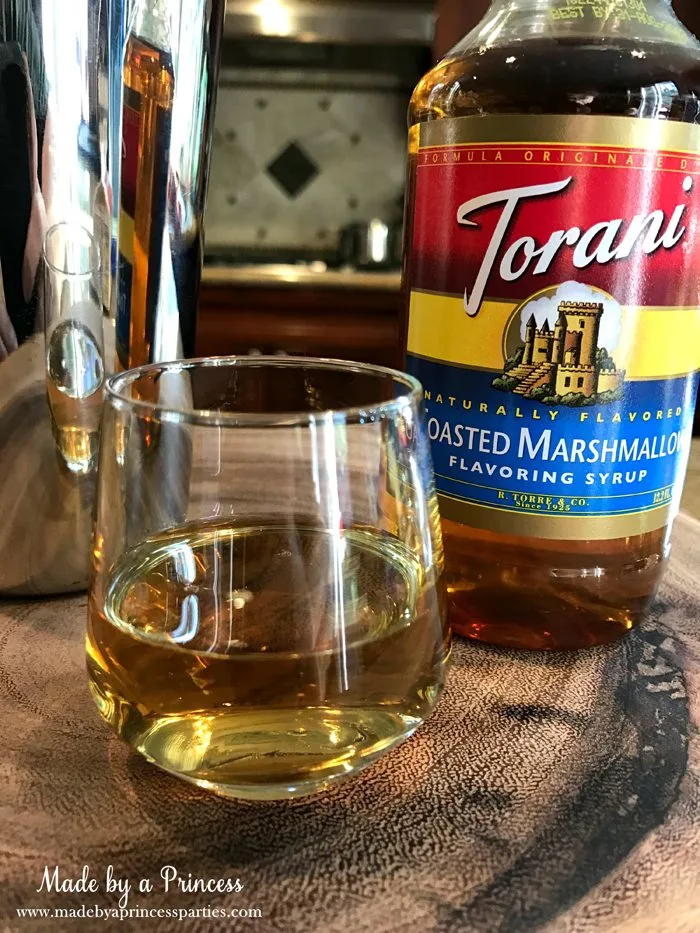 We're going to give it a little dark chocolate swirl first. Add some Torani Toast Marshmallow to a squeeze bottle along with your favorite chocolate syrup and give it a little shake so it's ready to swirl around your glass.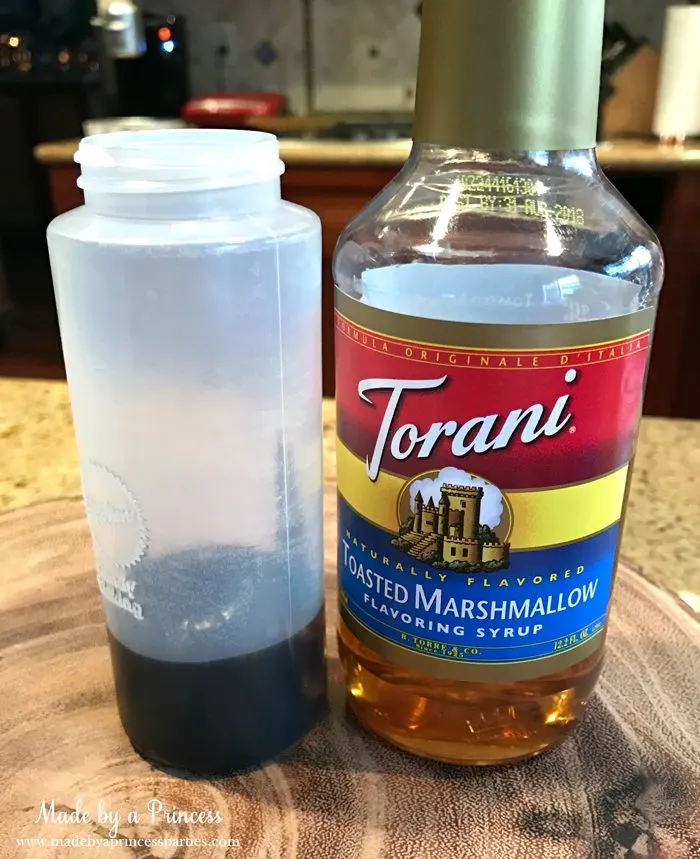 Toasted Marshmallow Rimmed Glass
This is were is gets really fun…marshmallow creme! Spread some marshmallow creme on a plate so that it's wider than the rim of your glass.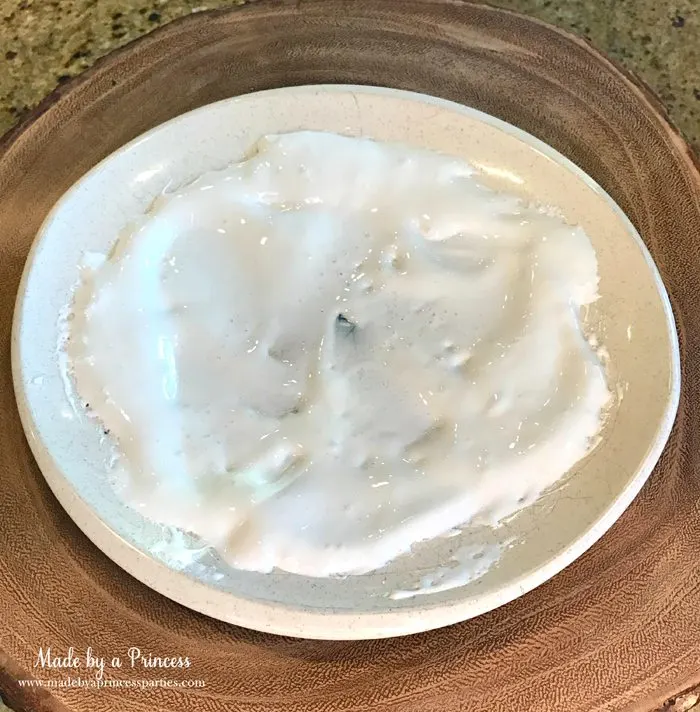 Dip your glass on the creme and turn it a little to make sure the edges are well coated.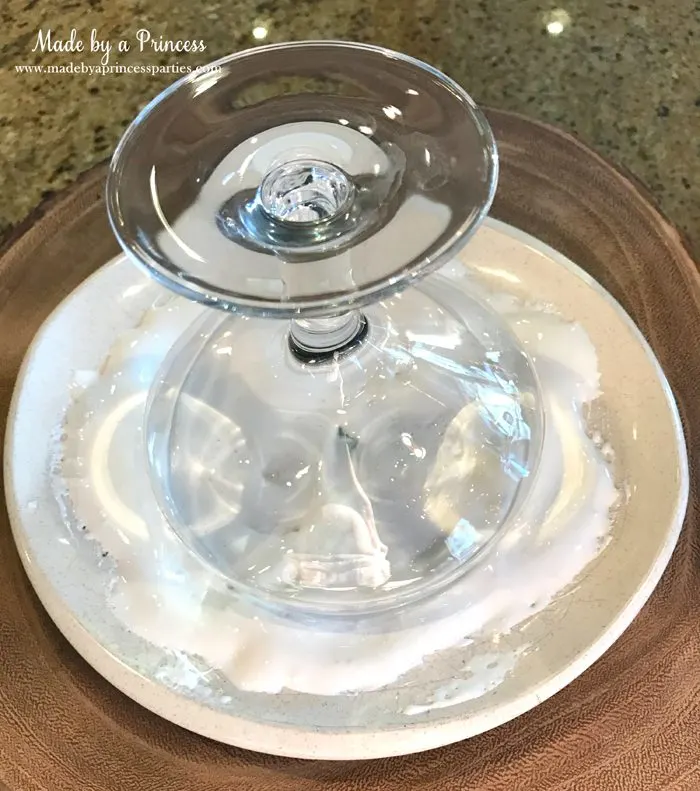 Looks good right? We're not done yet.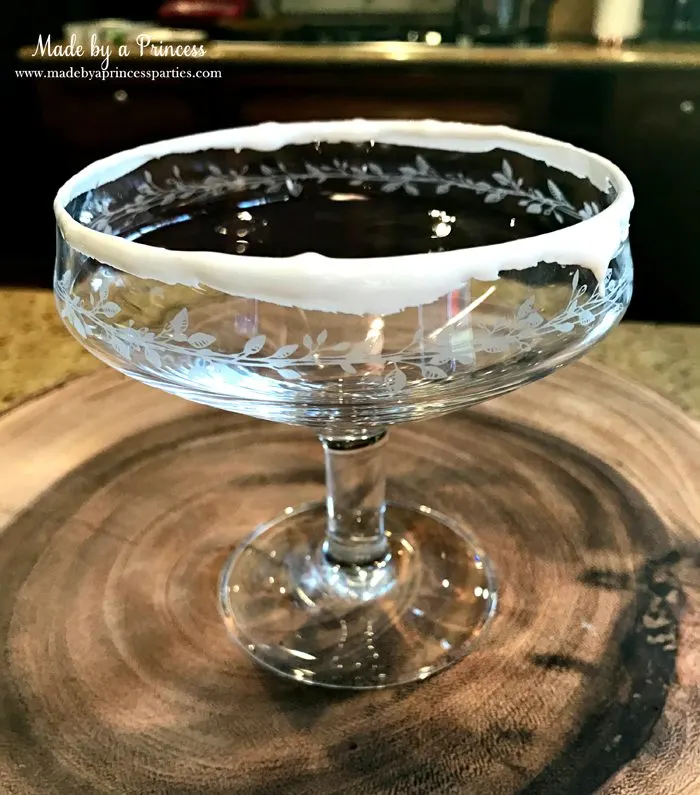 Toast Marshmallows With a Kitchen Torch
Finally, we're gonna toast 'em up! Use a kitchen torch and VERY CAREFULLY burn the marshmallow edges. (Please be careful. I did this outside, I was wearing shoes, and I had glasses on just in case.)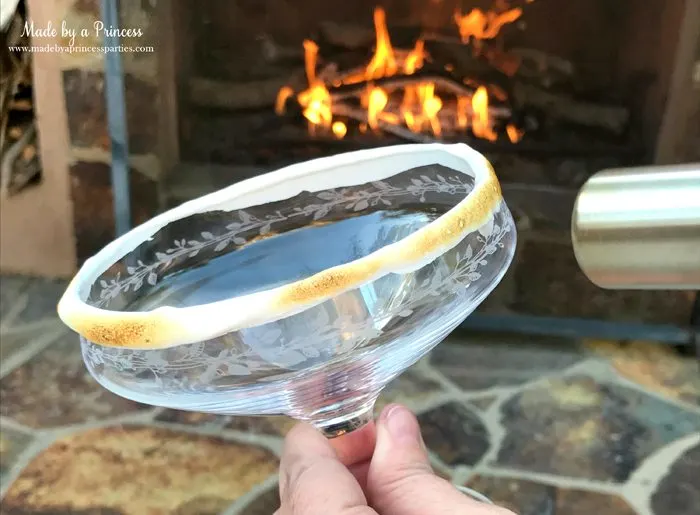 Toasted Marshmallow Infused Chocolate Syrup
First, take your Torani Toasted Marshmallow infused chocolate syrup squeeze bottle, swirl it around the glass, and get ready to enjoy your cocktail.
Next, pour your drink into your glass! I did grab a few marshmallows and a drink stirrer at the last minute and toasted those as well just for good measure because, you know, toasted marshmallows. Everyone has their own personal toasted preferences so made burn them for as long as you like or however you see fit.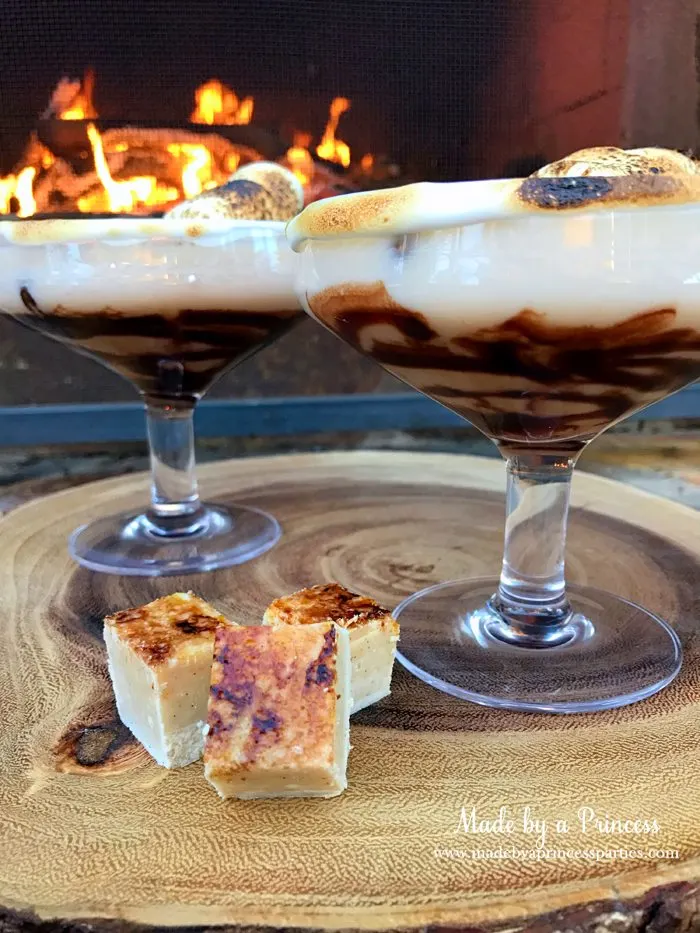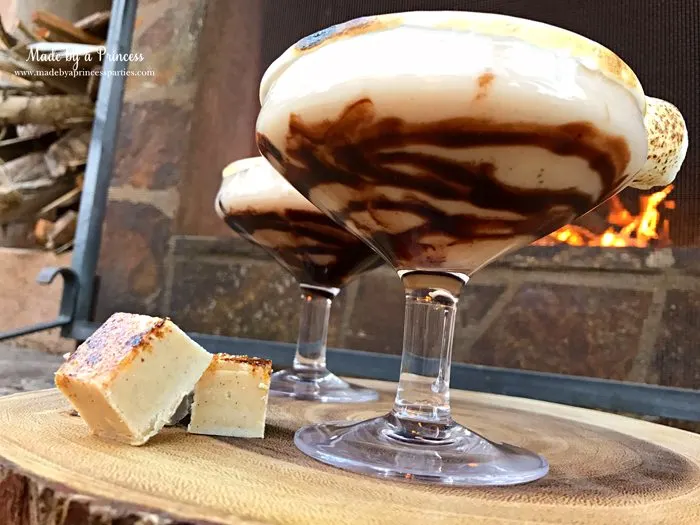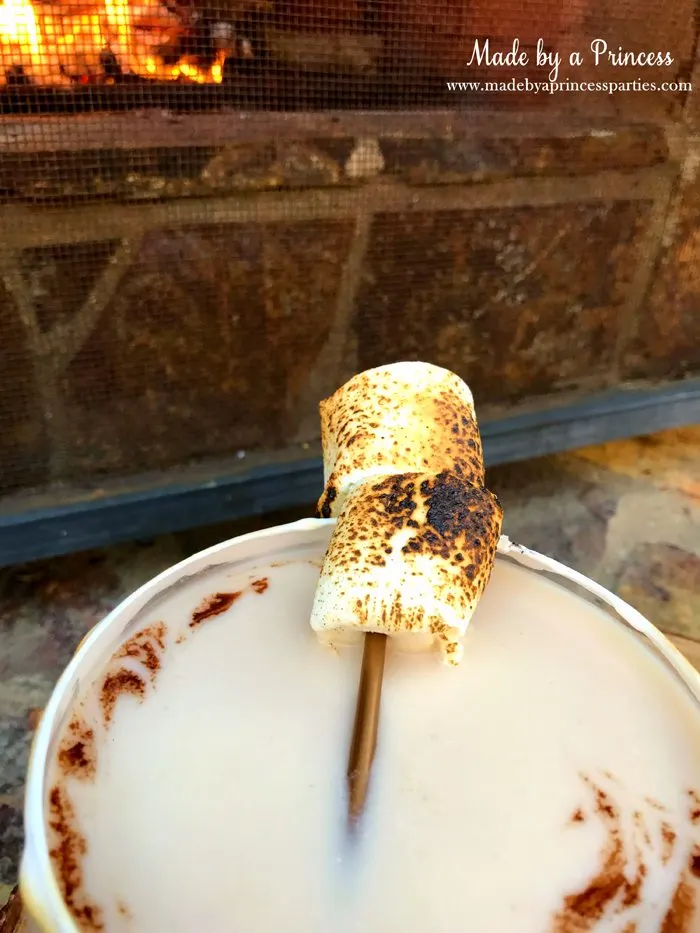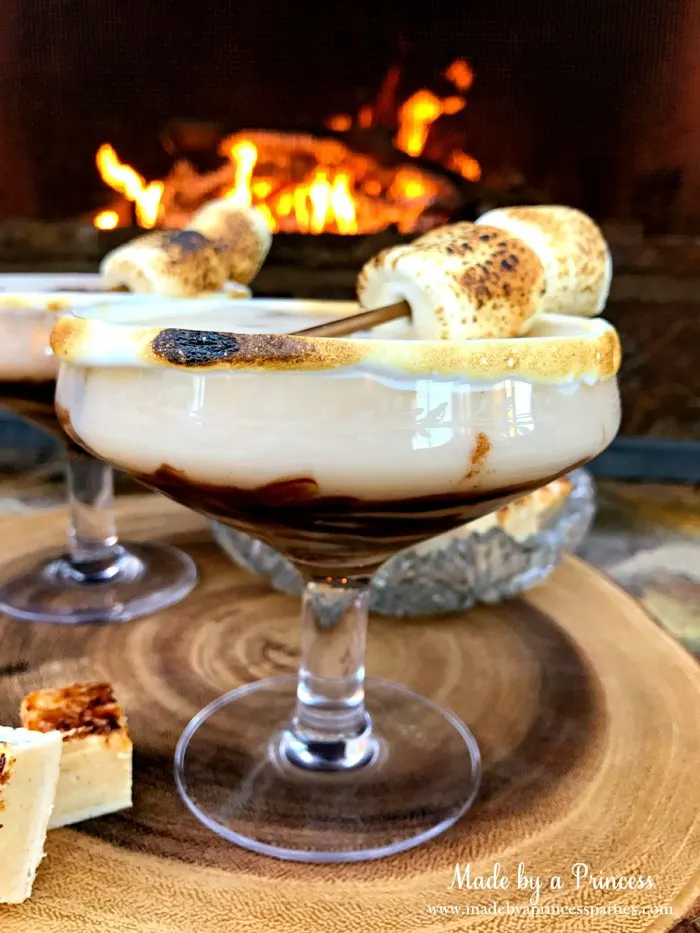 We watched the fire, talked about Christmas plans, what we didn't want to cook for dinner, and ate fudge. Oh yes, the fudge. I thought this kind of cocktail needed something equally yummy to be enjoyed along with it so I brought along a container of my creme brulee fudge…which is highly addicting!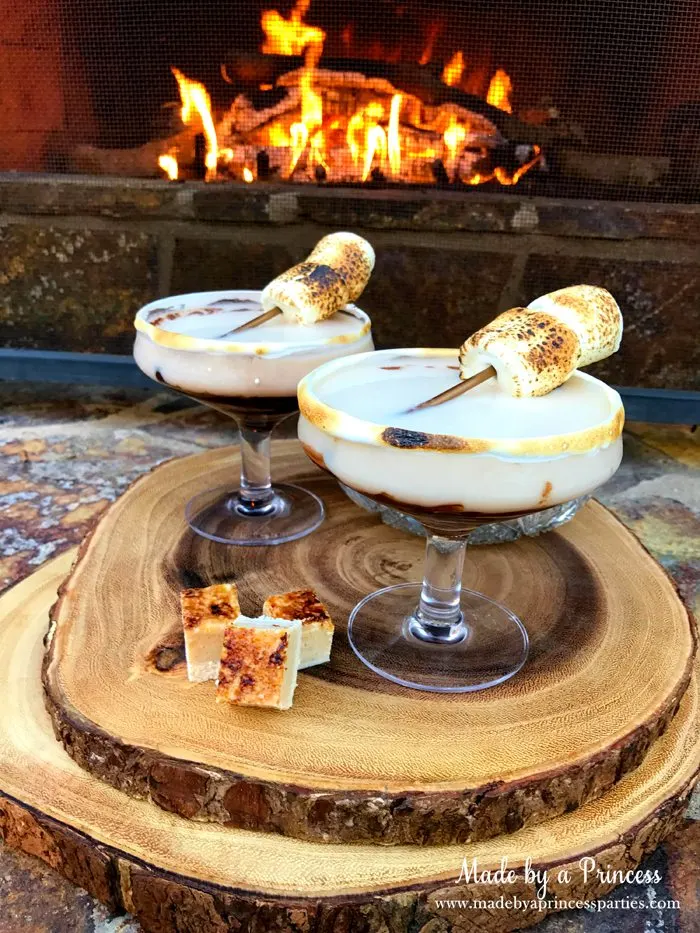 Thank you, Andrea, for letting me use your house today and for being such a great assistant today!
I hope you all enjoy my recipe for a Dark Chocolate Toasted Marshmallow Martini. Go find a friend and enjoy with them too…they'll love you even more for it. If you bring creme brulee fudge they'll probably invite you back.
Happy Holidays!