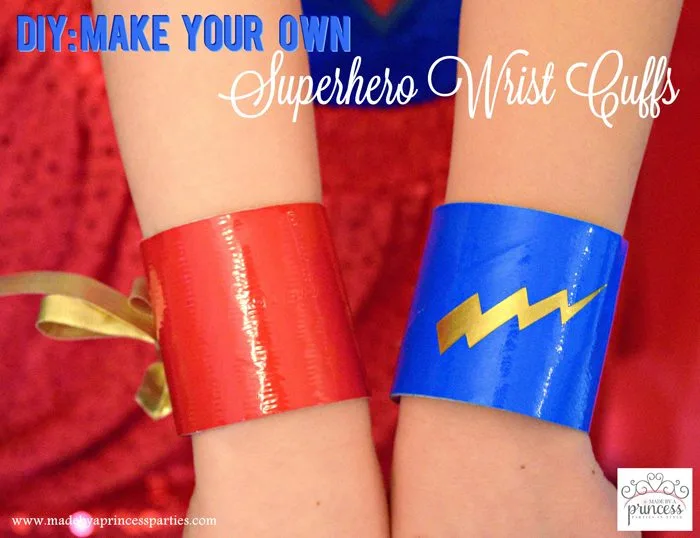 Add the finishing touches to your superhero costume by crafting your own superhero wrist cuffs. They are so simple to make…all you need are toilet paper rolls, duct tape, and some ribbon! Keep reading to get my easy step by step Party Costume Idea How to Make Superhero Cuffs DIY.
Let's face it…sometimes DIYing is a lot more work and more money than just buying the darn thing at the store especially when you add in how long it can take to craft. My strong desire to do it myself has gotten in the way of sound judgment when making something for my kids. By the time I go around to 3 different stores to get all I need and sit down and make the thing I realize it would have been way cheaper (and saved some of my sanity) if I had just purchased whatever it was I was so intent on creating. It doesn't always have to be that way though. This DIY really is super easy and won't cost you all that much. I found that HomeDepot had the best price on duct tape at less than $4/roll. My local HomeDepot was out of red so I had to get it from my local big box store and I believe it was just over $5. The good thing about duct tape is that it won't go to waste and can be used for other projects. I used the blue tape to wrap around my water bottles for this DC Superhero Girls party.
If you are planning on making these cuffs for all of your guests I would suggest collecting toilet paper rolls a month or two in advance (depending on how many you need and how quickly you go through toilet paper!). You can always ask some friends to hold onto them for you if you need a bunch. As for the ribbon, I had gold in my craft stash but you can use red, blue, yellow, or even white ribbon, cord, or twine. I opted to use ribbon instead of taping the pieces together because wrist sizes vary and you wouldn't want to make a dozen of these only to find out they didn't fit your little guests.
Now that you have your supplies let's get started!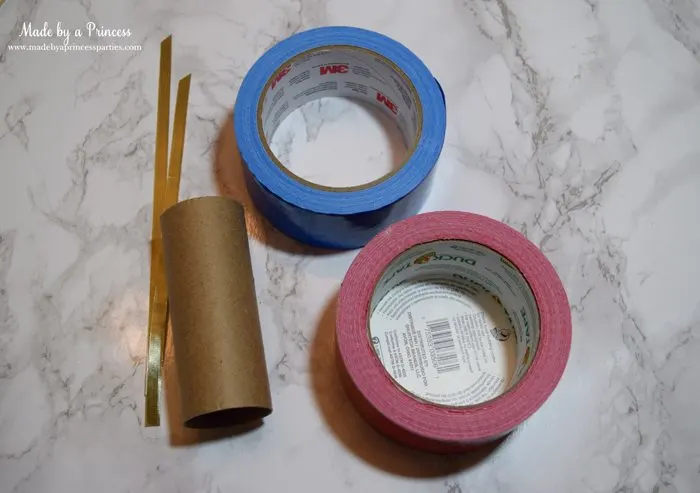 Cut your toilet paper roll (up the longer side of the roll) so you have one piece instead of a roll. Cut a strip of duct tape about 2″ longer than the width of the roll and place on the flattened toilet paper roll. Leave some at each end to overlap. Cut the duct taped piece off of the flattened paper roll. You should have enough to make two cuffs out of one toilet paper roll.
The reason I placed the duct tape on the flattened toilet paper roll first and then cut is because I found it a lot easier to follow the tape line then trying to cut a straight line and then taping.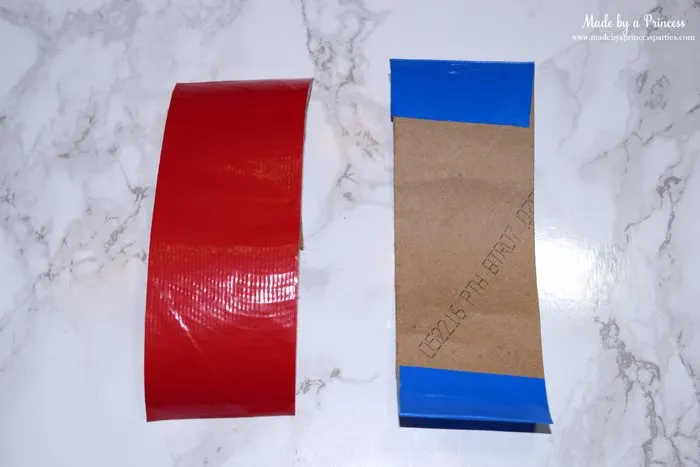 Cut a smaller strip to finish the backside.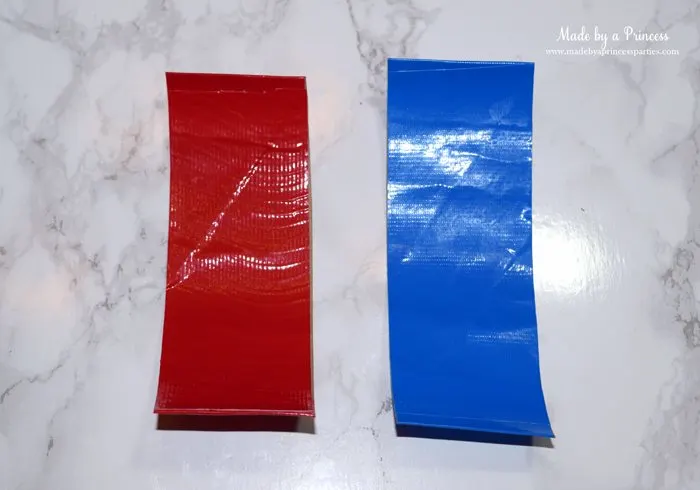 Punch a hole in both ends of your duct taped strip.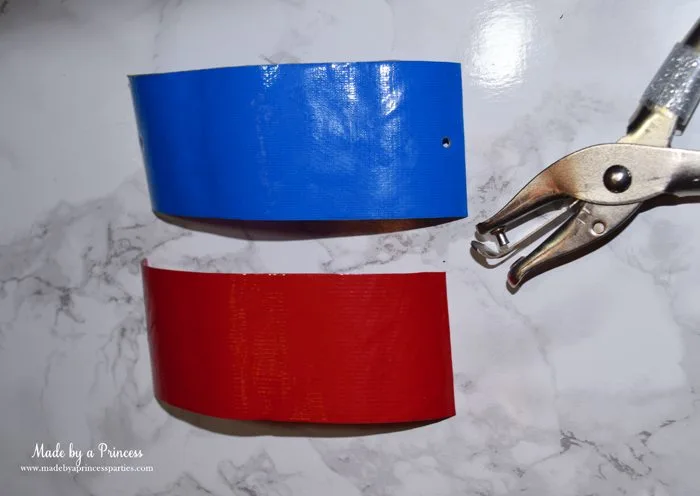 Secure your ribbon through the hole by tying knots. You may need to double knot. If you don't feel the ribbon, cord, or twine is going to stay in the hole you can place a small piece of duct tape over it to be sure.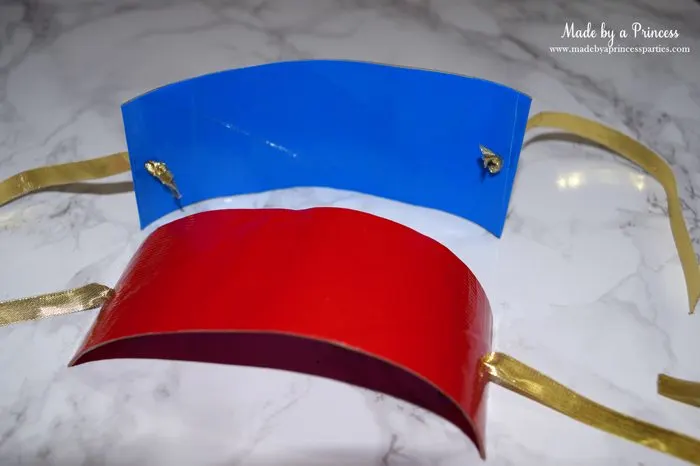 Cut out a lightning bolt from gold vinyl if you have it or a piece of yellow paper. If using paper, glue the bolt on and then place a piece of packing tape over it so it won't peel off. You can also use a gold or yellow Sharpie to make your bolts.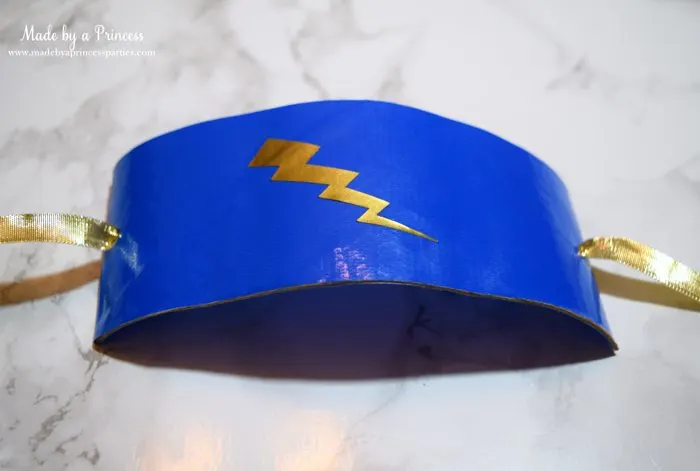 It took less than 15 minutes to make four sets of superhero wrist cuffs. My little Supergirl loved them and couldn't wait to put the whole outfit on!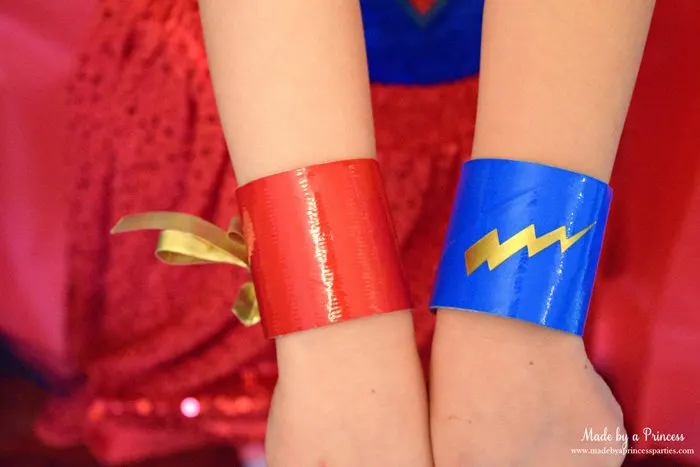 Batgirl and Supergirl were having way too much fun! You could make Batgirl cuffs by using black duct tape and a whole roll instead of cutting strips. To make the "bat wings" I would stick two pieces of tape together, cut out the shape of the wings leaving the bottom part flat. Fold the bottom of the wing and secure with a strip of black tape. Maybe I'll do a tutorial for that one too.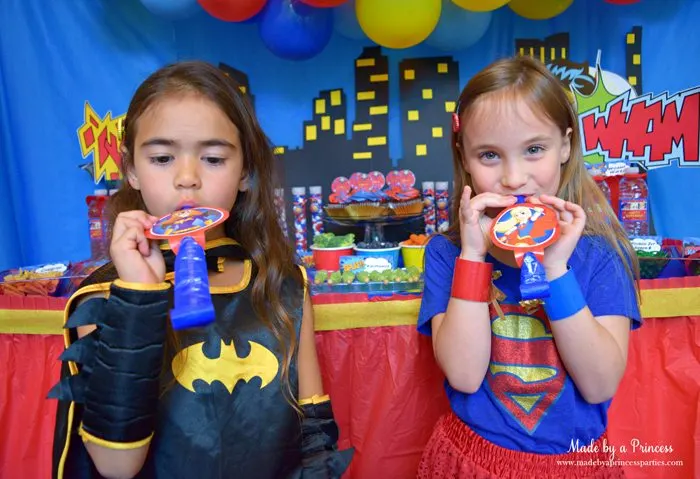 I hope you enjoyed my Party Costume Idea How to Make Superhero Cuffs tutorial! I'd love to see how yours turn out!
Don't forget to check out my Superhero Water Bottle Cape Party Idea + FREE Printable template.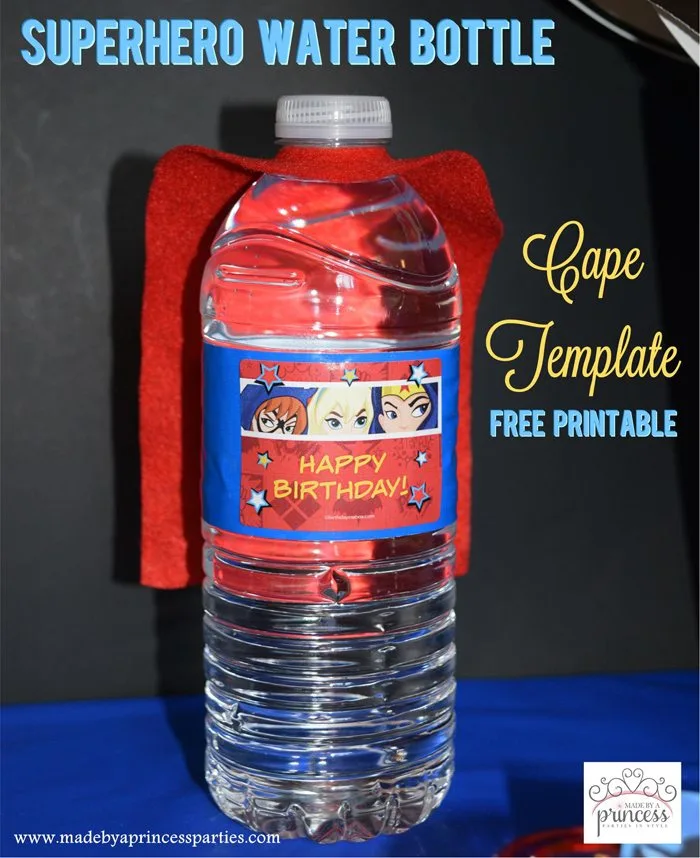 Need some party food ideas? You can download those for free too! Check out my Superhero Inspired Party Food Ideas + FREE Printable post.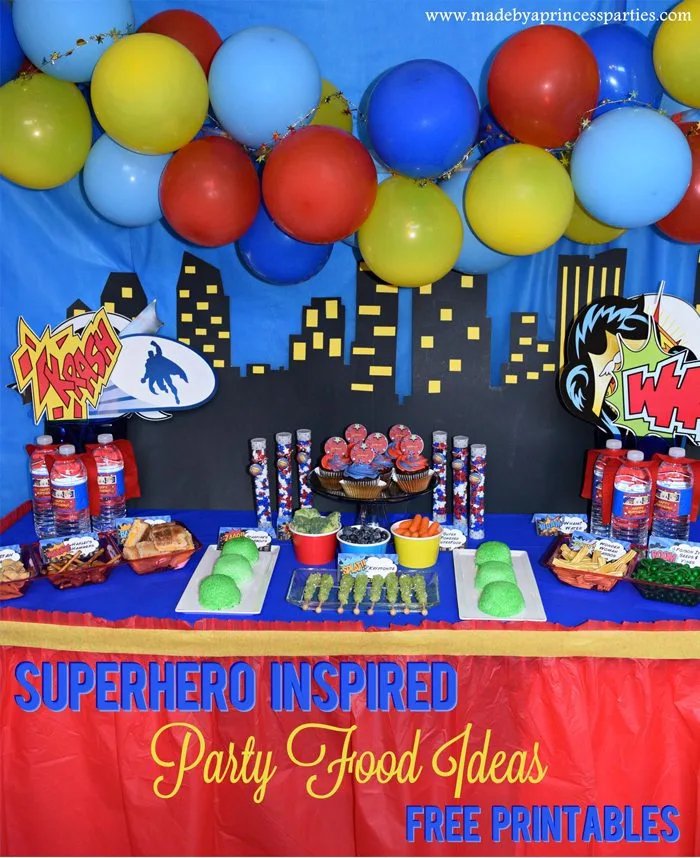 You can check out all the details on the Birthday in a Box website.