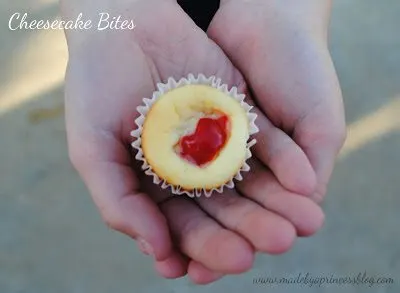 I love bite sized foods. I build all of my parties around bite sized bits of yum. While I have a number of tried and true recipes I love trying new things so when my BBF (that's Best Beth Forever which is way better than a best friend forever because not everybody can have a BFF like my BFF Beth) said, "I have a great recipe for you Ky! I think you're going to love it!" Um, yeah I do! It's easy, yummy, and doesn't require a lot of dishes which means less mess. I have made these for a number of different occasions and it's been a crowd pleaser each time.

Ingredients:
1lb (brick) of Philadelphia Cream Cheese, room temp
2 large eggs
Box of mini vanilla wafers
3/4 cups of sugar
1 tbsp fresh lemon juice
1 tsp vanilla extract (I use 2 tsps)
1 small jar of maraschino cherries
Mini cupcake liners

Directions:
Preheat oven to 350 degrees. Place your mini cupcake liners in the muffin pan and set a vanilla wafer in each. With an electric hand mixer blend cream cheese, sugar, lemon juice, and vanilla extract until creamy. You are looking for little to no lumps. Fill each liner about 3/4 full. Cut cherries in quarters and pat dry before placing in the middle of each mini cake. Bake for 20-25 minutes. Cool before eating.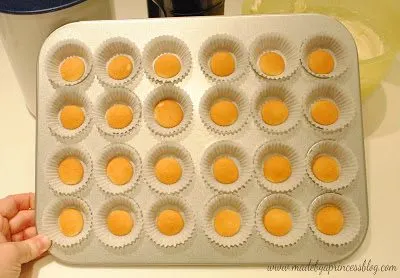 Place mini vanilla wafers in mini cupcake/muffin tin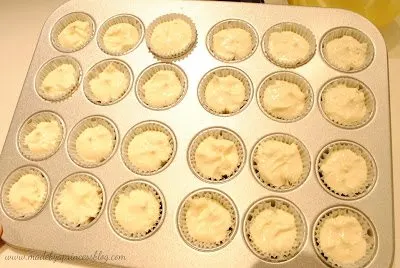 Fill with batter about 3/4 full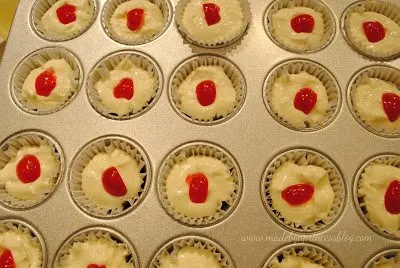 Place cherry bit on top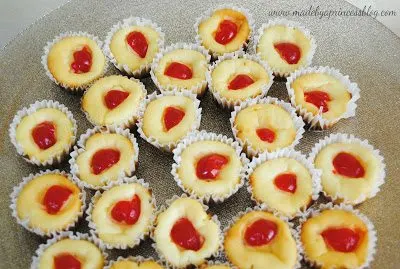 Wait a bit to cool then enjoy!

You can make full sized cream cheese cakes by using a muffin pan, full sized liners, and full sized vanilla wafers. I prefer the bite sized version because they don't have any calories. Not really…it's just something I tell myself!

Enjoy!