Have you ever been to a divorce party? Have you ever thrown one? When I talked to Online Labels about this theme last year I had a good friend getting ready to sign her own divorce papers I realized there really isn't much out there when it comes to planning a divorce party. I wanted to create something fun, mature, girly, and a little sassy for ladies like my friends who just wanted to move on with their lives and celebrate their new found freedom. Since I love Champagne I came up with the tag line, "Pop the Champagne…no more ball and chain!™"
When Online Labels pitched a divorce party idea to me I thought it was a great idea. I have had a number of friends, unfortunately, go through a divorce and while we never had a formal party we did celebrate their new single status in one way or another. One thing I knew was that this theme would not be dark, or mean, or raunchy. There are plenty of ideas out there if you are looking for that kind of thing. I designed this with my own girlfriends in mind and I hope you and your friends have a lot of fun with it too.
I knew I needed some really unique images so I turned to my friend Sunny of Sunny by Design to create them. She is a true artist and after several late night Facebook sessions she showed me some sketches. They were perfect! Sunny is a pro and so incredibly talented and I'm so thankful for her vision and her gorgeous illustrations.
As always, the invitation came first and everything else was designed around it. I used Online Labels cardstock for the invitation too. Didn't know they had cardstock? You will be amazed at all they offer! You can find this invitation as a FREE download over at Online Labels.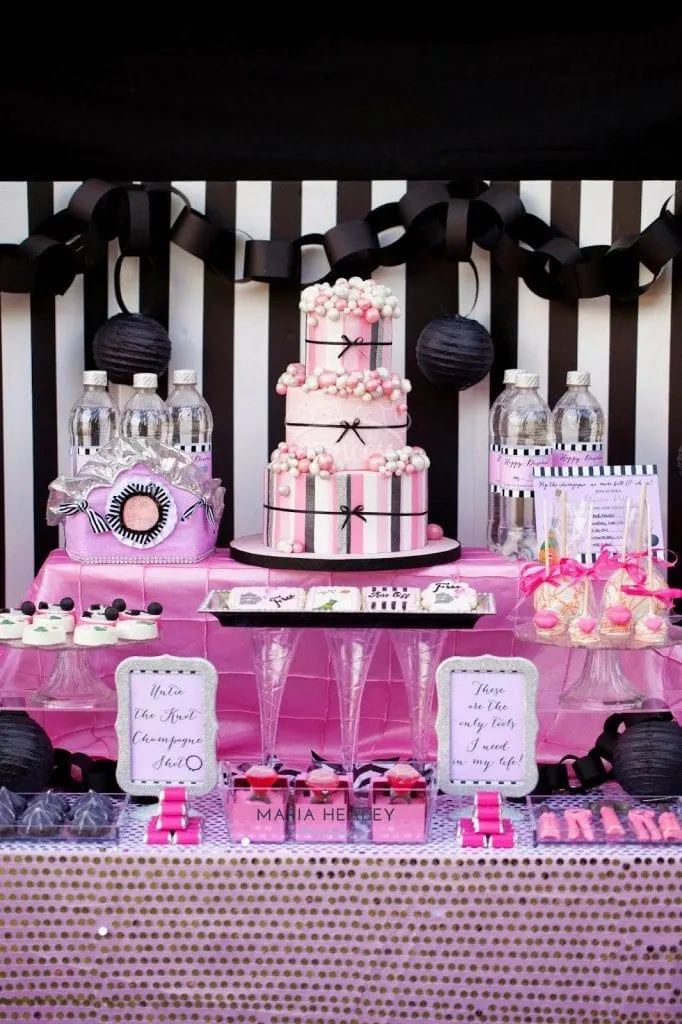 (Notice the black and white swirly heart? Sunny created those to match the lollipops from Oriental Trading Co.)
The cap needed a little something so I used some silver washi tape I had and wrapped it around.
Those are hundreds of pearlized fondant bubbles and, yes, those are very sparkly silver edible stripes. So pretty we were afraid to cut into it!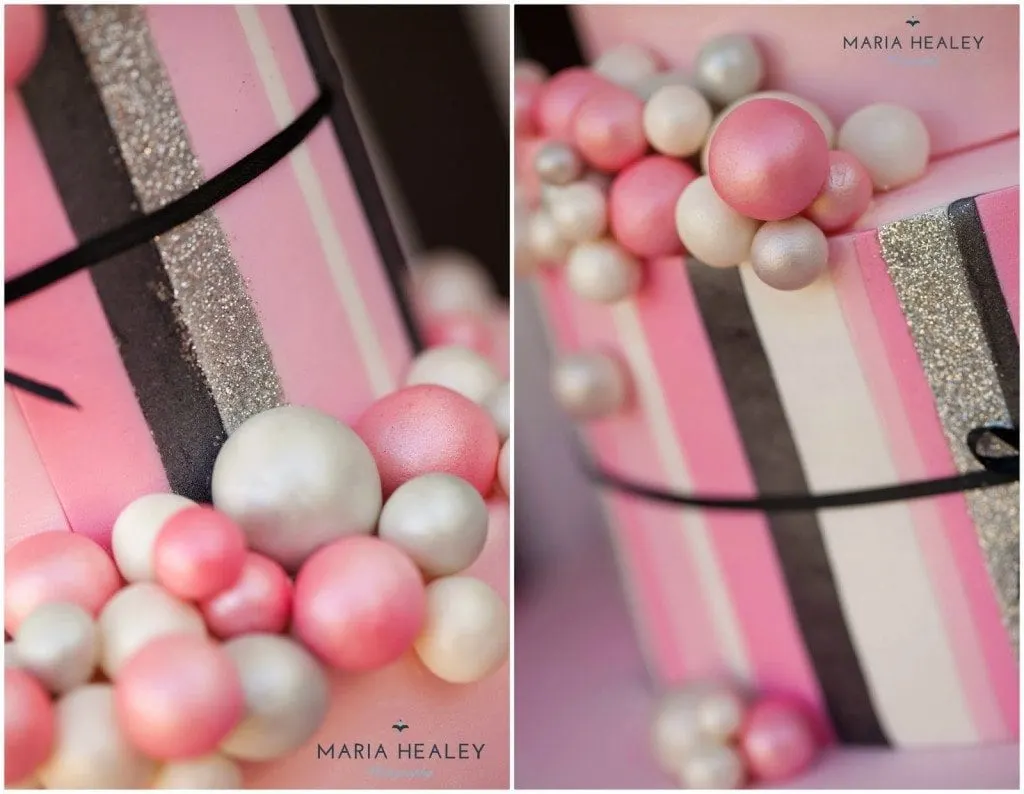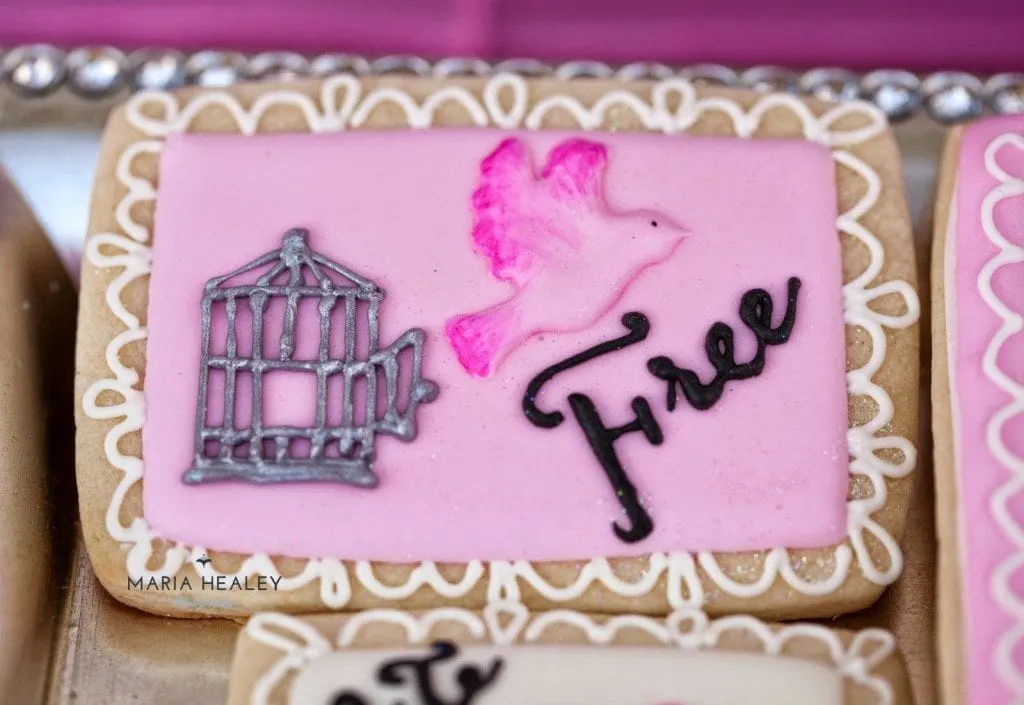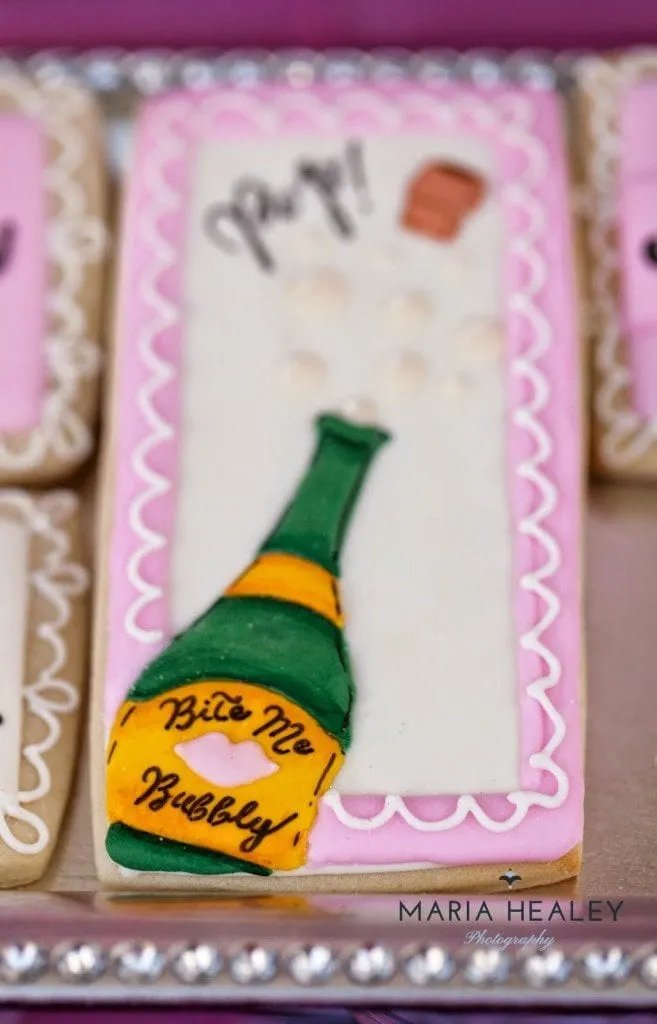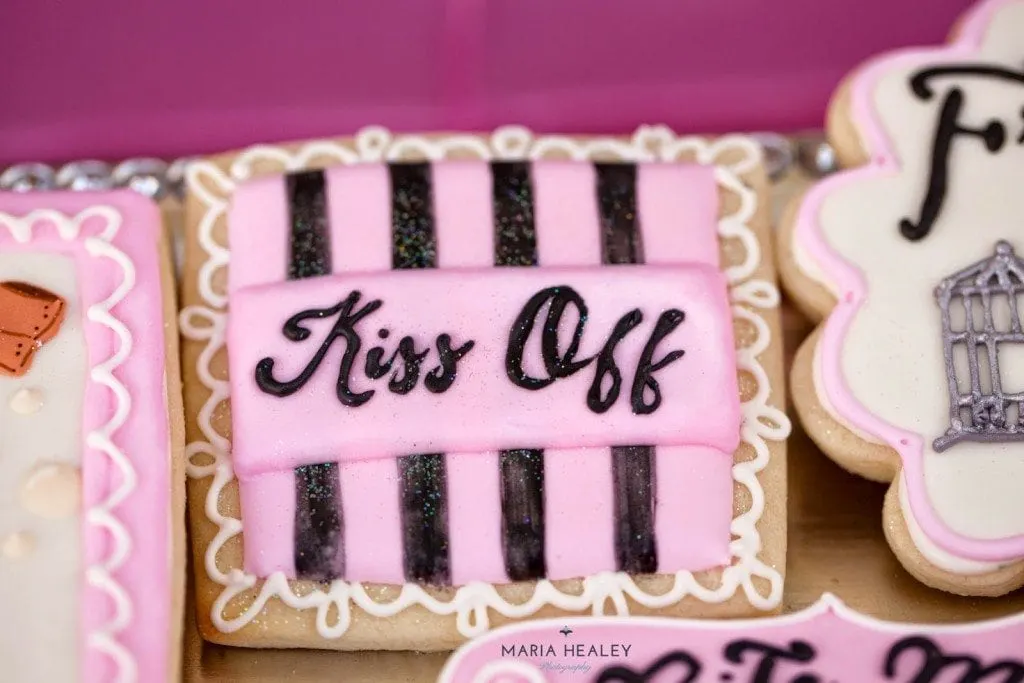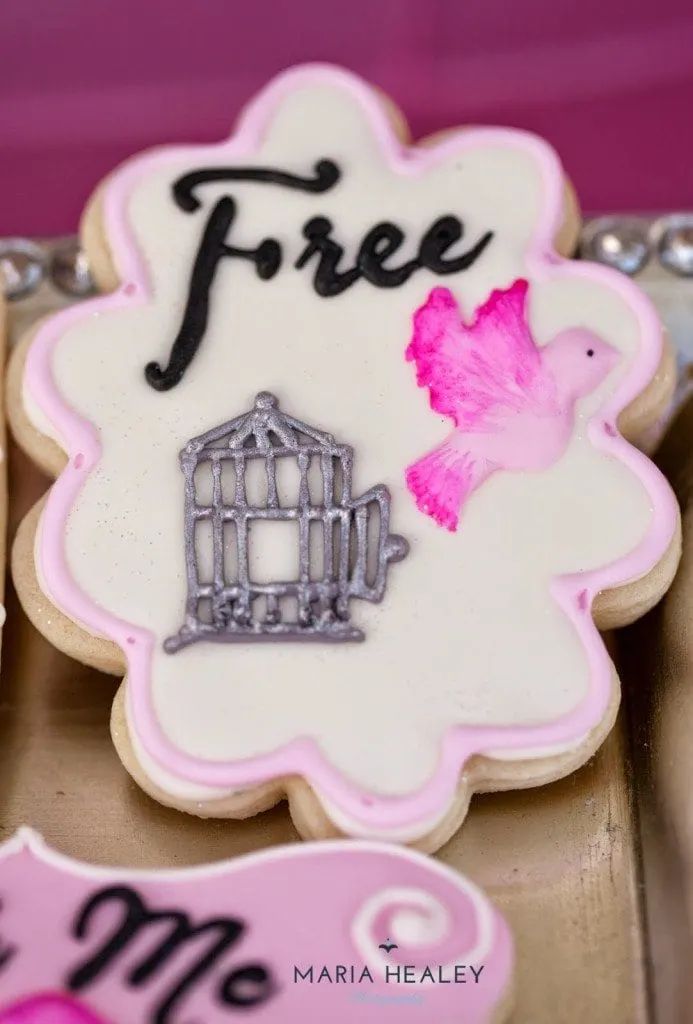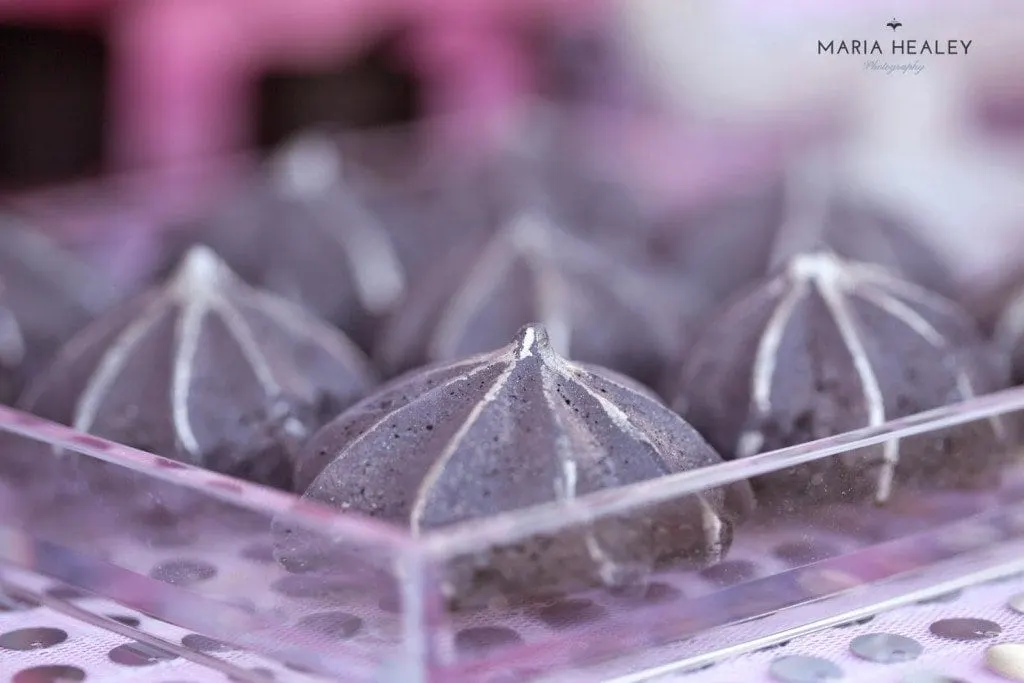 I'm sure you recognize the work of my friend May as well! She made beautiful Oreos for my Marie Antoinette party and Oreos and Rice Krispy Treats for my daughter's Frozen Party. Simply aMAYzing is her company and she is simply amazing. She created these custom chocolate covered Oreos to match Sunny's designs as well and I was just in awe.
I doubt you've ever seen ball and chain ones before…this is a new "must have" at your friend's divorce shindig!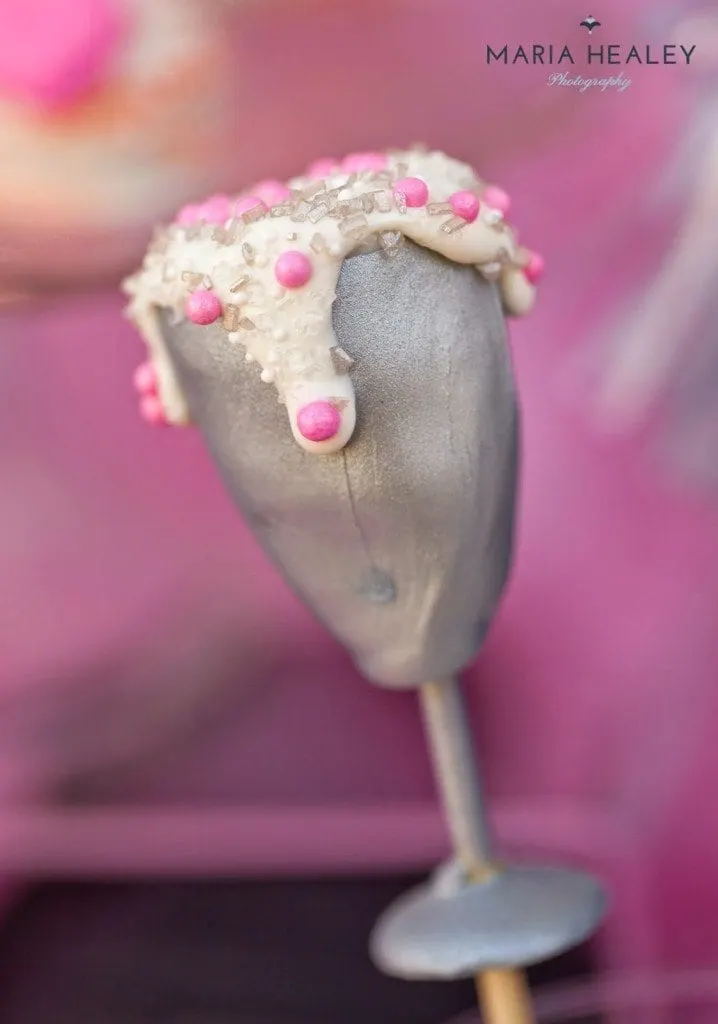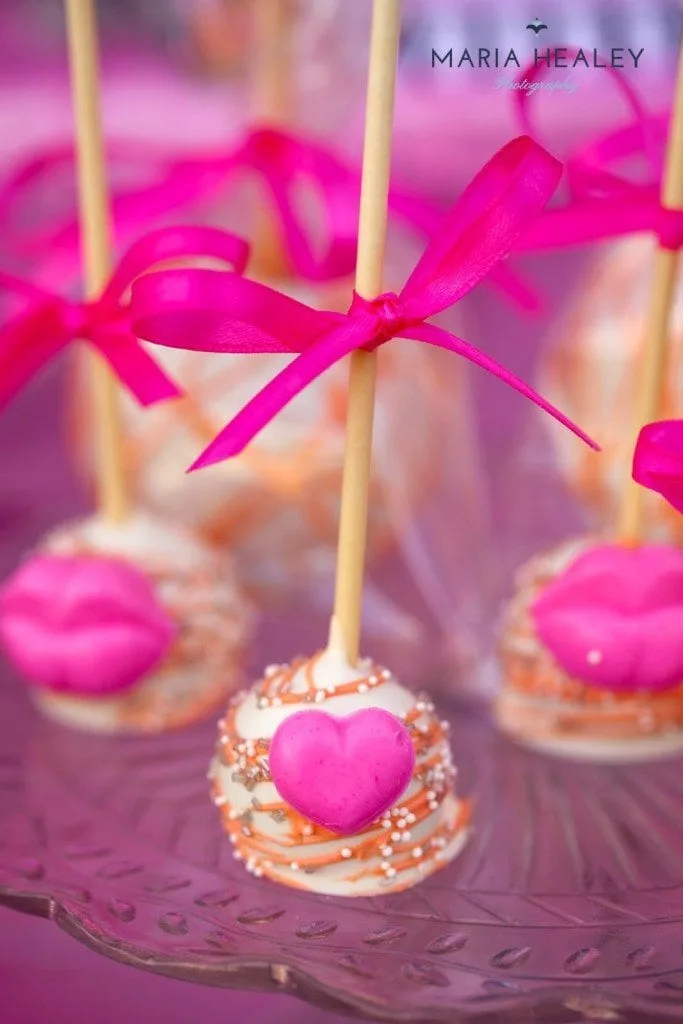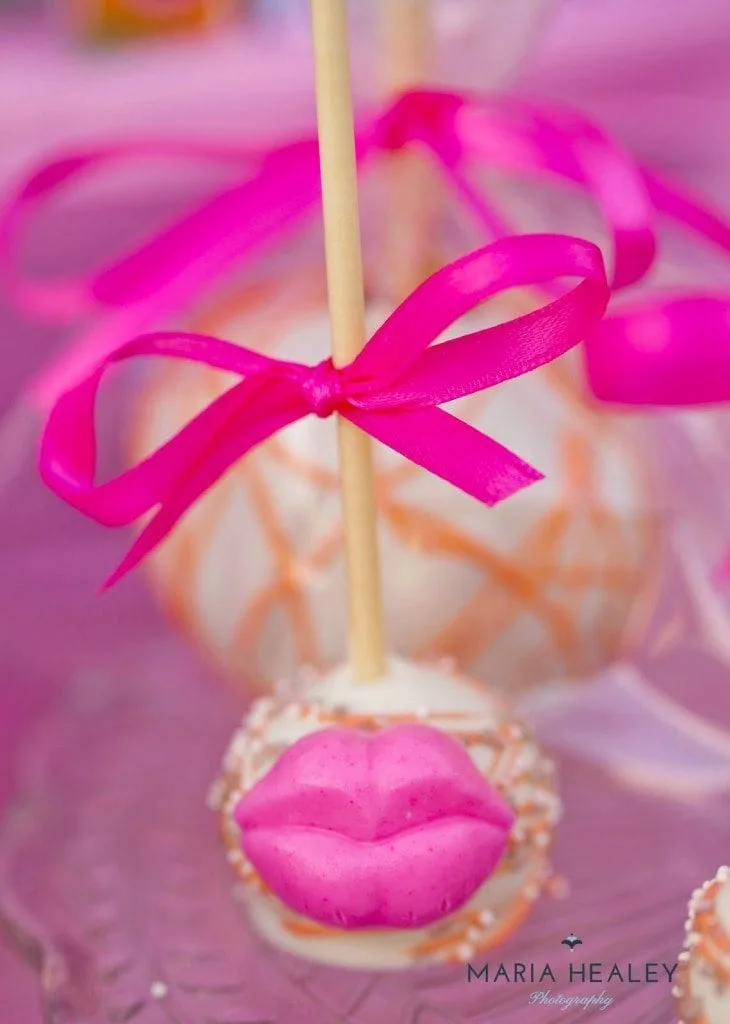 Another thing that Maria makes are the most incredible-to-die-for tamarind apples. I first experienced one last year at another friend's Frida Kahlo party and I was completely hooked. As a special treat for me she sent two along with these cake pops and I have to be honest and say I was completely greedy and did not share. I enjoyed every spicy sweet crispy bite!
These super cute Diamond Ring shot cups are from Oriental Trading Company. Traditionally used for bridal showers or bachelorette parties, I knew I had to use them for Champagne Jell-O shots! You can find the recipe here.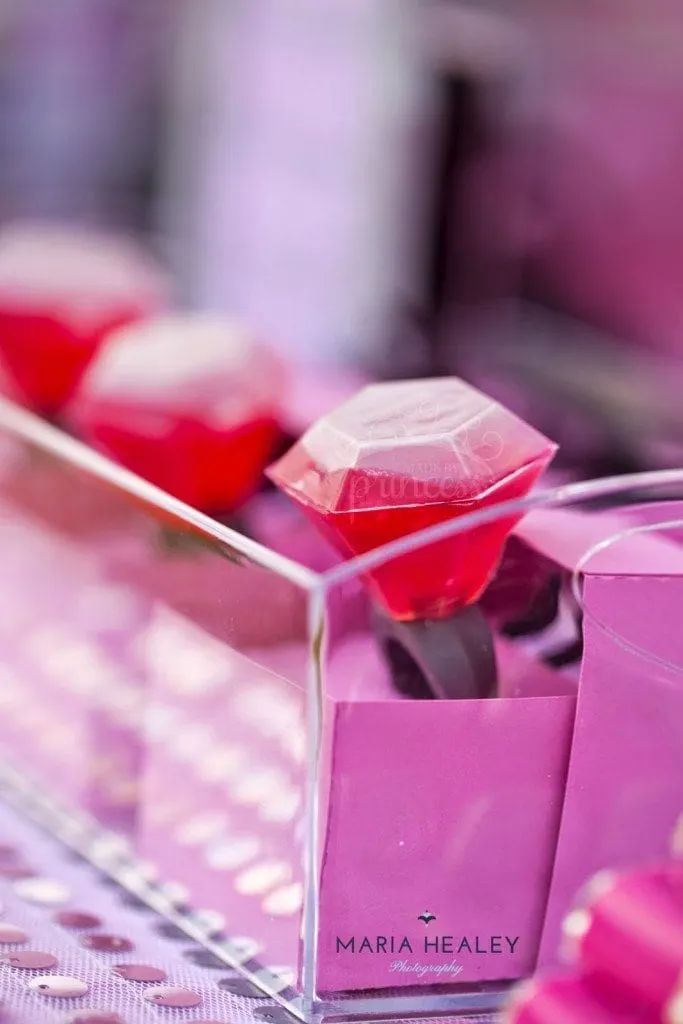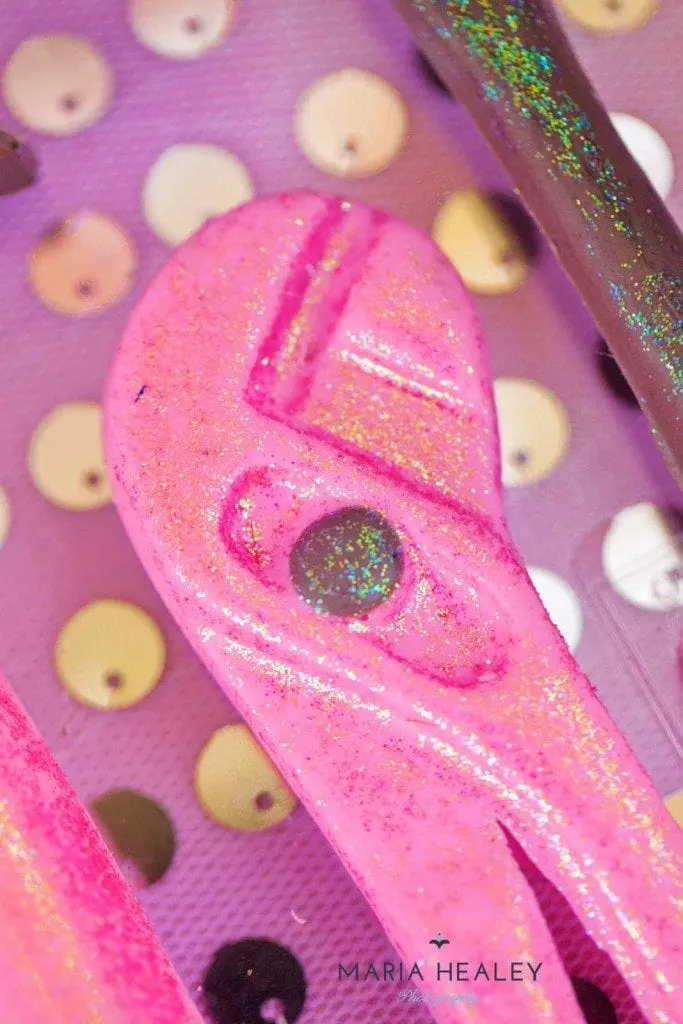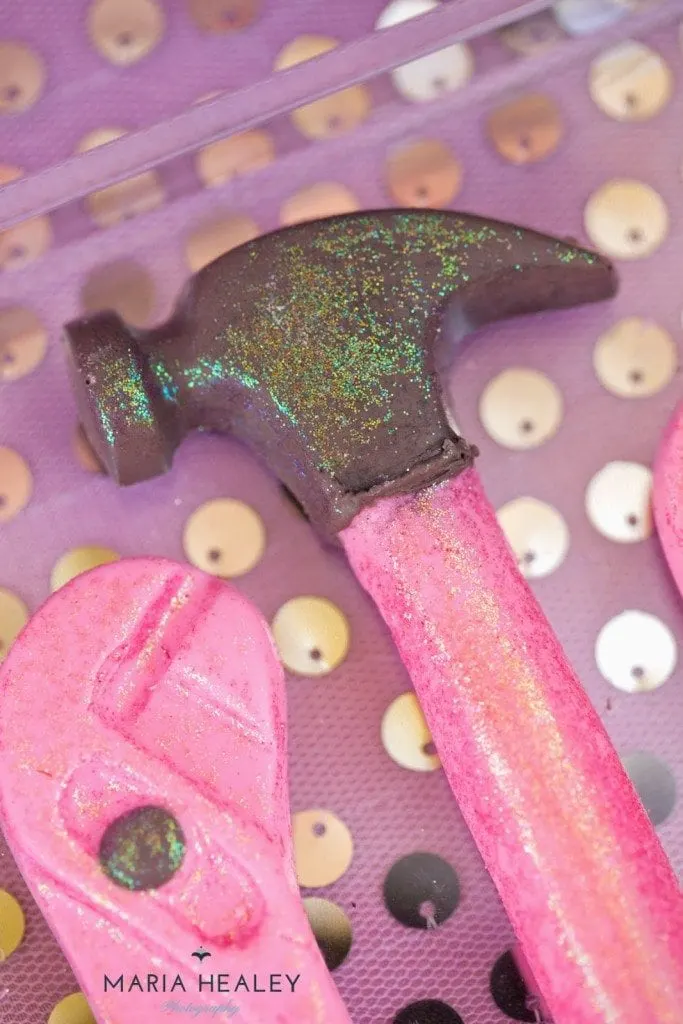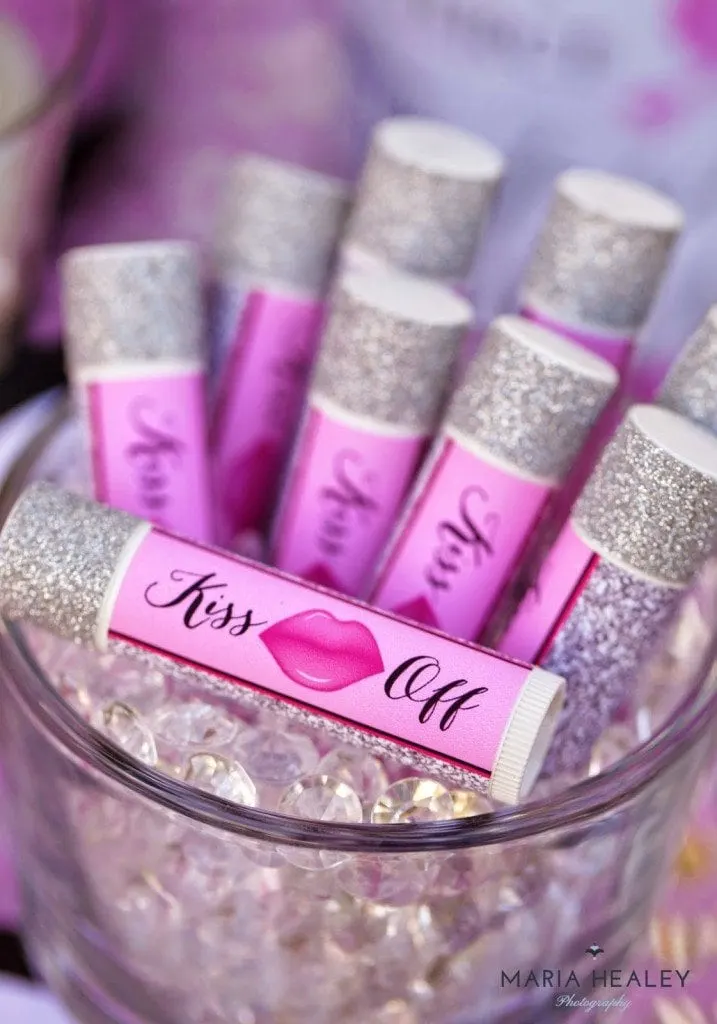 One of the things Sunny & I talked a lot about were the little details. "Should the cage be rounded or rectangular?" "Should it be pretty or more like a prison cell?" "Black, pink, or silver?" That is how great Sunny is…she doesn't stop until it's just right. I just love her and am so appreciative she took on this project with me.
The wine bottles labels are also available as a FREE download and I used these Weatherproof Gloss Inkjet labels.
Oriental Trading Company had so many cute things for me to choose from. These black and white striped dessert plates tied in the stripes in the background and on the printables perfectly.
I really had to have these personalized napkins as soon as I saw the Champagne and glass image. I was so thankful my tagline fit! Oriental Trading Company has a great selection of personalized napkins to choose from which really add that custom and unexpected touch.
I placed a couple ball and chains on the table as well.
Now it's time to pop the Champagne!! We had one take with the champagne bottle and Maria and her expert skills got the shot! I love this picture! Yeah, Maria is just that good…you should hire her!
The Champagne flutes are also from Oriental Trading Company. You can easily dress them up for any theme by adding embellishments like ribbon. The black and white stripes were featured throughout so I was really happy that I found this ribbon.
"Cheers girlfriends!" Since I had so many wonderful treats, and Champs, I invited a few girlfriends over to celebrate with me. Once the pictures had been taken and the sun started to set we sat down and ate, drank, and laughed. Amy of Perfectly Sweet Designs and Maria introduced me to the "selfie song"…my daughter thanks you girls!
"Thank you" never seems adequate enough to say to all of my vendors and to the companies I get to work with. I so appreciate all of them for trusting me with their products and for sending me the most wonderful things.
A huge thank you to my friend and photographer, Maria Healey. Maria and I have been friends for only about a year but she has quickly become of my dearest friends and I miss her terribly. She is coming back for a quick trip this October and I just can't wait!! Will you do me a favor? Will you post a message on her Facebook page? Just tell her "Kylie says go home!" She'll know what that means!
Thank you Party Princess (& Princes) for being here!
I would like to say a very special thank you to all of my incredible vendors that helped pull off this super fun and girly party…
Professional photographer
3 Tiered Cake
Meringues
Cookies
"I'm Free" crown
Chocolate Covered Oreos
*Members of California Party Professionals (CAPP)
* *I received products from the above named vendors in exchange for featuring. All of the opinions are my own and I have not been paid for them.