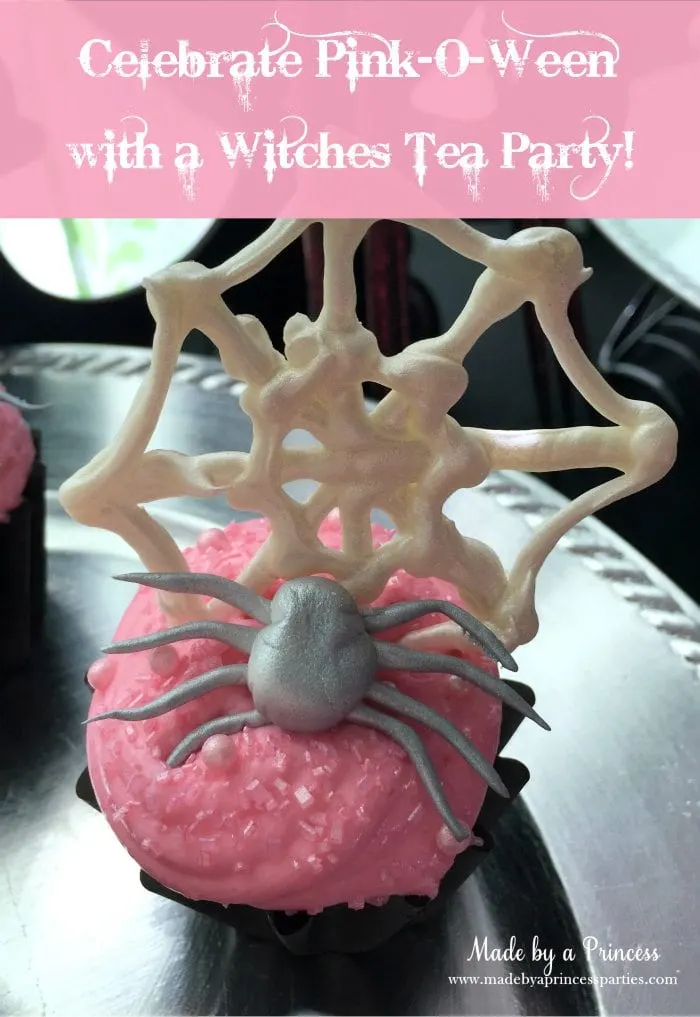 It's almost Halloween! I still don't know what I am going to be and I don't have everything I need for my kids' costumes but last weekend we celebrated Pink-O-Ween so it's all good! I am on board with anything to do with pink and since I'm not really a fan of orange or purple, or orange and purple, I had to change things up a bit this year. Last weekend my daughter had five of her friends over for a pretty in pink Halloween Witches Tea Party. Several months ago I was chatting with Bridget Marquardt about working together on a custom apron. At the time I hadn't planned this pink tea party but as soon as Oriental Trading asked me to help them celebrate Halloween I knew exactly what I needed! I sent Bridget the invitation with very little input from me she designed the cutest apron I have ever seen. Her aprons are so gorgeous, so creative, and so well made that you will have a hard time choosing just one.
My little witch couldn't have been happier. Ok, that bow…how cute is that?!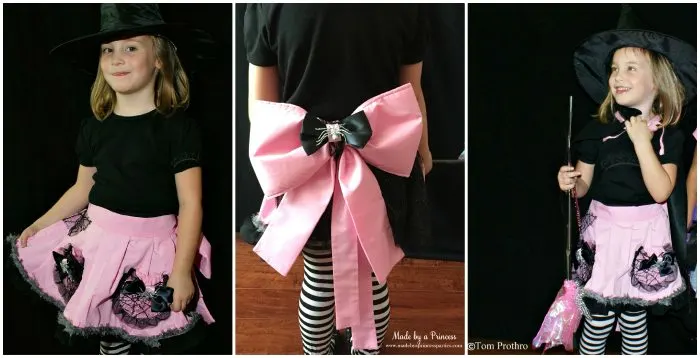 I DIY'd a lot for this party including creating witch broom napkins with of course, pink napkins. I just love those silver straws and was excited for a chance to use them. I spray painted and then glittered spider rings from Oriental Trading. (Before spray painting cut off the ring part.) The silver sparkly were so fun and added some extra sparkle to the table.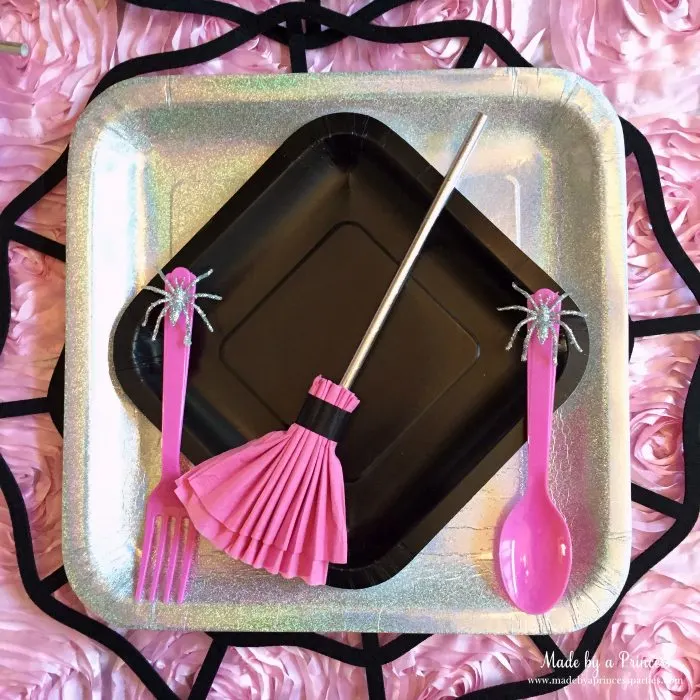 I wanted to give each girl a broom, because, well, witches NEED brooms but couldn't find any small ones anywhere. While browsing the aisles at my local dollar store I got the idea to use a butterfly net and a tutu. I will be posting a tutorial next week. They are really easy and can be made pretty quickly. I also made each girl a no sew cape (hanging on the chair). Each cape took all of about five minutes which is my kind of craft!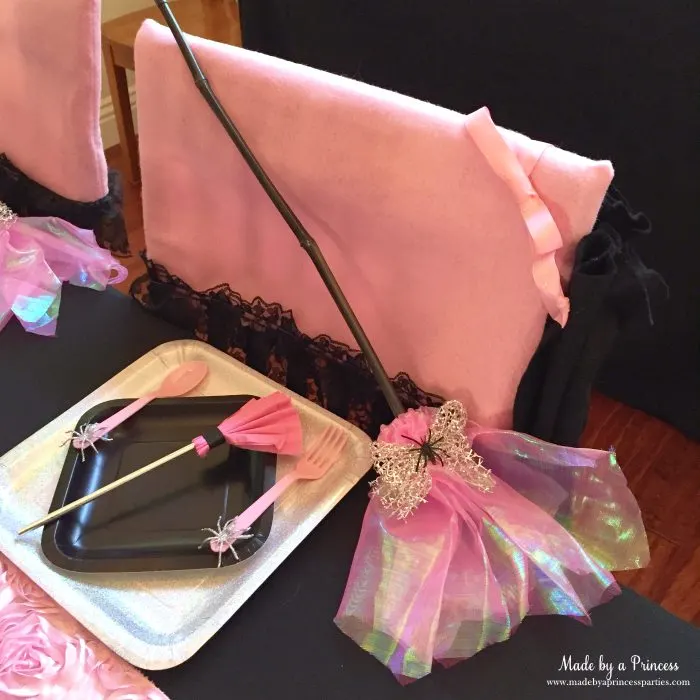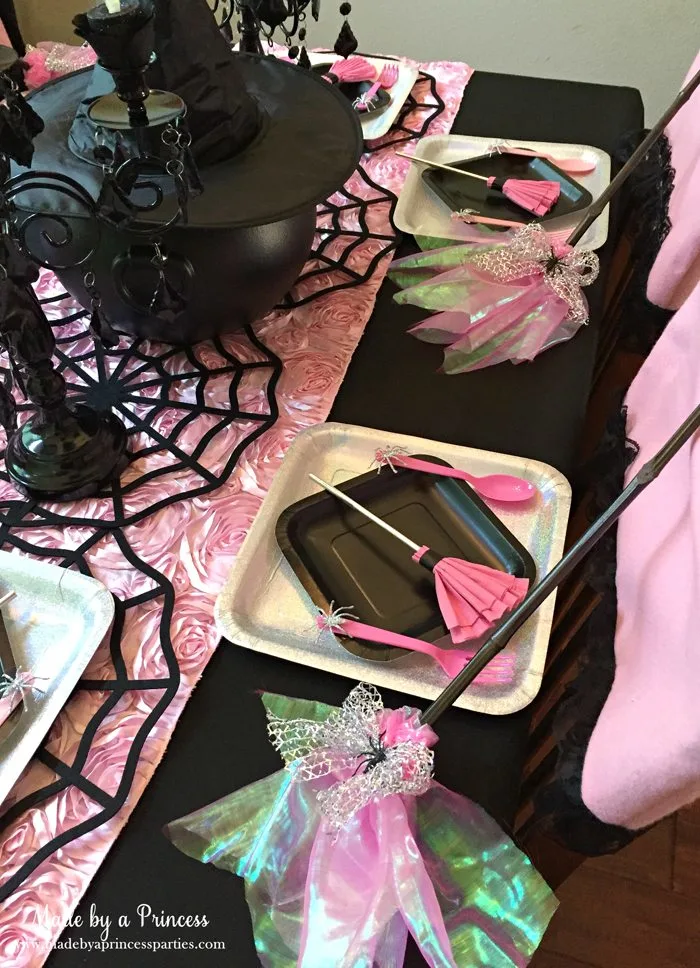 Chair toppers are a really easy way to dress up a table and coordinate it with your theme. I created these with inexpensive felt and lace. I love to sew but you really don't need much in the way of sewing skills to create these. Measure, sew on three sides, sew the lace, and you're done.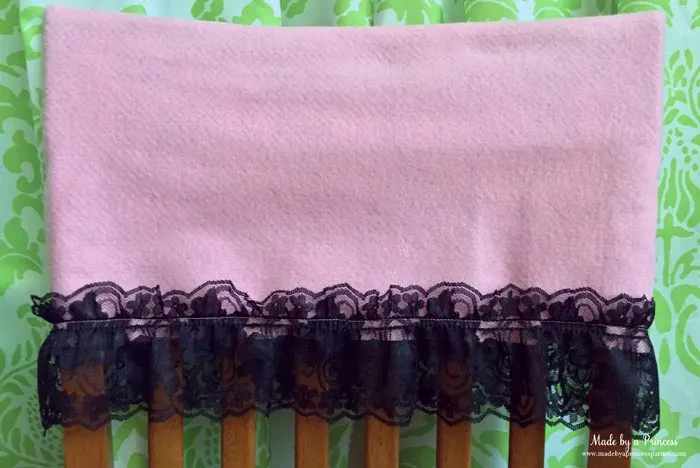 I spray painted and then glittered skulls from the dollar store. I also added some fake eyelashes so they would look girly. The spell books were another DIY project. I bought some cheap books at my local resale shop, embellished with a glue gun and some plastic critters from the dollar store, and then spray painted. I will be doing a quick tutorial for this too.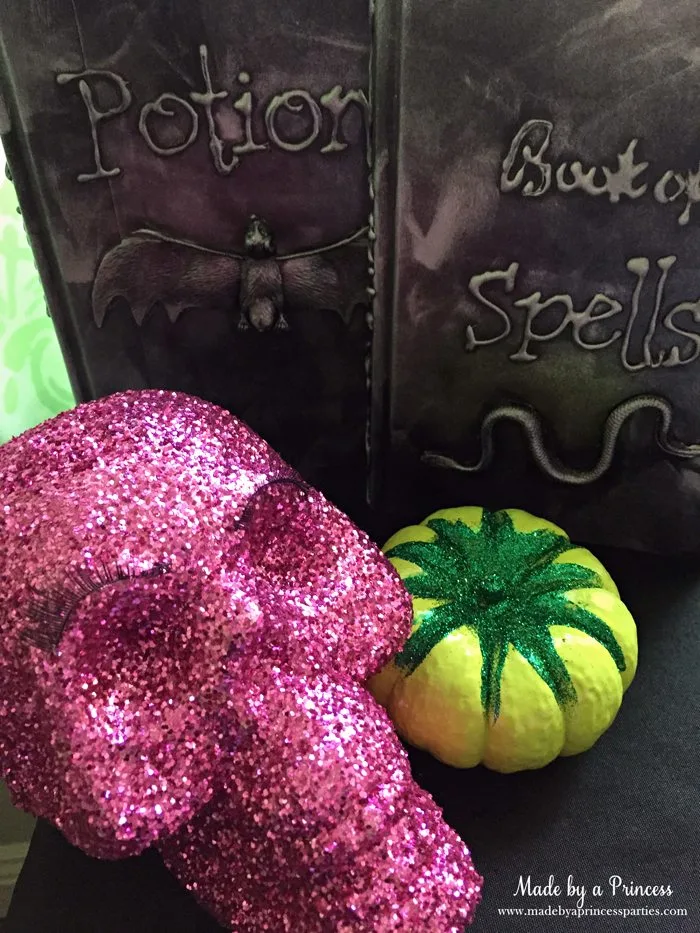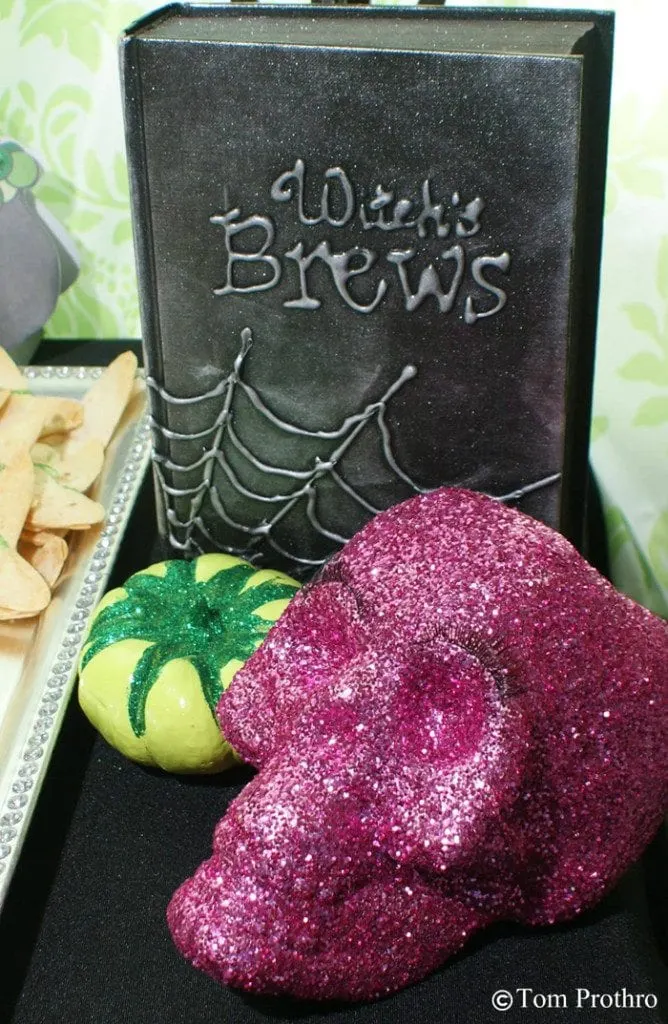 My friend Andrea gave me these silver trees last year for my daughter's "Frozen" party and thought they would be perfect for this party. I added some glittery spiders for a spooky look. The candelabra peeking behind the spell book is from Oriental Trading too.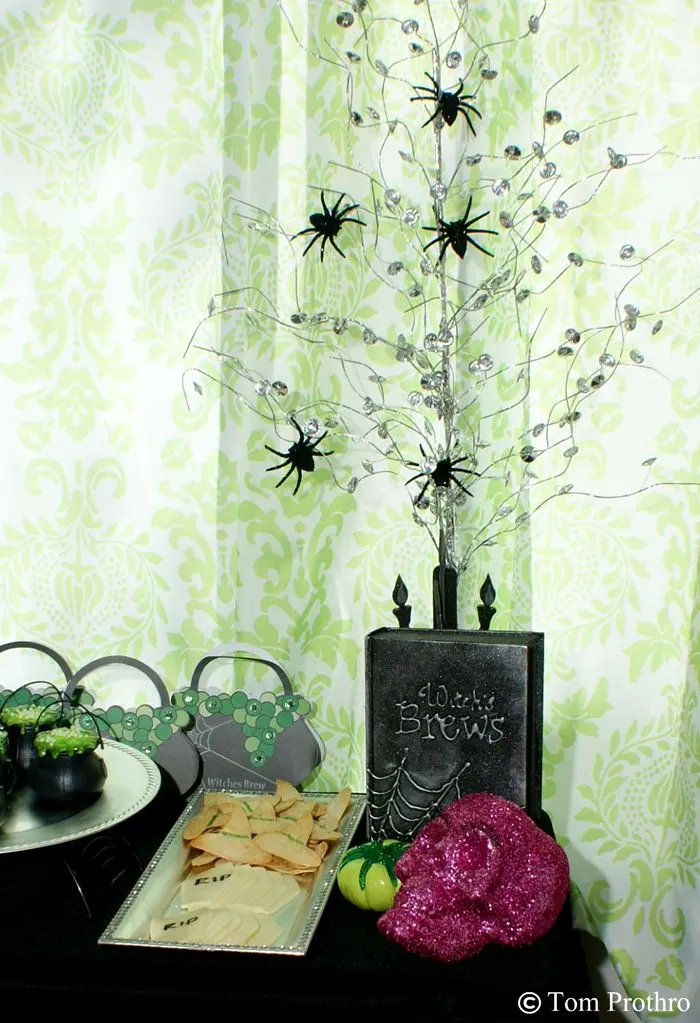 This glitter skull garland from Oriental Trading was screaming my name! Above the table on the chandelier I hung silver pom poms and bats which gave it a bit of an eerie witchy feel. You can kind of see it in the mirror there.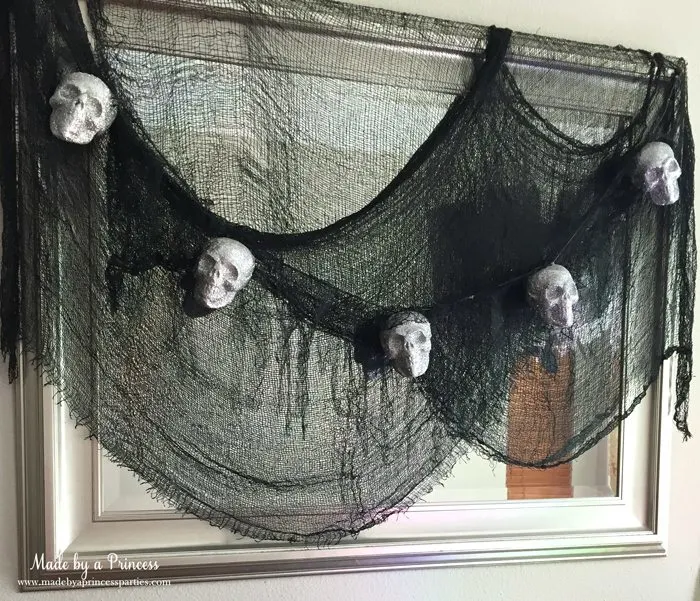 Glitter pumpkins are a must for a witches tea party…in my opinion! I spray painted real pumpkins and then when they were dry I glittered them up.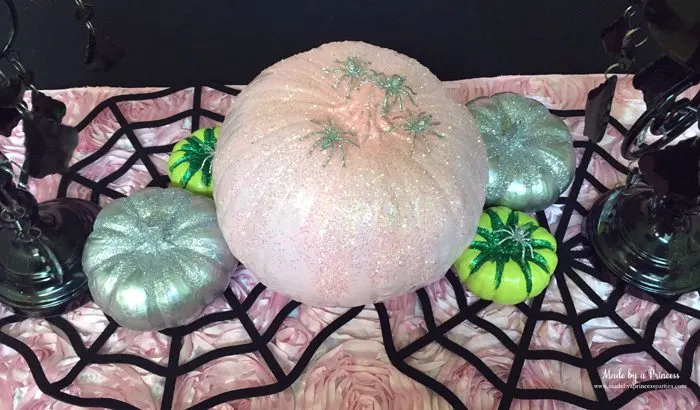 I took the stems off of black roses and dropped black glittered tea lights in them.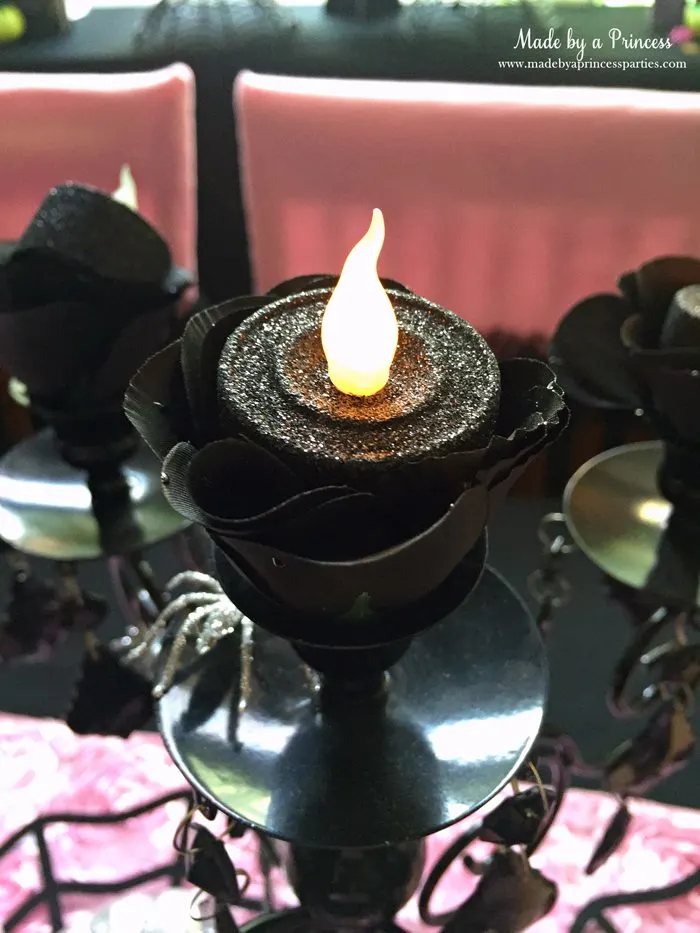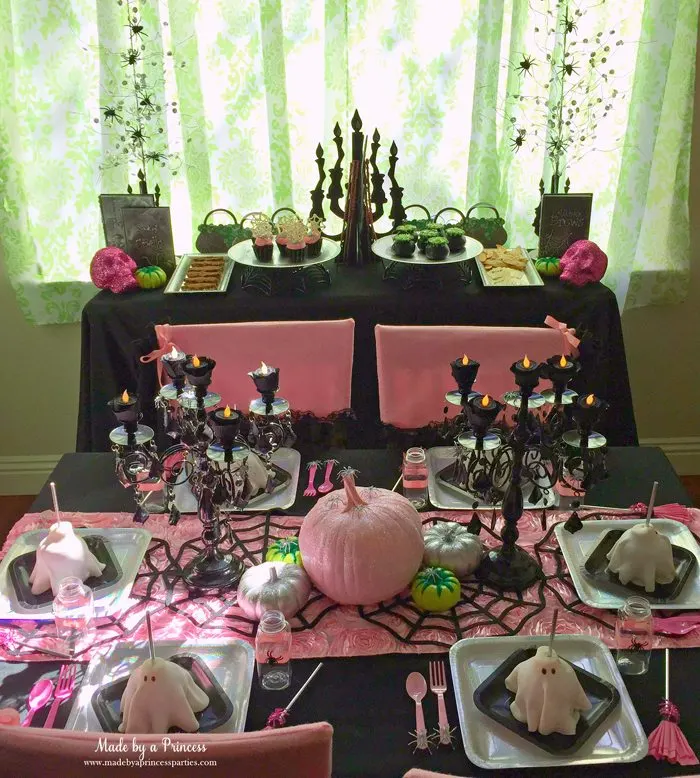 I love the way these apple ghosts came out. I used a package of caramel wraps first and then covered the apples in fondant from Wilton. After rolling out the fondant I used a dessert plate as a guide to cut. I placed a marshmallow on top of the apple first and then laid the fondant circle over it. I then stuck a 6″ Wilton lollipop stick in and covered it with one of my silver straws. I then used a Wilton edible marker for the eyes. This is a very doable food craft and does not require any baking or cooking skills.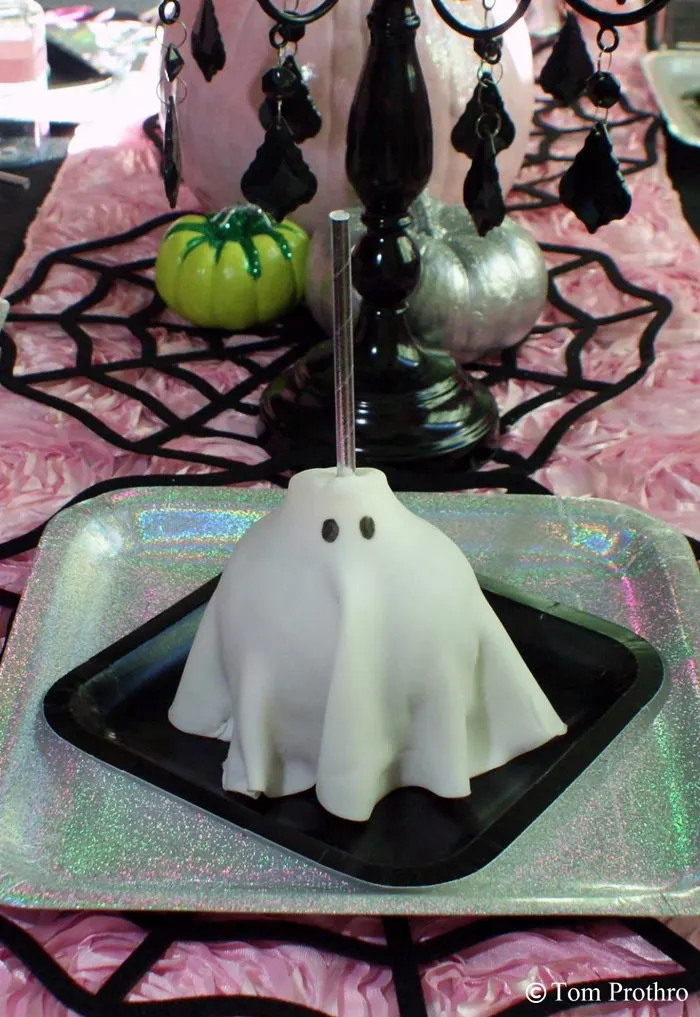 I have seen pretty pictures of spider webs made from chocolate before but never actually tried it myself. These do take a little time but I love the way they turned out! I used Wilton melting chocolate and followed the directions by melting in the microwave in 30 second intervals. I then poured the warm chocolate into a Wilton squeeze bottle. I spread out a piece of parchment paper and made about a dozen spider webs in no time. There are tons of tutorials online so I won't bore you with the how tos. Once they were dry I sprayed them with Wilton Pearl Color Mist and loved the soft pearl effect!
The spiders are made of Wilton fondant as well. I didn't follow any pattern or anything like that, I just rolled the fondant into a ball and kind of pinched it to make it more oval shaped. After attaching the legs I let the spiders dry and harden a bit then sprayed them with Wilton Silver Color Mist. Now that my spiders and webs were all done they were ready to go on my cupcakes. I used the Wilton baking cup molds for the first time and seriously love them! The cupcakes are little smaller which is perfect for kids since they never eat a whole one anyway.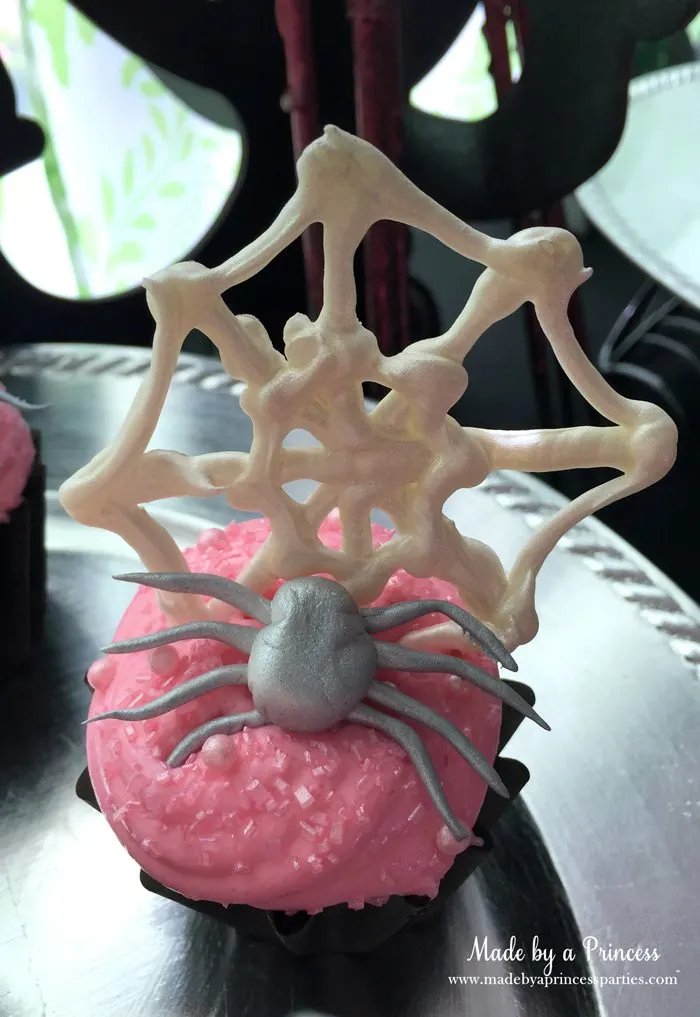 My favorite food creation were these cauldron pudding pots. You can see how I made them here.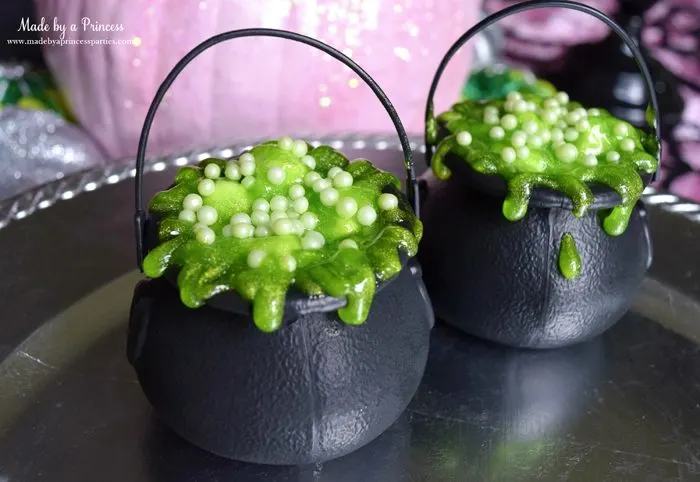 My daughter loves cucumber sandwiches and said we must serve them because that is what you eat at a tea party (recipe here). We used Wilton cookie cutters in the shape of bats and they were the perfect size for the girls.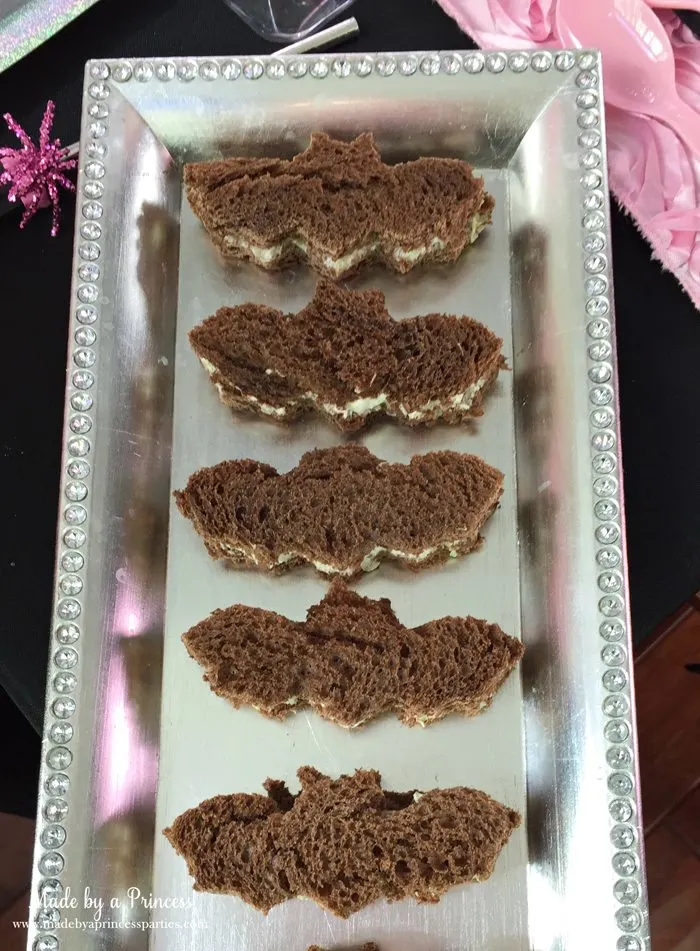 Our sweet little friend has the prettiest smile!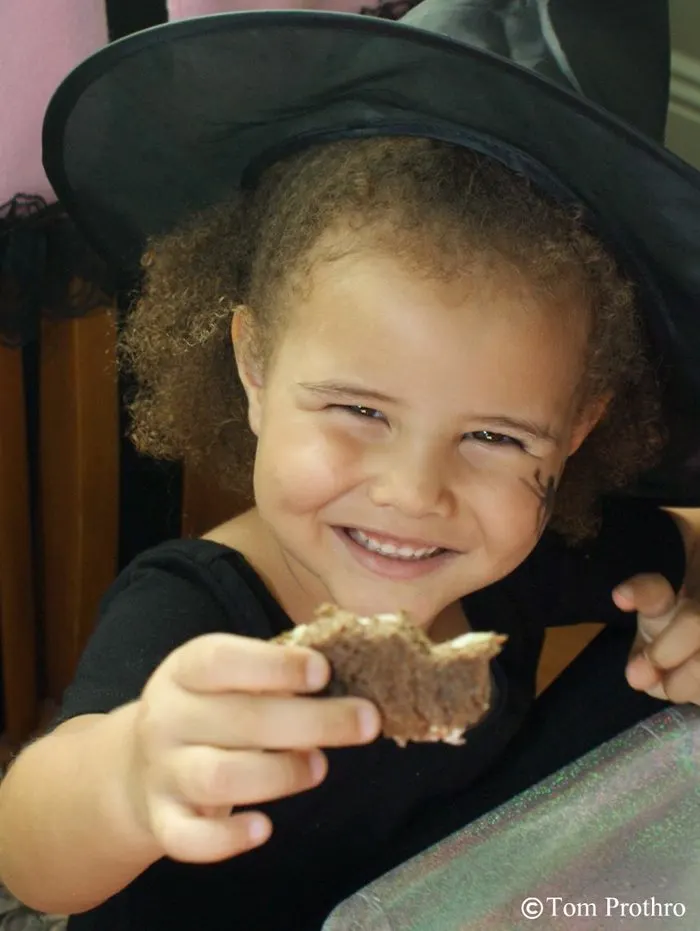 I used Wilton cookie cutters to make witch hat tortilla chips and coffin cheese. I had intended on writing RIP on each piece of cheese but to be honest, I just ran out of time!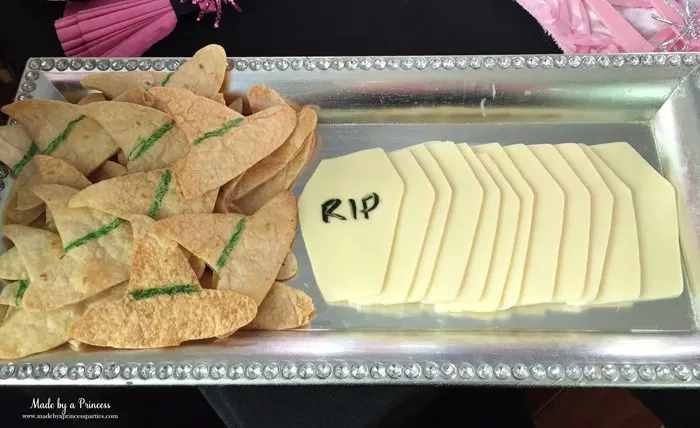 I created this little cauldron favor table with a collection of potions to give the girls before they left. I had that green garland for another photo shoot and added it to the cauldron because they looked like bubbles. The book was another DIY. I spray painted a leather looking portfolio from the resale shop silver, added a cauldron and skull, and pink glitter letters to spell, "Order of the Cauldron."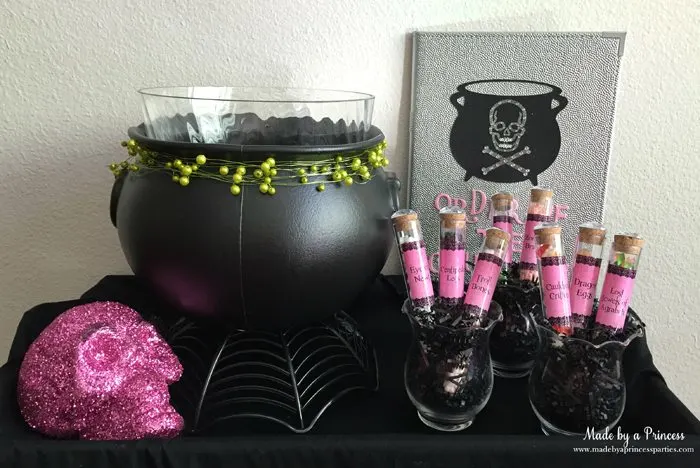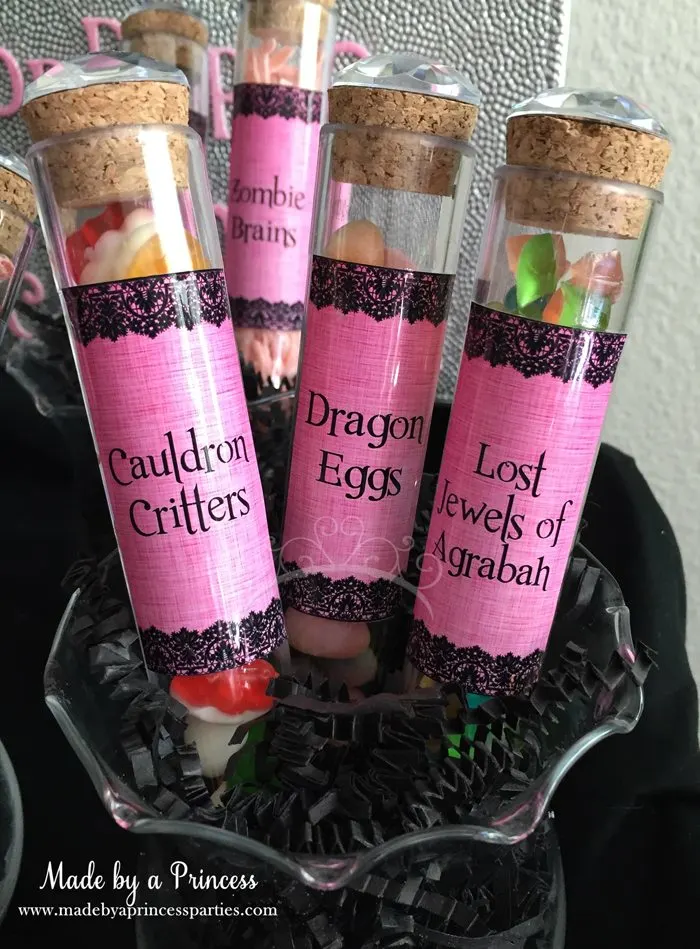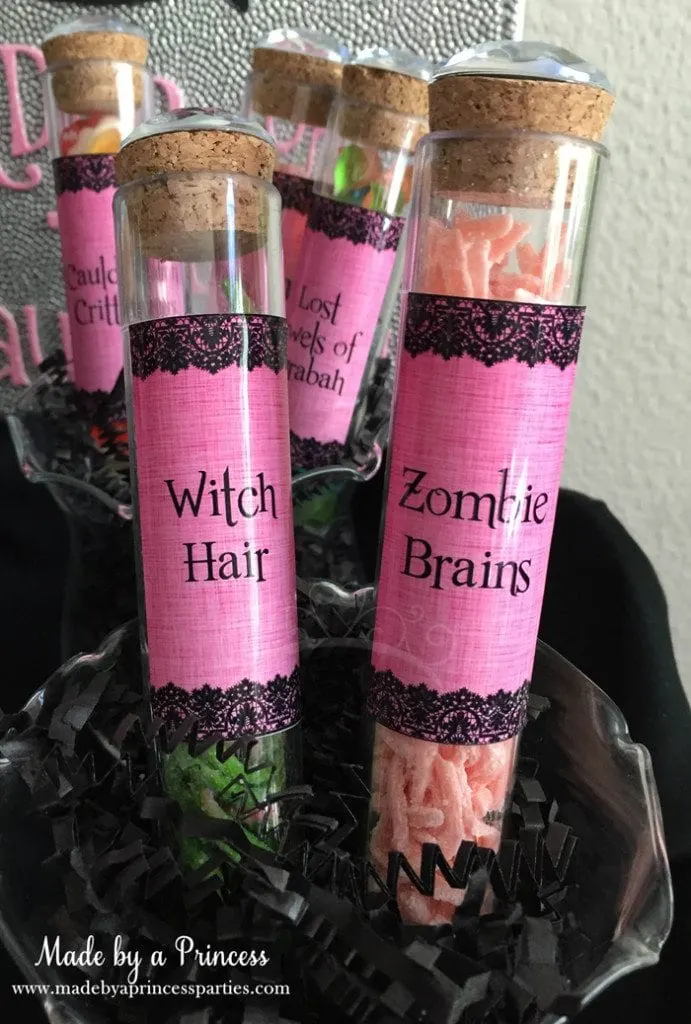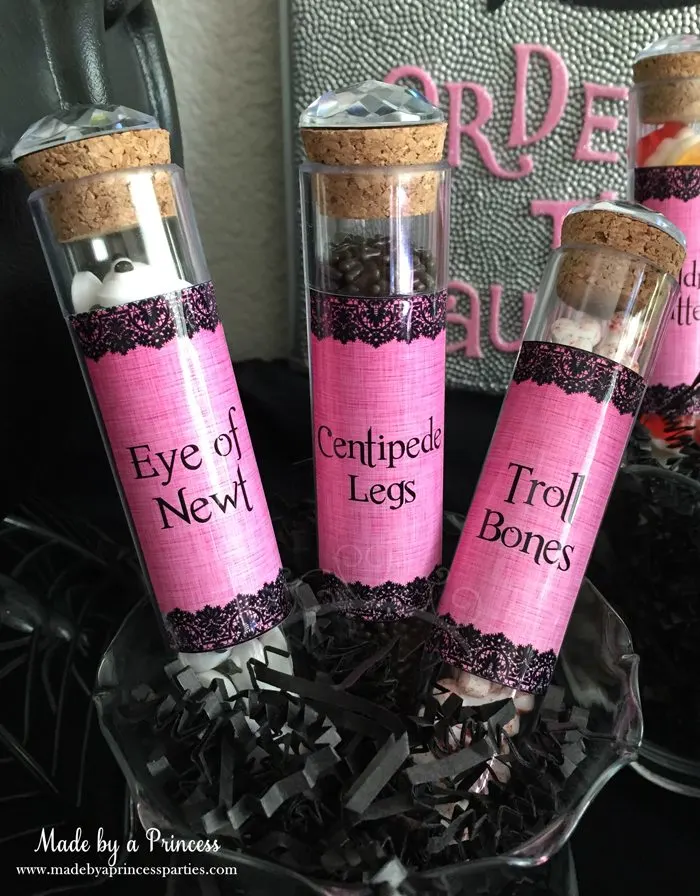 This was my Witches Brew punch (limeade, 7up, and lime sherbert) with a few chunks of dry ice.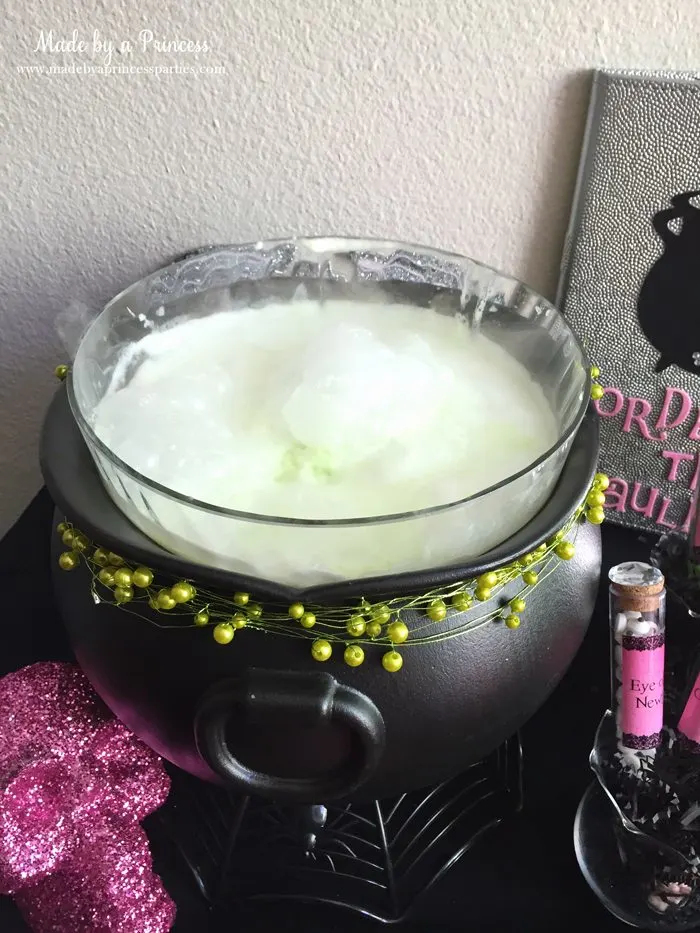 My little witches were casting spells! I made those wands out of bamboo chopsticks, spray paint, and a glue gun. Each one was a little different too. The girls loved pretending to cast spells on eachother, although, their spells were more sweet than spooky, "Hocus Pocus make you a princess!", "Hocus Pocus you are a pink flower!" I love their sweet little hearts.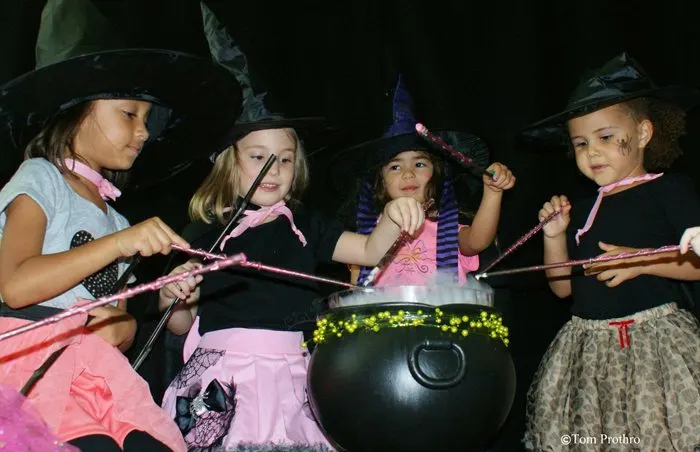 Thank you Oriental Trading for letting me kick off Halloween with you and thank you Wilton for sending me so many fun things to play with! Thank you also to Tom for coming and taking such fun photos for us.
Happy Pink-O-Ween!