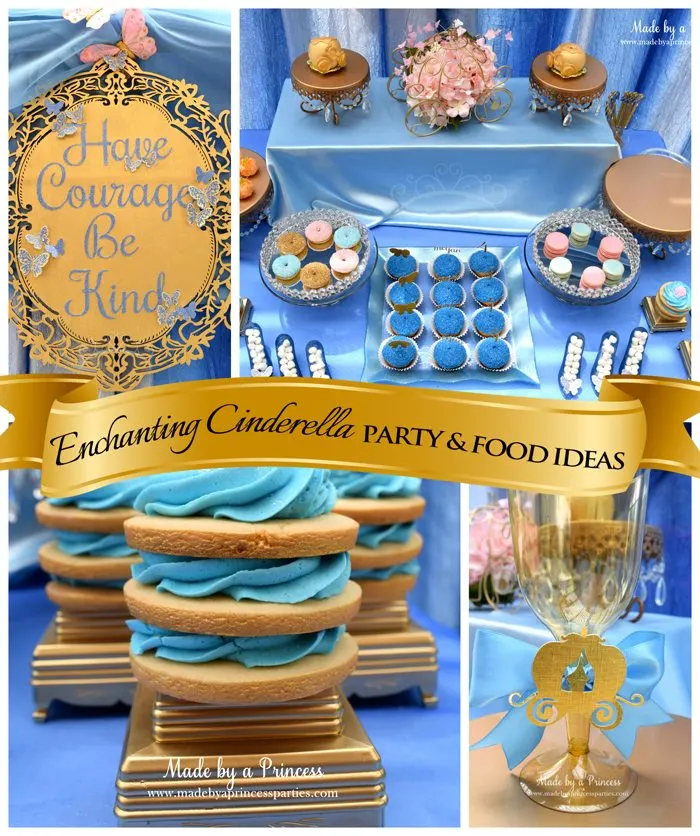 Have you seen the newest Cinderella movie? I absolutely adore it! It is a very sweet movie, the costumes are incredible, the gold carriage beyond amazing, and Cinderella's blue dress…there are no words. I loved everything about it and was mesmerized by the way it moved. Before we saw the movie my daughter had her heart set on a Super Girl themed party. After the movie there was no question it had to be Cinderella. Well, Cinderella and Palace Pets. If that is what the birthday girl wants that is what the birthday girl gets. I hope our Princess Cinderella party will leave you enchanted and inspired!
The quote, "Have Courage and Be Kind" was such an important part of the movie and Cinderella's spirit that it had to be featured in a special way. I spray painted a wooden frame from Michael's and cut out the letters and butterflies with my blade cutting machine.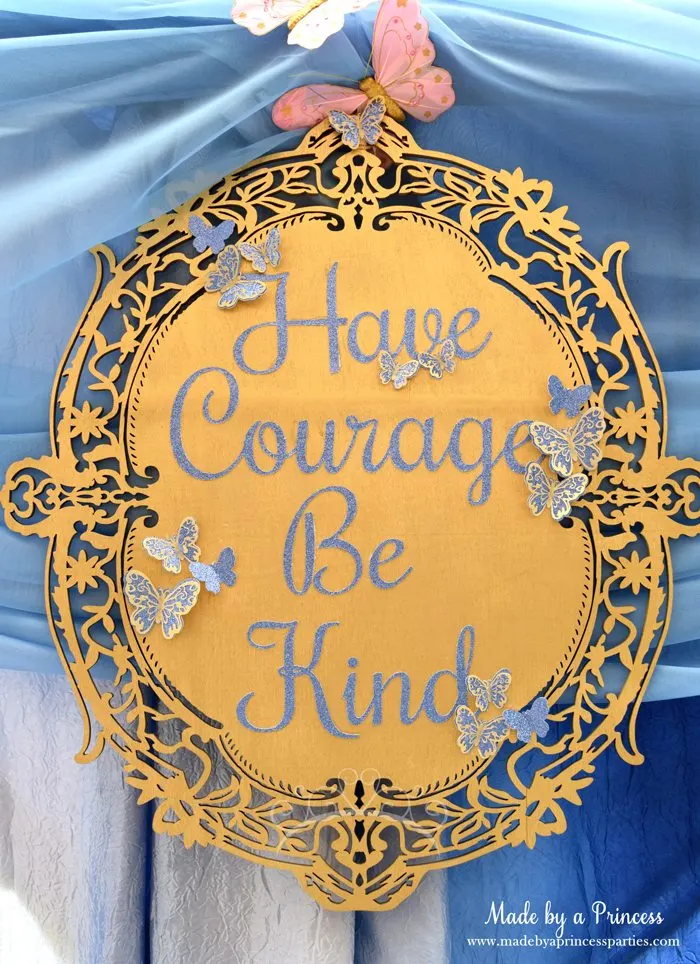 The curtains are actually shower curtains (which are often a lot cheaper) that I hung on my photography backdrop. The ombre reminded me of Cinderella's dress.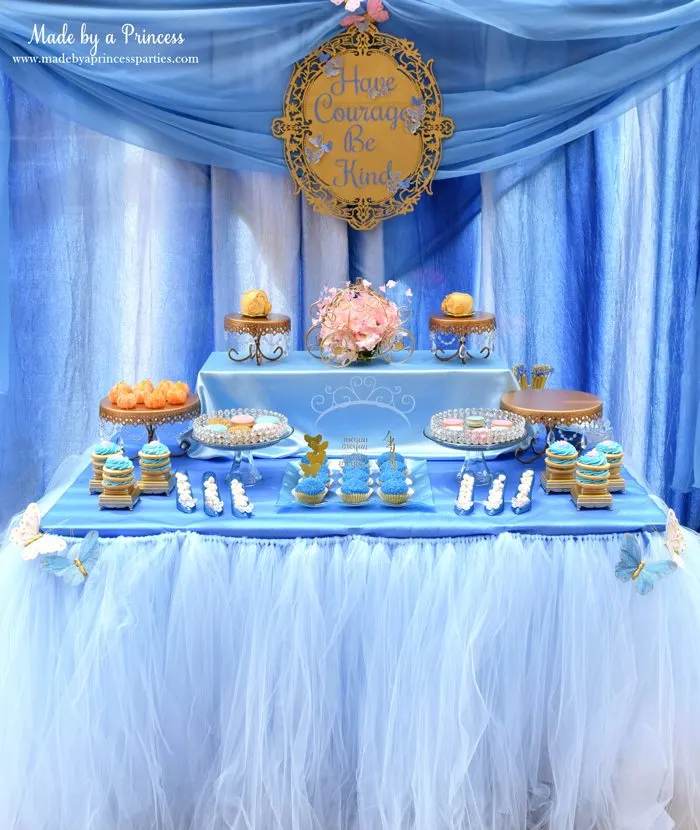 I had to capture this picture of my little princess with the broom. I was setting up outside and she was sweeping up. No one told her to, she just wanted to help. Of course given that it was a Cinderella party it was very apropos.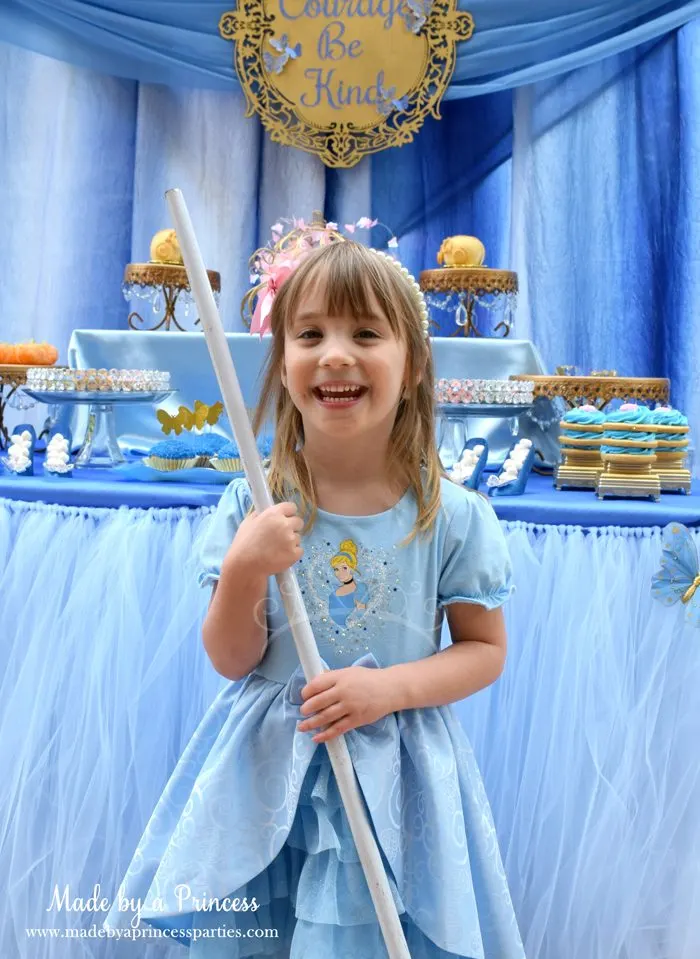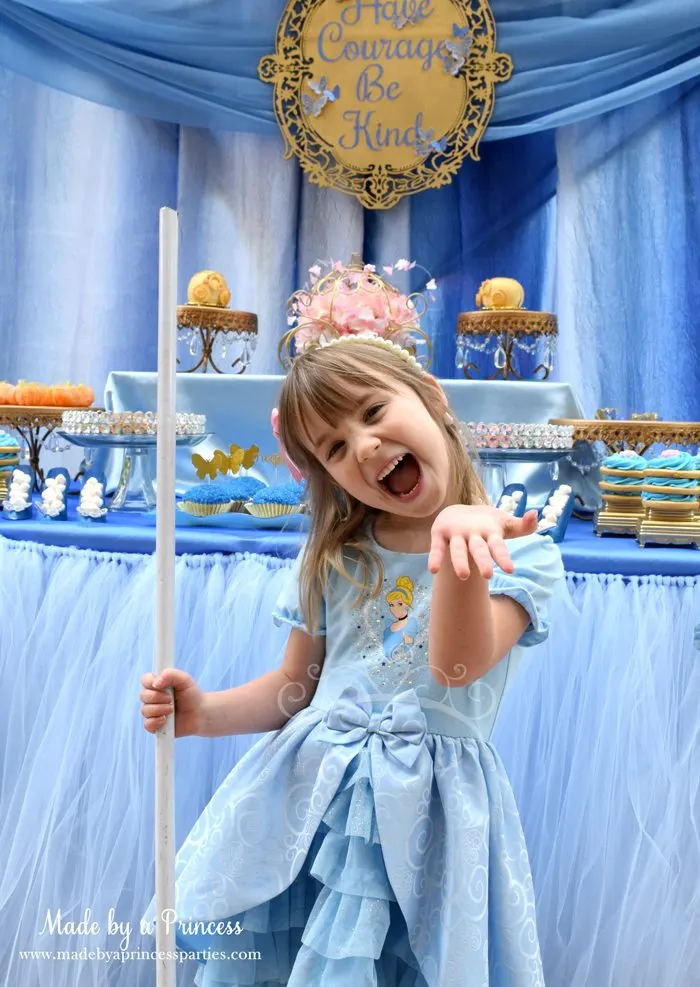 This carriage was silver which didn't work for the color scheme at all so a quick spray with RustOleum metallic gold transformed it into the perfect centerpiece.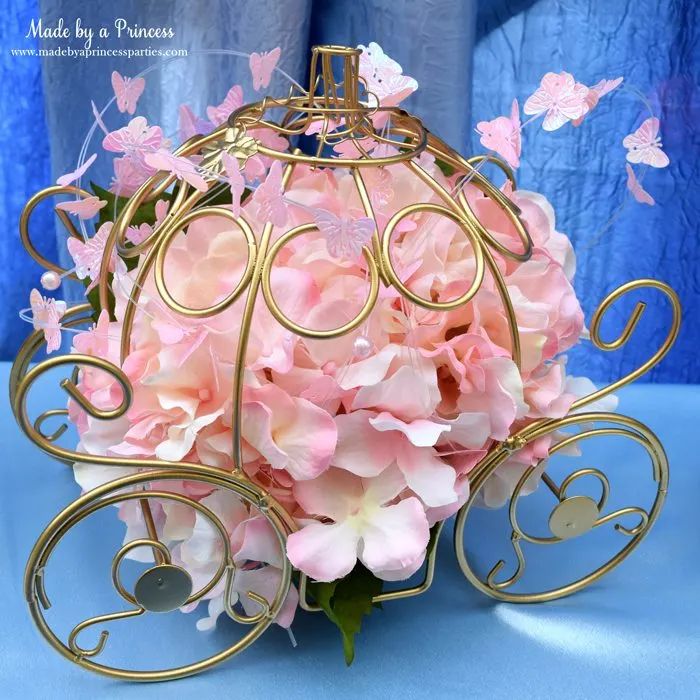 Jamie Andersen Forsythe from Sweet Jelly Parties creates the most magical tutu skirts. I believe now that every princess party needs a tutu skirt because it is so soft and pretty and the little girls loved it. It was the perfect shade of soft blue and beautifully made.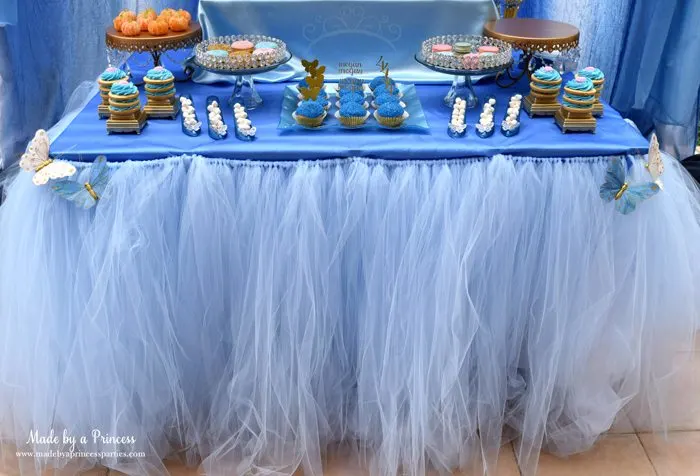 I cut out carriages with my blade cutting machine and added soft blue bows to simple gold goblets from Party City.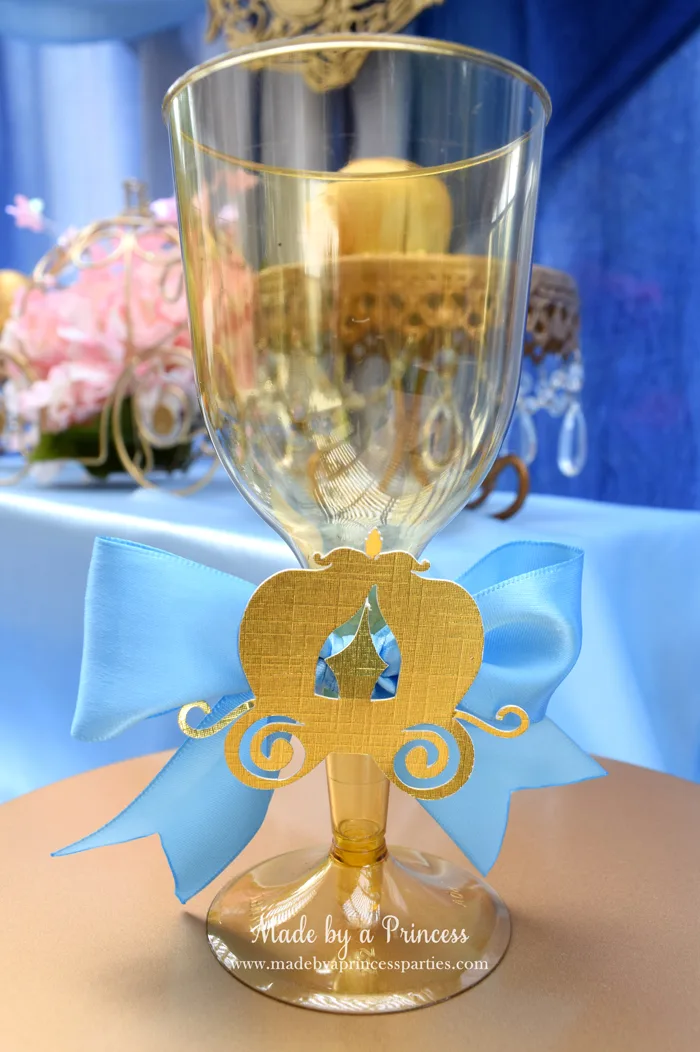 I really like embellishing utensils because it is a really easy way to tie in the theme. I added glass slippers with a tiny butterfly silhouette and crystals to golden forks.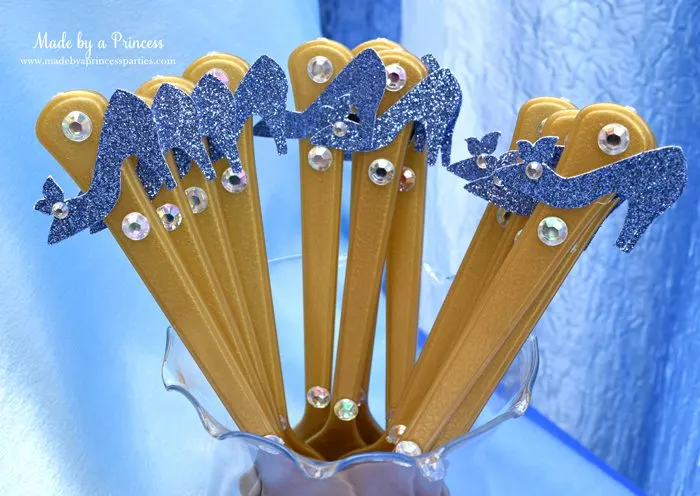 These golden carriage apples from Mammarella's Sweets & Treats were beautiful! The girls had never seen anything like them and they just couldn't believe they were able to eat them!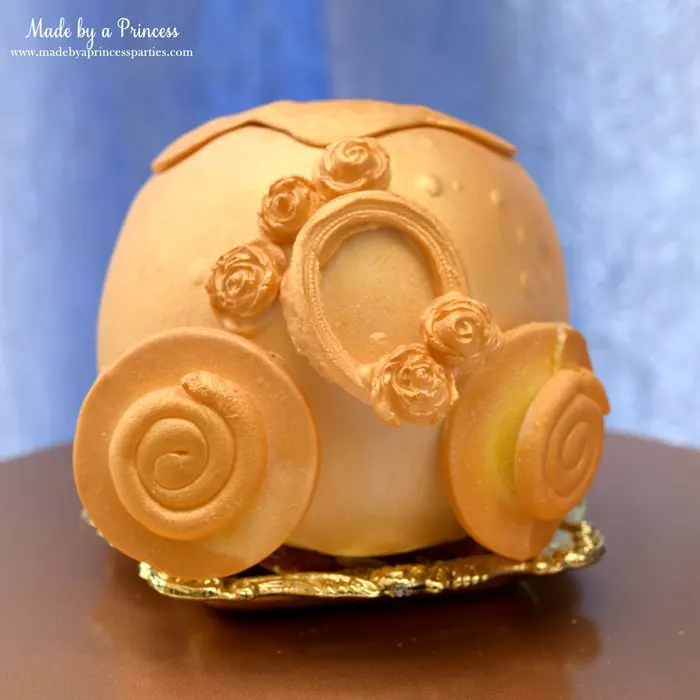 I do like to offer something healthy at my parties but still wanted it to be within the theme so I created these Enchanted Pumpkins.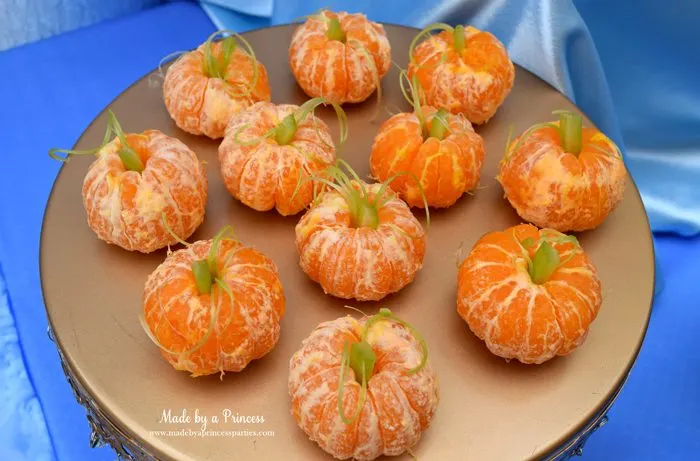 A fellow party planner picked up some glass slippers for me to use as favors. I spray the outside with RustOleum blue glitter and then filled them with Jelly Belly Bean Champagne Bubbles.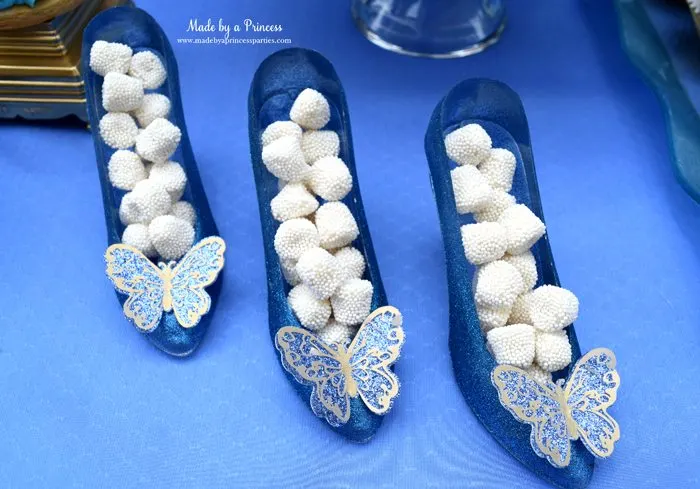 It is a little hard to tell in this photo but the cupcakes had a really pretty sparkle to them. I created my own sugar crystal color by adding a couple different disco dust colors together with clear sugar crystals. I really liked the effect and would definitely do again. I created simple glitter cupcake toppers with my signature clear sticks.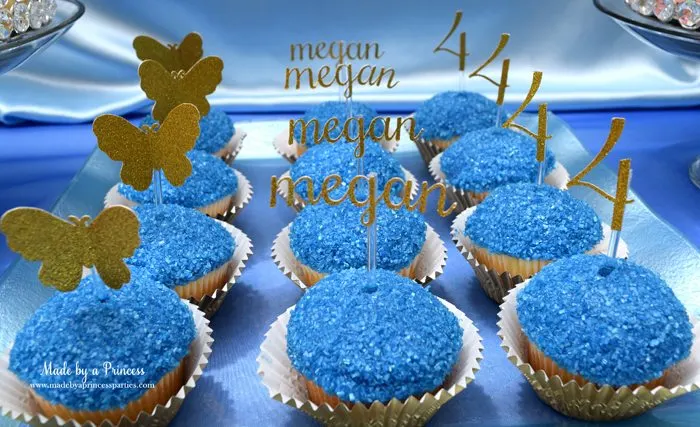 My friend Des of [desi]gn Cakes & Cupcakes made these gorgeous stacked cookies. The cookies were edged in gold and had the yummiest buttercream! No wonder she won Cupcake Wars!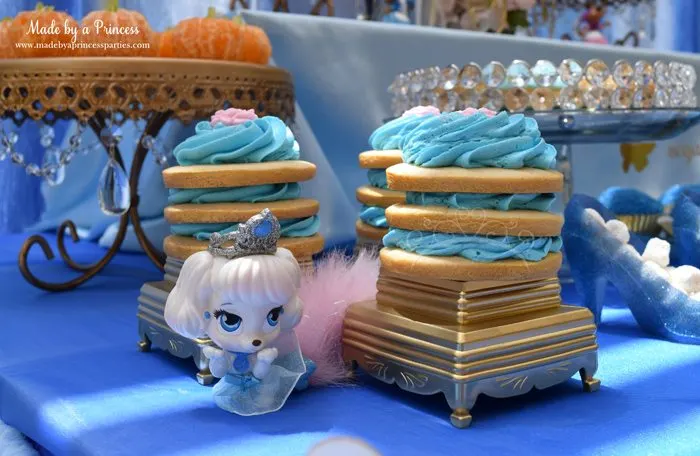 Des knows how much I love sparkle and glitter so she added a touch of that right on top. The stands they are sitting on are from the dollar store. They are actually intended to light up glass figurines but I just liked the shape. They only came in silver so I spray painted them gold. I did put a small piece of food safe cardboard underneath so the cookie wouldn't touch any paint.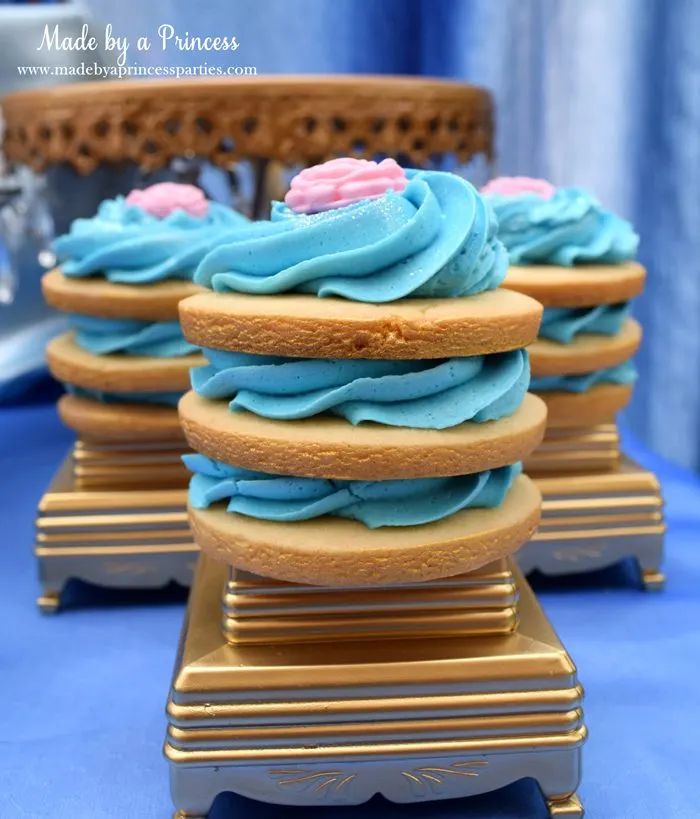 Des also made these macarons. See the sparkle?! These are uh-mazing! I can leave just about any cookie on the table but not these. Sinful I tell you! Delectably sinful!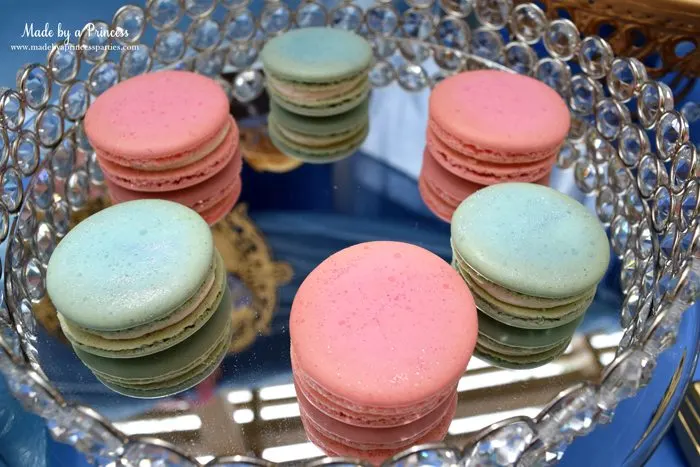 Oh tiny little donuts…how I love you so. These donuts from Green Mountain Baked are little bites of Heaven. The owner, Deborah, has perfected every bit of these treats down to the sparkle she adds to the sugar. Word is out that I like sparkly things so all of my sweets and treats friends make sure to load them up!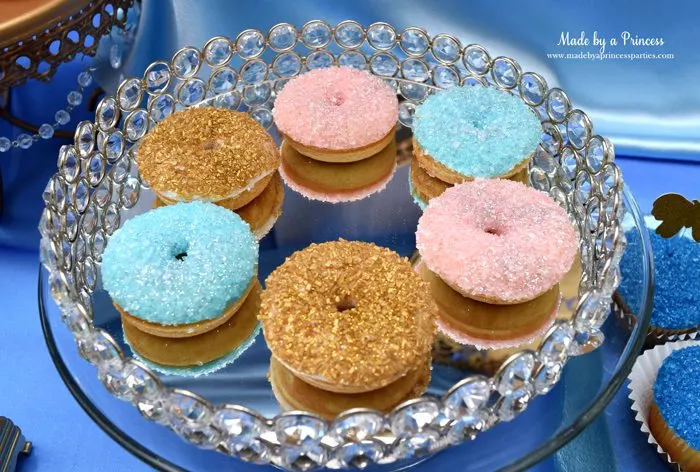 I've said before that one of my favorite things after a party is to sit and enjoy leftover treats…I was in major happiness overload with a plate of stacked cookies, macarons, and mini donuts. Don't judge it til you've tried it!
One of my other favorite things at a party are custom plates from Create UR Plate. I created an image to match the invitations and then uploaded it to their site and that was it.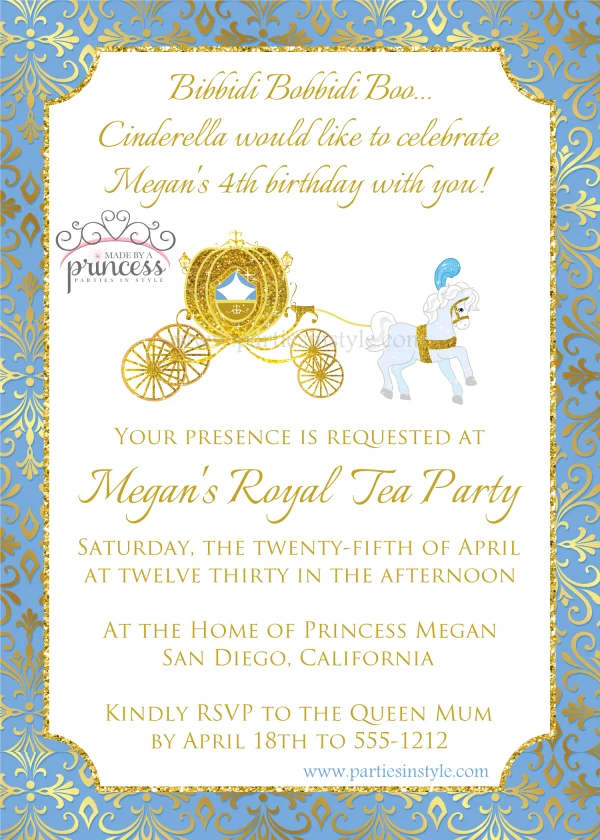 It is really easy and everyone will be so impressed. If you don't have an image you want to upload you can completely customize something using their own clipart and images. They have thought of everything! As a side note, the owner, Sandy, and her team give impeccable customer service. They are quick to respond, are helpful, nice, and go above and beyond. I have used Create UR Plate several times now and it is a company I really believe in and enjoy working with.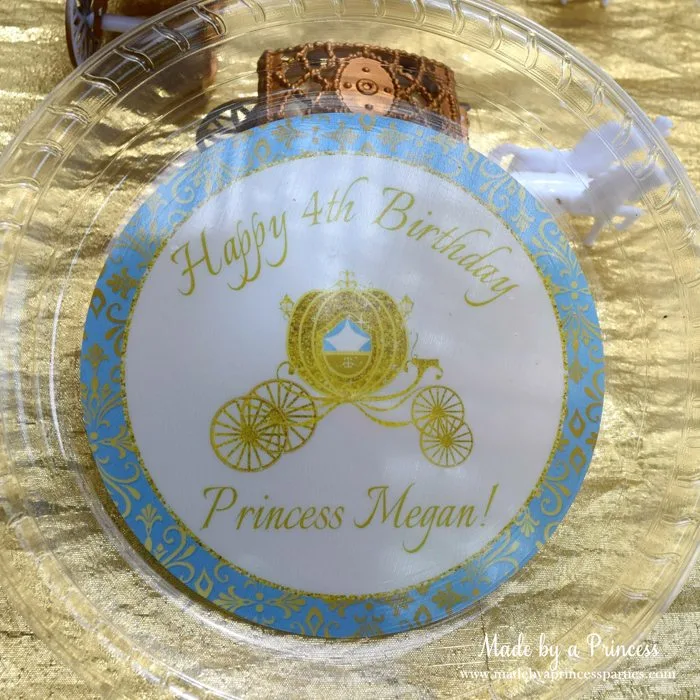 In keeping with the Palace Pet part of the theme I made chicken salad carrot shaped sandwiches. The carrots are made out of crescent roll dough. I painted them with food coloring before putting them in the oven so they would be a nice bright orange.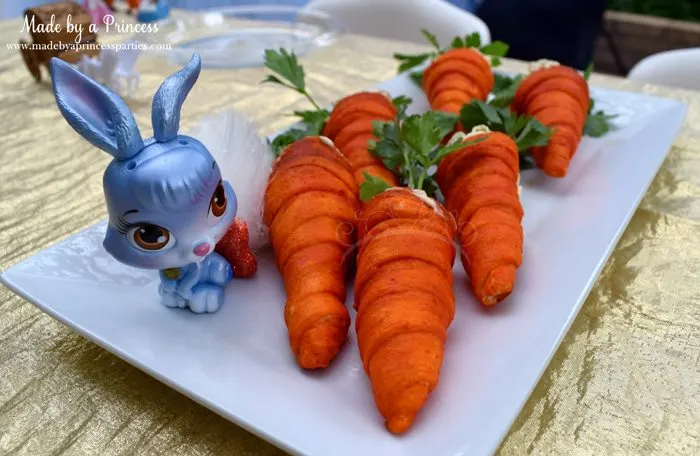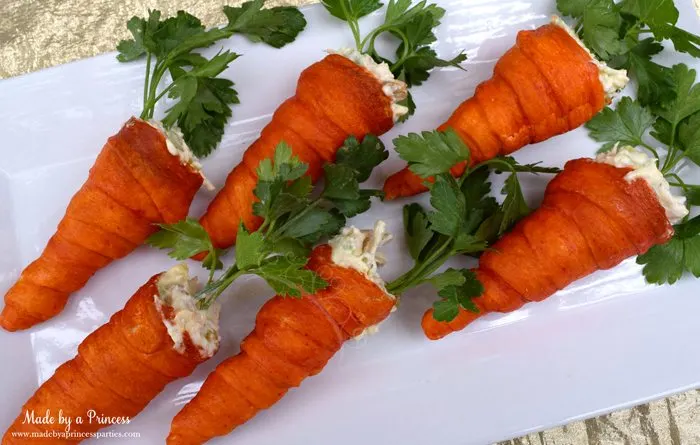 Roni of Roni's Sugar Creations also owns Maison du Bonbon. When I told her the theme she said she had the perfect favor box…gold Cinderella carriages! I filled them with Champagne flavored Jelly Belly Beans.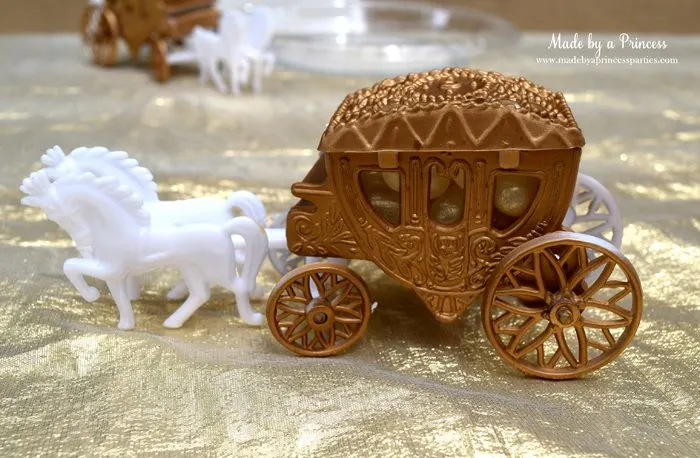 We played some fun princess themed games like "Pass the Slipper"…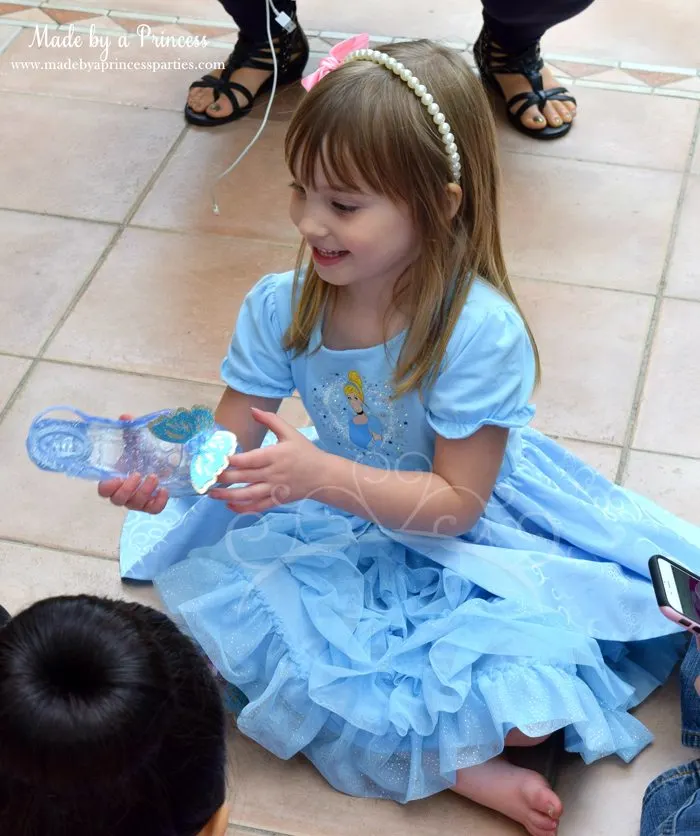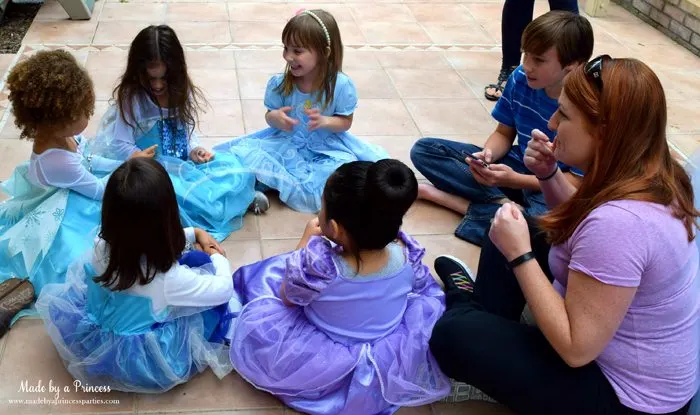 We also made princess crowns. Our priest, Rev. Laura, is "one of the girls" and loved helping the girls make their crowns. I did create a tutorial on how to make them here.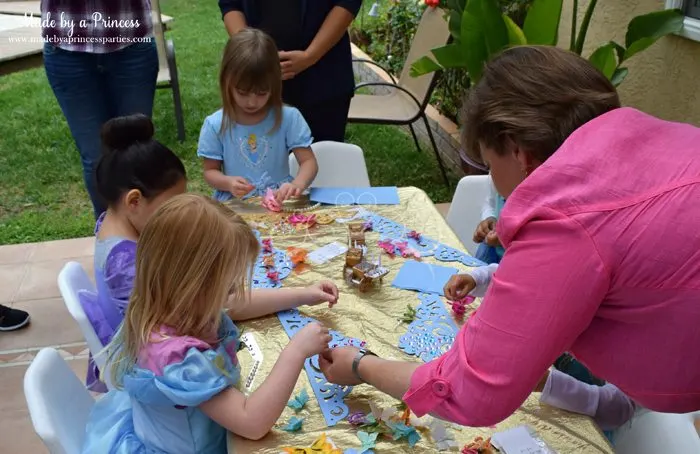 This was a very special moment and am so happy we caught it on camera. Rev. Laura gave my daughter an antique bone china tea set that had been given to her many years ago. The bond these two share makes my heart smile.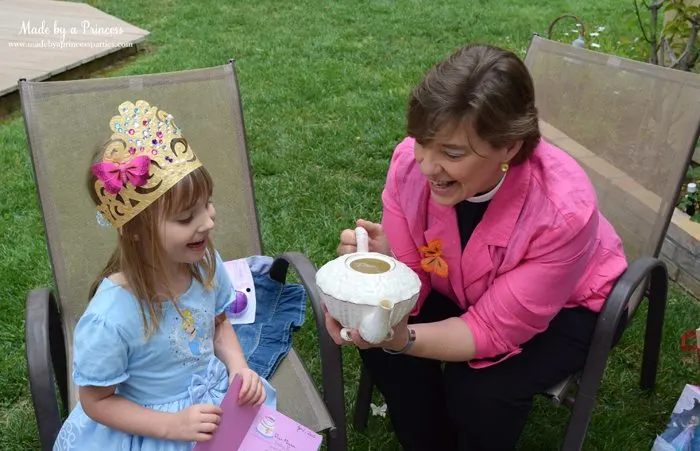 Princess Charlotte checking out her magical mirror.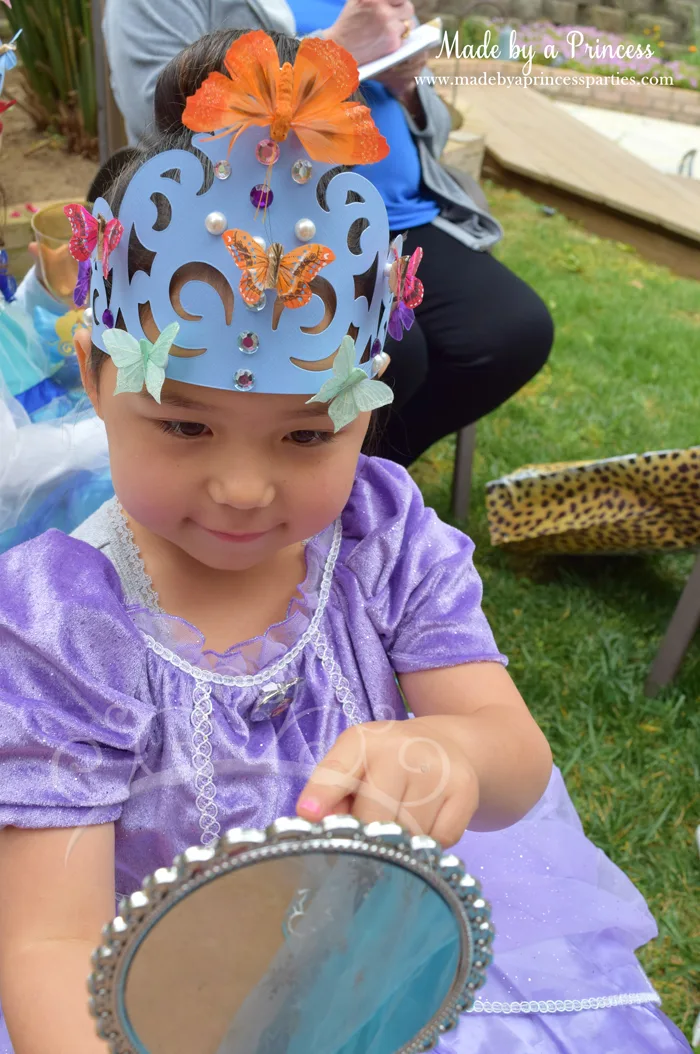 It was after this picture was taken that the girls decided to put on a show. The curtains became the backdrop to their stage as they popped in and out performing songs from Frozen. Watching these little girls sing and giggle was the perfect way to wrap up the day.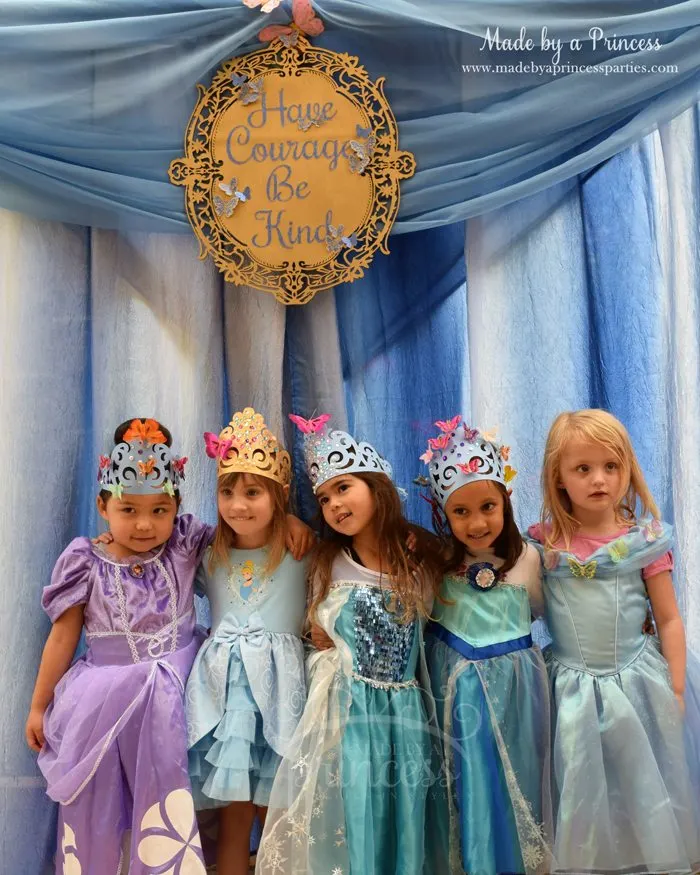 Vendor Credits:
Printables, Concept, & Styling: Made by a Princess
Tutu Table Skirt: Sweet Jelly Parties
Custom Plates: Create UR Plate
Stacked cookies & Macarons: [desi]gn Cakes & Cupcakes
Mini Donuts: Green Mountain Baked
Gold Carriage Apples: Mammarella's Sweets & Treats
Gold Carriage Favor Boxes: Maison du BonBon
Champagne Flavored Jelly Belly Beans & Bubbles: Jelly Belly
Cinderella Inspired Candy Kabobs: Sweets From Heaven, Outlets at Orange
Don't forget to download my FREE printable: