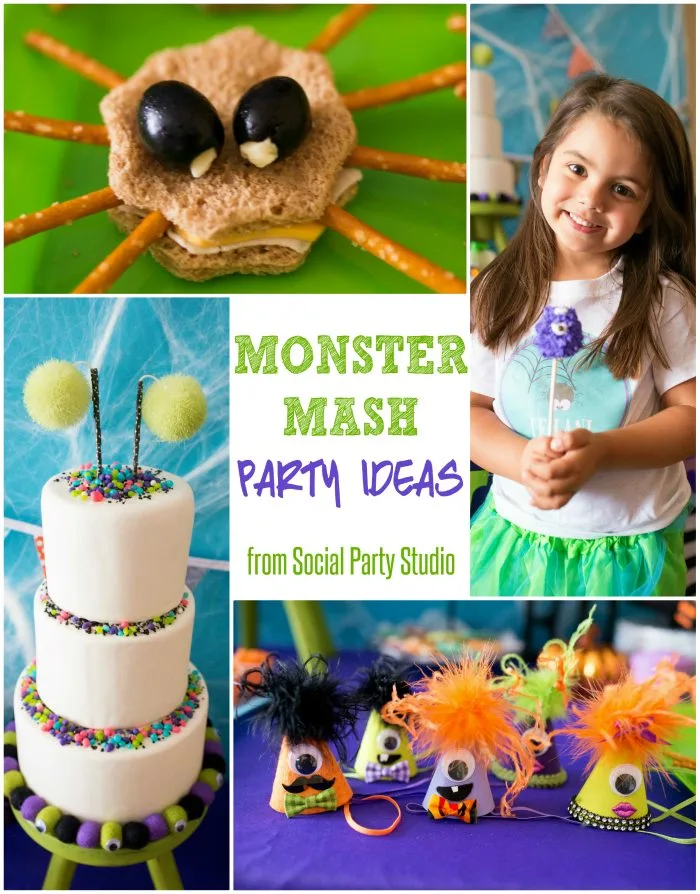 Halloween is just days away…are you ready?! My 4.5 year old has decided I need to be a black bunny since she's a black kitty. I can live with that. One thing I love about Halloween is how crazy creative you all are! I have seen some awesome party pics out there this year which makes me want to throw a last minute party together. Jamie Forsythe & Alyssa Crocker put this adorable party together for their kids and it is full of so many cool details! I think this Monster Mash Party will make you scream in delight!
I'm going to let Jamie tell you more about who they are and how they put this party together…
"Social Party Studio…a team of two moms….I like to call us Ally & Jae. We both have our own companies but every once in a while we like to join forces and create party magic together. We love throwing parties and all the little details that go into them and between the two of us are 5 kids so Halloween time is no joke. Definitely one of our most
favorite times of the year!
Living in Southern California the weather is beautiful all year round but right around Halloween it starts to cool down just enough and feels like our official kick off to sweater weather. This year we wanted to throw a kid friendly Halloween party with some not so spooky details since there are little ones in tow so we thought what better way than with a Monster Mash Party.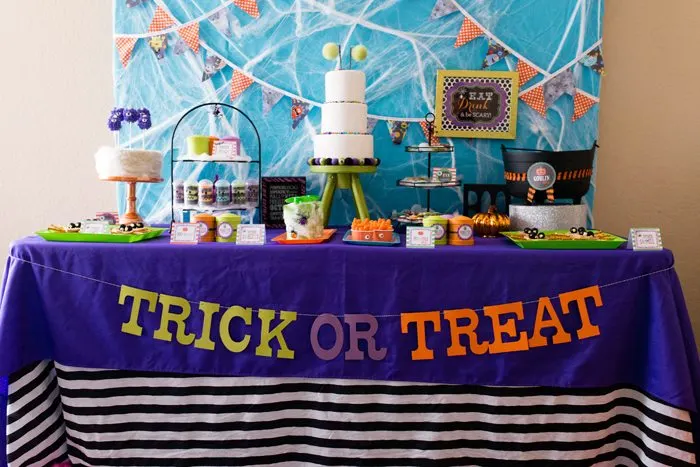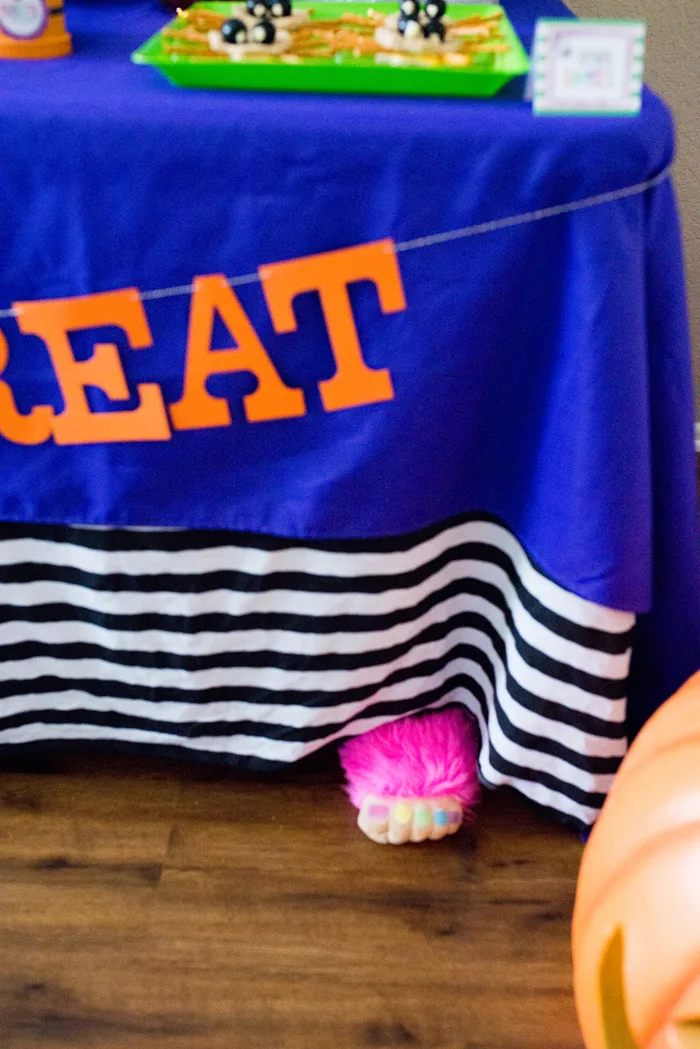 In between school drop offs, meal times and mainly during nap times is when we find the time to put together some good ol' party fun. Whenever looking for party decor we like to start on Etsy, I have a shop on there (Sweet Jelly Parties) as does Alyssa ( Just A Little Sparkle) This lets us support and connect with other moms who are working from home just like us. From there we usually go to the Target hot spot and the dollar store and see what goodies we can find.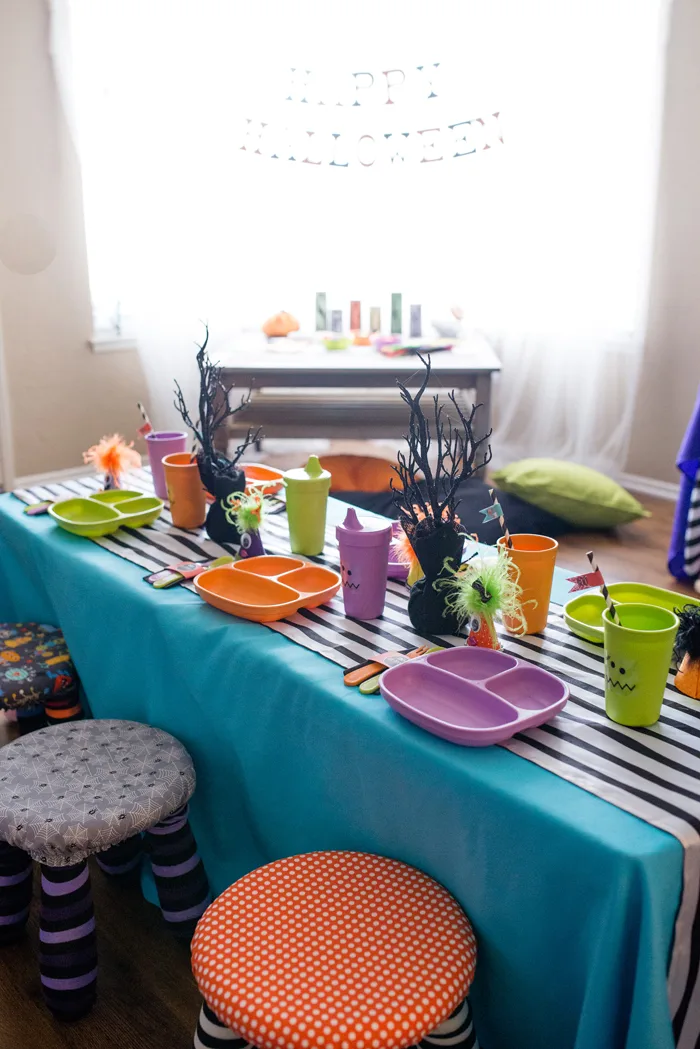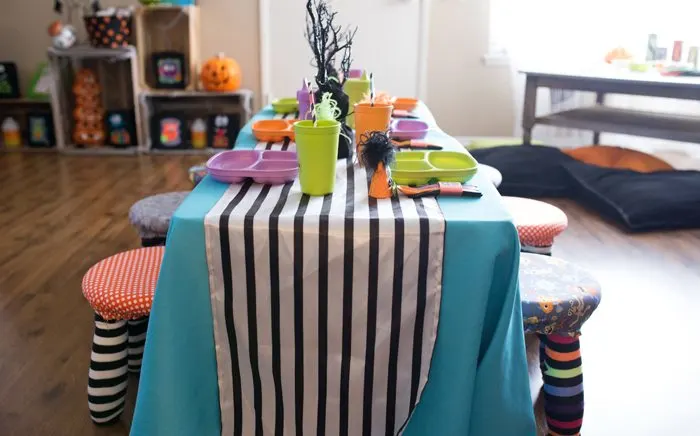 One of my favorite details from the party were the kids stools. They came from Ikea, the covers were sewn by my mom but the legs are just socks found at the dollar store. SCORE!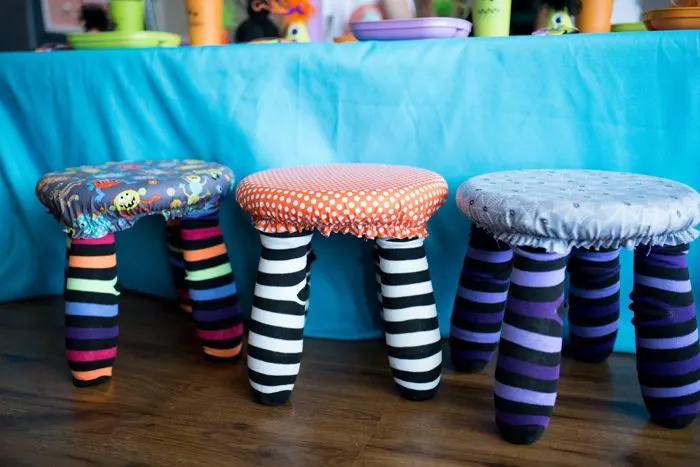 With the left over fabric from the covers I had my mom make some flag bunting to drape across the backdrop of the dessert table.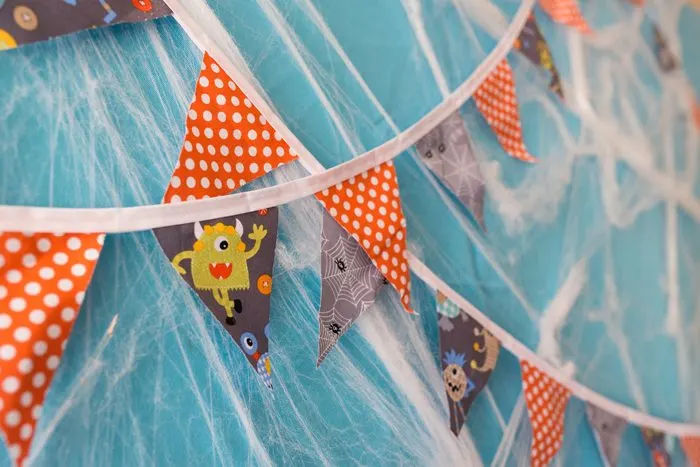 The kids walked away with so many goodies from this party. Trick or treat bags, snack cups full of monster munch, mini monster hats, they built their own furry monster to take home and not to mention custom t-shirts with their names on them.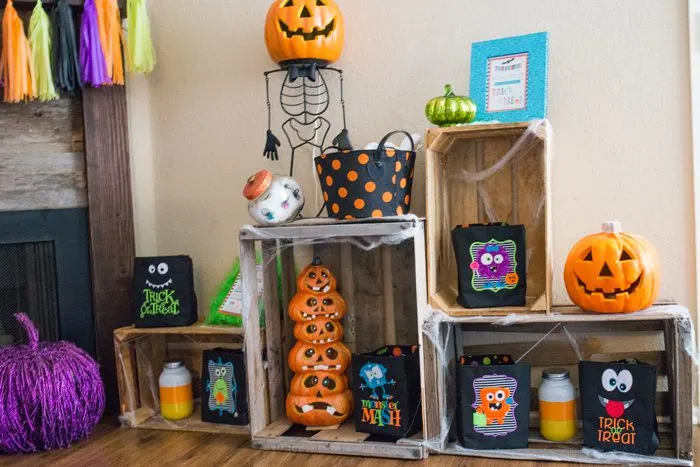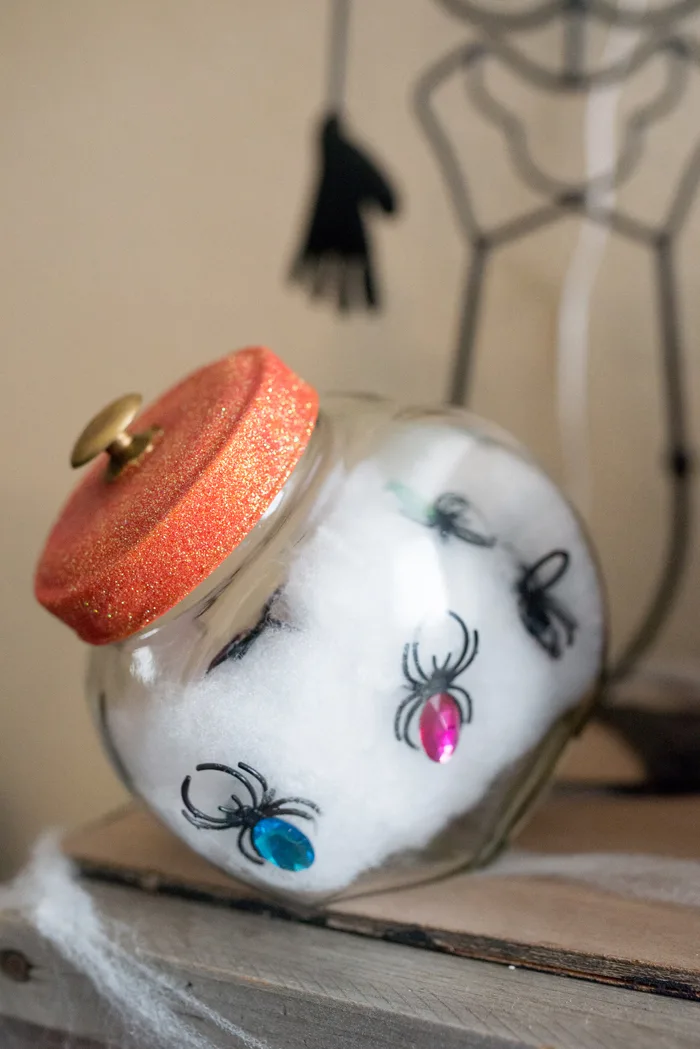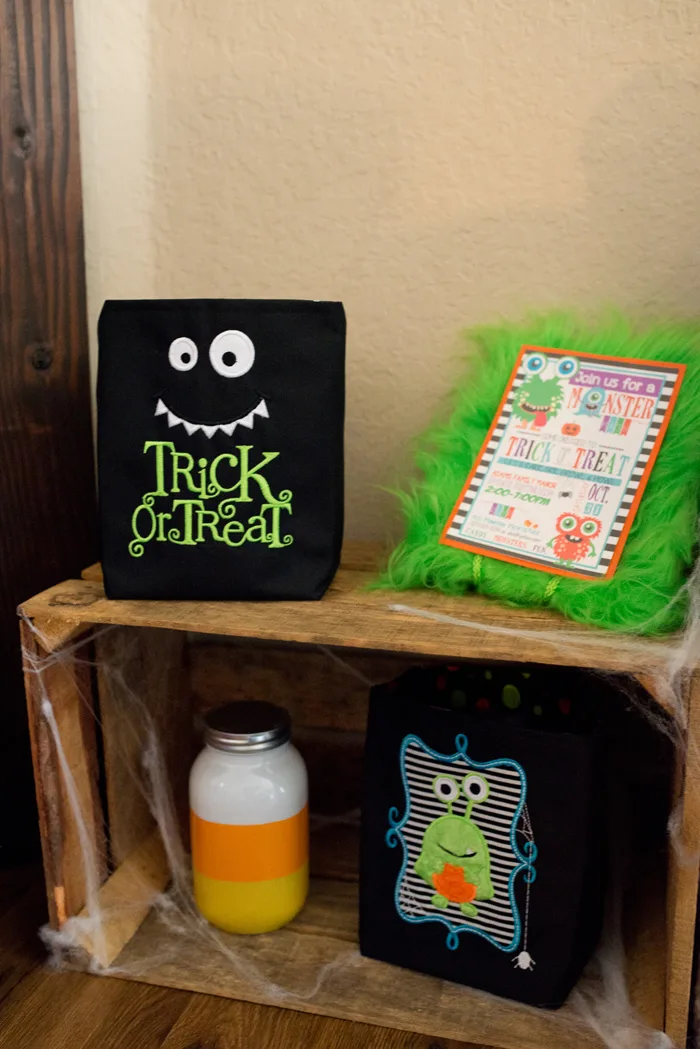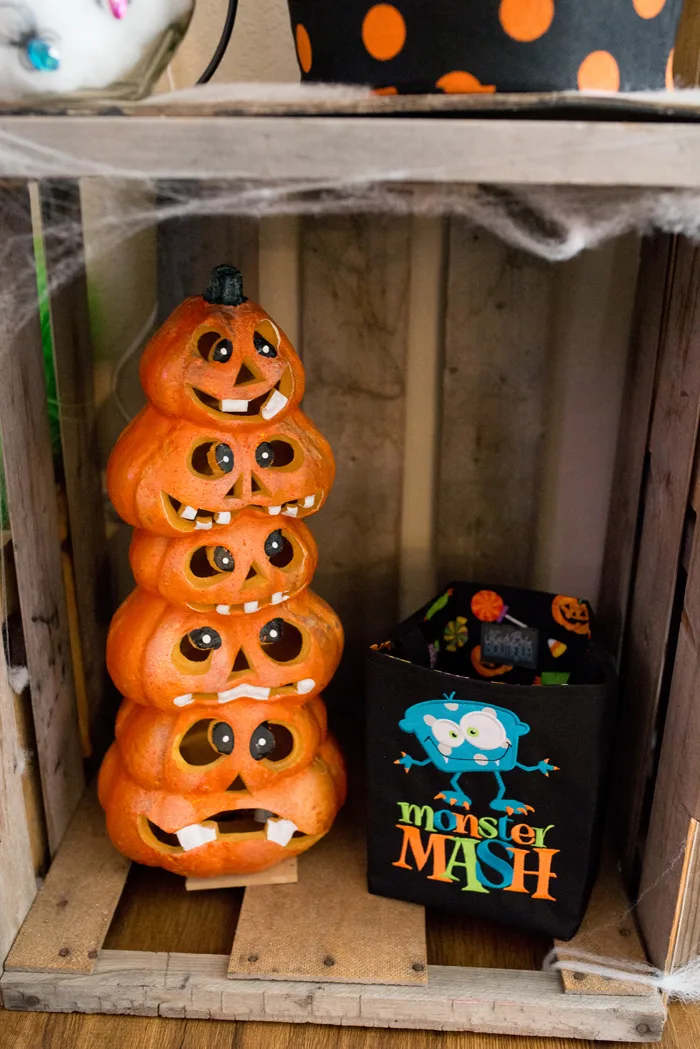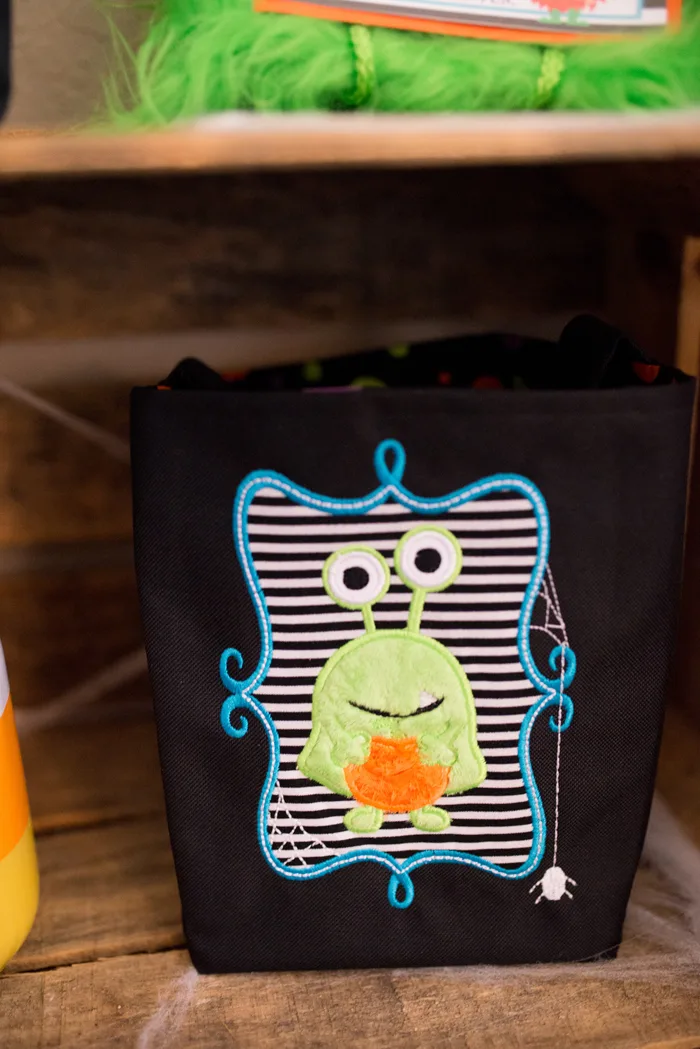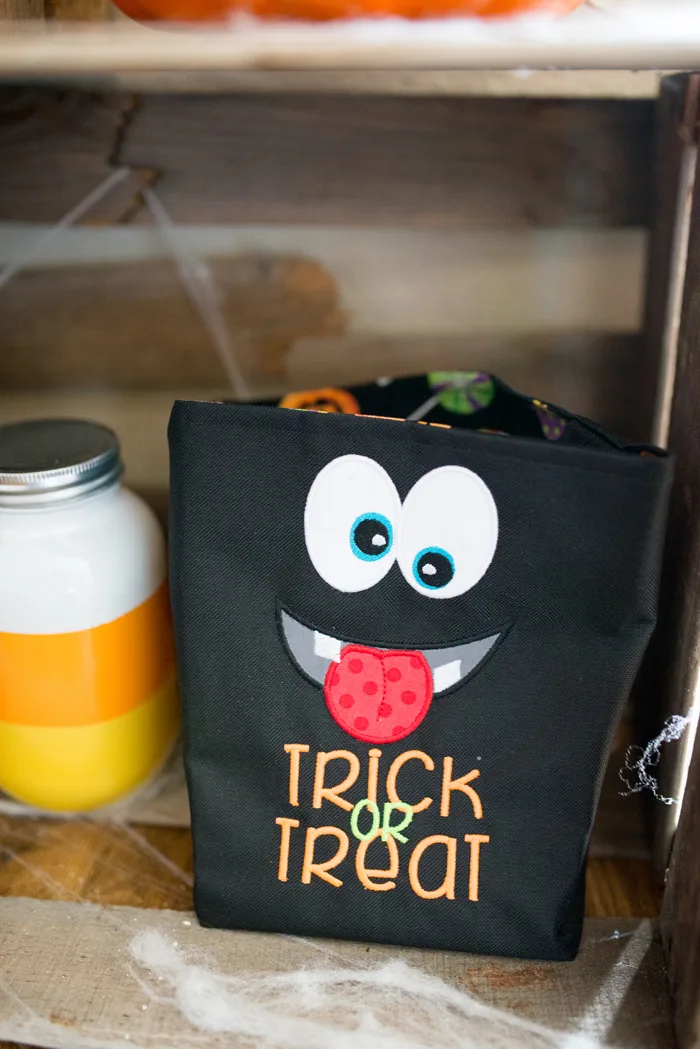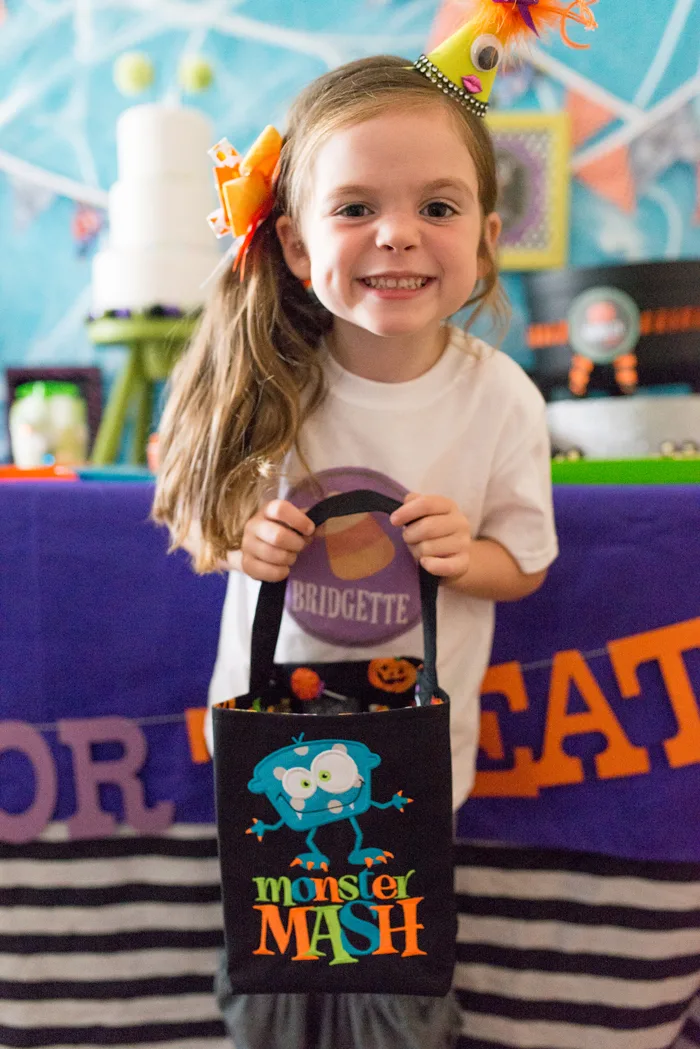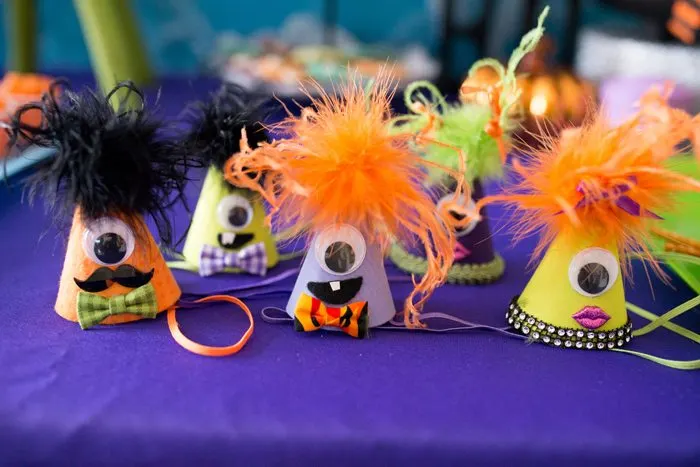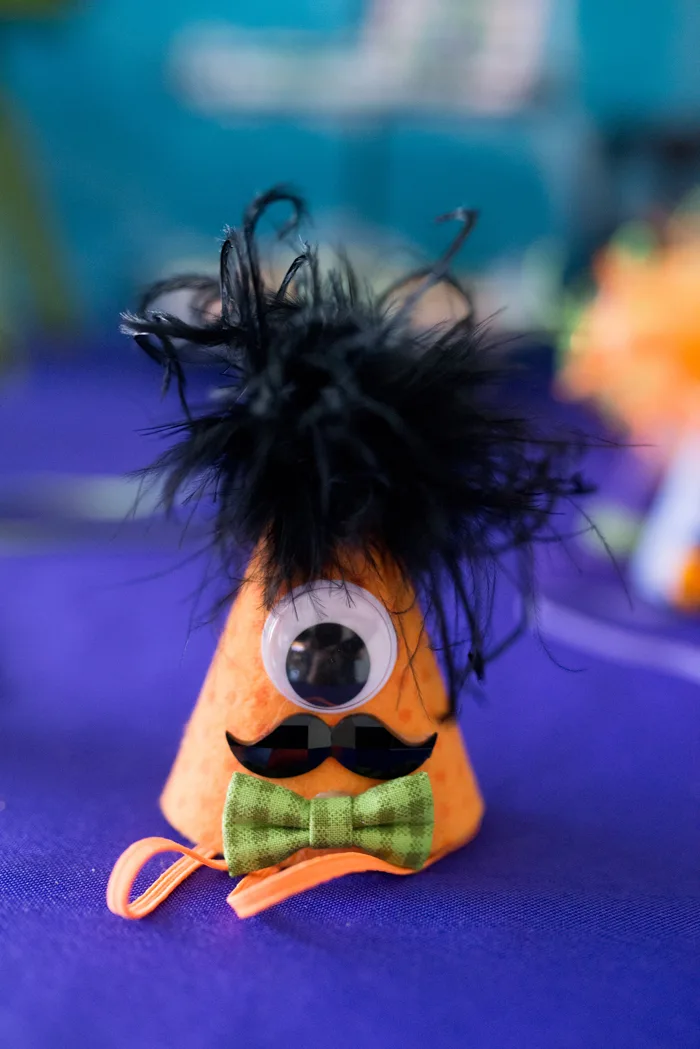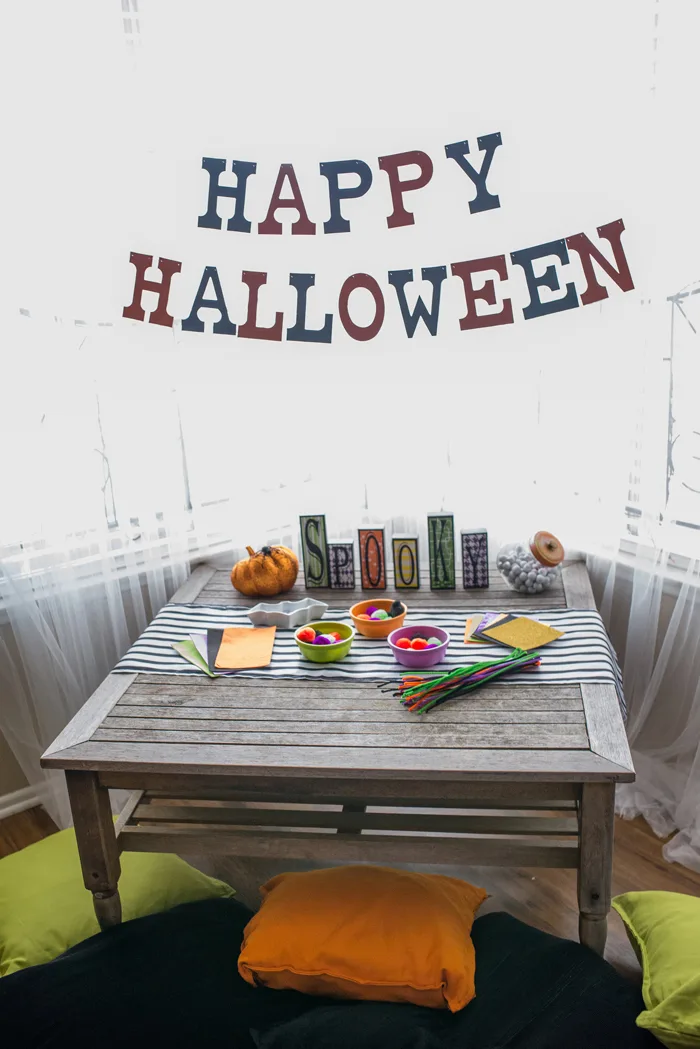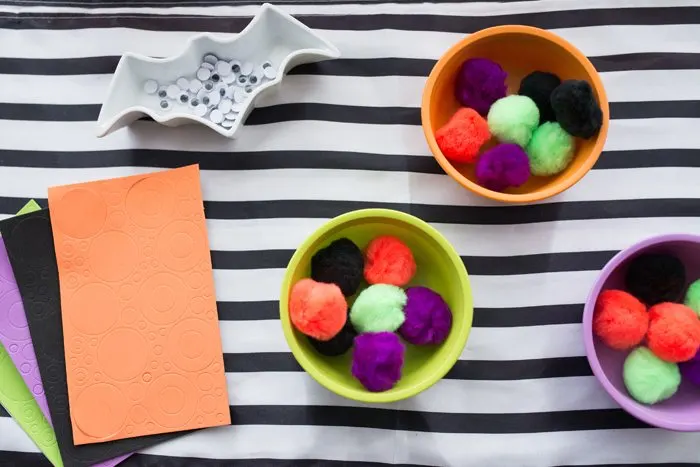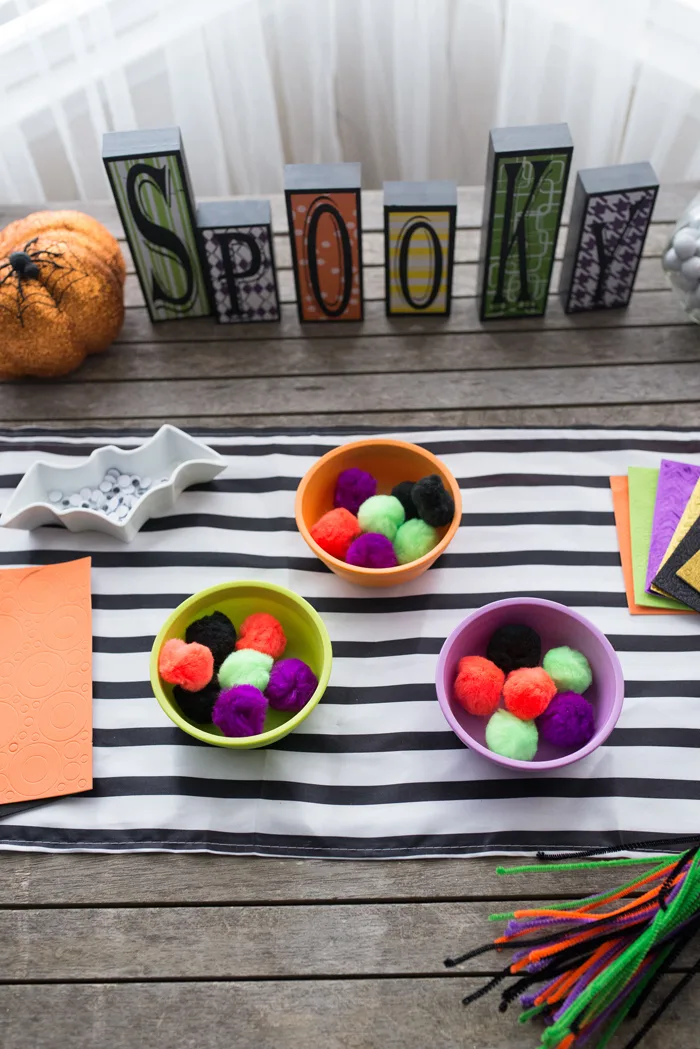 Alyssa made these by creating a coordinating image on the computer to go along with all the other paper printables she made that helped pull the overall look together. She then printed them out on Avery brand transfer paper and ironed them on. Fairly inexpensive if you buy the Hanes t-shirts in the 5 pack and such a cute detail your guests will love.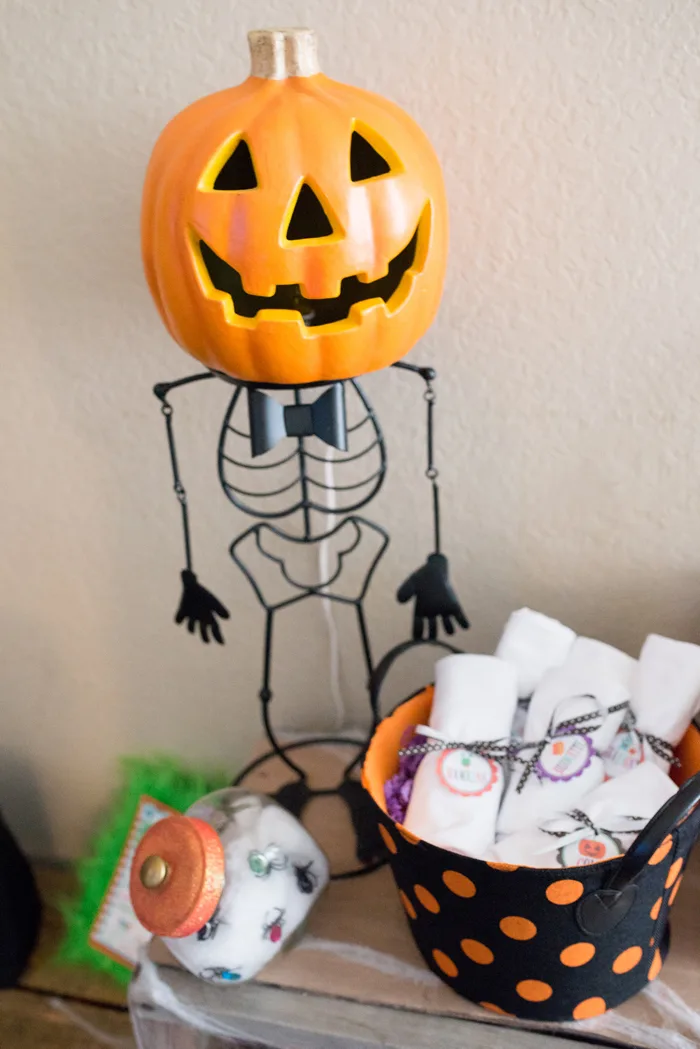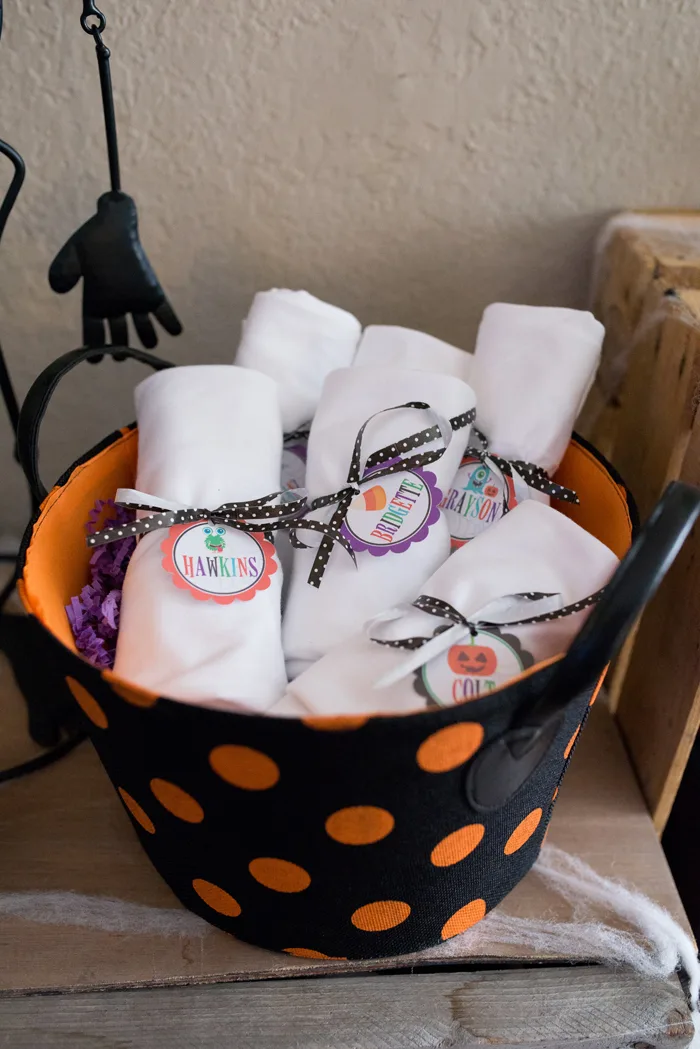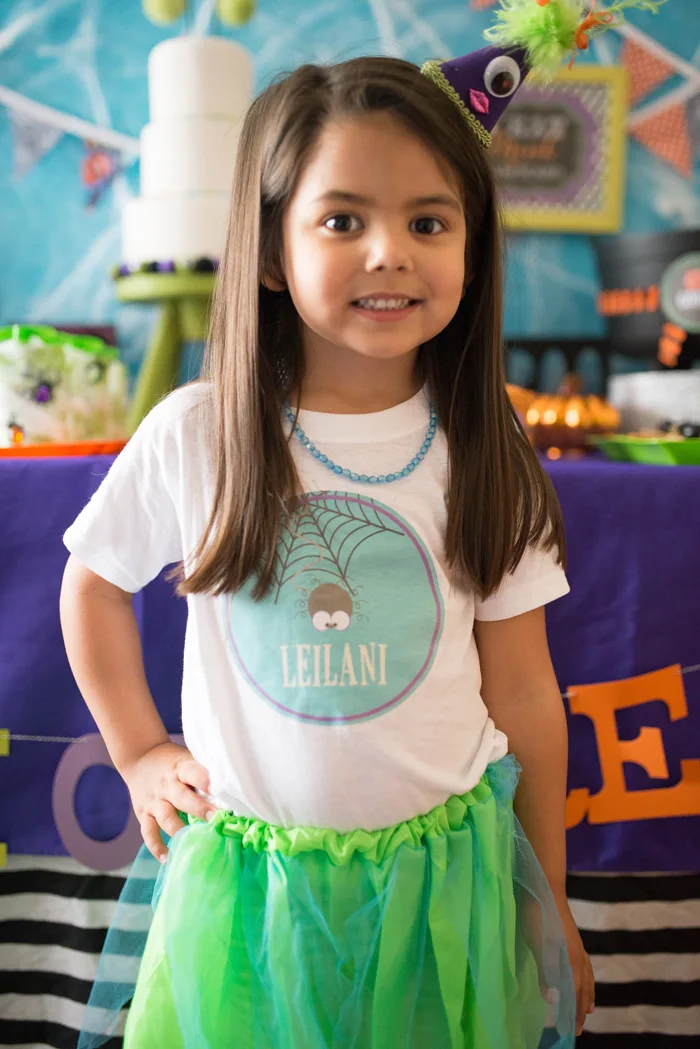 Another detail our little monsters loved were the sweets! Cake, cake pops, cookies, monster munch and yes even more cake in the form of a push cake. If you haven't had a push cake before they are the greatest thing ever for small kids. You get a small portion of cake all wrapped up in a little push pop that allows it to be a mess free experience.
Ours were from Push Cakes and they were delicious. You can't beat that.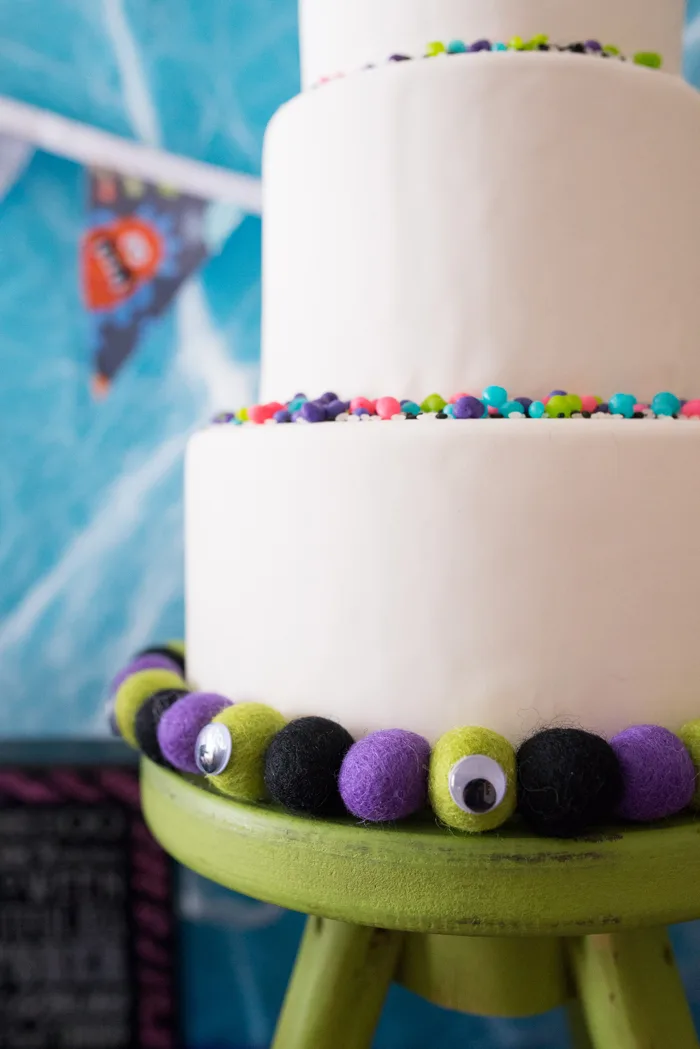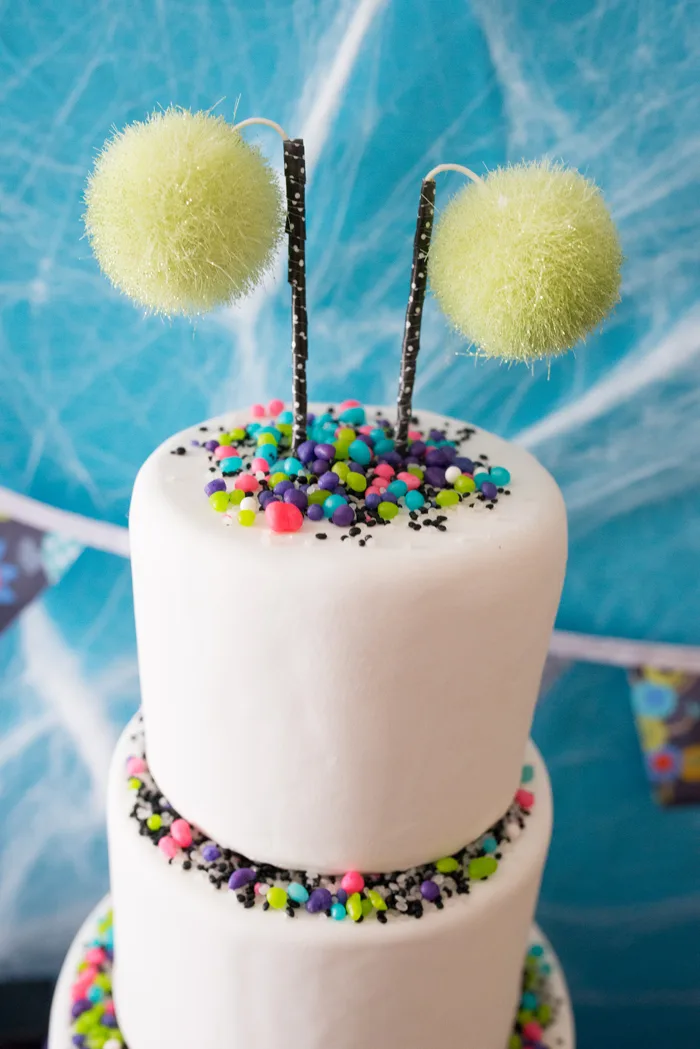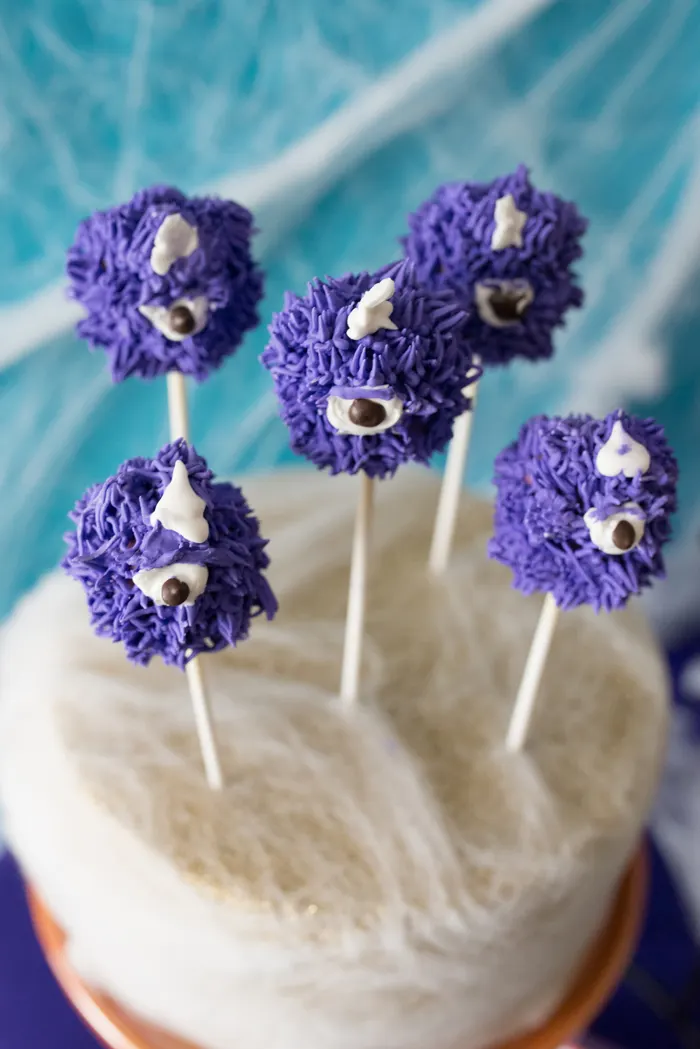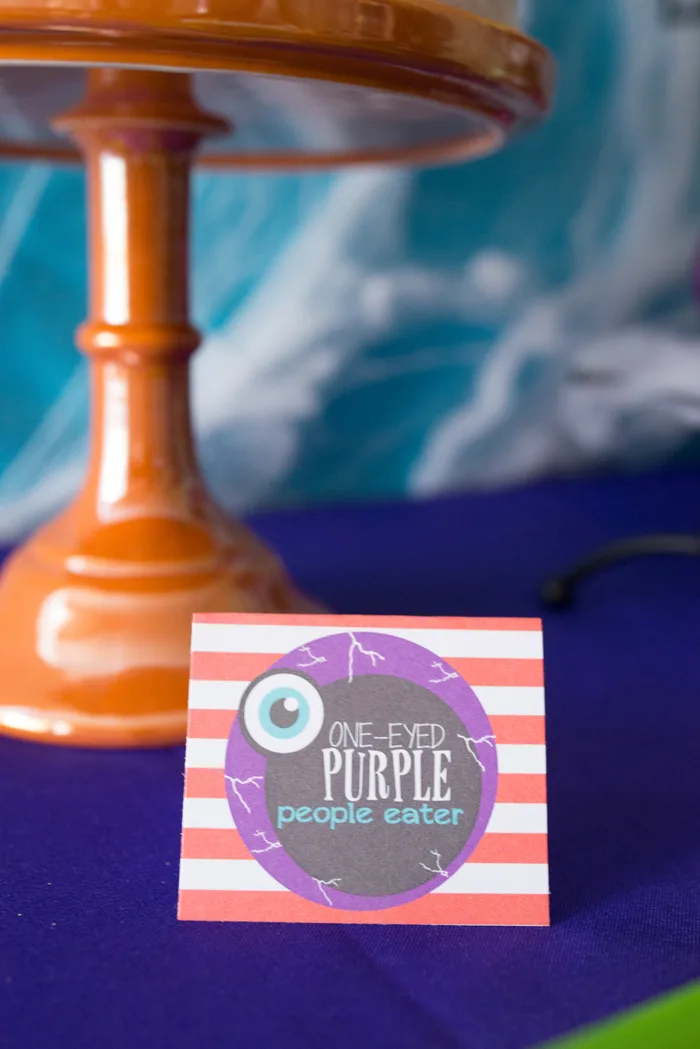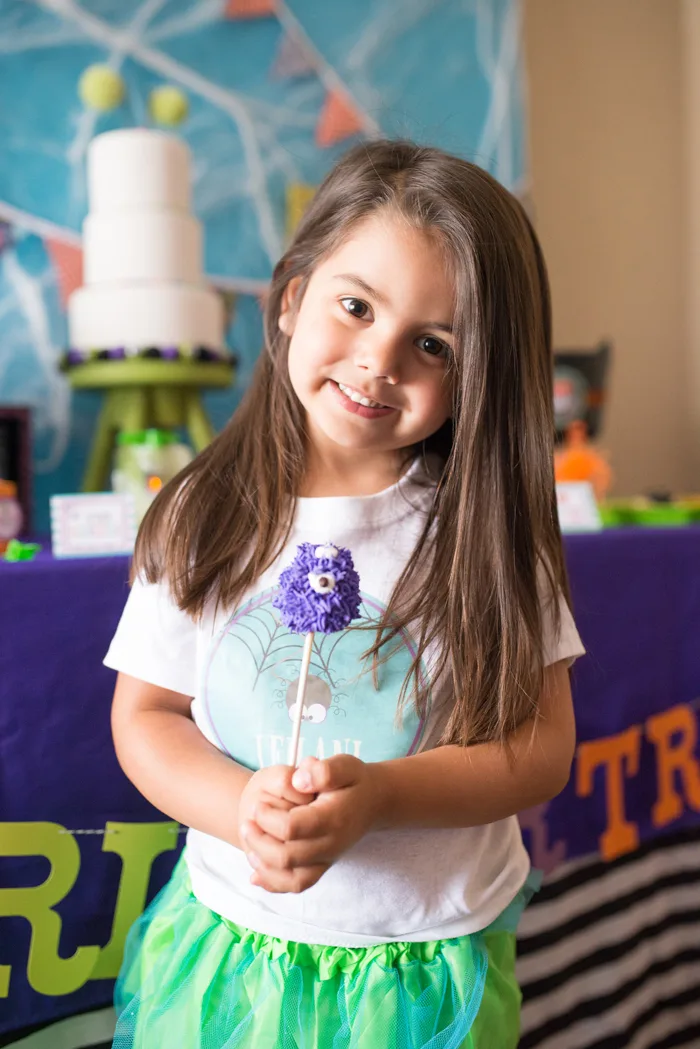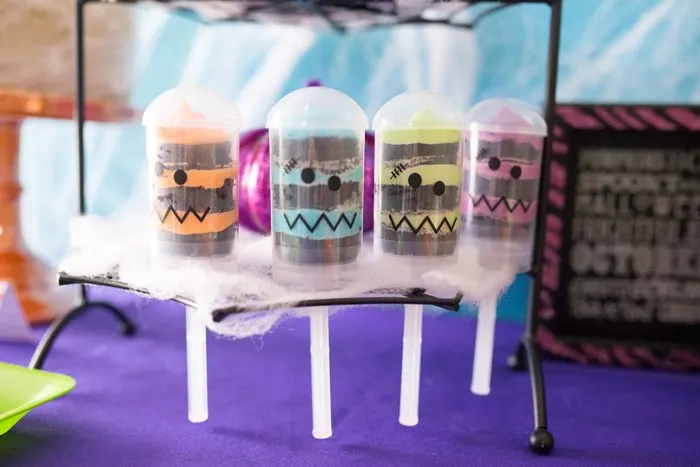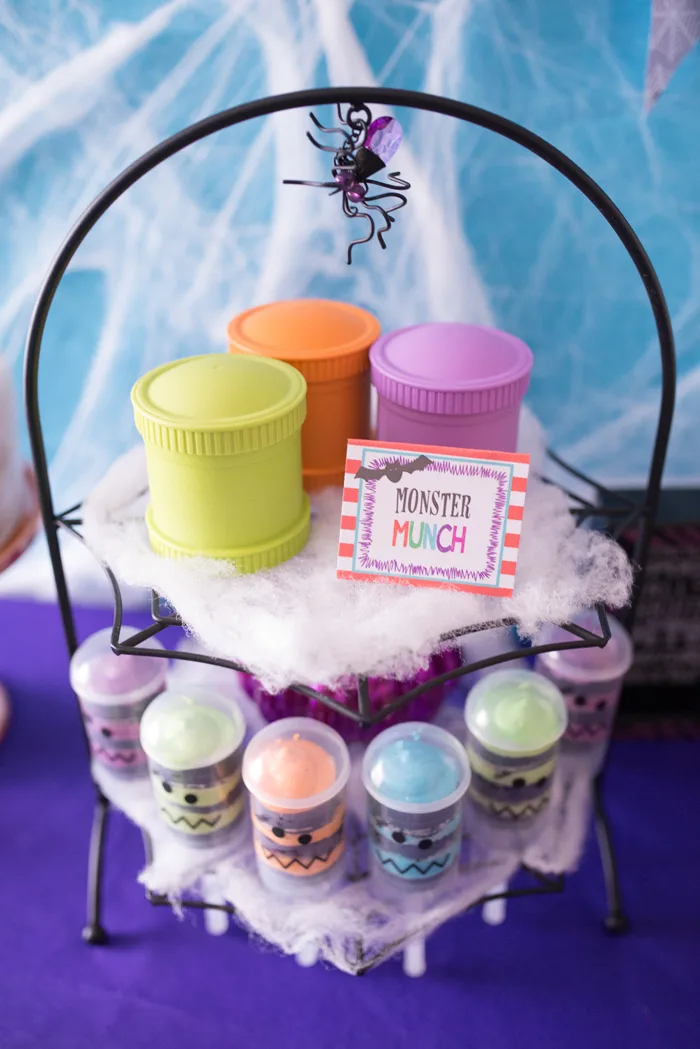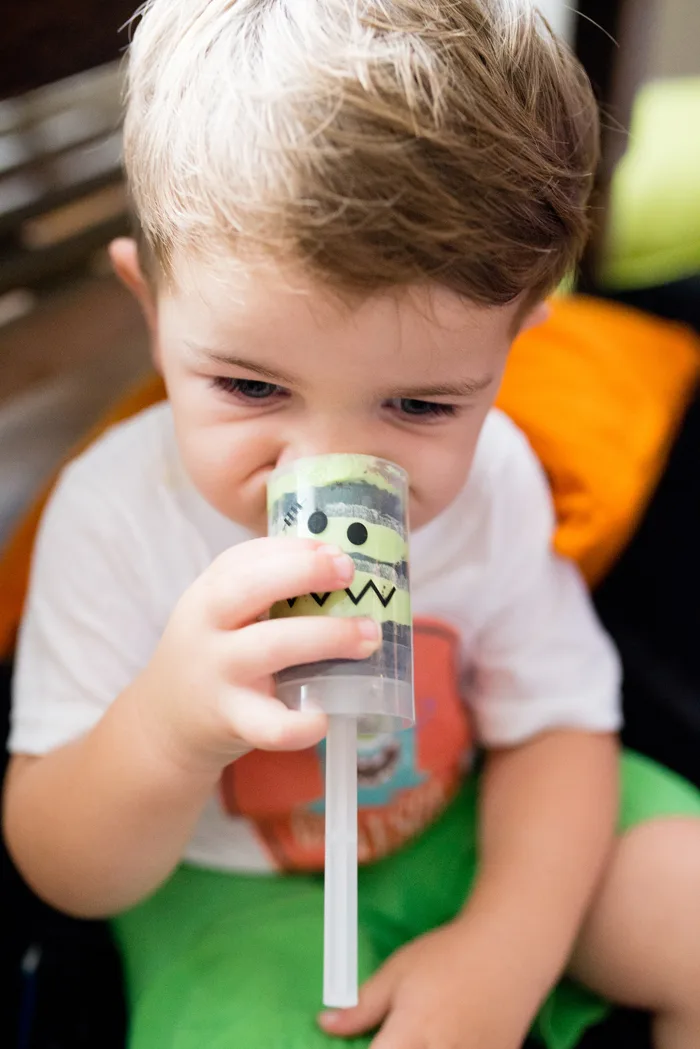 We wanted to round out the sweets by offering up some real food so Alyssa made up some spider sammies that the kids loved!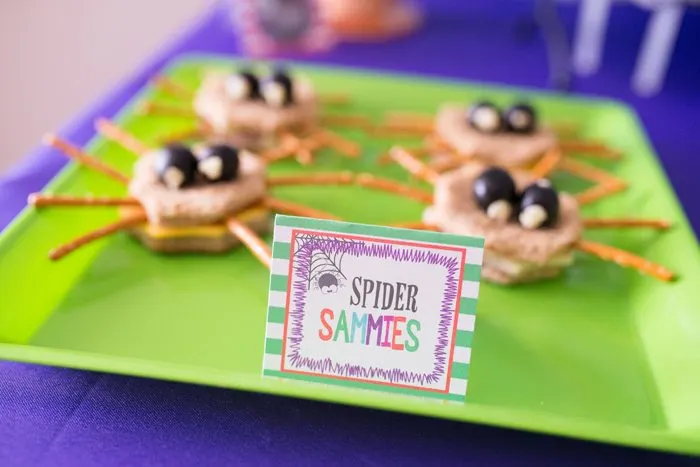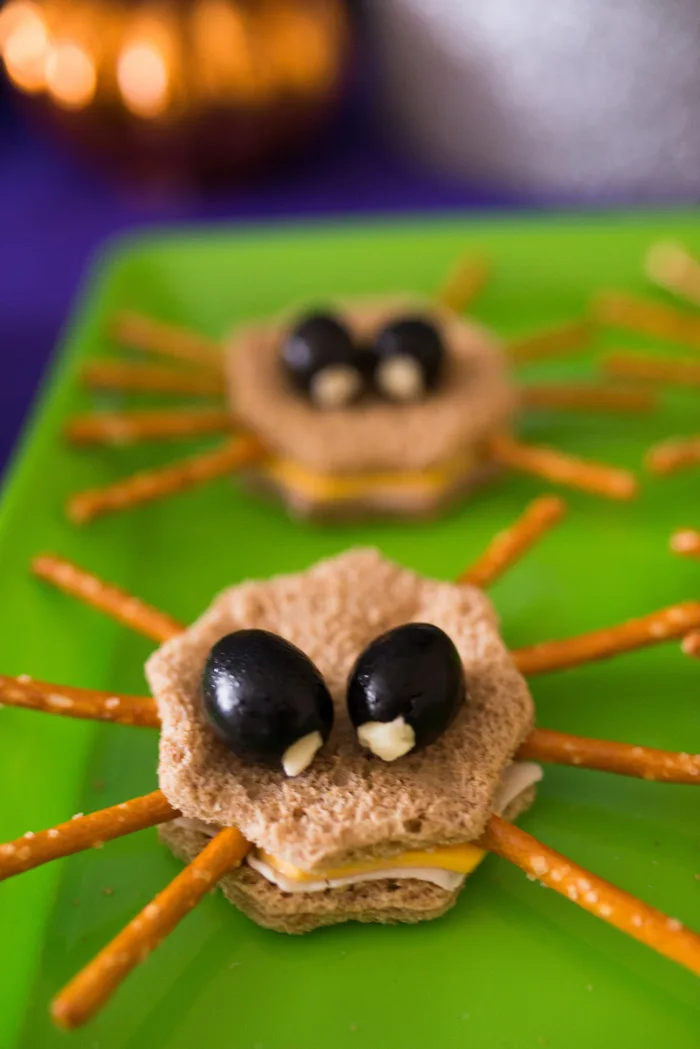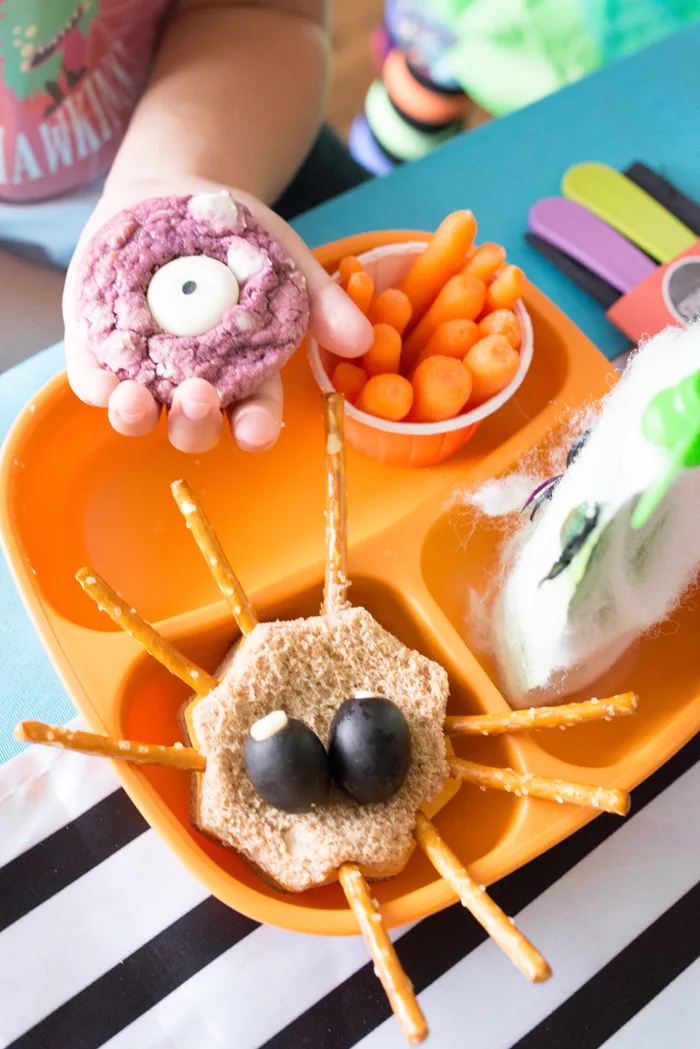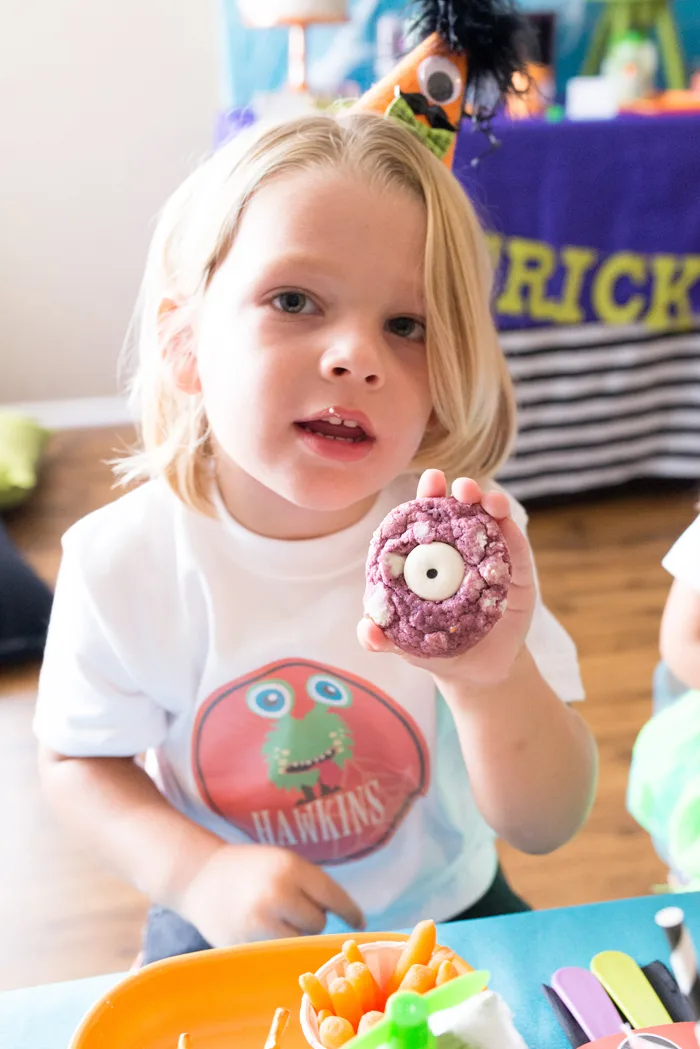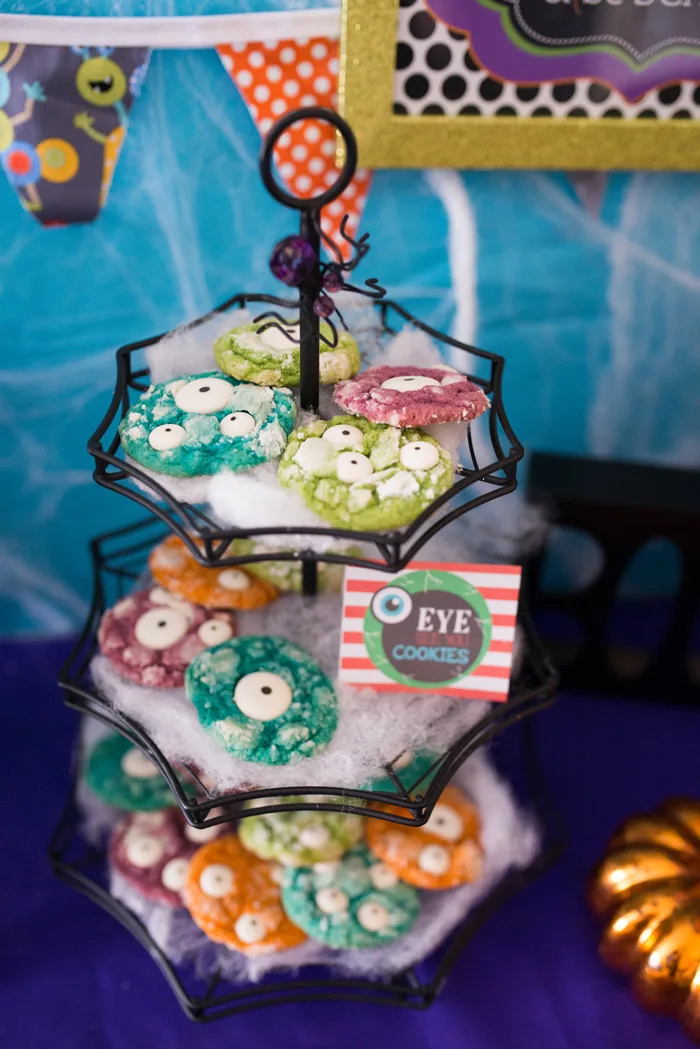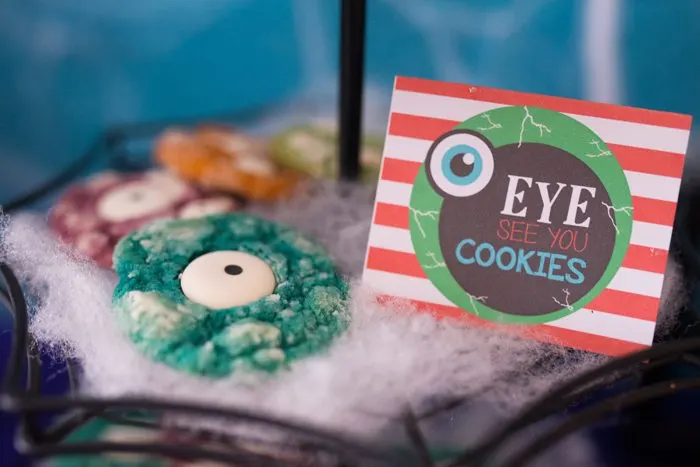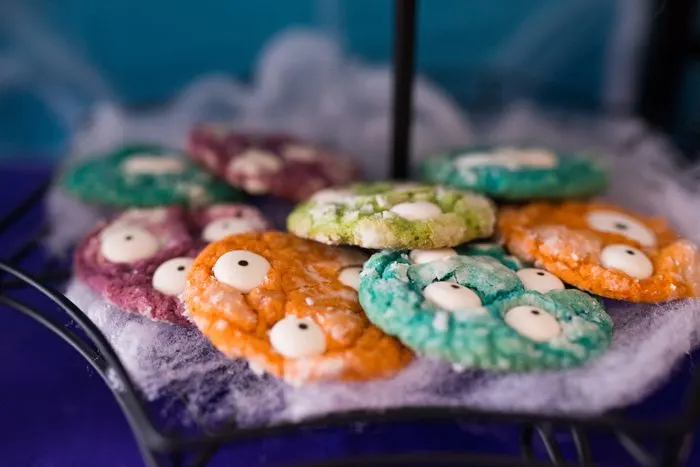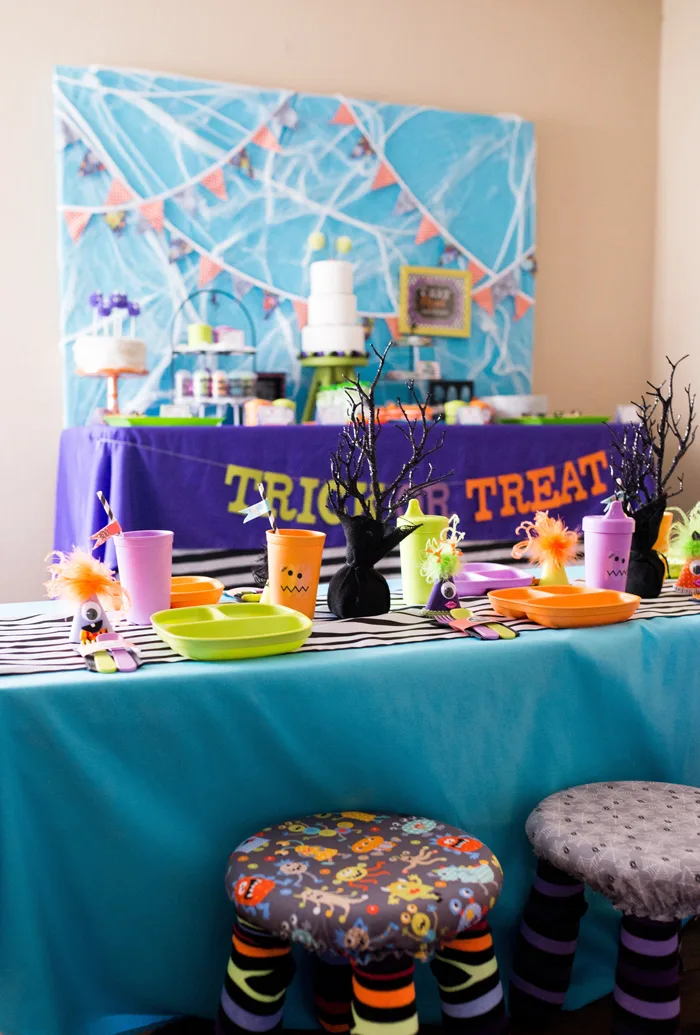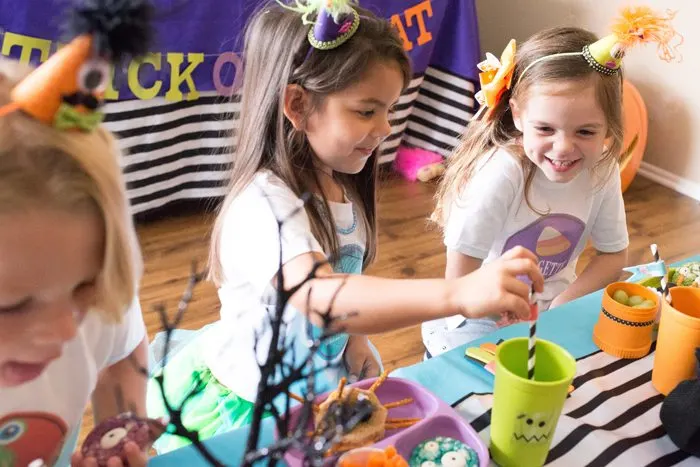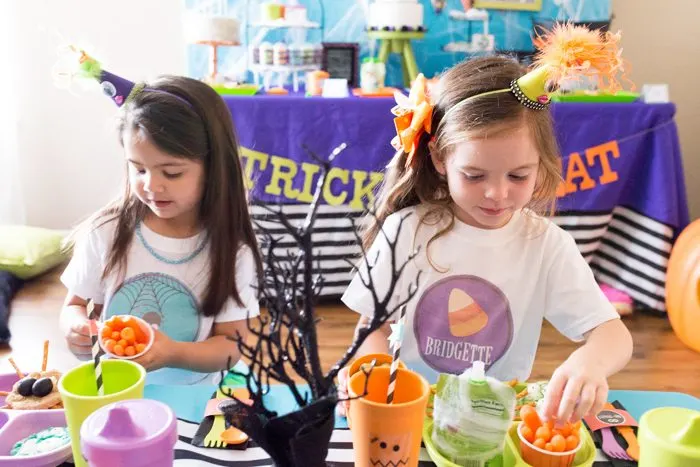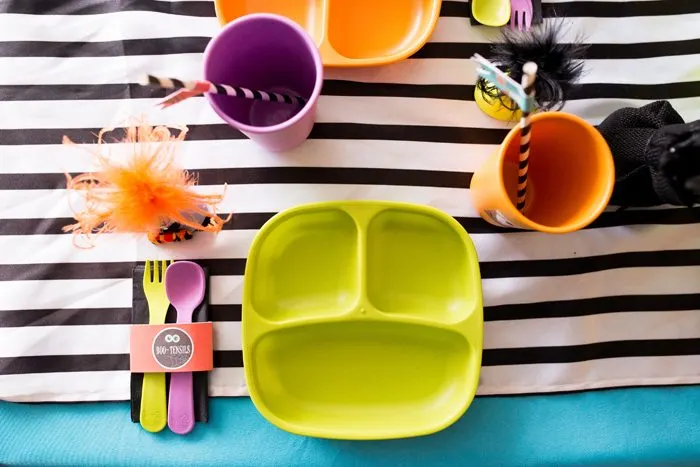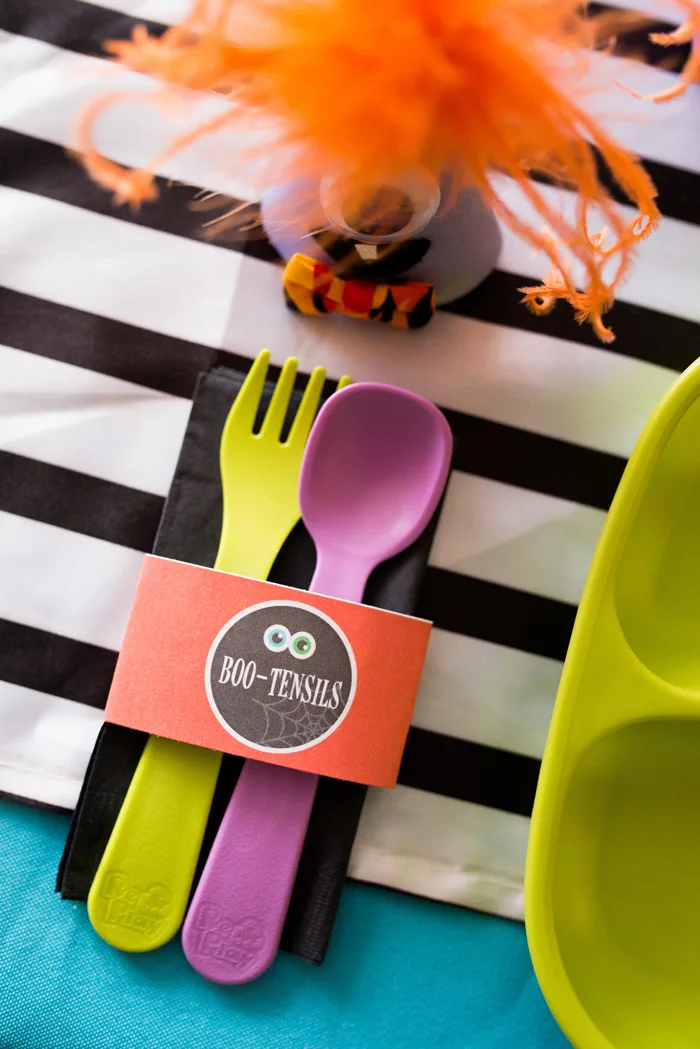 Carrots were set out in color coordinated cups, grapes a.k.a. monster boogers were packed tightly in handy little snack cups, on the go fruit pouches were given that spooky touch by wrapping in spiderwebs and blinged out spiders.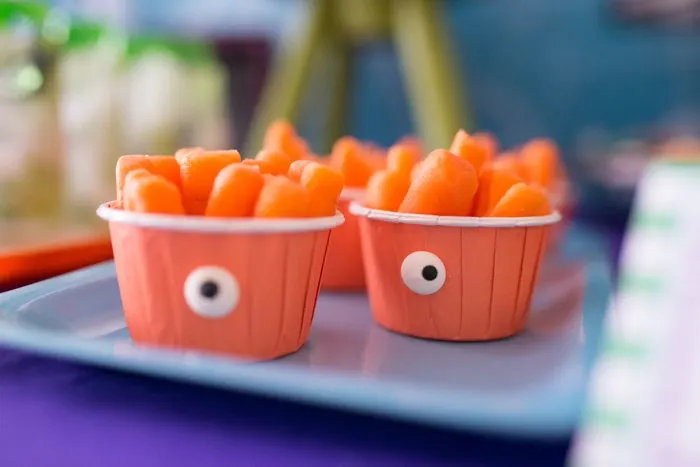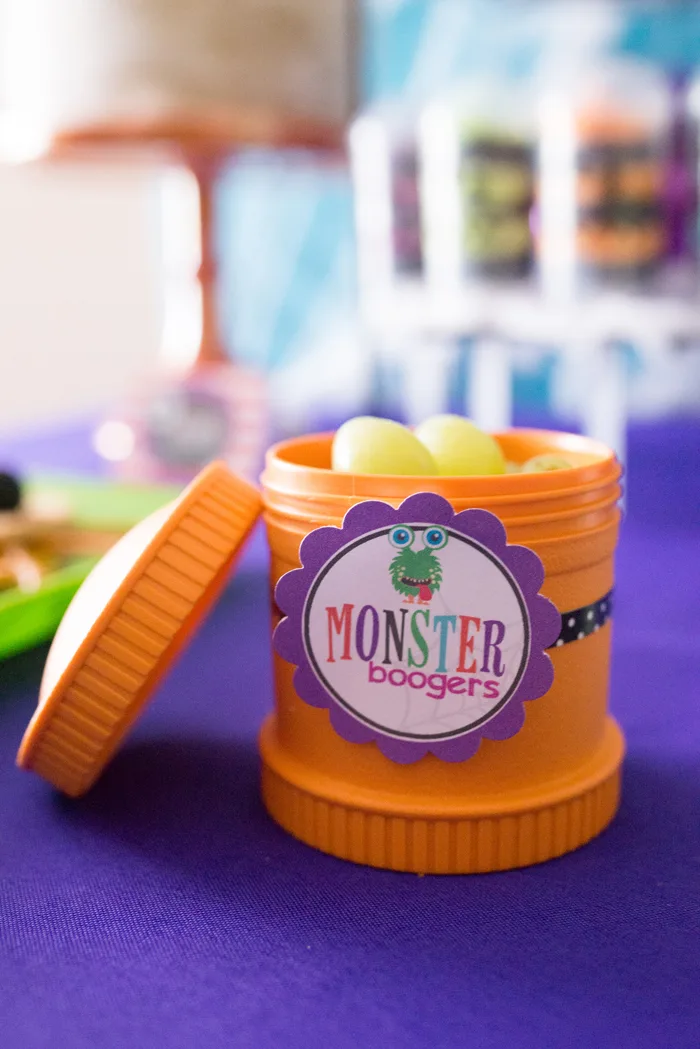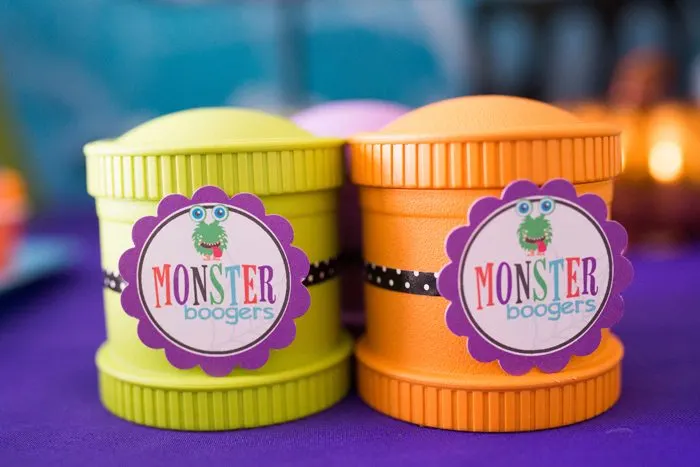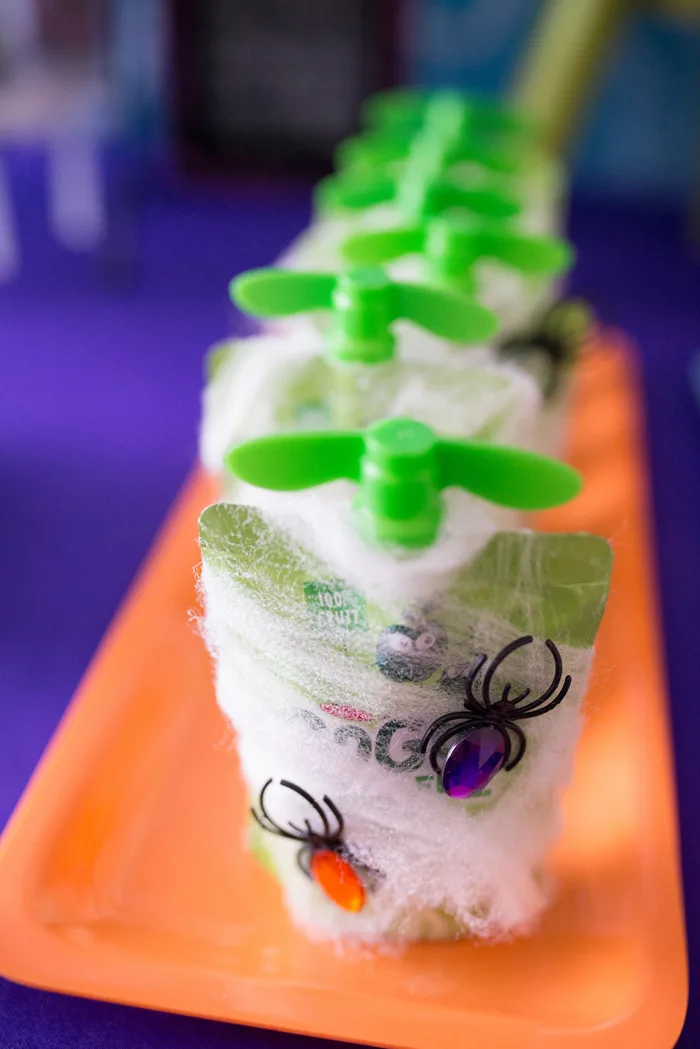 Re-play drinking cups were filled with our Goblin Brew that was made by mixing sherbert, sprite, pineapple juice & kool-aid with some added eyeballs for extra flavor.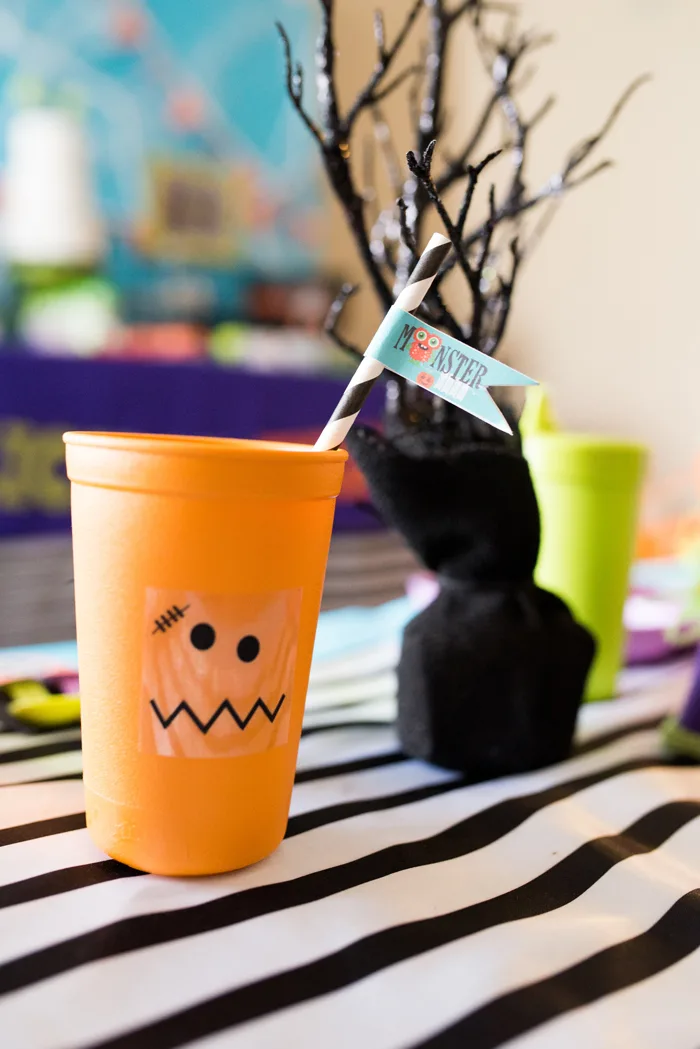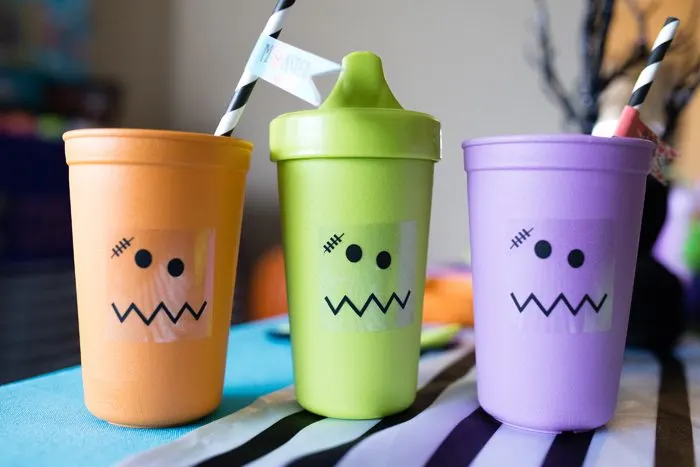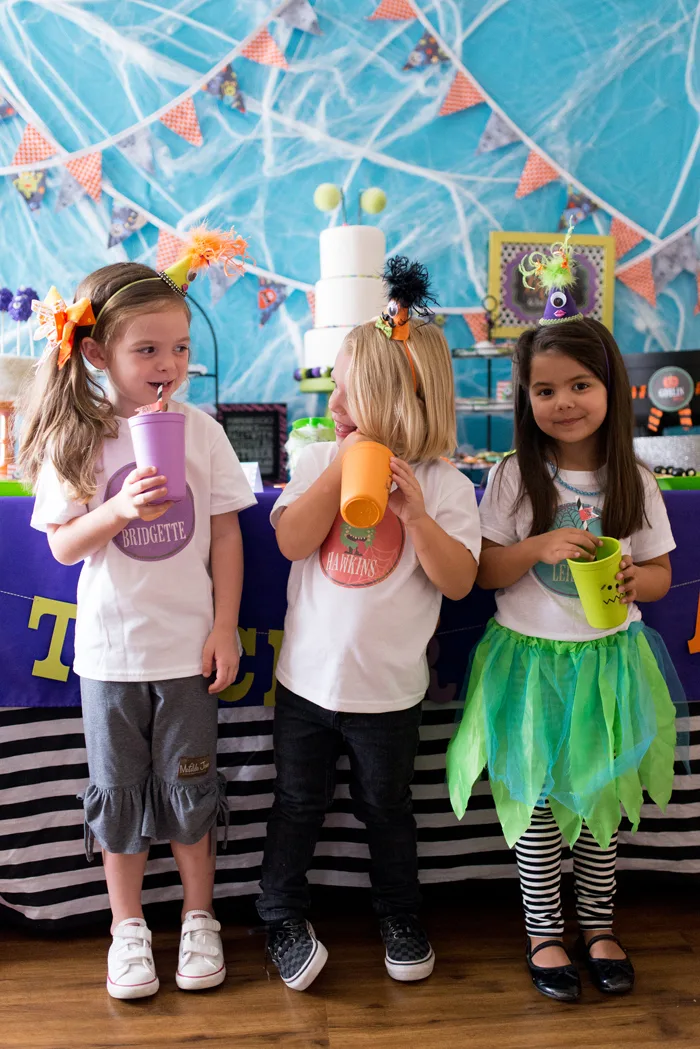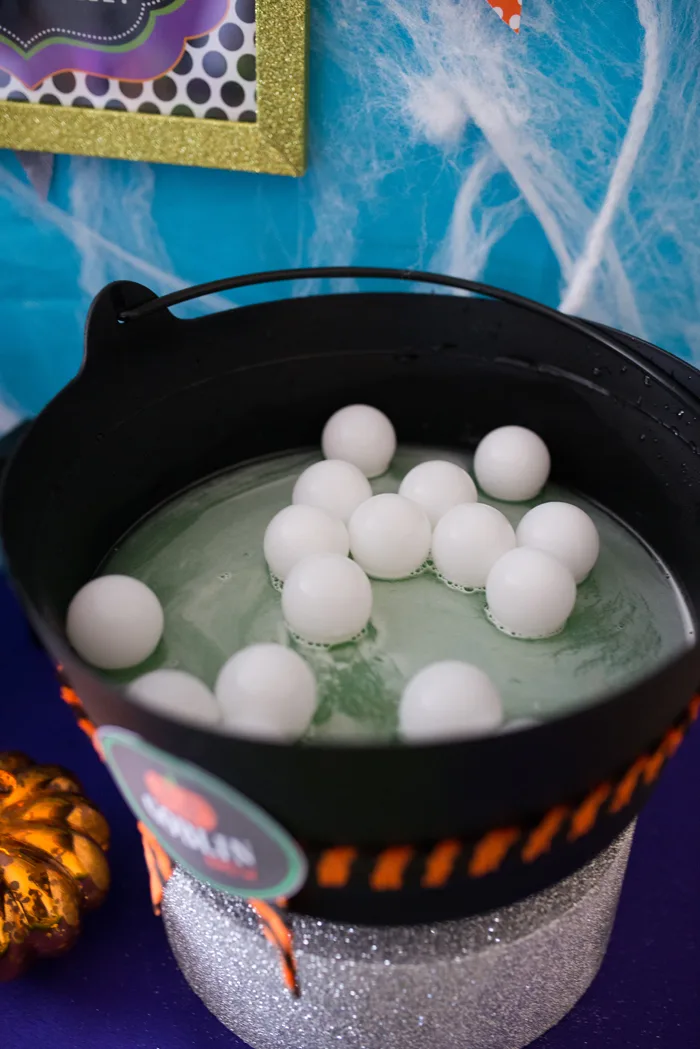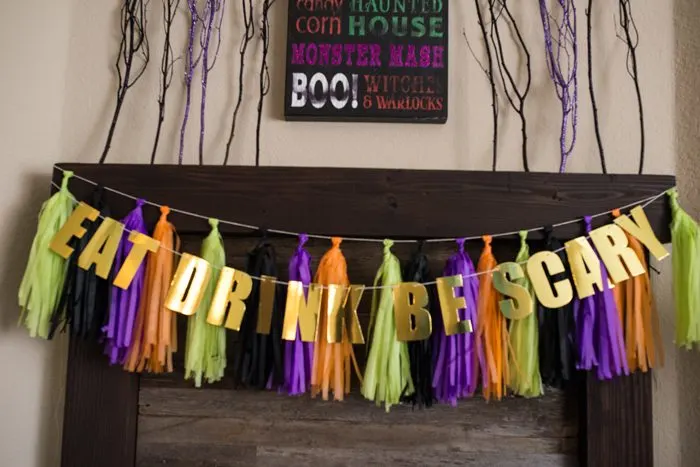 Such a fun party, using great products and the kids had a spooktacular time. Happy Halloween!!"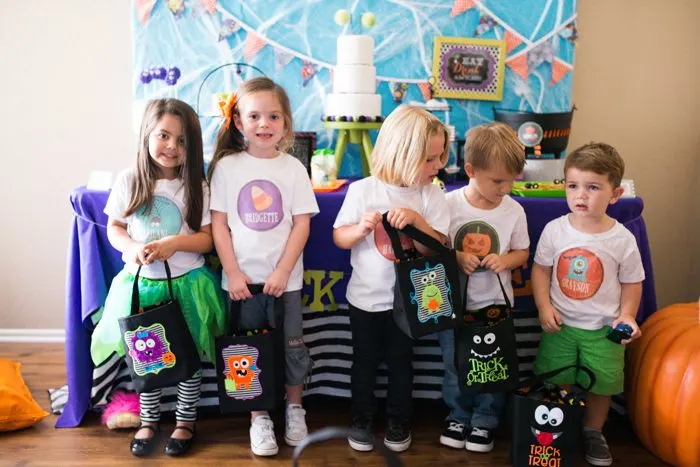 Thank you for sharing your party with us Jamie & Alyssa!
Stool Covers/Bunting- Busy B's Loft
Halloween Banners- Fresh Lemon Blossoms
Crepe Streamer- Vintage Handmade