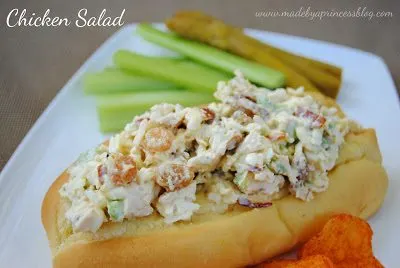 Looking for the perfect chicken salad sandwich recipe? You've come to the right place! This chicken salad is not overly sweet or tart. It has a lot of flavor and is always the first to go when served at parties.
Disclaimer: This post was written 7 years ago. It's a hot mess and I will be updating it. Ugh. I am so embarrassed! Let's just say I had a lot to learn back in 2012. With that said, this really is a great recipe. Just go ahead and jump to the recipe card. I will be updating this post very soon but in the meantime…enjoy the recipe…please 🙂
The Perfect Chicken Salad Recipe
A few nights ago a very dear friend texted me saying she needed some party help. An impromptu pool party for at 15 year old's birthday? 20 people? Appetizers and finger foods? Piece of cake! Here you go girlfriend:

Fruit dip (made with cream cheese, marshmallow fluff, and some vanilla extract)

Chicken salad on Hawaiian rolls

White and milk chocolate chips in fresh raspberries (can also use lemon curd)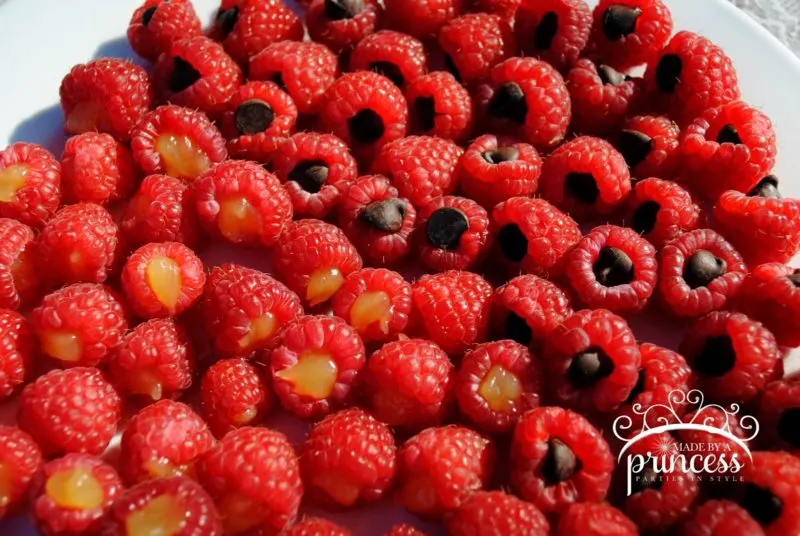 She says she's thinking about the rumaki. Um yes. The answer is always yes when thinking about making rumaki! (p.s. this is another post that needs to be redone but I promise the recipe is amazing!)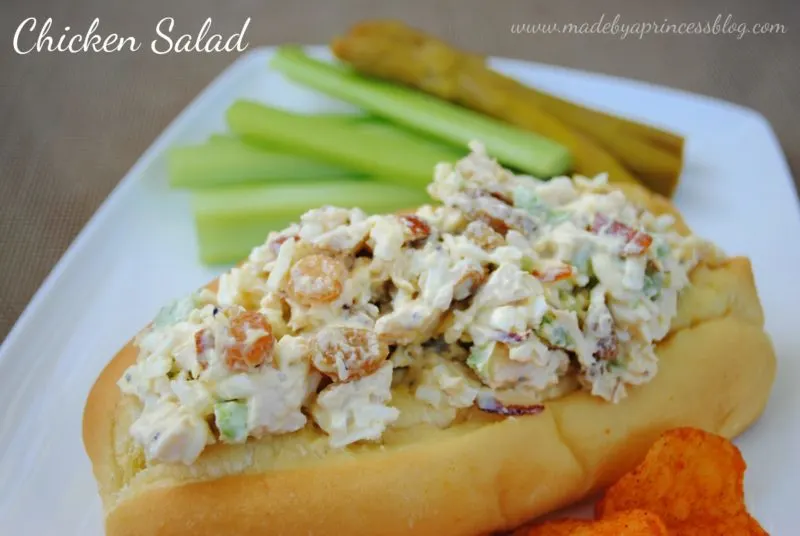 This is not my original chicken salad recipe but a very good friend of the family made this for my baby shower and I loved it. I think I had three helpings at the party. I'm pretty sure I finished off the leftovers when I got home too. It is really really good. Not too sweet but just sweet enough to satisfy a little sweet tooth.
I also made this for my daughter's Christening and every bit was gone. After sending the recipe to my friend I decided I needed to make it too so this was my dinner the next night.
Serve with celery sticks, BBQ Kettle chips, and pickled spicy asparagus. You read that right…pickled spicy asparagus. My friend Jen put a jar in a giant gift basket to made for me and they were amazing. I had never had them before but now I need to find a pickled spicy asparagus recipe because these are all gone and I need more. Jen, you have no idea what you started here!
If you are planning to serve at a party use these quantities (serves about 25):
3 quarts cooked skinless chicken breasts, cooled and chopped
12 hard boiled eggs (sent through a Salad Shooter)
1 1/2 cup of celery, diced
1 1/2 cup golden raisins, boil in water until plump
Salt and pepper to taste

Notes: Buy the chicken at Smart & Final and cut off the breasts with the skin. Boil in large pot, cook the chicken, skin, and dice. If you don't have a Salad Shooter, shred the eggs through a hand shredder. If you don't have a hand shredder finely chop.
Enjoy!