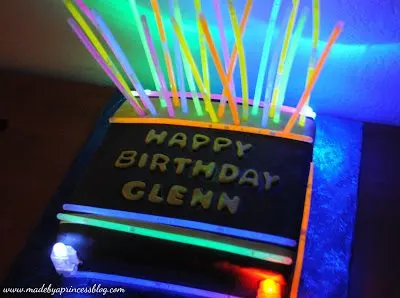 Ever since my son could talk we have discussed his birthday party theme. He chose Finding Nemo for his 2nd birthday, Thomas the Train for 3rd, Incredibles for 4th, Cars for 5th…you get the idea. This year, now turning 10, he wanted to do something more mature and on a smaller scale than years past. I have to admit I was pretty psyched about that. Don't get me wrong, I love the blow out parties we have every year but they are A LOT of work.
This year we invited just a few boys to play Lasertag and then camp out in our backyard for the night. Never. Again. Ok, maybe not never but holy moly! These boys were worse than girls. No sleep, giggling, switching tents, tents apart, tents together. I crawled into bed at 1:20a after having been out in the backyard for the 95th time telling the boys to stop talking thinking that was the end of it. Yeah right. 3:00am my son comes in to tell me we need to call James' mom because he wants to go home. Apparently, the Carlsbad Sasquatch story my husband told was getting to him again. No Son, we're not calling James' mom at 3:00am. I shuttled James into my son's bed, got him situated, went back outside and said if I heard one more word I really was going to call the Sasquatch out from the bushes to make them be quiet. Silence. Finally.
Anyway, since Lasertag was really the focus I was kind of off the hook for all the traditional stuff I usually do. My biggest concern was the cake. How was I going to make a Lasertag themed cake? I knew I wanted it to glow but how? My son and I came up with the glow sticks together so we had one element down. I remember seeing a cake challenge years ago on TV where the swamp fairies wings glowed. I remembered them saying they added tonic water to piping gel. I headed off to my go to cake decorating supply store, Do It With Icing, for supplies. I added a little food coloring to my piping gel, added some tonic water, painted the letters, turned off the lights, no glow. Added more tonic water. No glow. Little more tonic water. Still no glow. So that trick doesn't work. I am convinced those ladies added straight quinine because there is not enough of it in tonic water to make it work. Super frustrating. My sweet son said, "It's ok Mommy. It still looks great. I love it." Love this boy!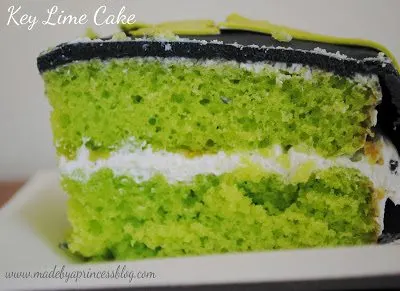 The cake is covered in fondant I colored black, the glow sticks are the cheapy ones from Michael's, and the little lights in the corners are finger lasers that I got for the boys as favors. I would not advise using glow sticks on a cake meant for smaller children. I knew the boys would not be playing the glow sticks on the cake so I didn't worry about them cracking but for smaller kids I wouldn't do it. The frosting is my standard
buttercream
with real butter and the Key Lime cake recipe is from
The Lettered Cottage
.
Here is the recipe:
1 (3oz) box of lime Jell-O
Zest of a two key limes (my addition)
1/8 cup key lime juice, fresh (my addition)
Line the bottom of a cake pan with wax paper. I used two 9″ square pans. Grease the wax paper with softened butter or nonstick spray like Pam.
Mix the cake mix, lime Jell-O, oil, eggs, orange juice, water, zest, and lime juice together for 2 to 3 minutes on medium speed. Pour equal amounts of batter into each pan. Bake at 350 for 25 minutes. Use a toothpick to check the cake. If it comes off clean it's ready.
This recipe is fantastic! All the boys loved it, especially the birthday boy, and it is one I would definitely make again. If you like Key Lime you will love this recipe.