I really love finger foods. I love that their little and you don't need a fork or spoon. I like to grab and go! This morning my little one and I attended our first playgroup playdate together. I was in a playgroup with my son,10 years ago, and am still friends with a number of those mommies. I was super excited to go this morning and wanted to bring something yummy to share. It was a Momosa (moms enjoying mimosas – cute right?!) event and I thought mini quiches would go well. It's about a billion degrees here (ok so I'm exaggerating but it is really really hot!) so turning on the oven may not have been the best idea. Anyway, here's the recipe as adapted from The Village Cook.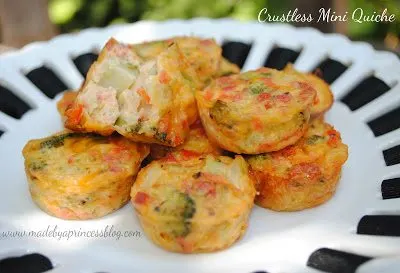 350 degrees
20-25 minutes

Ingredients:
1 can evaporated milk
2 tbsp flour
3 eggs
2 cups frozen chopped broccoli (thawed and drained)
1 small red bell pepper, chopped
1/3 cup bacon bits
1/2 tsp salt
1/2 tsp pepper
1/2 tsp garlic powder
1/4 tsp cayenne pepper
1/2 tsp Italian herb seasonings
1/2 cup pepper jack cheese
1 1/2 cups shredded cheddar cheese

Directions:
In a medium bowl, combine the milk, flour, seasonings, and eggs. Whisk well to combine. Add the remaining ingredients. Prepare your mini muffin tins by spraying with non-stick spray. Spoon mixture into tin almost filling the cavity. I was able to get more than 50 mini quiches out of this recipe. Serve warm.

One of the best things about this recipe is that you can add whatever you like to it. For instance, the next batch I think I will try spinach and feta with pine nuts; I just love that combination.

Have fun creating your own mini quiche combinations!