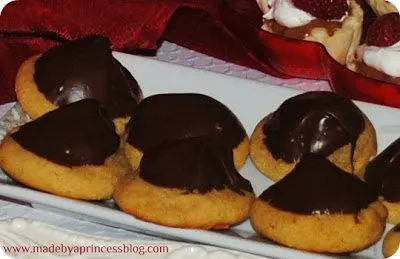 Happy Holidays! Is Christmas seriously one week away? I am so not ready! I was a lot more prepared, I thought, earlier in the month. I'm looking at my to do list and there's a whole lotta stuff left on here!
Well, one thing I was prepared for this month was my Favorite Things Christmas Party. I hosted a Sophisticated Santa themed event for close girlfriends and was so thrilled by the way everything turned out. Undeniably one of the best things about parties, aside from catching up with the girls, is all the yummy food. I am going to be posting a number of recipes this week but to kick it off I am sharing my friend Andrea's Peanut Butter Secrets. If you love peanut butter and chocolate these are right up your alley.
I wish I had a better picture of these yummies but they just went too quickly for me to a great shot!
Ingredients:
1 cup butter flavored Crisco
3/4 cup firmly packed brown sugar
1/2 cup granulated sugar
1/2 cup Jif smooth peanut butter
1 egg
1  tsp vanilla
2 cups all purpose flour
1 tsp baking soda
1/2 tsp salt
40-45 mini Reese's cups 

Glaze:
1 tsp butter flavored Crisco or butter
1 cup semi-sweet chocolate chips
2 tbsp of Jif peanut butter
Directions for cookies:
Mix sugars, Crisco & Jif in a mixer at medium speed, mix well. Add egg & vanilla, blend well.
Combine flour, baking soda & salt. Mix into creamed mixture at low speed.
Form teaspoonfuls of cookie dough around Reese's PB cups then roll into a ball in your hands.
Note: Dough barely forms around cup, but it does cover it all. You can probably fit 12 on a cookie sheet depending on the size of your sheet.
Bake 8-10 minutes at 375. Cool on rack.
Place butter, chocolate chips, and peanut butter in a microwave safe bowl and slowly warm at 50% power in microwave for about a minute. Take out and stir. Keep melting until mixture is smooth. Dip top of cooled cookies into glaze or spoon glaze over cookies.
These are melt in your mouth good and if you feel so inclined you can make enough to give as gifts…I have to warn you…they are addicting and may not ever make it to the tin for gift giving!
Enjoy!