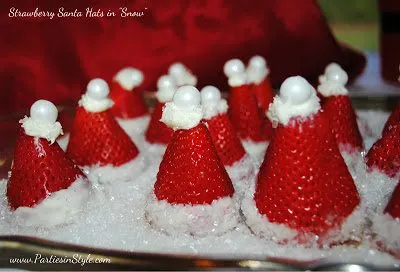 I love strawberries. Here in Sunny Southern California we eat them year round. I don't know if they are available year round everywhere but in my house it's considered a staple. I think given the opportunity my toddler would eat only strawberries for breakfast, lunch, and dinner!

For my Favorite Things Christmas Party I made up a batch of these strawberry Santa hats and the plate was virtually licked clean! It was really easy and only required a few ingredients.
Strawberries with the bottoms cut off

1 bag of Wilton white chocolate disks

Frosting (can of frosting from the grocery store works fine)

Jar of sugar crystals for dipping and "snow"

"Sixlets" from Party City
Make sure your strawberries are thoroughly dry otherwise the chocolate will not properly adhere to the berry. I used a bag of Wilton white chocolate disks in a double boiler. Once your chocolate has melted (you can use a bit of shortening to make it smooth) dip the bottom of the strawberries in the chocolate then roll in sugar crystals. Set on a cookie sheet lined with wax paper. I used a cookie sheet that was small enough to fit in my refrigerator because you will want to cool them down quickly. Once I was sure the chocolate had set I removed the strawberries from the cookie sheet and placed them on a pretty tray. I put frosting in a ziploc bag and cut the corner a little (because I was too lazy to get out my pastry bag and tip) and piped frosting on the tip of the strawberry and lightly pushed the Sixlet into the frosting. Once all hats were properly decorated I took the entire jar of sugar crystals and covered the tray so it looked like the hats were sitting in snow. Everyone loved them and thought the bit of frosting and chocolate Sixlet was a nice surprise. These would be great for Christmas Eve!

Enjoy!