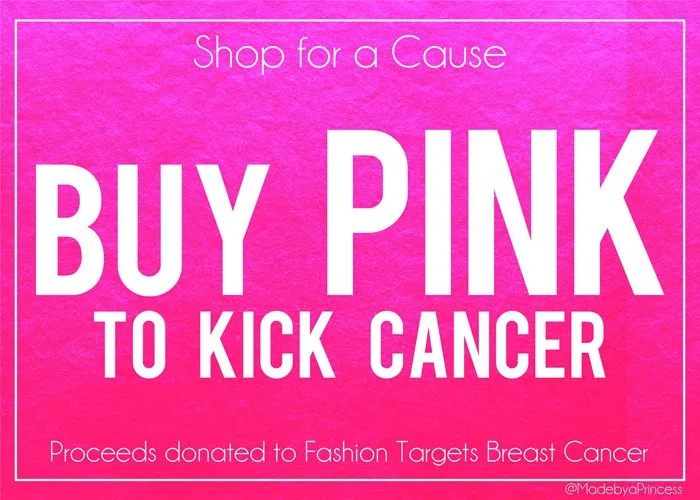 October is Breast Cancer Awareness Month and I'll hope you'll join me in my campaign to Shop PINK to Kick Cancer. I have partnered with ShopStyle & CFDA to bring you a great list of pink products to choose from so let's get shopping!
Breast cancer is something that has affected nearly everyone I know in one way or another. My grandmother had breast cancer so this is something very near and dear to my heart. ShopStyle and the Council of Fashion Designers of America (CFDA) are committed to raising public awareness and funds for the breast cancer cause which is why I was so excited about working with them on this campaign I hope you'll help us support their foundation Fashion Targets Breast Cancer (FTBC) by making a purchase of something fabulous and pink! I have chosen a number of items ranging in price that you can buy for yourself or as a gift. I am donating all of my ShopStyle proceeds directly to FTBC to help fight this breast cancer battle. Help me be a Breast Cancer Warrior and KICK CANCER'S ASS! The more you buy, the more money I can donate, and the more ShopStyle will donate as well!
Check out all these pretty in pink items! You better hurry and scoop these up because some of these deals won't last forever! What do you have your eyes on? I personally really love the Jack Rogers sandals, the Havaianas flip flops, the Lilly Pulitzer sunglasses, and the fuzzy slippers. That little gem pin from Nordies is pretty cute too.
Thank you for helping us fight breast cancer! I'd love to hear about what you purchased!
Please note the following states are excluded: Arkansas, Delaware, Hawaii, Idaho, Illinois, Indiana, Illinois, Iowa, Louisiana, Massachusetts, Mississippi, Montana, Nebraska, Nevada, New Mexico, North Dakota, Ohio, Oregon, South Carolina, South Dakota, Texas, Vermont, & Wyoming. I'm so sorry!