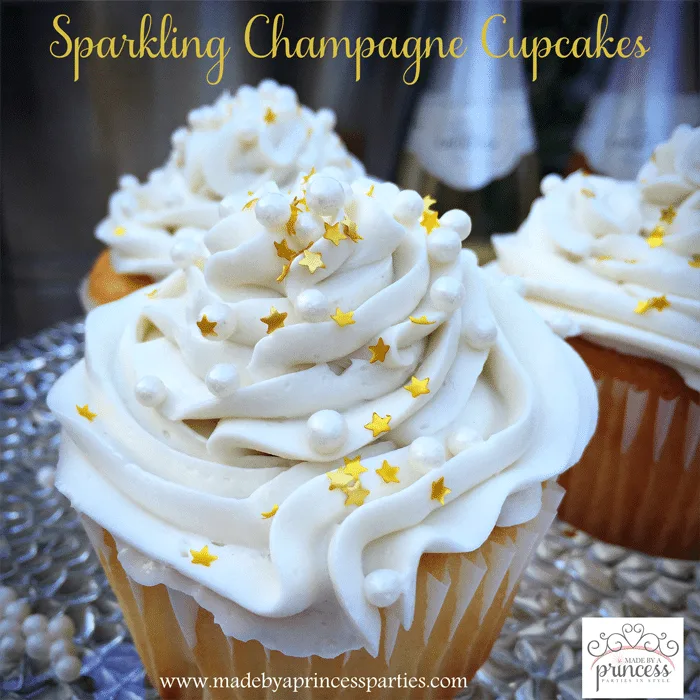 I adore champagne. I love the sound an open bottle of champs makes, the bubbles, the pretty glass, and the sweet smell. I love how no matter how rough a day I have had, a glass of bubbly will make it all better. That and snuggles with my kids. I have been dreaming of a champagne cupcake for a long time and finally decided that it was high time I just make it happen. After several different recipes I think I have come up with the perfect Sparkling Champagne Cupcake Recipe that is light, fluffy, creamy, and decadent. I believe Marie Antoinette would approve!

Champagne is kind of my thing. I drink it with desserts, gummy bears, chicken, pasta, salad, I'll even drink it with a burger. Most Friday nights you can find me at home with family enjoying our traditional Friday Family Movie Night with a glass of champs and a bowl of popcorn. When Wayfair asked me to create a Cocktail to Cupcake recipe I knew immediately it had to be a champagne cupcake. It was important to me to create a recipe that was not too sweet, was light and fluffy, and has a very subtle champagne flavor. I found my traditional buttercream recipe to be way too sweet and overpowering which is why I decided on a Swiss Meringue Buttercream. If you have never made a SMB I have to warn you that it is time consuming, however, SO worth it! The frosting is exactly what I was going for…it just melts in your mouth.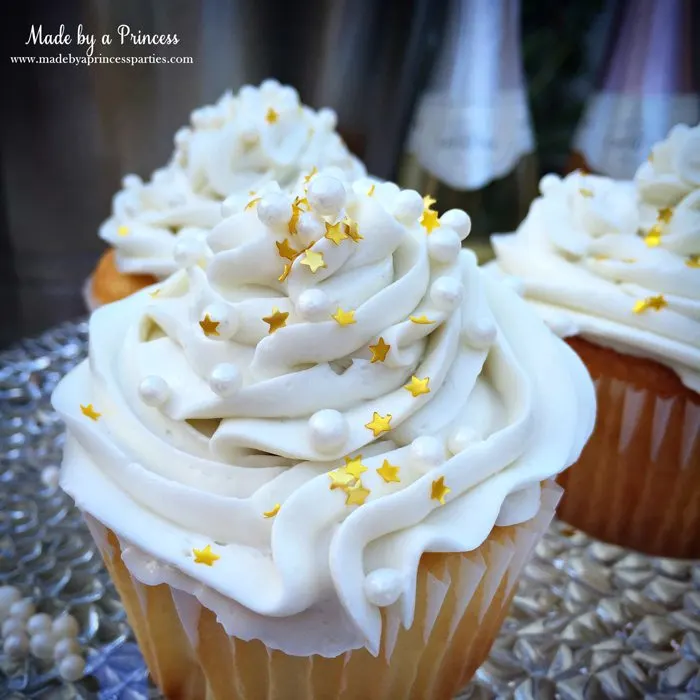 The actual cupcake is adapted from my rum cake recipe. With the first batch I added straight champagne. It was good but I felt there was something missing. The next version I decided on a champagne reduction which made all the difference. You can opt to use the champagne straight from the bottle and skip the reduction process but I really believe it is much better when reduced. (In cooking, reduction is the process of thickening and intensifying the flavor of a liquid mixture such as a soup, sauce, wine, or juice by simmering or boiling.)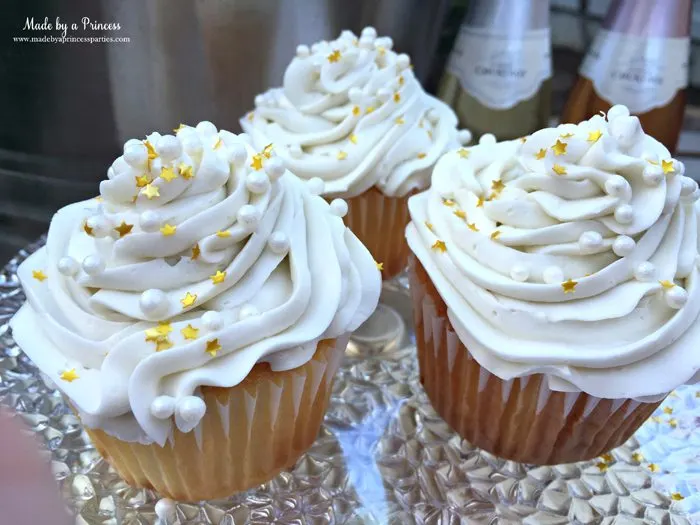 Let's start with the cupcake recipe…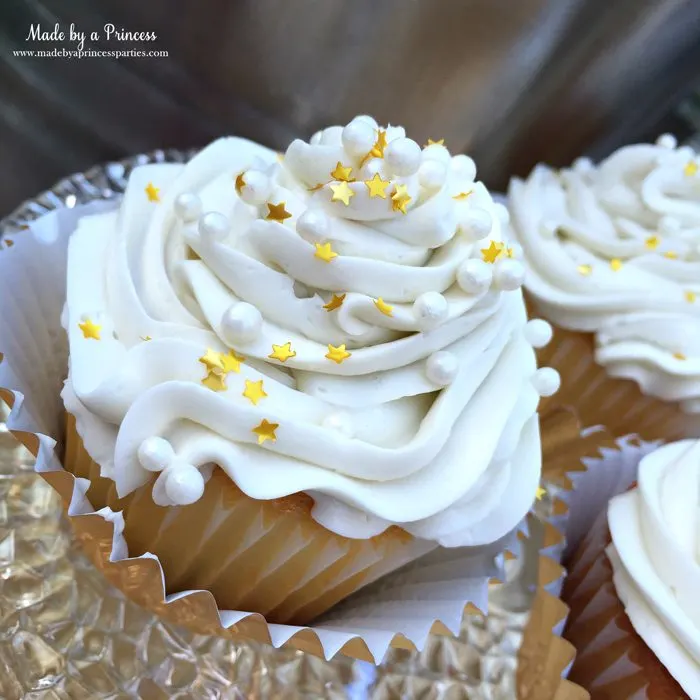 While cupcakes are baking prepare your frosting. A few things about Swiss Meringue Buttercream before we get started:
SMB is best served and eaten the same day but you can store in the refrigerator overnight if prepared the day before. Bring to room temperature before serving.
If your buttercream looks more like curdled milk or cottage cheese during the mixing process do not panic and don't throw it out. This happened to me and all I did was take 1/4 of the buttercream and place it in a microwave safe bowl, put it in the microwave for about 15 seconds, and then slowly stream it back into the while while mixing the frosting on low. Increase your speed and whip til fluffy.
If that doesn't work place your bowl of frosting in the refrigerator for about 20 minutes and then whip again til fluffy.
Ok, now that we have that out of the way here is my Champagne Flavored Swiss Meringue Buttercream recipe…
Once your cupcakes have cooled and your SMB is done you are ready to frost! If you want to fill the cupcake with frosting cut the middle out of your cupcake and fill with frosting. Frost and decorate to your heart's content. I used tiny pearl sprinkles because they remind me of little bubbles and then added edible gold stars simply because they're cute.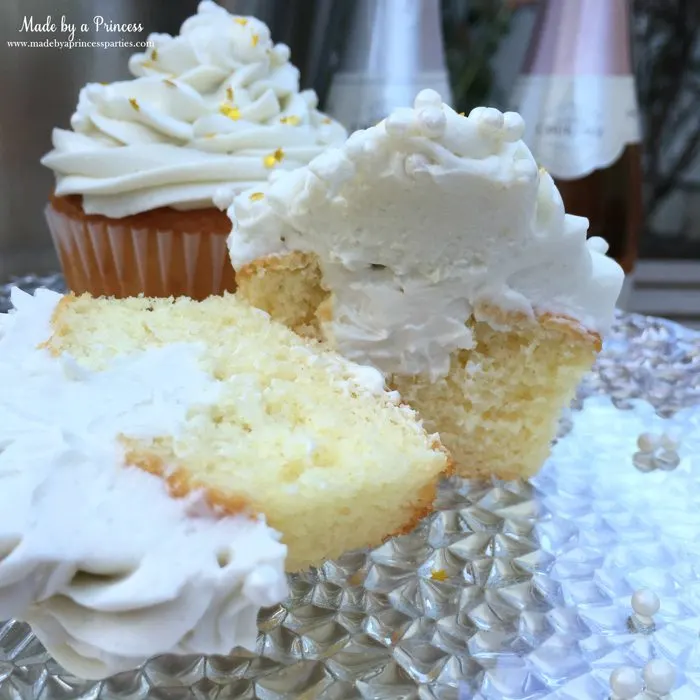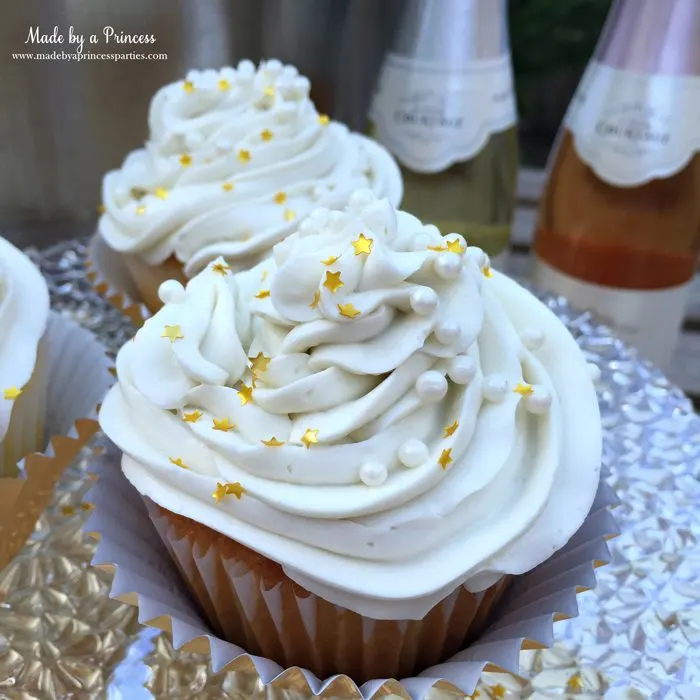 These cupcakes will take a bit of time but I promise you it will be so worth it! I hope you enjoy my Sparkling Champagne Cupcake Recipe…I would love to hear from you and see your own champagne cupcake creations!
Happy Champs!