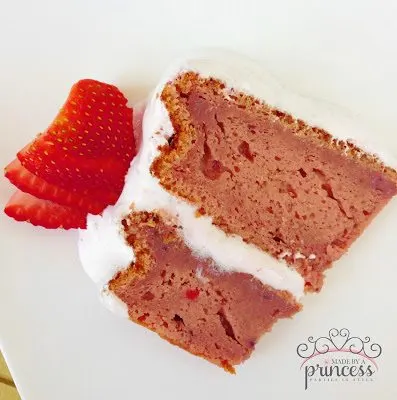 Last weekend I invited a couple of girlfriends over because I really wanted to make this cake and needed some friends to share it with. I was at a birthday party a couple weeks ago and had a wonderful slice of strawberry cake with lemon frosting. I couldn't get that cake out of my head so I just had to make my own!
Ingredients
1 box of white cake (I use Betty Crocker Super Moist)
1 small box of instant vanilla pudding
3/4 cup pureed frozen strawberries, do not strain use the strawberries and juice
Red food coloring to desired color
Directions
Sift cake mix and vanilla pudding over bowl on standing mixer. Add eggs, water, oil, pureed strawberries, and vanilla and incorporate well. Add food coloring until you reach desired coloring.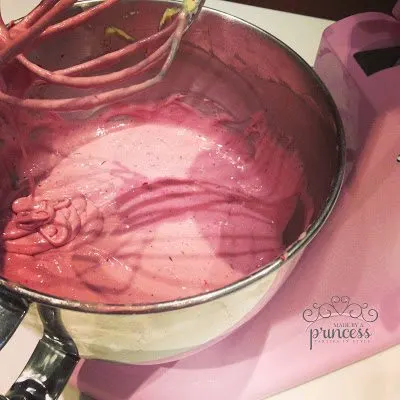 Pour evenly into two well greased and floured 7″ round cake pans or 9×13 cake pan. (I used two springforms because I could not find my rounds and I would not recommend a springform. I didn't like the edges. A bundt pan would be great if you have one.)
Bake at 350 for 35-40 minutes or until a toothpick comes out clean. Set aside to cool.
Pink Lemonade 7 Minute Frosting
adapted from Paula Deen
Ingredients
1 1/2 cups fine baking sugar
1/4 tsp cream of tartar or 1 tbsp white corn syrup
1 1/2 tsp vanilla extract
2 tsp lemon extract or 1 tbsp freshly squeezed lemon juice
Red or pink food coloring to desired pink color
Directions
Place sugar, cream of tartar or corn syrup, salt, water, and egg whites in the top of a double boiler. Beat with a handheld mixer for 1 minute. Place pan over boiling water, being sure that boiling water does not touch the bottom of the top pan. (If this happens, it could cause your frosting to become grainy). Beat constantly on high speed mixer until stiff glossy peaks form. In all honesty this usually takes longer than 7 minutes. To check if your frosting is stiff enough take a spoon and put in frosting and pull up. If peak falls easily it's not ready. Once you have desired stiffness add food coloring and vanilla. Slowly add lemon extract or lemon juice and zest.
Once your cakes have cooled place on a nice plate and frost as desired. I wanted a two layer cake so I put frosting in between and then iced. I don't know if this kind of cake would travel well because the frosting is pretty slippery but it is perfect for serving to girlfriends in the backyard. If you want a traditional cake with buttercream this strawberry cake would be perfect with a lemon buttercream! I might have to try that next…