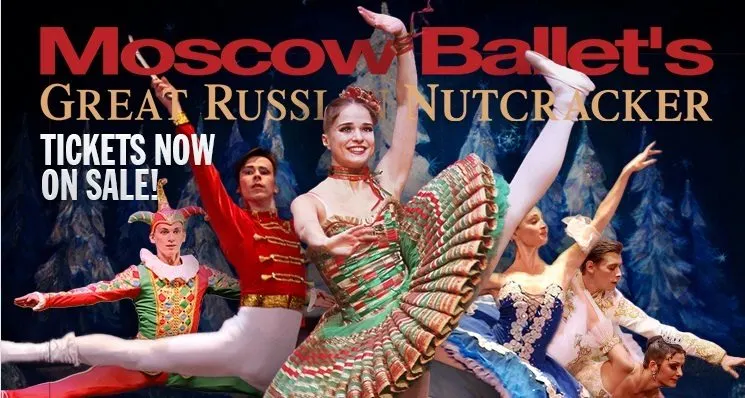 I am so excited to share that the Moscow Ballet's Great Russian Nutcracker is coming to San Diego Dec. 15! I have actually never been to the Nutcracker but I am ecstatic that my daughter is old enough to go and enjoy it with me. Read below to find out how you can save up to $30 off your tickets.Have you ever been to a performance? It's the ultimate holiday tradition and creates memories for a lifetime. The production includes over 200 romantic costumes and 10′ tall playful animal puppets; shimmering colorful, backdrops splashed with 3-D effects; life-sized Matrushka (Nesting) Dolls and a puppet show for shadowing the Nutcracker Story at the opening Christmas Party. During the battle with Nutcracker Prince and the 3-headed Rat King, a golden cannon shoots roses! In the Magical Snow Forest an authentic Russian style Troika Sleigh, known as the fastest sleigh in the world, is escorted by Father Christmas (Ded Moroz) and Snow Maiden (Snegurochka) on their way to Act II. The Great Russian Nutcracker is known for its dedication to world peace with Act II named the "Land of Peace and Harmony." The first scene of Act II features a stunning "Dove of Peace" with a 20′ wingspan and danced by 2 dancers each with one feathered wing. All ages feel the spirit of the season at Moscow Ballet's Great Russian Nutcracker!
Right now you can receive the deepest discount of the Season (up to $30 OFF!) with this exclusive PROMO CODE for US Family Guide Readers. Use this code: JOY at checkout. CLICK HERE for ShowTimes and Ticket Information. Hurry order your family's tickets today and fell free to share this exclusive savings with your friends.

Maybe I'll see you there!