These Halloween Witch Party Food Cauldron Pudding Pots with sparkly green icing are just what you need to complete your Halloween table of treats!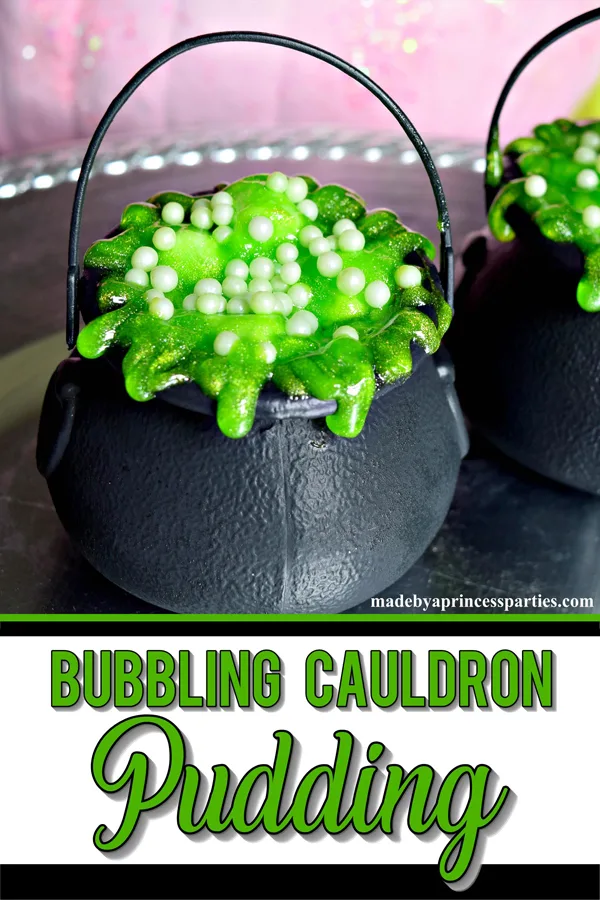 Can you believe Halloween is only a couple weeks away?! Today I am going to share how I made these Halloween Party Food Cauldron Pudding Pots. They are pretty simple to make and are sure to get a reaction out of your party goers.

*this post contains affiliate links
Halloween Witch Party Food Cauldron Pudding
Halloween Food Party Idea
When I have a theme party I go all out and always try to have at least one unique signature food. I adore cute party food! For my daughter's Frozen party I created the original Melted Olaf Greek Yogurt cups. It's probably my most repinned recipe. I love seeing how other moms recreated them for their own parties.
When you think about witches you probably also think about cauldrons so I wanted to create something that would incorporate them. I had some mini plastic cauldrons left over from St. Patrick's Day (for pots of gold) and thought they would make the perfect little bubbling witches cauldrons. Grab your broomstick and witch hat and let's get started!
How to Make Witch Brew Cauldron Pudding Pots
Wilton sent me some really fun products including these green pearl sprinkles and sparkly green slime gel. It really does sparkle too!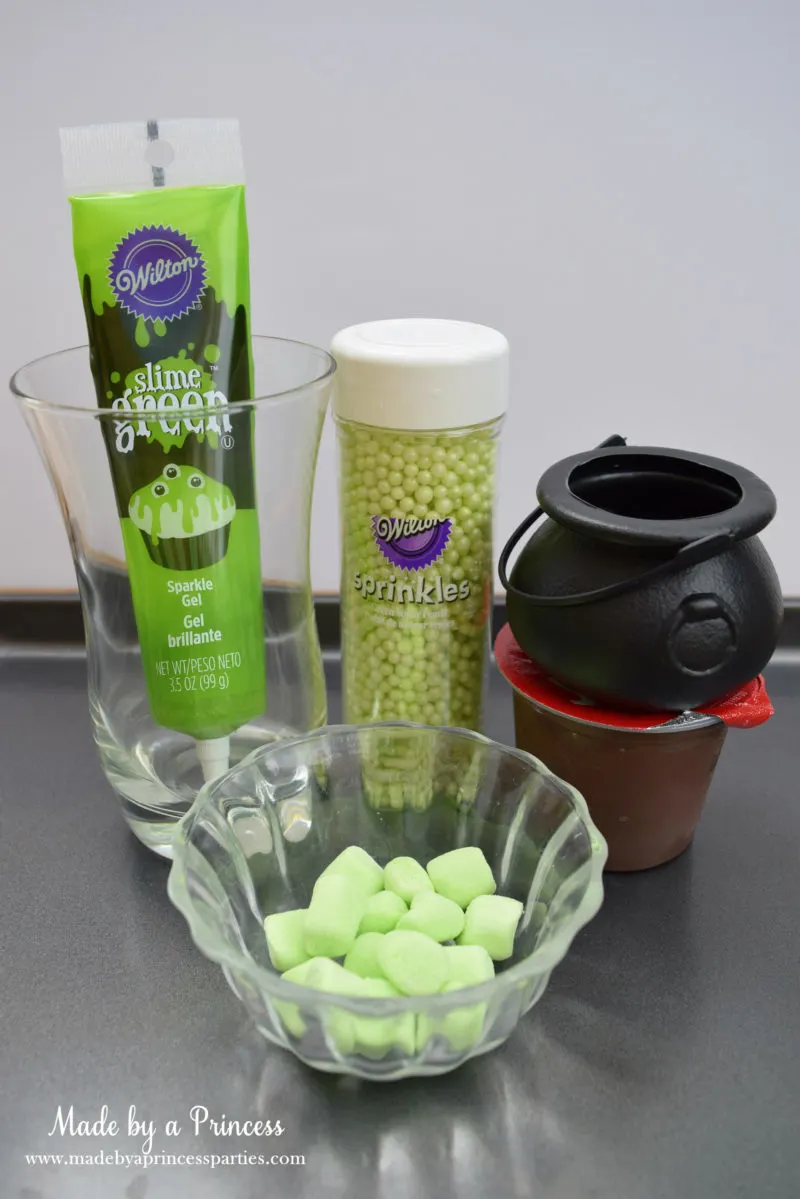 Pudding Snack Cups are quick and easy but you can make your own pudding if you like. It will take about 1 1/3 snack cups per cauldron.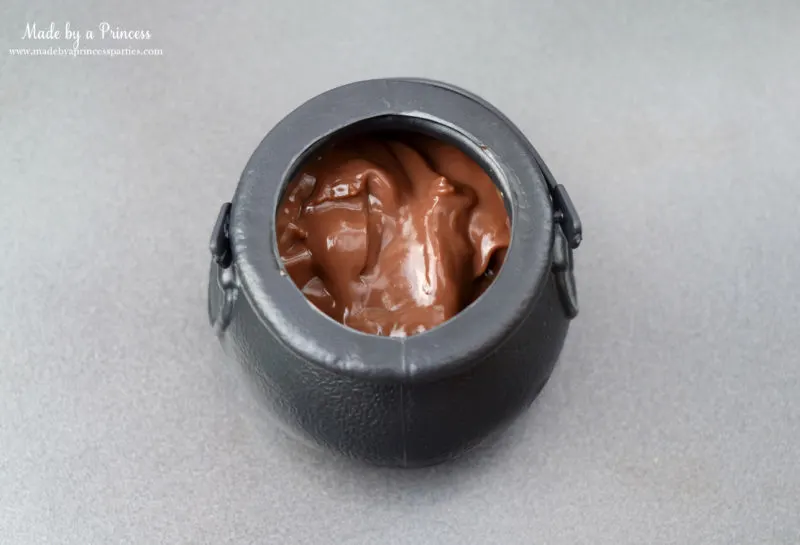 Spoon pudding into cauldrons.
Top with green marshmallows from a Jet Puffed Fun Mallows bag.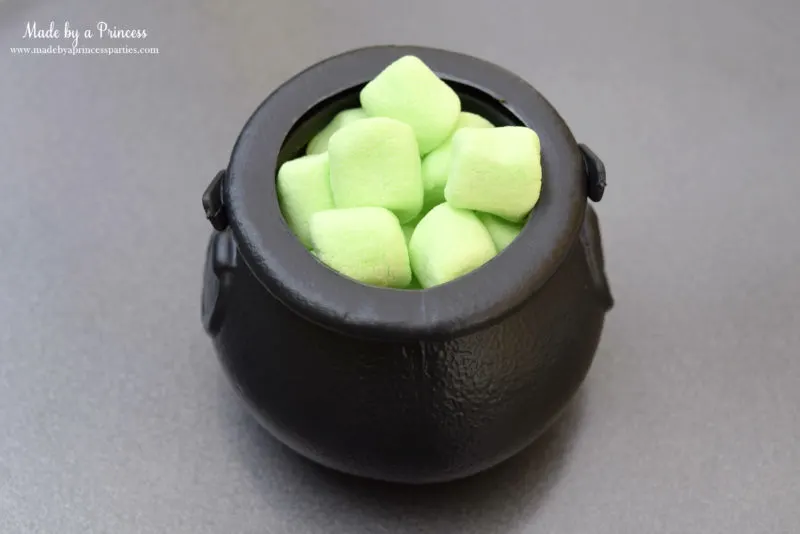 Next, spread the green slime gel across the top and make sure to drip some down the sides like it is boiling over.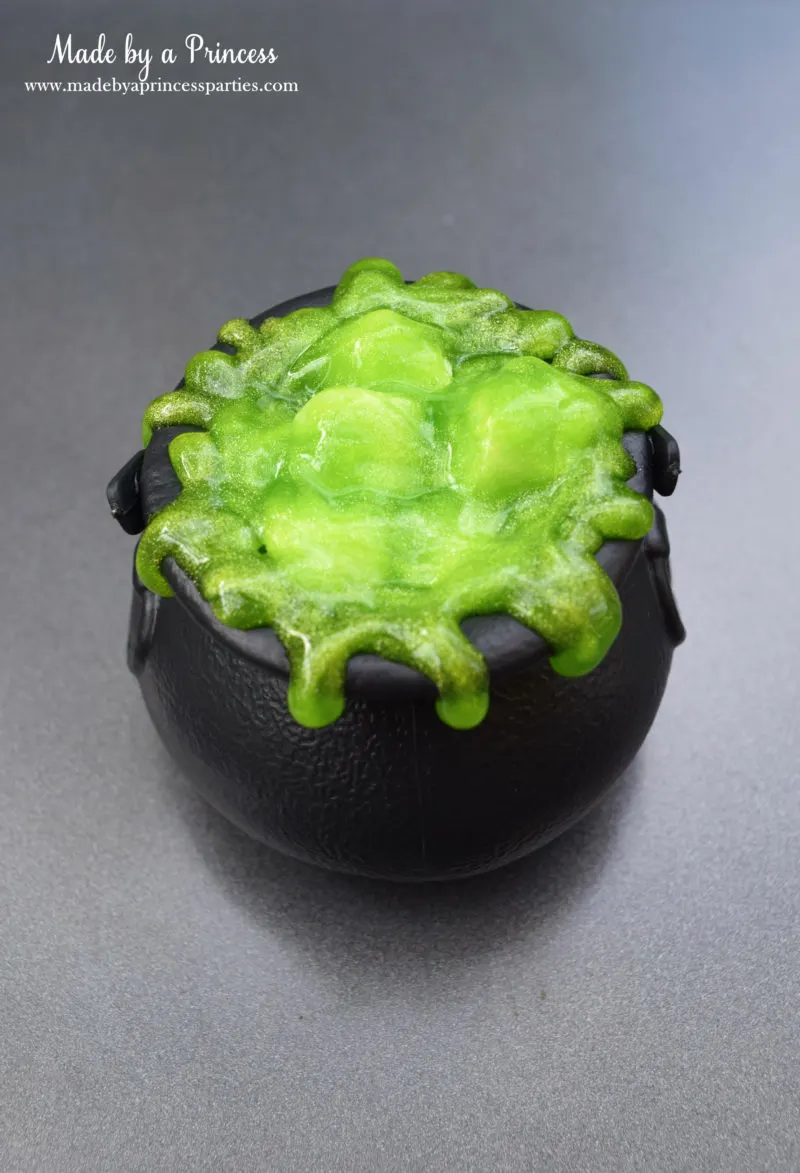 Add green pearls to look like bubbles. Just like that you have bubbling witch cauldron pudding pots!
Other fun food ideas to add to these bubbling cauldrons for your witch themed Halloween party are severed witch fingers, or candy bugs and skulls, candy bones, or gummy body parts. So creepy, right?!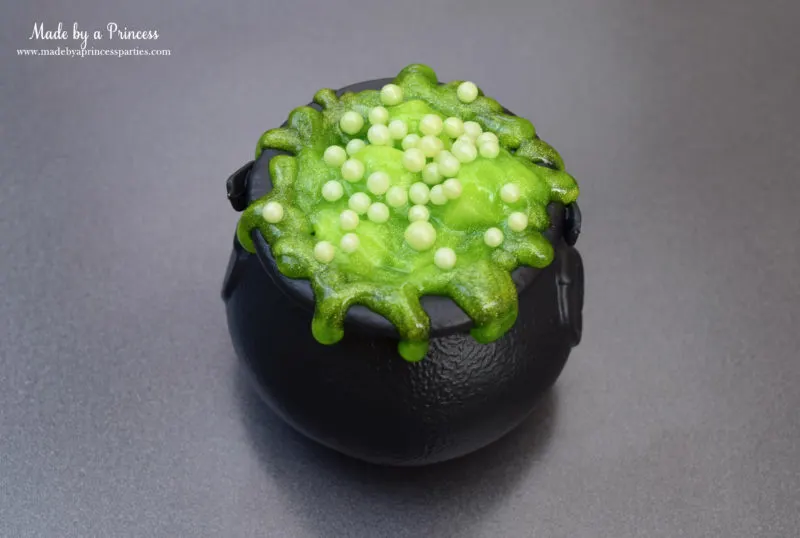 Make Ahead Halloween Treats
You can make these witch cauldrons the morning of the party and put them back in the refrigerator until your guests arrive. You could easily make them the night before as they will hold up really well in the refrigerator over night.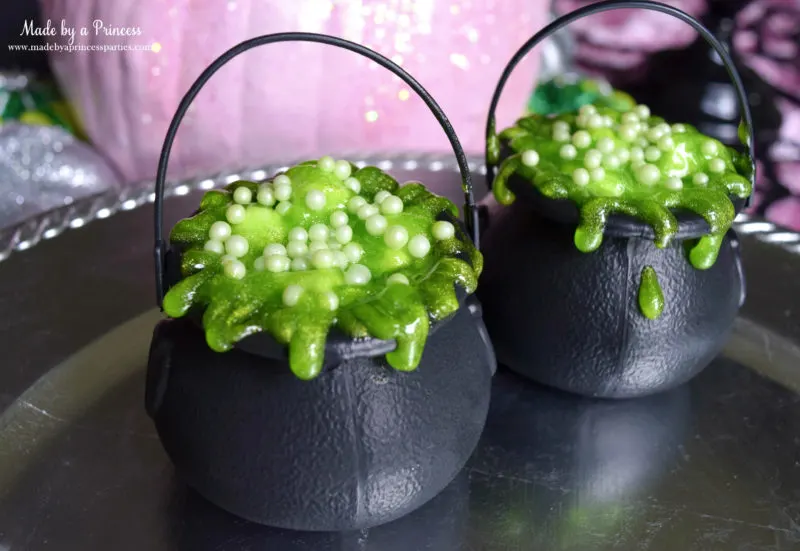 Some of our guests were completely creeped out and others thought they were so cool! The slime tastes a bit like lime so keep that in mind when choosing your pudding flavor. I chose chocolate because I thought the pudding would show and wanted it to blend in with the pots but it didn't show at all so I would say use whatever you like.
I hope you enjoyed my Halloween Witch Party Food Cauldron Pudding Pots tutorial. Do you host an annual Halloween party? I'd love to hear about it! Better yet…send me some pictures! I love hearing from my readers!
Happy Halloween!
Check out all the details of our Pretty in Pink Witches Tea Party!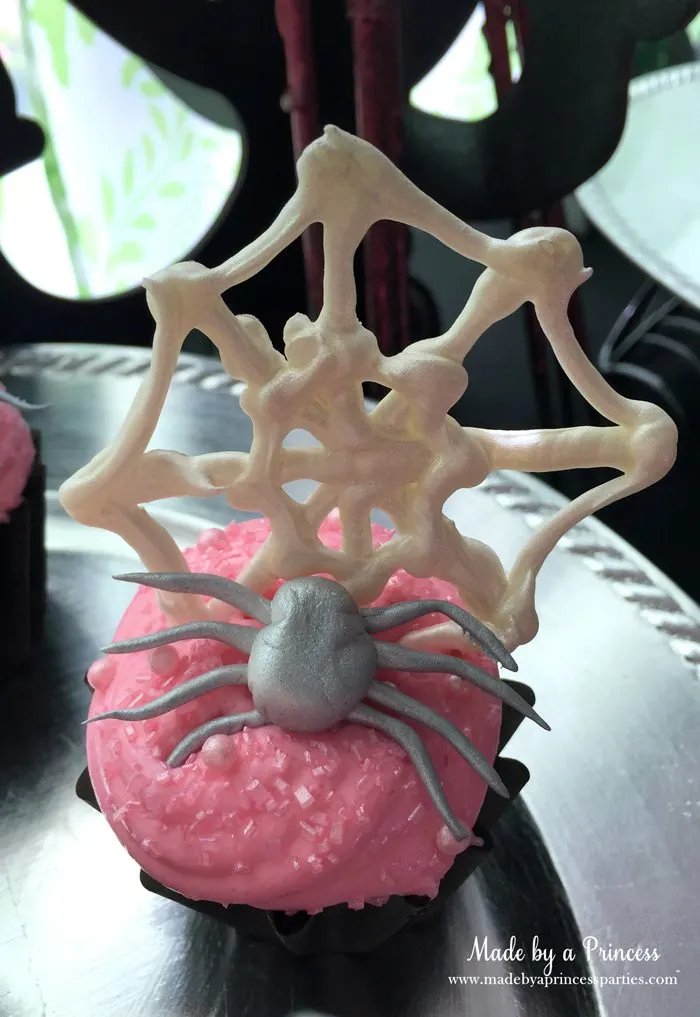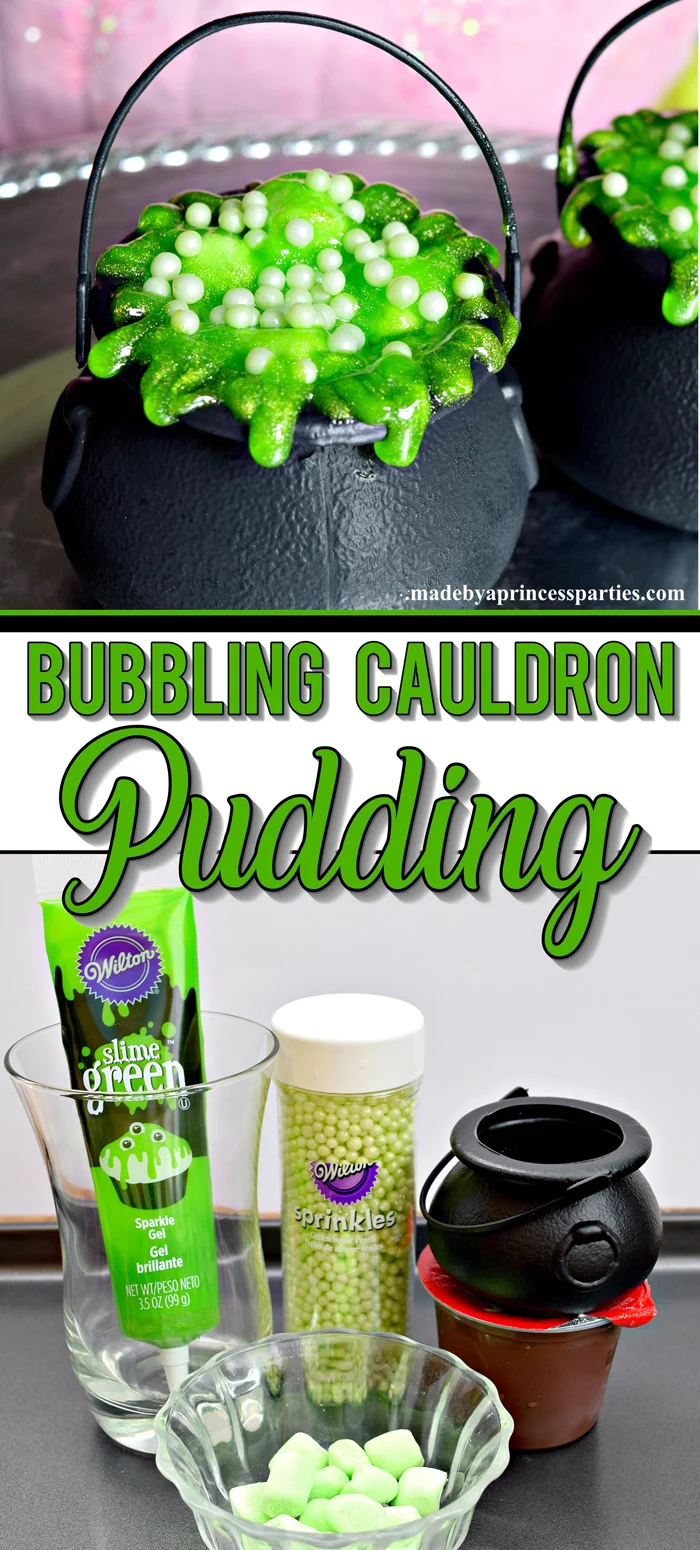 Some product was provided to me to review, however, I received no compensation and the opinions, ideas, and expressions are my own.