Ooh la la! Grab some glitter, your fanciest dress, sprinkle in original songs and… Voilà! Enjoy a Fancy Nancy Mini Butterfly Pull Apart Cupcake Cake while watching Fancy Nancy Volume 1 DVD.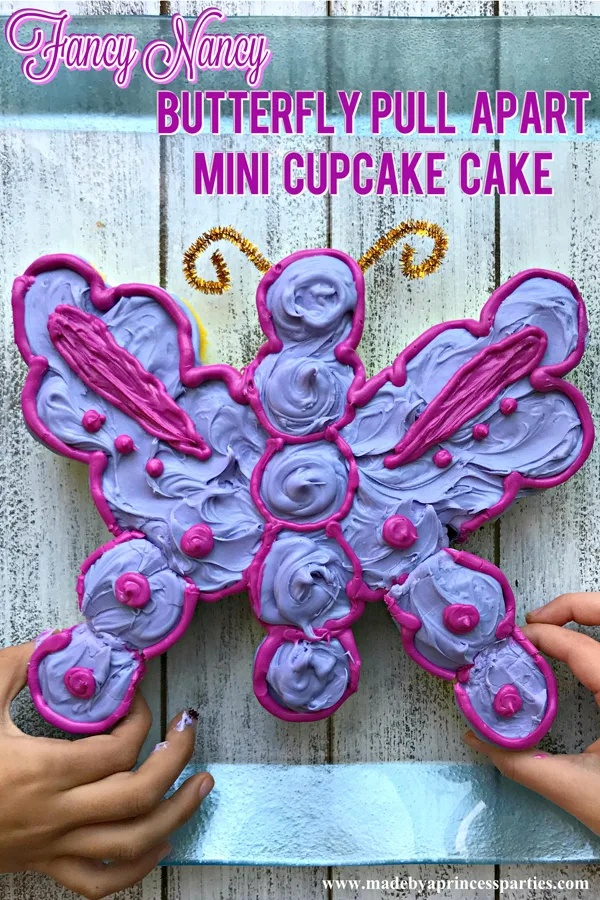 If you are a fan of the Fancy Nancy books you will adore the new Fancy Nancy series on Disney Jr. To celebrate the release of the first six episodes I made a Fancy Nancy Mini Butterfly Pull Apart Cupcake Cake that any fan of Nancy's would amour!
*Post contains affiliate links. DVD was sent for review. No additional compensation was given. All opinions are my own.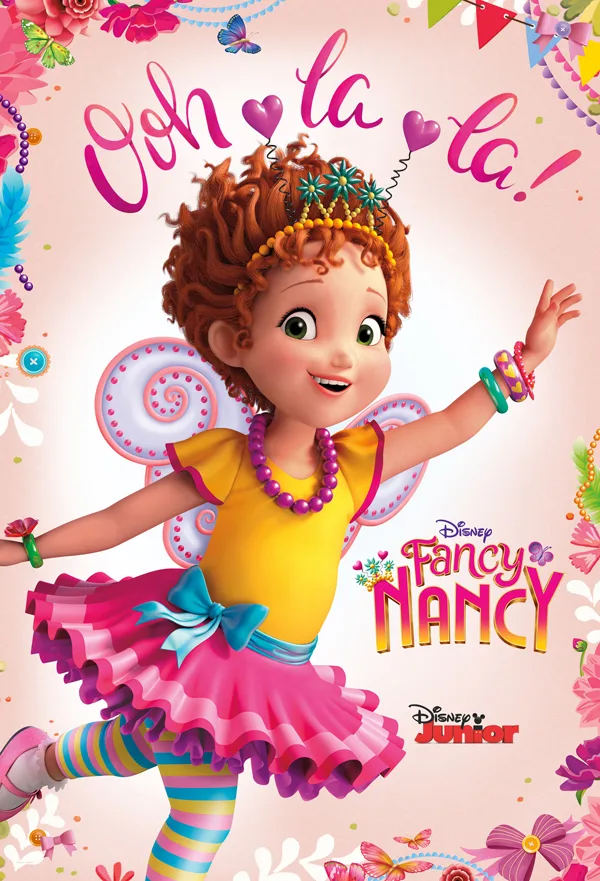 Fancy Nancy on Disney Jr.
Fancy Nancy is a fairly new show on Disney Jr. based on the books by Jane O'Connor and Robin Preiss Glasser. She is a young girl with a larger than life personality and a grand imagination. She lives with her mom, dad, and little sister, JoJo. Her favorite doll is named Marabelle Lavinia Chandelier and she firmly believes more glitter is better!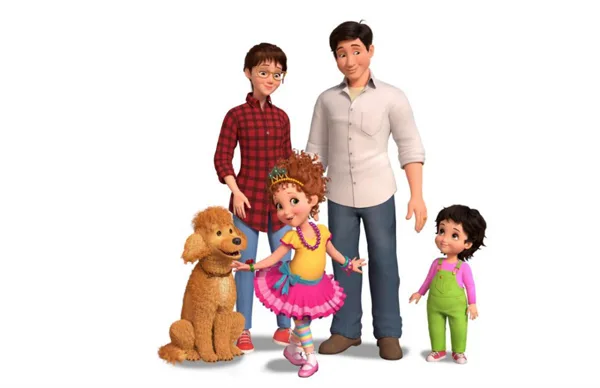 Nancy loves all things fabulous, fancy and French, and we think that is tres magnifique! She loves wearing boas, tutus, ruby slippers, fairy wings, and fuzzy slippers. She loves using big fancy words and speaking in French. This little lady can change anything from bland to chic tout de suite! With boundless imagination, some help from friends and family, and a sunny approach to life, Fancy Nancy celebrates the differences that make everyone unique and incroyable!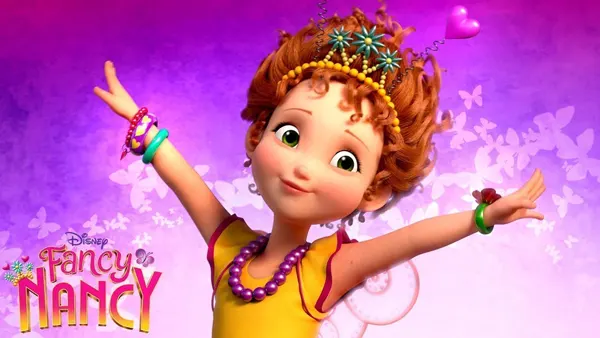 Fancy Nancy Volume 1 Playtime Can be Magical!
Bring Home the Glitz! Playtime Can Be Magical includes six 22-minute episodes full of fancy frilly fun. Here's a list of all the Fancy Nancy episodes in Volume 1:
Chez Nancy/School de Fancy
Tea Party Trouble/Bonjour Butterfly
Nancy's Ooh La La Spa/Nancy Goes to Work
Nancy Versus Dudley/Nancy Makes Her Mark
Nancy's DevineSleepover/Nancy's Sacrebleu Fondue
Nancy's Dog Show Disaster/The Case of the Disappearing Doll
Fancy Nancy Cast
If you were thinking you recognized some of the voices in Fancy Nancy you were right! Mia Sinclair Jenness (Raven's Home) as Nancy Clancy; Alyson Hannigan (Buffy the Vampire Slayer & American Pie movies)as Nancy's mom; Rob Riggle (Modern Family) as Nancy's dad; Spencer Moss as JoJo; Dana Heath (WellieWishers) as Bree; Ruby Jay as Rhonda/Wanda; and Ian Chen as Jonathan.
Fancy Nancy DVD Review
If you have a little girl in your house, you've probably already heard of Fancy Nancy. Nancy is definitely our kind of girl. My super girly glitter girl loves the new Fancy Nancy series. Nancy is sweet, kind, creative, imaginative, super girly, and she loves pink. Actually, she loves fuchsia because that's fancier than pink.
One of the things my daughter loves about the videos, aside from her fabulous red hair and adorable clothes, is that she's smart. Isn't that wonderful?! I love that she said that. So many of the Disney characters now are rude, kind of mean, and sassy but Fancy Nancy isn't any of those things. We love that she is helpful and willing to learn from a situation and take responsibility when she's wrong.
When I asked my daughter what Fancy Nancy really loved she said butterflies. I knew right away what I would make when her bestie comes for a playdate….a mini Fancy Nancy pull butterfly pull apart cupcake cake.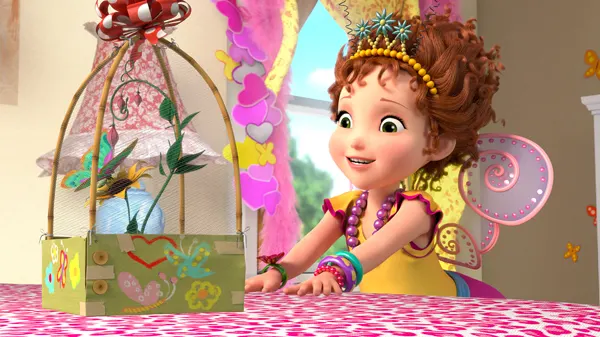 Fancy Nancy Mini Butterfly Pull Apart Cupcake Cake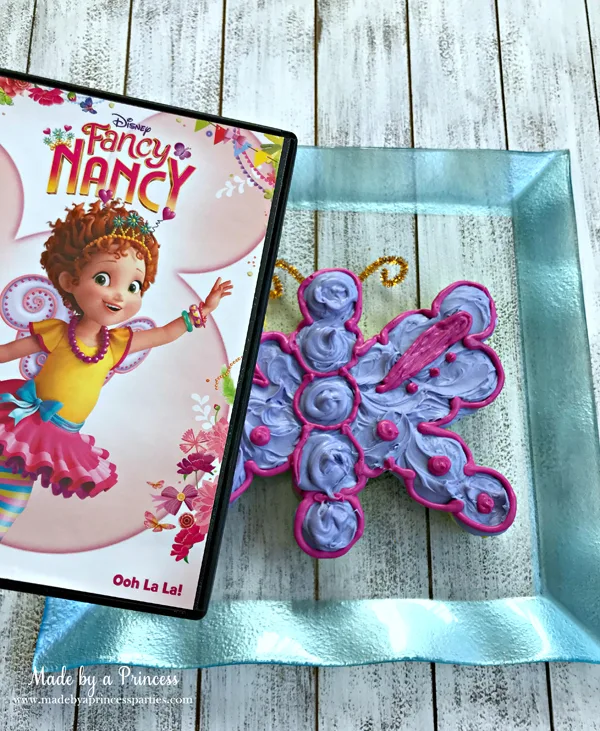 Making a Fancy Nancy Mini Butterfly Pull Apart Cupcake Cake is so easy to do. All you need are mini cupcakes from the grocery store, frosting, and pipe cleaners for antennae.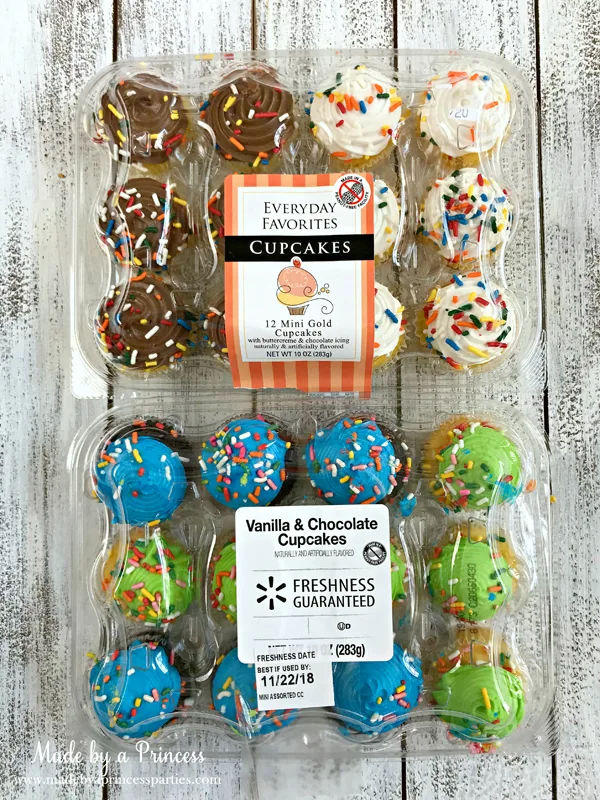 First, mix up a bowl of your favorite color frostings and get your supplies together.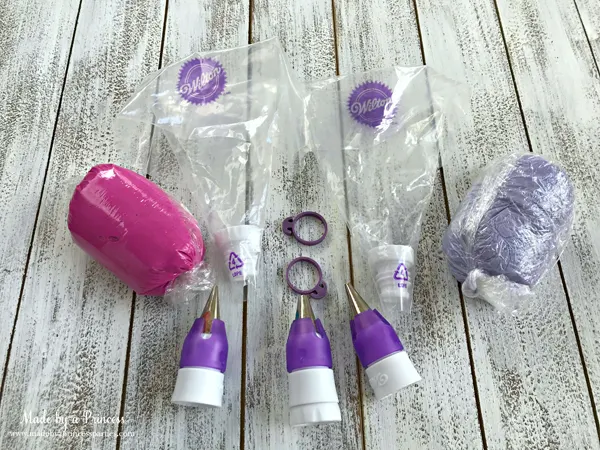 Next, scrape the frosting right off the cupcakes and discard.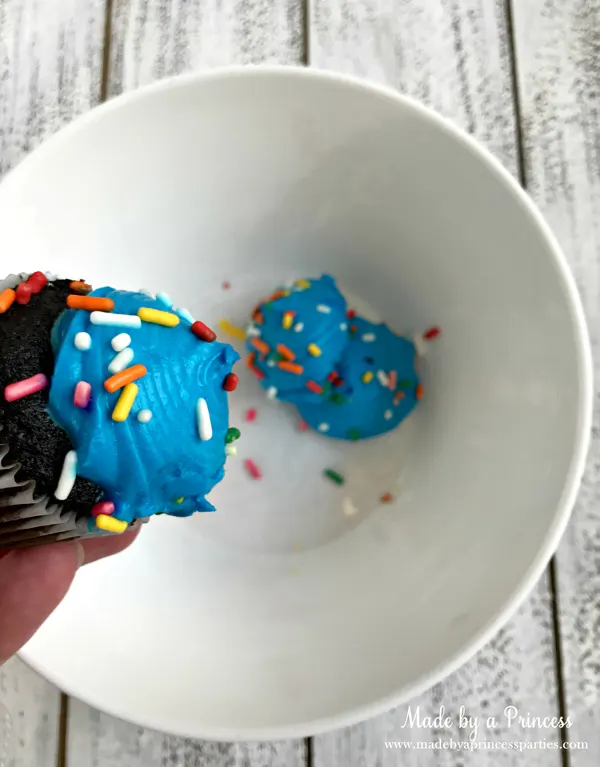 Place your mini cupcakes on a pretty platter, then outline the mini cupcakes with your frosting.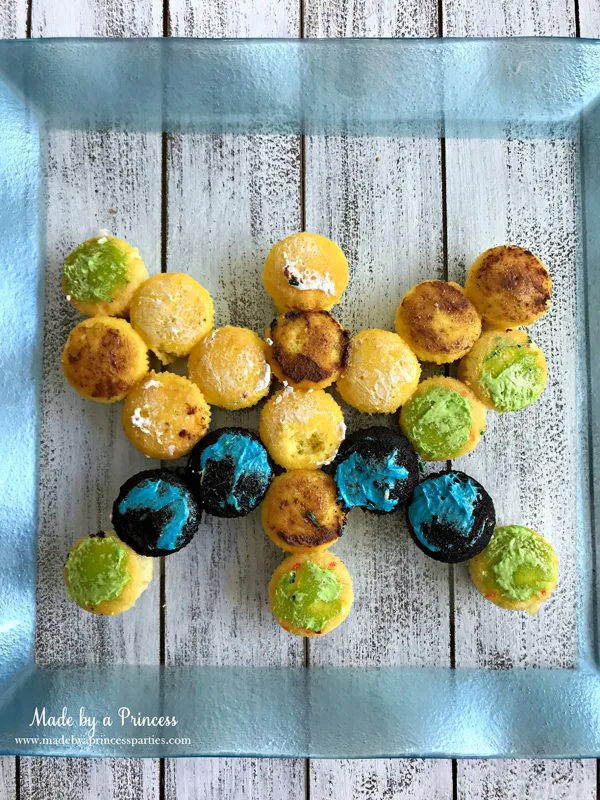 Using a size Wilton #8 tip, swirl frosting on top of each cupcake. Smooth with an offset icing spatula and outline with another color using Wilton #6 tip.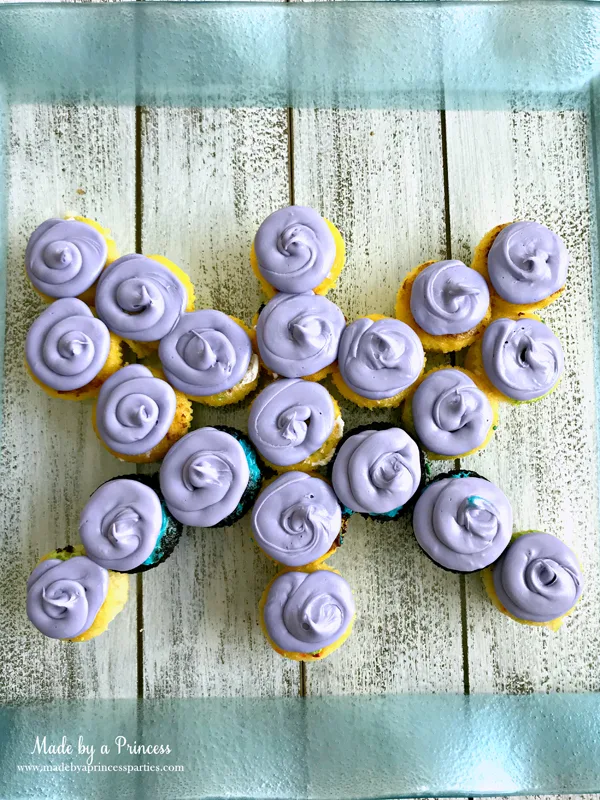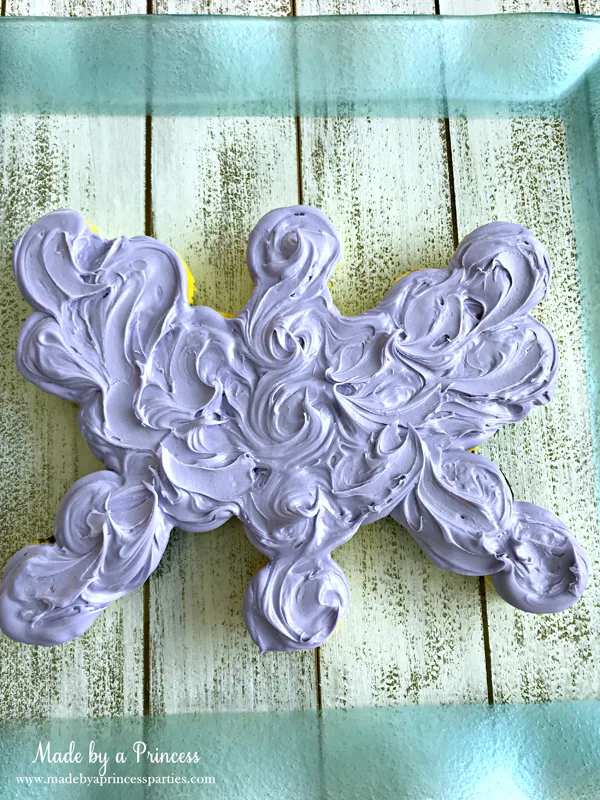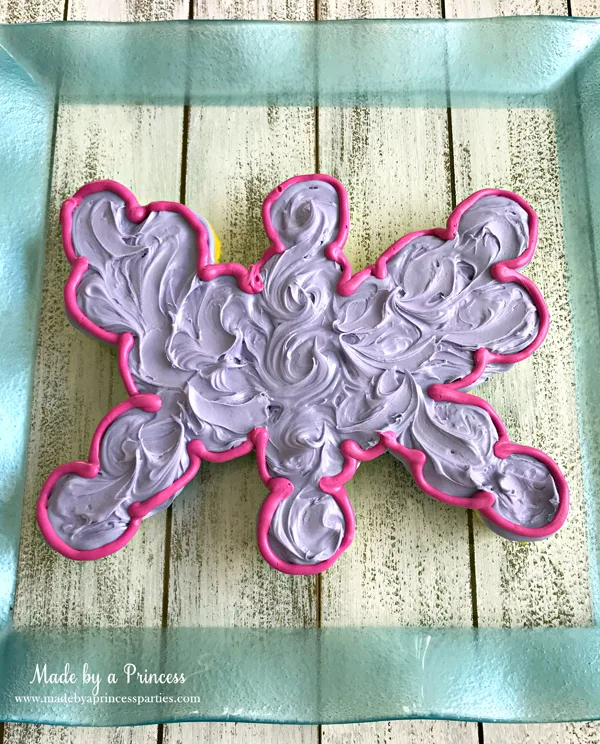 Now add some details. I changed out the tip to a Wilton #4 for the details.
Pro Tip: Use a Wilton Quick Change Coupler makes it easy to go back and forth with different tips.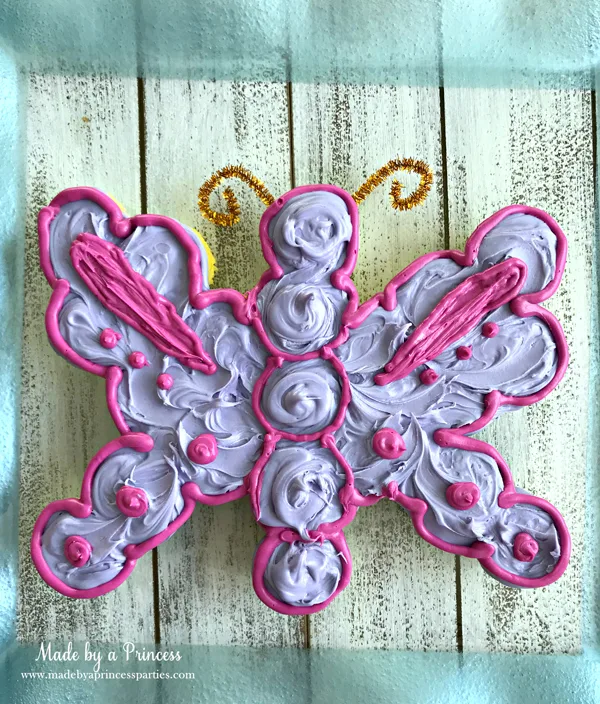 Finally, stick two small pieces of curled pipe cleaners to look like antennae.
You're done! Now you have a darling little Fancy Nancy Mini Butterfly Pull Apart Cupcake Cake to share with a friend while watching Fancy Nancy Volume 1…ooh la la!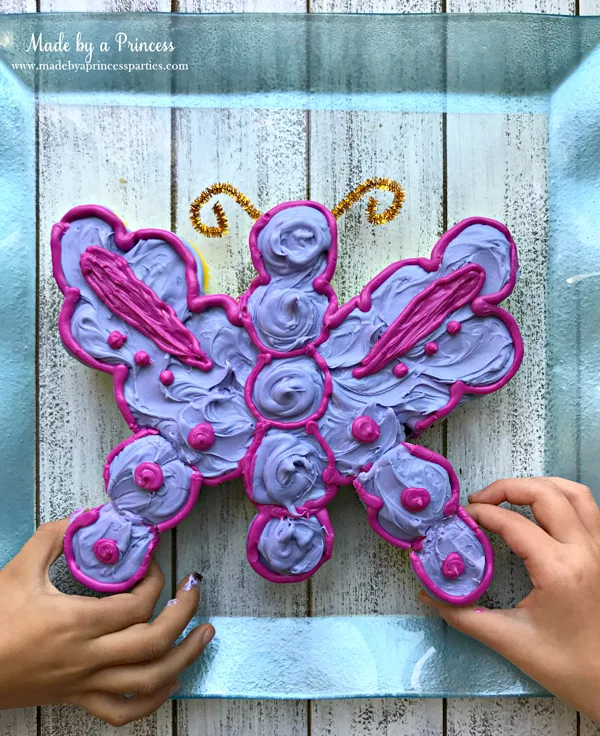 I hope you enjoyed this easy no bake Fancy Nancy Mini Butterfly Pull Apart Cupcake Cake treat!