Create a sweet and elegant candy buffet using your favorite colors. This Pretty Pink and Gold Party Candy Buffet is perfect for celebrating your favorite bride to be.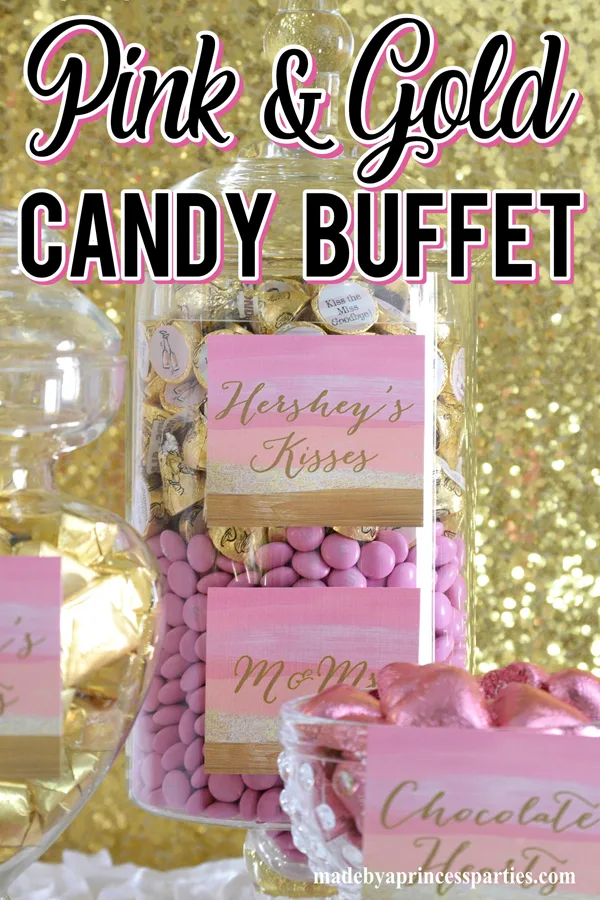 A sweet ending to a new beginning is the theme of this pretty pink and gold candy buffet. To make it even sweeter I've designed some free printable candy buffet labels to help you create an elegant candy bar for the soon to be Mrs.
*this post contains affiliate links
Candy Buffet Ideas
Candy Buffet Supplies
When it comes to setting up a candy buffet there are some basics you are going to need to purchase. If you can borrow them even better. First you will want to decide your the of your candy station or a the very least your color scheme. You will need candy scoops, bulk candy, candy buffet containers, and favor bags.
You will also need to decide what types of candy you want to use. Candy stations are not inexpensive. I know there are a lot of articles out there about how to create a cheap candy buffet but the truth is you are going to have to spend some money if you want to send your guests home with more than just a candy bar or two.
Candy Buffet Candy List
Here is a list of candy I used for this candy buffet:
How Much Candy Should I Buy for a Candy Buffet?
That is a great question! You should count on about 8 oz of candy per guest which translates into about 800 ozs, or 50 lbs, per every 100 people. To give you an idea of scale, 8 oz of candy translates into about a little less than half a bag of Sixlets. You can control how much guests take home, to some extent, depending on how big your containers are that you're offering. If you provide small bags, guests will likely take less. If you provide pretty boxes like the gold Chinese take out boxes below, it's going to cost you quite a bit more. You can really stuff a lot of candy in those suckers!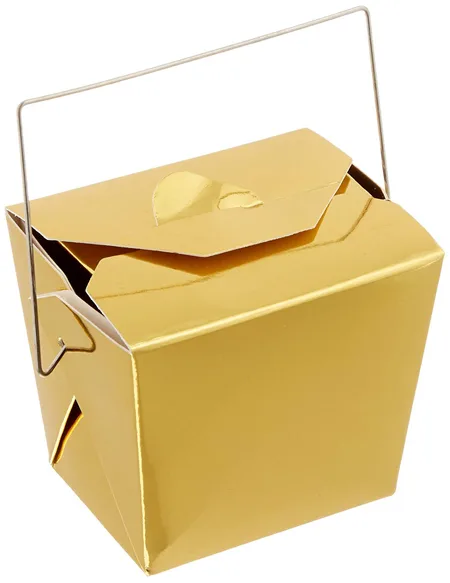 How Much Does a Candy Buffet Cost?
At the very minimum you are looking at $500 in candy for 100 people. Figure at least $5 per person, depending on what kind of candy you choose. If you opt for bigger or designer candy, add an additional $1 – $2 per person.
Candy Buffet Backdrop
The first thing you need to do is figure out your backdrop. You can make a backdrop out of paper fans, a sequin tablecloth or sequin fabric, paper flowers, balloons, a poster, etc. Your backdrop gets installed first, then you build your candy bar around it. I use a photography backdrop kit in nearly every photo shoot and party I throw. It is inexpensive, lightweight, and collapses for easy storage. You can run curtains through the rod or use the clamps to hold tablecloths or fabric.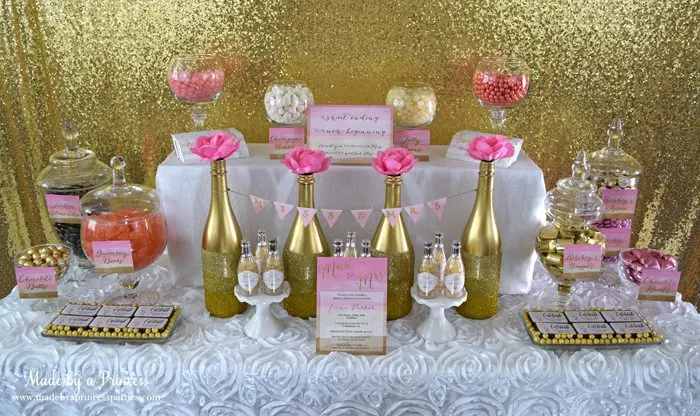 How to Set Up a Candy Buffet
You are going to need a tablecloth, containers for the candy, candy buffet bags or boxes, and candy scoops. If you would like to create a pretty table your guests will ooh and ahh over you will need some decorations, displayware like cake stands and tiers, glass apothecary jars, signage, and custom food tents or labels.
First, iron your tablecloth. It's not a pretty look to have a beautiful table of treats and deep creases in your linens. If purchasing linens, opt for ones that have more polyester than cotton. It won't take you nearly as long to get the wrinkles out of a poly blend over a cotton blend.
*PRO TIP
Place your tablecloth in the dryer with a wet towel and tumble dry for about 10 minutes. Many, if not all, of the wrinkles will fall right out in the steam. If some wrinkles remain, use an iron to get the rest out.
Now that you have a wrinkle free tablecloth, create your tiers. You can use decorative boxes, cake stands, pedestal stands, a shelf (made with three pieces of plywood), or small crates for a rustic look.
Next, place candy containers like vases, apothecary jars, or bowls, on the items you are using to create tiers. Now, add the candy, scoops, signage, and food tents.
Lastly, find a good spot for goody bags or boxes in a convenient place for your guests to grab them.
Candy Bar Ideas
Once you figure out your theme you can have a lot of fun with the types of candy you choose. My theme for this bridal shower candy bar was "From Miss to Mrs" in pink and gold. A rose gold candy buffet would have been beautiful as well.
You don't have to stick with one type of candy in a jar either. Mix it up by layering candy and colors together.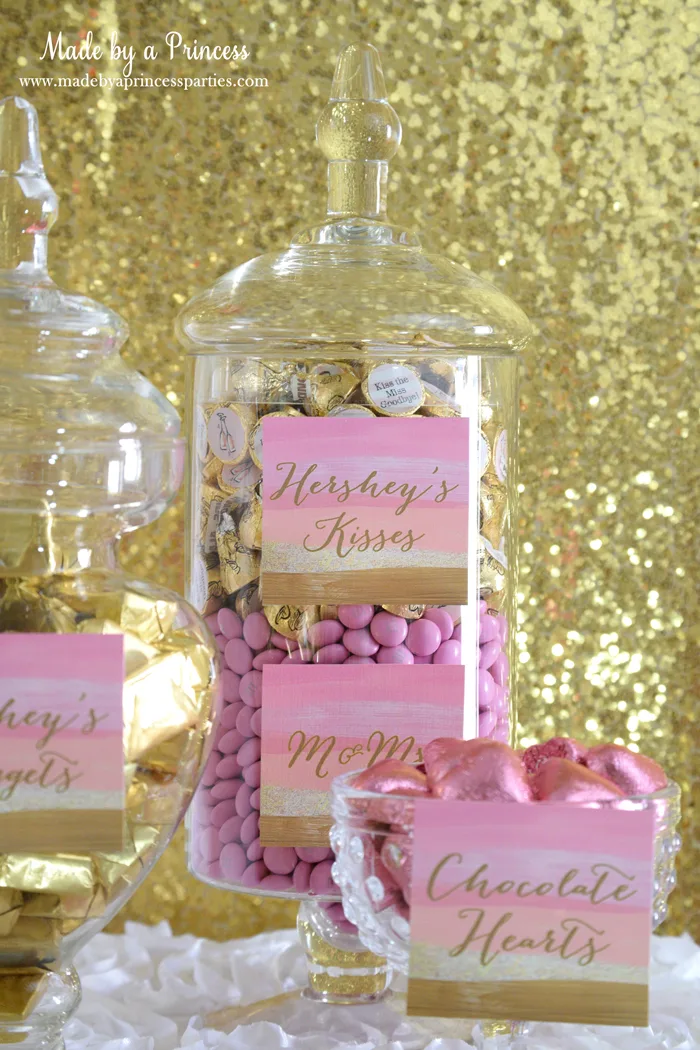 Jelly Belly Champagne Bubbles are the best! Definitely plan on adding these to your candy bar.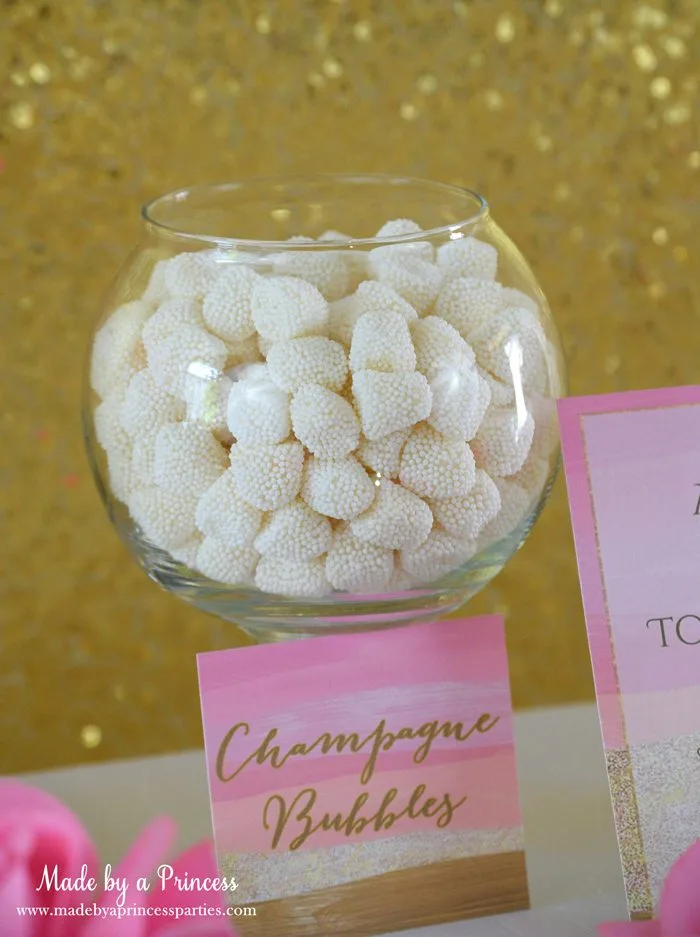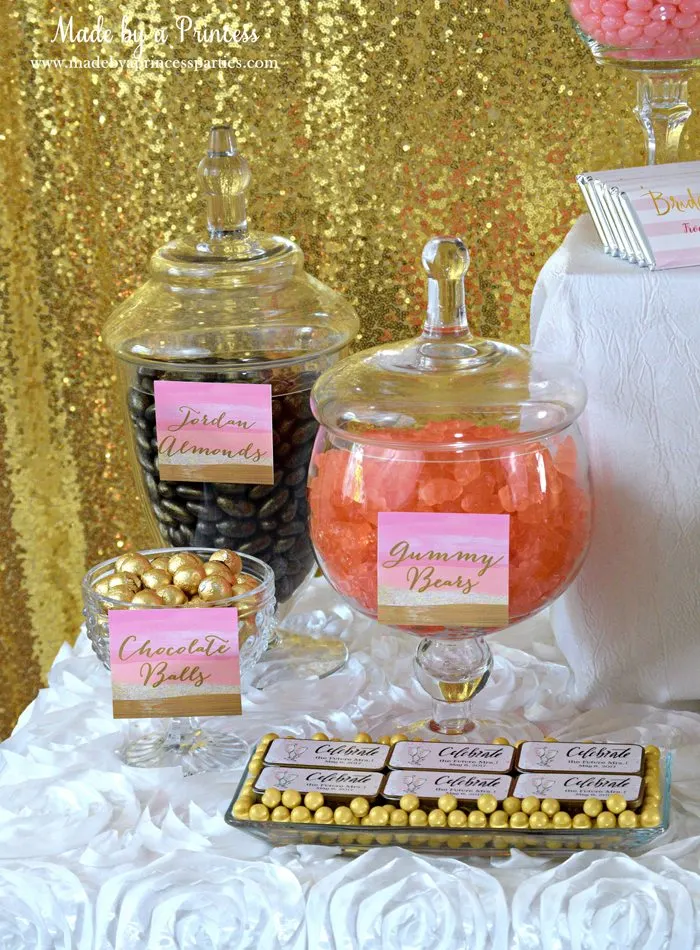 Simple decor like spray painted champagne bottles are all you need to fill in some space on a candy buffet table.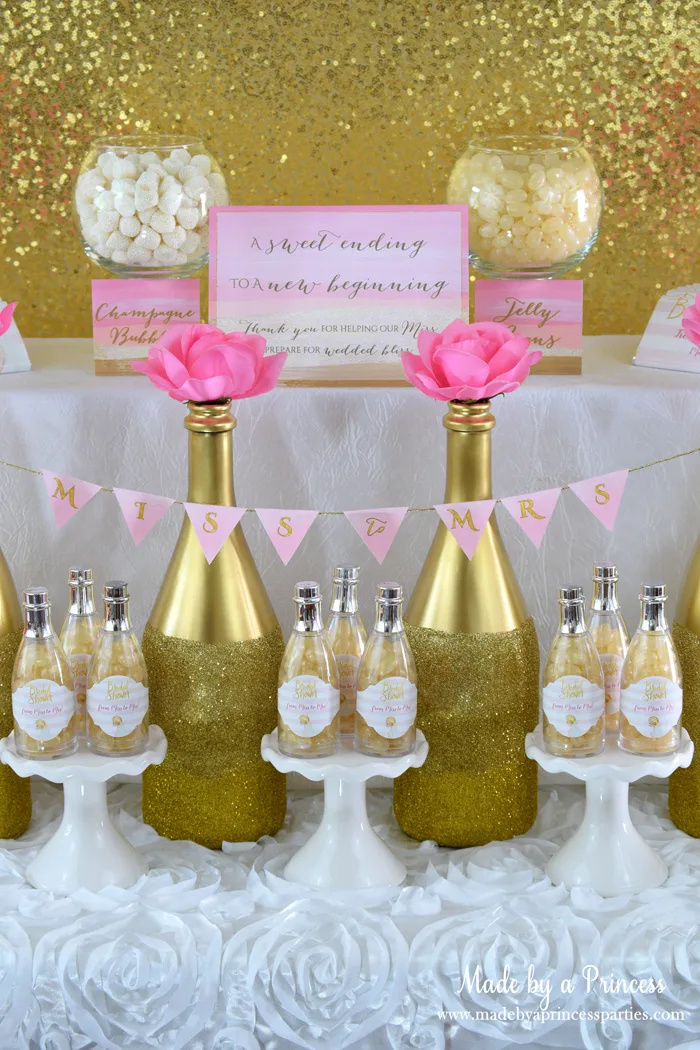 A simple sign completes the look and brings the theme together.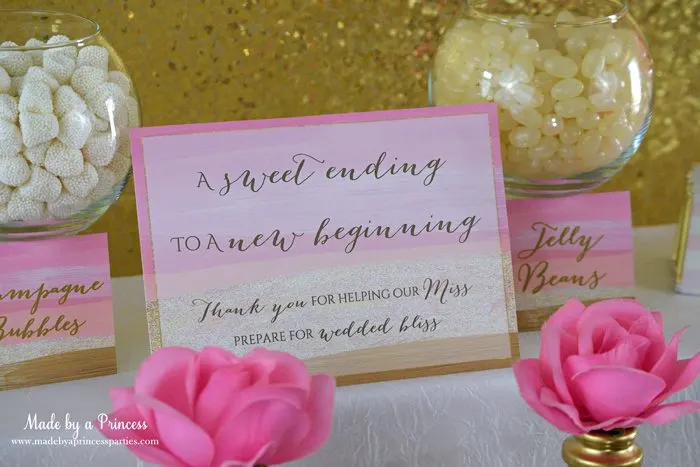 Matching watercolor bridal shower invitation is available on my website.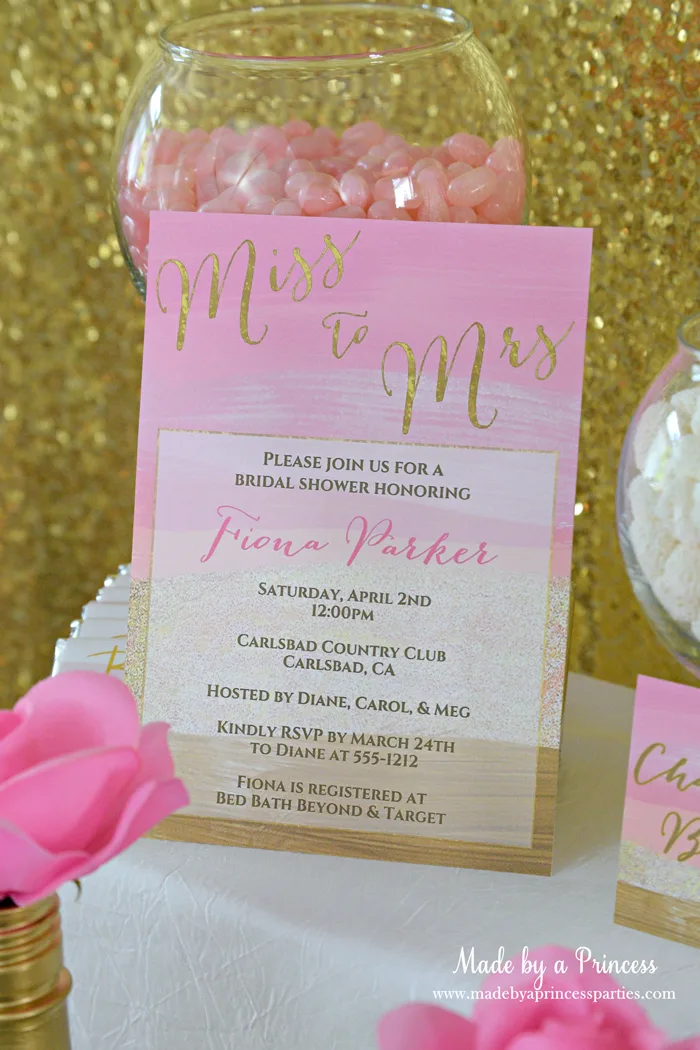 There is so much you can do with a Pretty Pink Gold Party Candy Buffet theme…have fun with it and get creative!
Download These Pink and Gold Candy Buffet Printables
Like all the printables you see here? Sign up to receive my newsletter and I'll send you the "Sweet ending to a new beginning" sign, food tents, and "Miss to Mrs" mini penant banner for FREE!