Need some food and decoration ideas for a St Patrick's Day Party Ideas for Kids? You don't have to break the bank to host a fun and inexpensive party this St. Patrick's Day. It all starts with green pancakes, fun crafts, and crock pot Irish coffee for the mamas!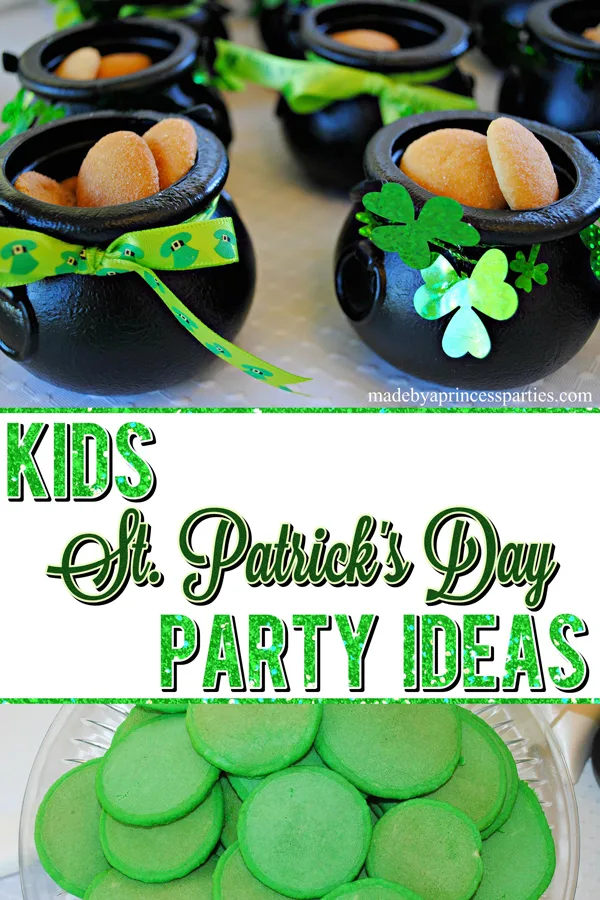 It's easy to throw a fun and inexpensive St Patrick's Day Party Ideas for Kids with a little planning and some leprechaun magic this March 17th.
*this post contains affiliate links
Kids St Patrick's Day Party Ideas
Five years ago I hosted a "Top o' the Mornin' St. Patrick's Day Breakfast" for some of our playgroup friends. We had about a dozen little friends and their mommies. I was so excited about this party because this was our first hosted event with this group and I love St. Patrick's Day! Not many people know this but we have a leprechaun named Liam who can be quite naughty St. Patrick's Day morning. I'll have to share some pictures of his escapades…
Cute St. Patrick's Day Invitation
I designed a cute St. Patrick's Day Invitation just for this occasion. Our family is big on St. Paddy's Day so I was really excited to be hosting a little get together to celebrate our Irish heritage.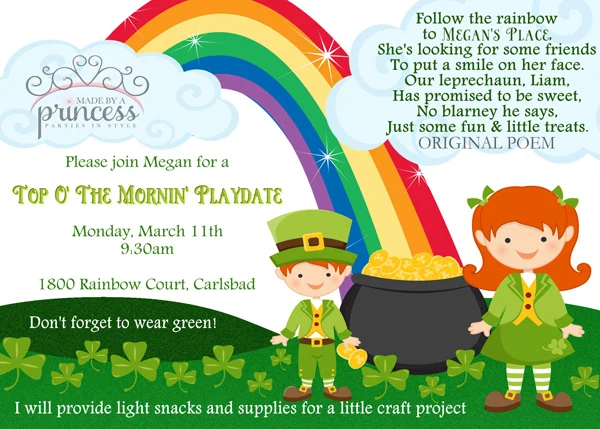 My daughter was just a wee bit excited for her party to start. She sat by the front door with a book anxiously awaiting her first guest's arrival.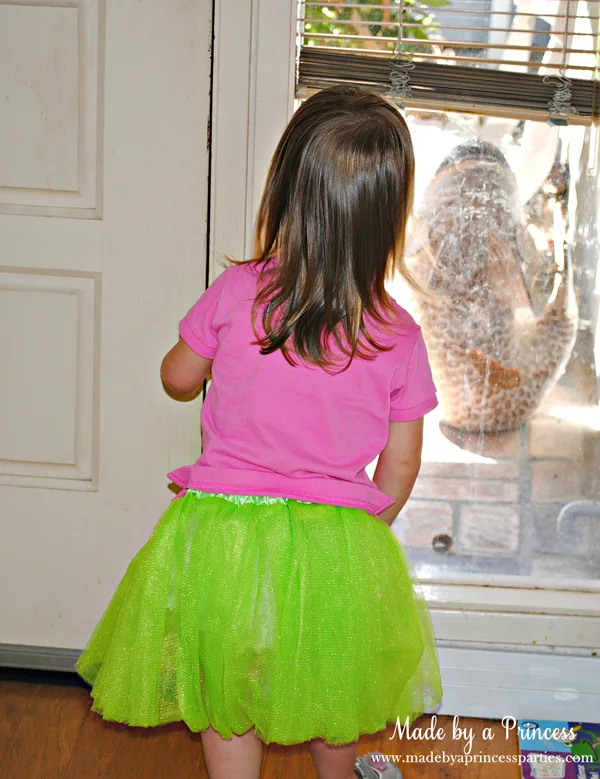 St. Patrick's Day Decorations
Sometimes the best decorations are right in front of you and you don't even know it. I found this roll of rainbow glitter wrapping paper at HomeGoods and just knew it had to come home with me. I didn't know at the time what I was going to use it for but as soon as I started planning this St Patrick's Day Party for the kids I knew exactly how I would use it.
This valance made from wrapping paper only cost $4 and was so easy. Measure how long each piece needs to be both in length and width, cut, and secure to window frame with painter's tape.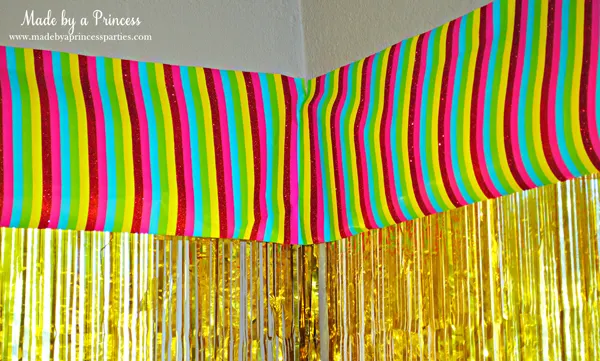 Dollar Store St Patrick's Day Party Decorations
Many of the items I used were found at one of my favorite places, The Dollar Tree. You can find some amazingly great stuff there! Here are just a few things I found at the Dollar Tree:
Green foil runners on the coffee bar were from a roll of wrapping paper foil
Vintage looking pedestal bowls and cake stands were simply candlesticks glued to the bottom of glass bowls and plates
Irish coffee mugs and shamrock garland
Serving spoons and forks were plain silver before I glittered them
Glitter Banner
I love glitter. Love love love glitter. I would glitter #allthethings if I could. Years ago I found a great resource for cardboard letter and number cut outs so I went on kind of a glitter banner kick. This "LUCKY" glittered letter banner was made using Rust-Oleum Spring Green spray paint and fine green glitter.
Party Princess Tip: If you plan on using the banner again I suggest spraying it with a coat of glossy sealant. It will not be quite as shiny but it will last longer and still be really pretty.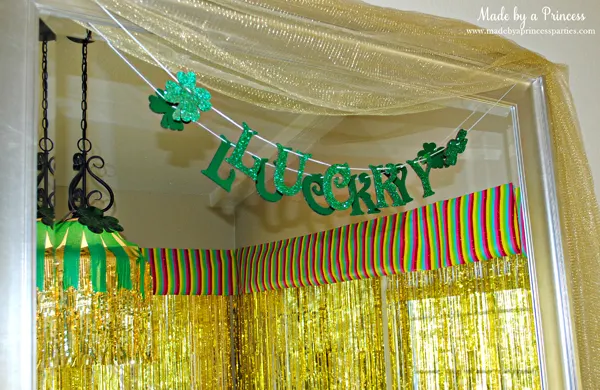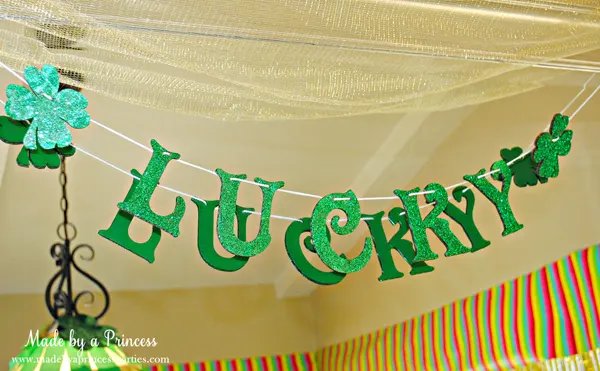 St Patrick's Day Party Food Ideas
Kids are on the go during parties so serve them something they can grab and eat on the run. Here's a sample menu for your St Patrick's Day Party for Kids:
Rainbow Fruit Platter
Mini green pancakes
St Patrick's Day Chex Party Mix made with Lucky Charms
"Pots of Gold": Nilla Wafers served in plastic cauldrons
Lucky Charm Cereal
Mint Crinkle Cookies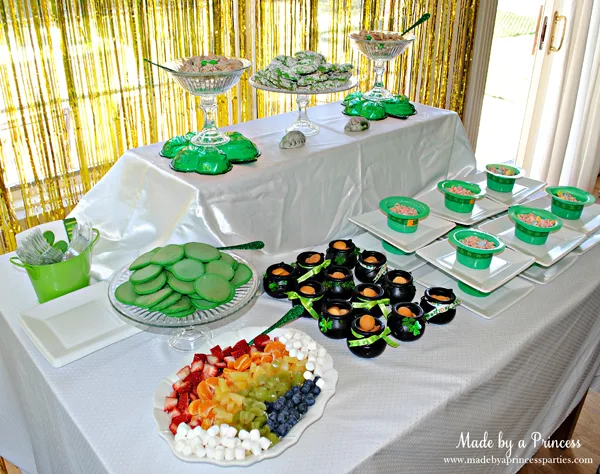 Lucky Charms in Leprechaun Hats
The kids loved these! To prevent a floor full of charms I hot glued the leprechaun hats onto a paper plate. All items came from the dollar store by the way. I told the kids the leprechaun must have left his hat collection and they totally believed me 🙂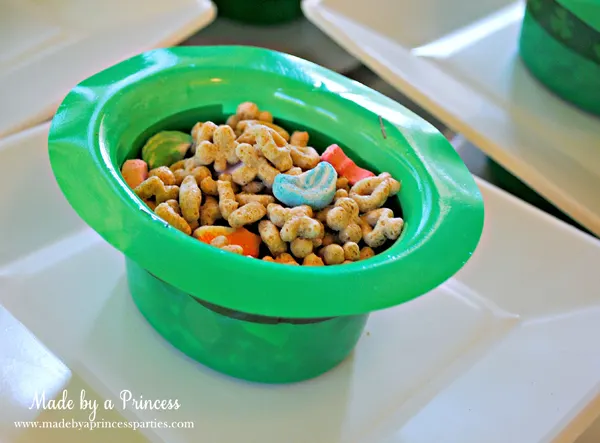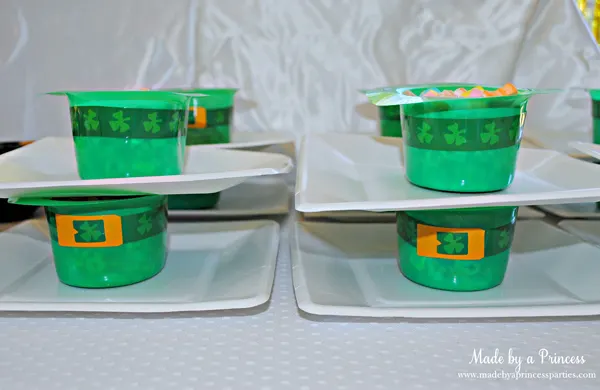 Nilla Wafer "Pots of Gold"
Mini Nilla Wafers look like little gold coins to me so it seemed fitting to stick them in mini black cauldrons.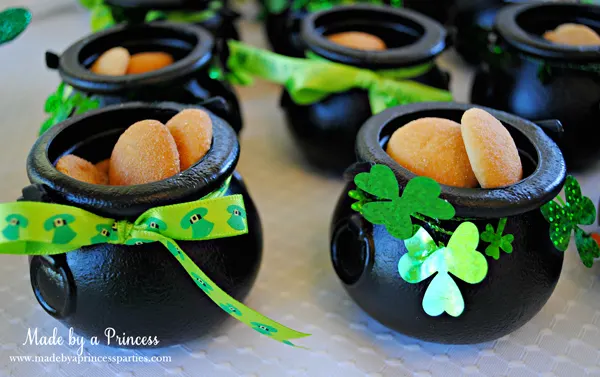 St. Patrick's Day Chex Mix
There are all sorts of names for this delicious treat: Chex Mix, Puppy Chow, Muddy Buddy, Leprechaun Bait, & Pot of Gold but whatever you call it your guests are going to love it! To make a bowl of Puppy Chow you need a big box of Rice Chex Cereal, white chocolate baking chips, butter, peanut butter (optional), powdered sugar, Lucky Charms cereal, and green M&Ms. Melt the butter, chocolate chips, and peanut butter, toss gently with the Rice Chex, and slowly add Lucky Charms. Toss with powdered sugar, add M&Ms, and spread out on a large cookie sheet until the wet ingredients are dry to the touch. You can store the mix in a ziploc bag or airtight container for a couple weeks.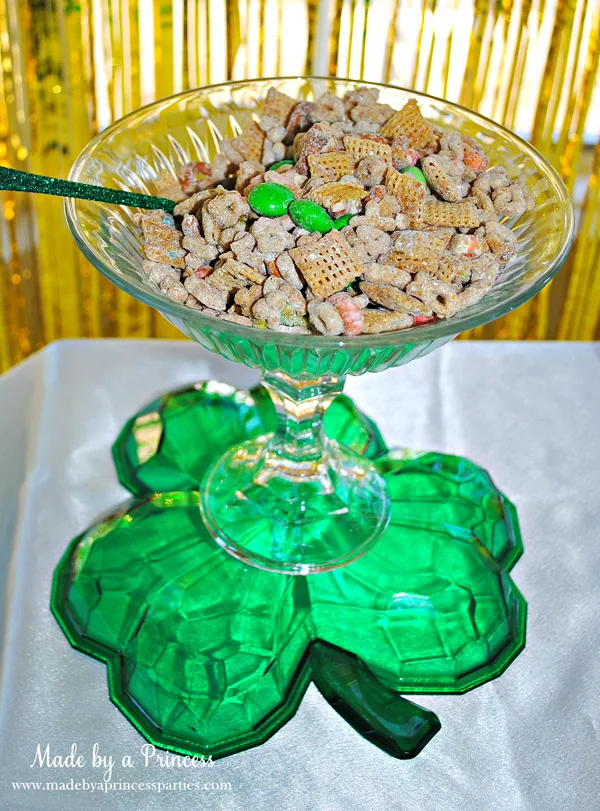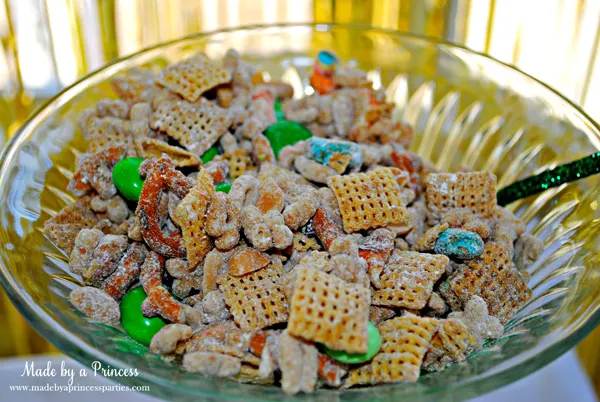 Mint Crinkle Cookies
These are so good and so easy! All you need to make these is a box of cake mix, oil, eggs, powdered sugar, green food coloring, and mint extract if you want to make them minty.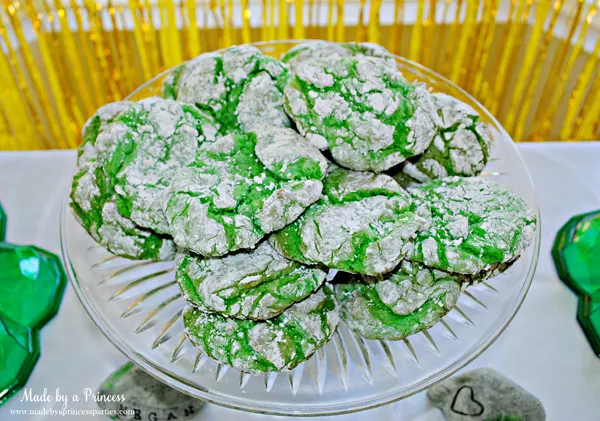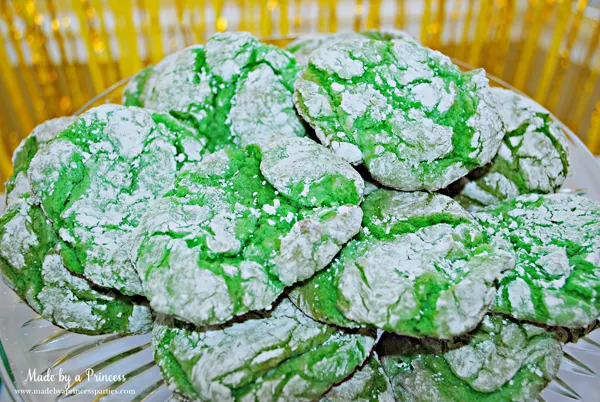 Mini Green Pancakes & Rainbow Fruit Platter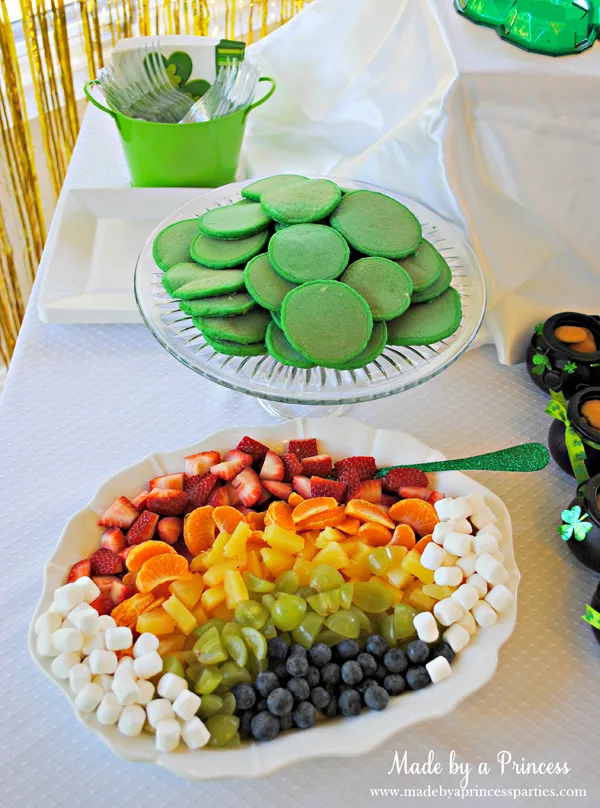 Who doesn't love mini pancakes?! These can be made ahead of time which is perfect when hosting a party. Just add green food coloring to pancake batter until you reach the desired shade and cook as directed. Store in a ziploc bag or airtight container in the refrigerator until you need them. Pop in the microwave for about a minute and serve warm.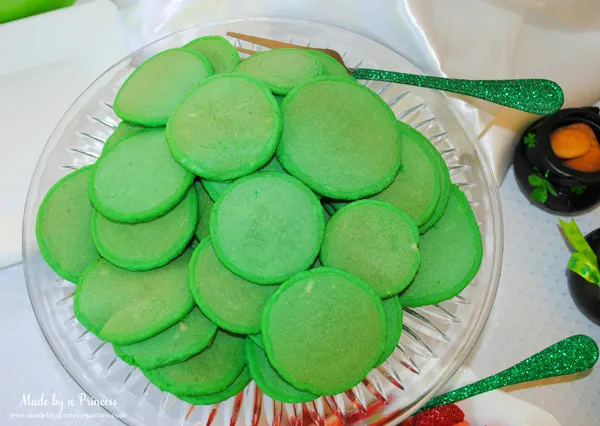 I think the kids liked the fruit rainbow the best. It won't come as a surprise to hear that the marshmallows were devoured first. There's just something about kids and marshmallows!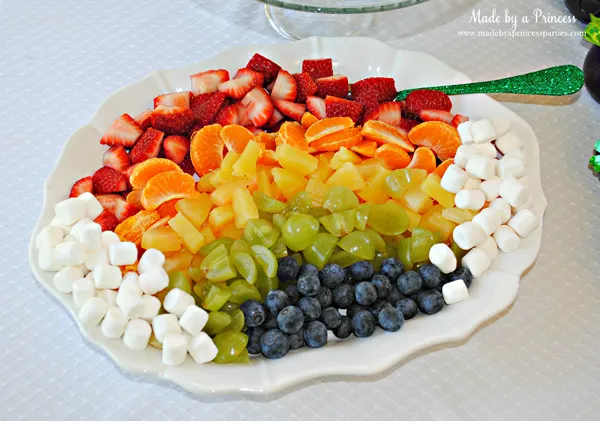 Crock Pot Irish Cream Coffee
While I do love a traditional Irish Coffee I needed something a little less time consuming so I put together a crock pot Irish Coffee. The moms seemed to really like the Irish cream coffee….even mommies need a splurge once in awhile! One of the moms, not a fan of coffee, really liked this coffee because it tasted more like hot cocoa.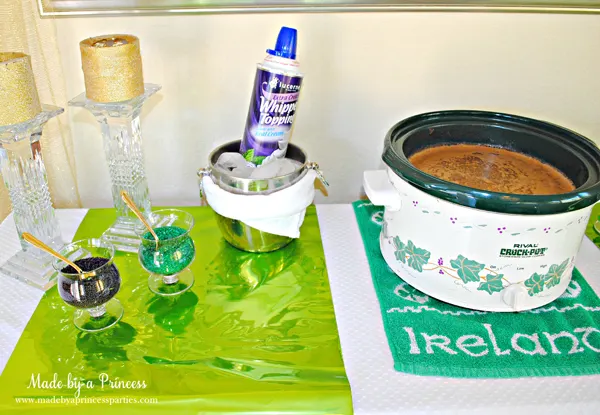 Glasses, garland, and foil runner all came from the dollar store.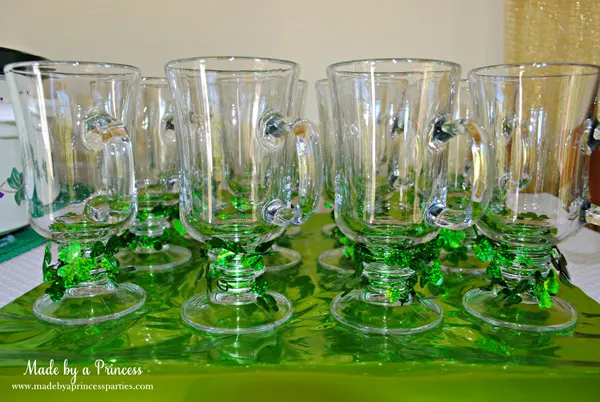 This crock pot Irish Coffee was topped with whipped cream, dark chocolate sprinkles, and green sugar crystals…yum!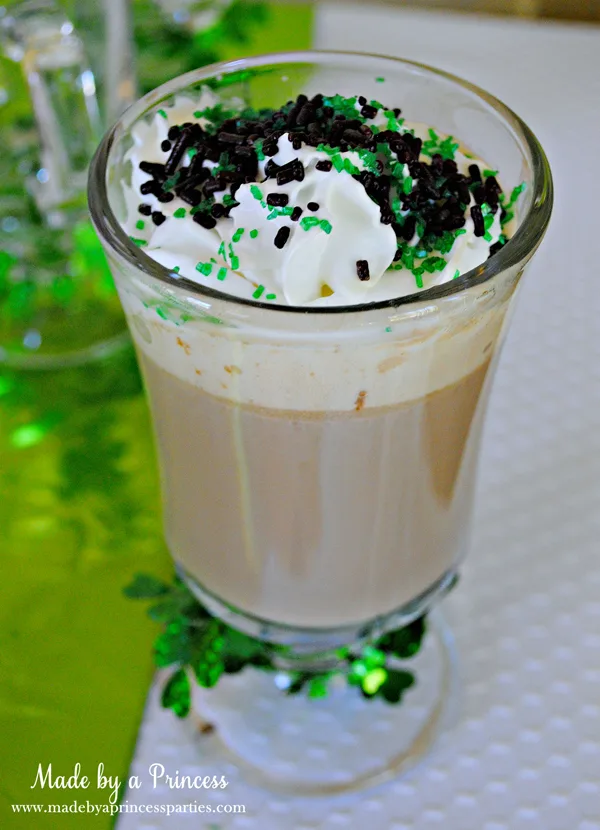 St. Patrick's Day Crafts for Kids
I wanted to do a craft with our new friends so I bought glitter paint at Michael's and cut a few poster boards from Dollar Tree into 8×10 and 5×7 sheets. I also cut some bell peppers in half (took the seeds out) because when cut they look like shamrocks. The art station was a huge hit and I loved seeing all those little rainbow fingers!
This is a really easy craft to do even with a bigger group. It's pretty inexpensive too. A 6 pack of glitter paint was $5.99, the paint brushes were $5, the poster board was $1.50 and it made a bunch of sheets, the bell peppers were on sale so I think they were $2, and I made the pots and coins with my Silhouette Cameo with black and yellow paper I had on hand.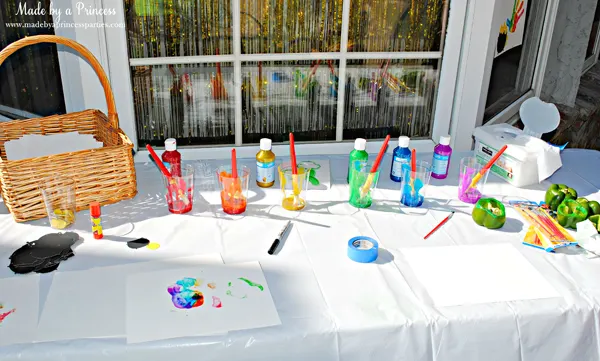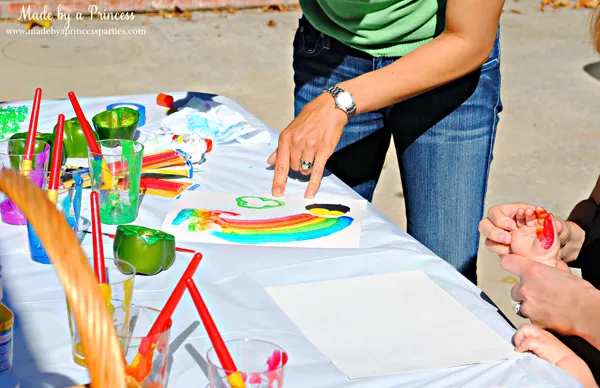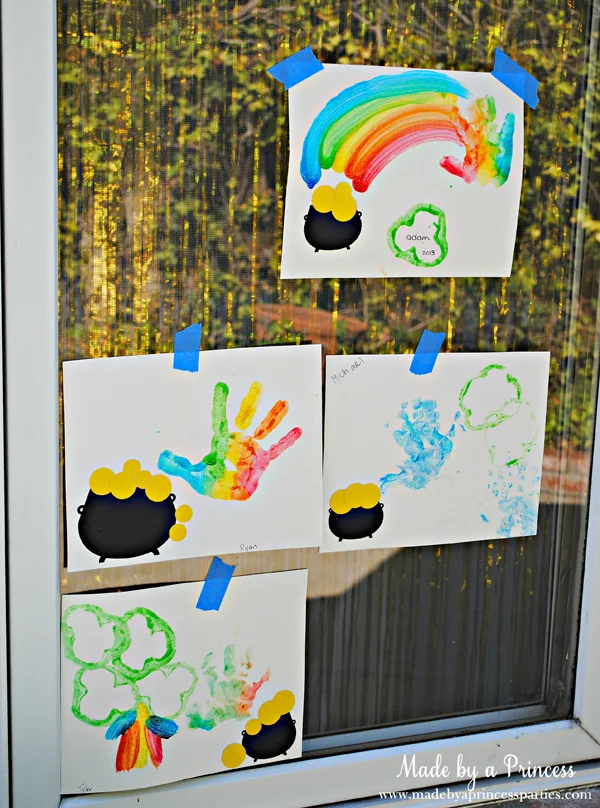 How sweet is this little rainbow hand?!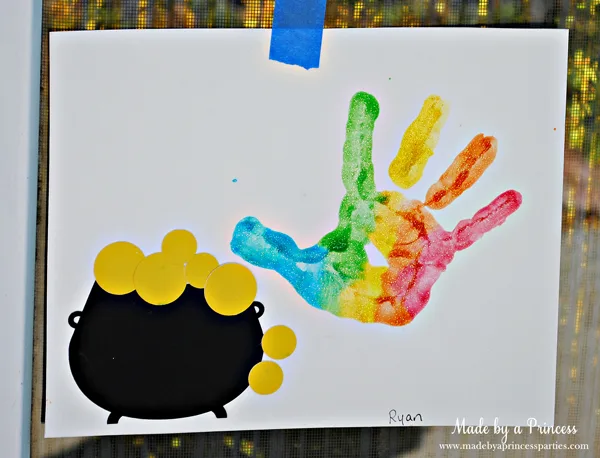 The art project was a big hit and everyone went home with something to remember our day together. Aren't those little hands the cutest?!
Happy St. Patrick's Day!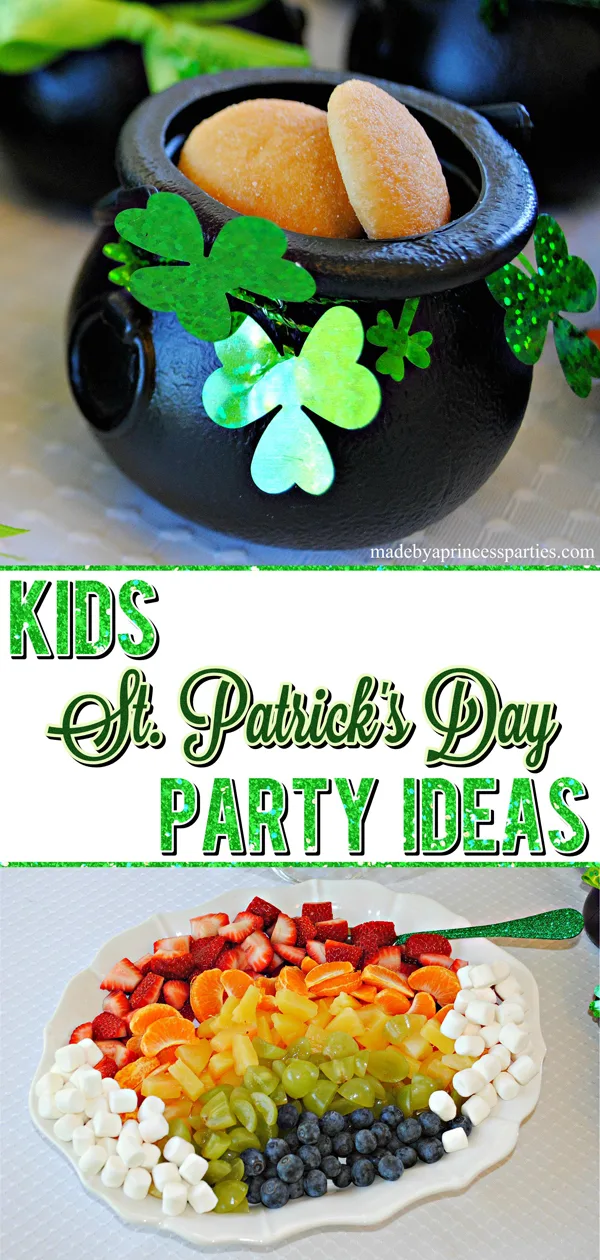 originally published: 3/12/13
updated: 3/11/19