Throw the ultimate unicorn party with some of these unicorn party ideas!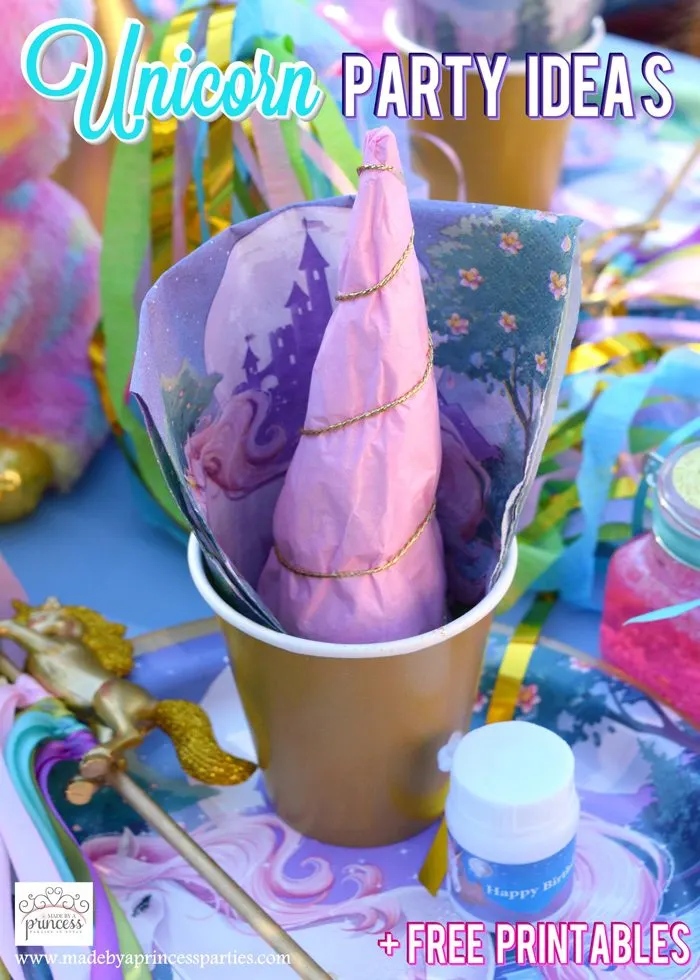 Unicorn parties are so much fun to plan. There is so much you can do with this theme: rainbows, unicorn tails, party hats that look like manes, magical treats, and bright dreamy colors. I'm sharing tons of Unicorn Party Ideas with you today and have included a bunch of free printables.
*This post does contain affiliate links.
Unicorn Party Ideas
I was so excited to create this photo shoot for Birthday in a Box because I adore everything about unicorns. I had visions of my daughter and her friends prancing around like little fairies until my daughter said they absolutely needed manes and tails that looked like a rainbow with gold streamers…because, you know, that's what unicorns have. She had an idea and wanted me to run with it; I get it. I wonder who she gets that from?!
Unicorn Party Backdrop Idea
This backdrop was easy to put together, took more time than anything. You need plastic table covers in multiple colors (I used pink, lime green, blue, and purple) and cut them into strips about 8″ wide. I have a photography set up and use it a lot in photo shoots and parties and when I create a backdrop like this I cut slits about 2″ from the top of the table cover and thread it through like a curtain on the rod.
Once you have all the strips of table covers on the rod attach gold fringe curtains (I used three I think) to the back with tape. Use good packing tape because if you use cheap stuff it will peel right off. Trust me.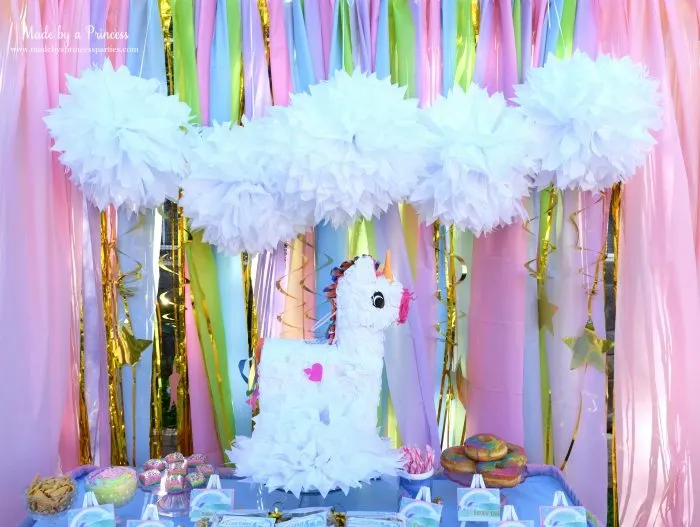 To make the "clouds" I used white paper pom poms and attached gold stars to them. If I were going to transition this party to an evening event I would string twinkle lights across the top and then another around the table.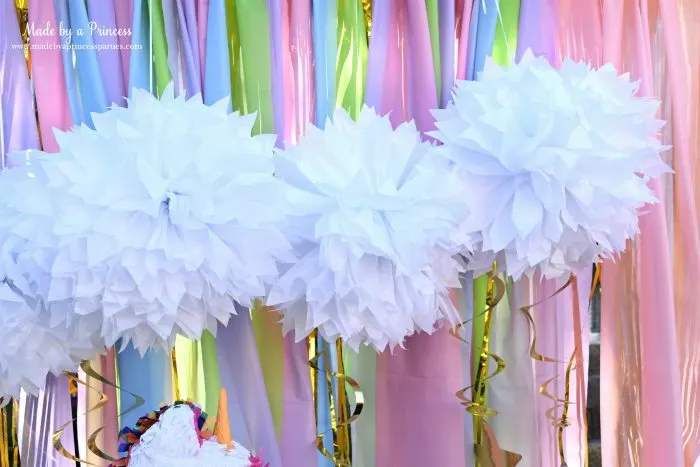 DIY Ruffled Tablecloth
I really love ruffled tablecloths but they can be expensive so I created my own ruffled table skirt by layering three colors and cutting the bottom of the top two. I heard you can get rid of wrinkles in plastic table covers by tumbling them in the dryer on low heat for a few minutes but I have yet to test that theory. If you try it please let me know how it turns out.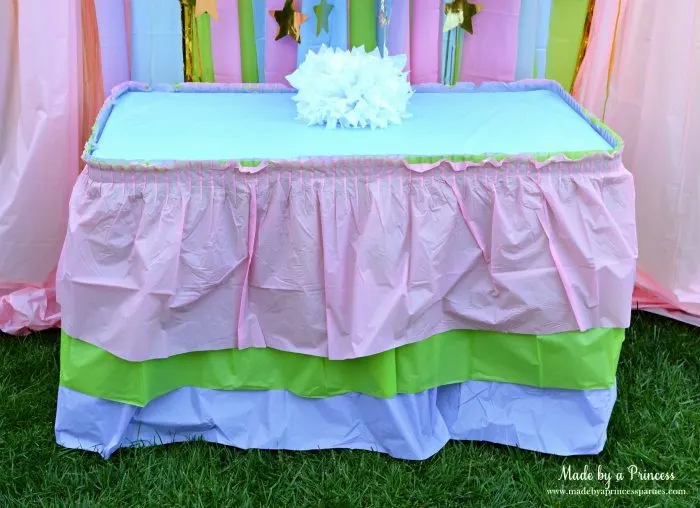 I've said it many times before…I love themed food! I made A LOT of food for this photo shoot and have shared some of the tutorials on my blog.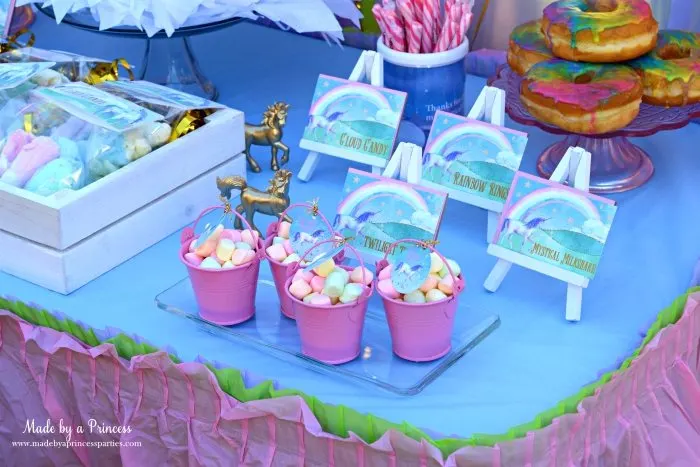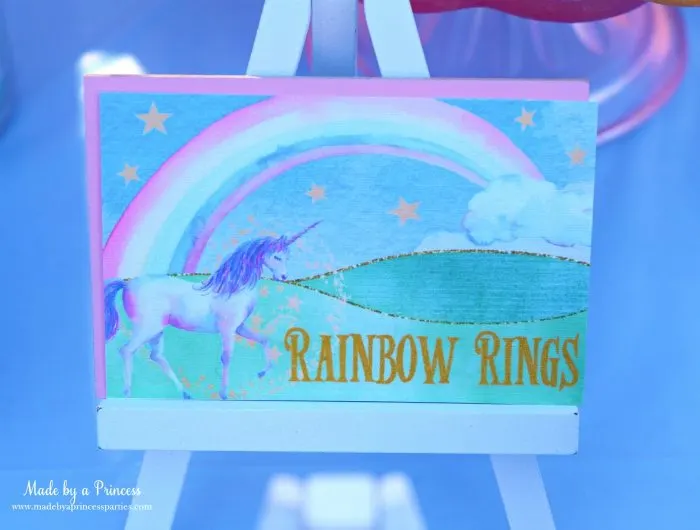 DIY Rainbow Donuts
I would be making these again! I love how they turned out and how vibrant the colors are. You can find out how I did it by hopping over to my Rainbow Donuts Party Food Tutorial.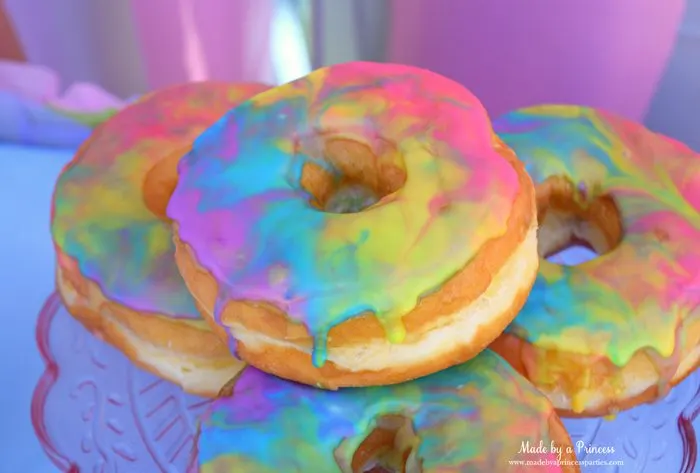 Unicorn Poop Party Favor
I used mini rainbow marshmallows for Twilight Treats (aka Unicorn Poop) and put them in cute little pink buckets. The free printable can be found below.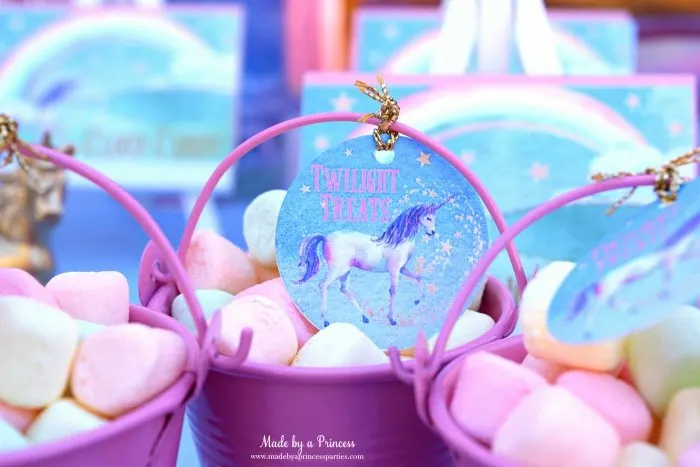 Unicorn Cotton Candy
Add a little sparkle to your bags of cotton candy! I sprinkled Wilton Edible Gold Stars in the bags filled with cotton candy and then stapled custom "Cloud Candy" toppers I designed to them. The free printable can be found below.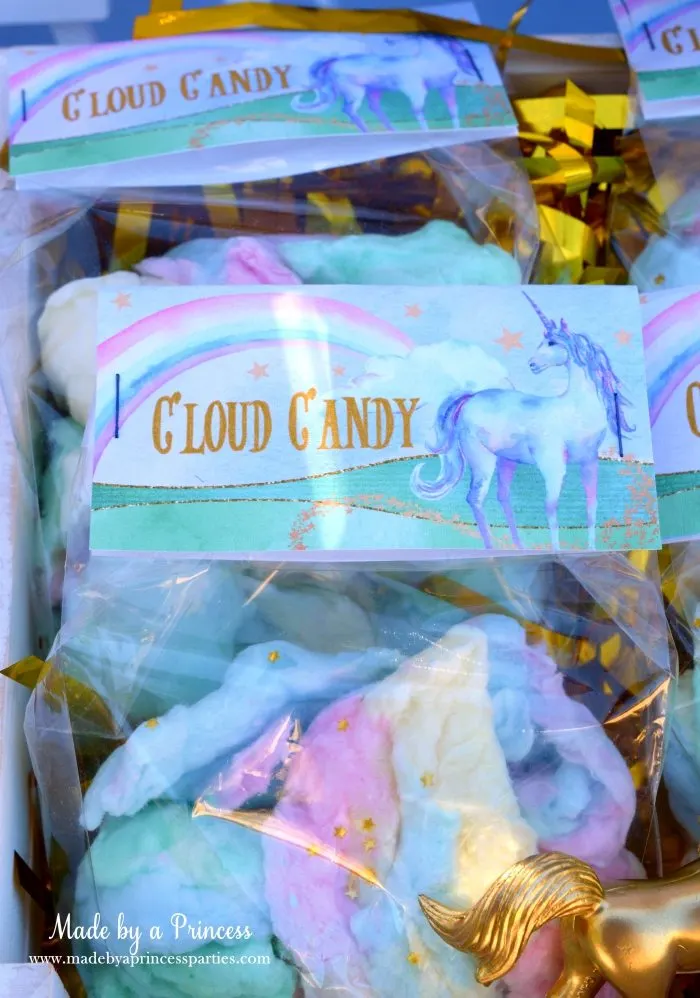 Homemade Rainbow Fudge
I have to admit this was my most challenging project. They were mushier than they were supposed to be but I still think this rainbow fudge is pretty cute. I decorated with tiny sprinkles I purchased at Easter then sprinkled with the same gold stars sprinkles as I used in the cotton candy bags.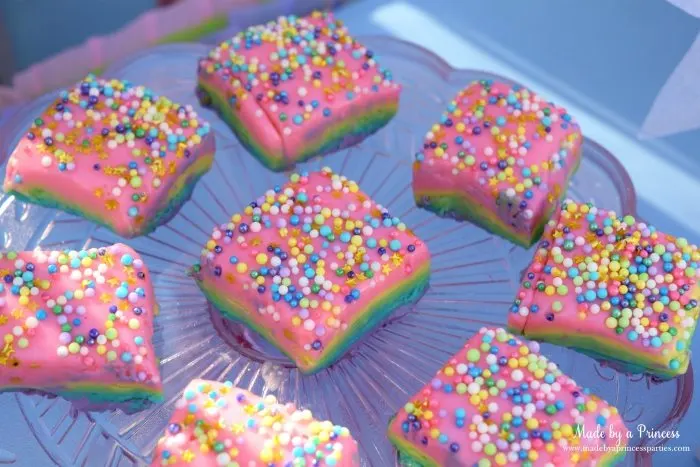 Unicorn Marshmallow Dip
Many years ago a cousin made this marshmallow fruit dip and I loved it. I have made it several times since but decided to add a rainbow twist to it for this unicorn party. You can get the recipe and how to for my Unicorn Rainbow Party Marshmallow Dip here.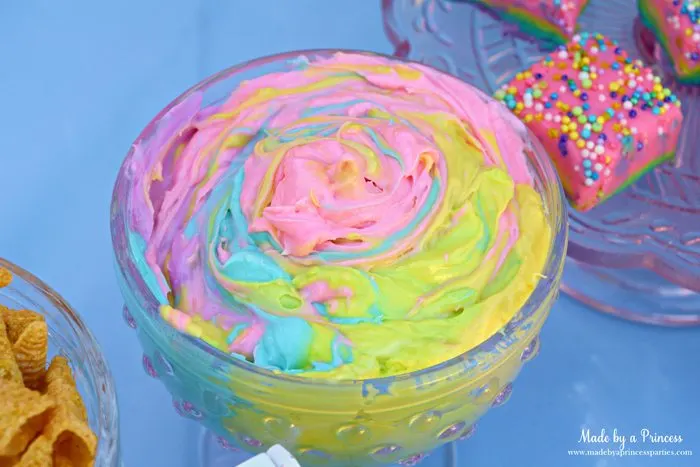 Mugs are not just for drinking but also for holding candy sticks. They make great favors too.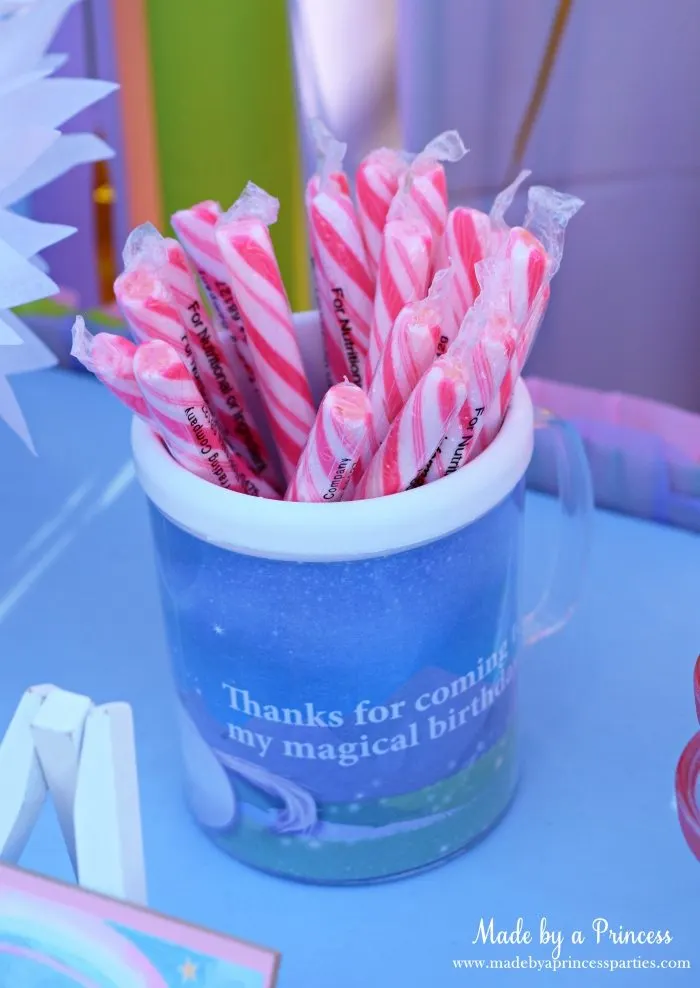 Spray Paint Giant Balloon
I have this thing with Rust-Oleum gold spray paint. I love it. Like really really love it and I use it a lot. I had a white #6 birthday balloon but I wanted to make it match the decor so I spray painted it. Yes, one more thing you can add to your list of "stuff I didn't know I could spray paint". Can you buy a gold #6? Yes, I'm sure you can but when all you have is white and it simply must be gold you improvise.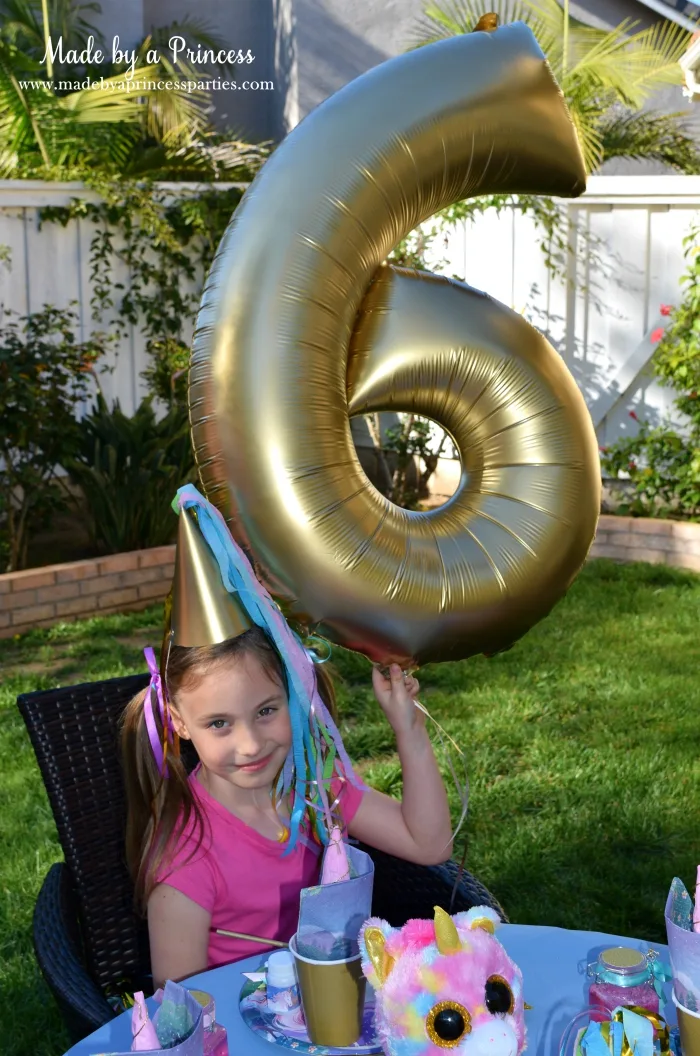 Stuffed Animals as Party Table Centerpiece
Stuffies aren't just for cuddling, they make really cute centerpieces too. This cute little Unicorn Beanie Boo is the perfect sized centerpiece.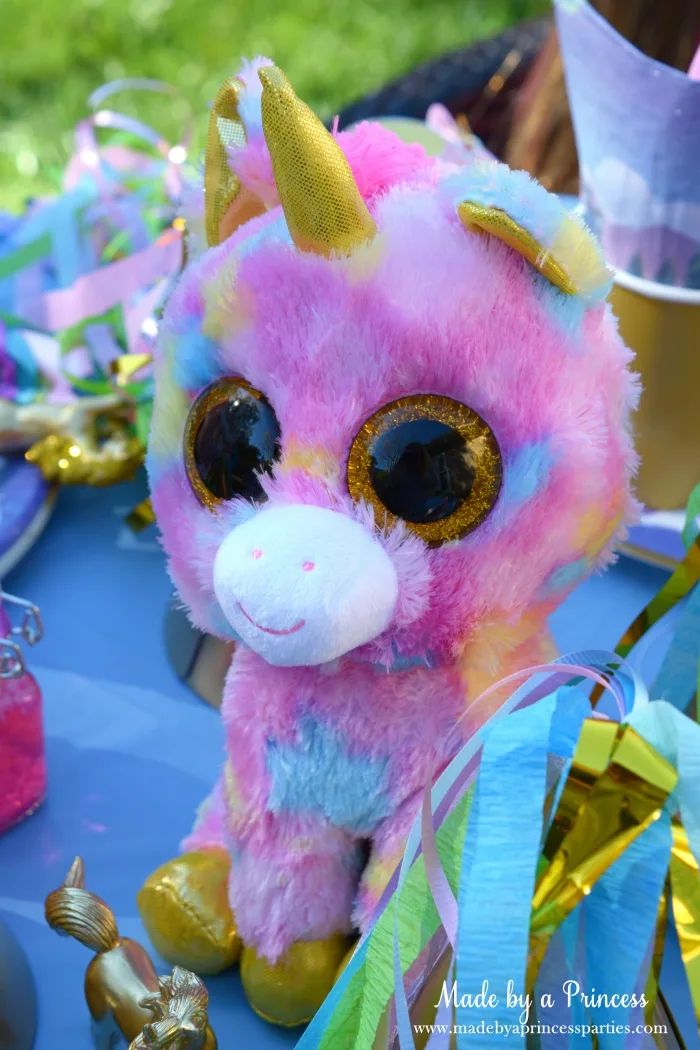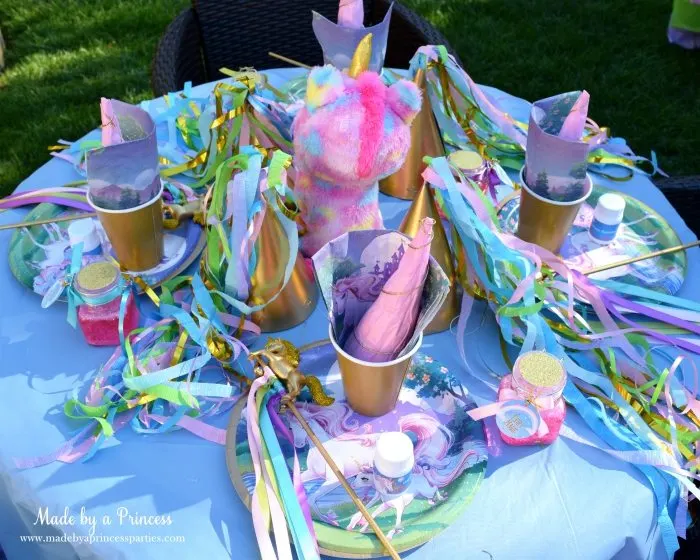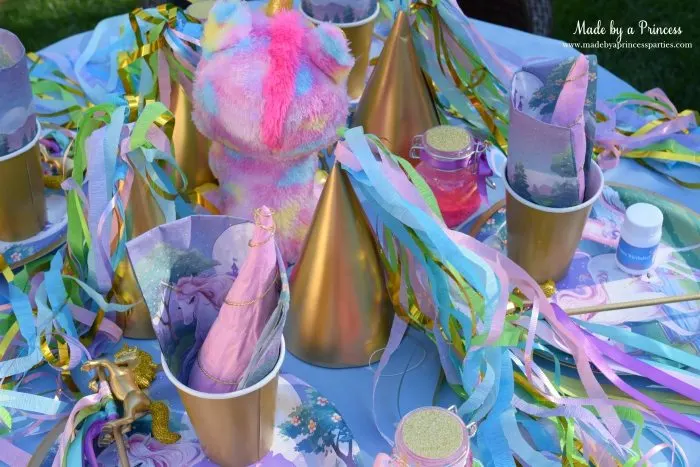 Unicorn Popcorn in Unicorn Horn
I made unicorn popcorn (it's very similar to this Valentine's Popcorn but in rainbow colors). Put popcorn in a cone cello bag, wrap in it pink ombre tissue paper, and then tie a gold cord around it to look like a unicorn horn.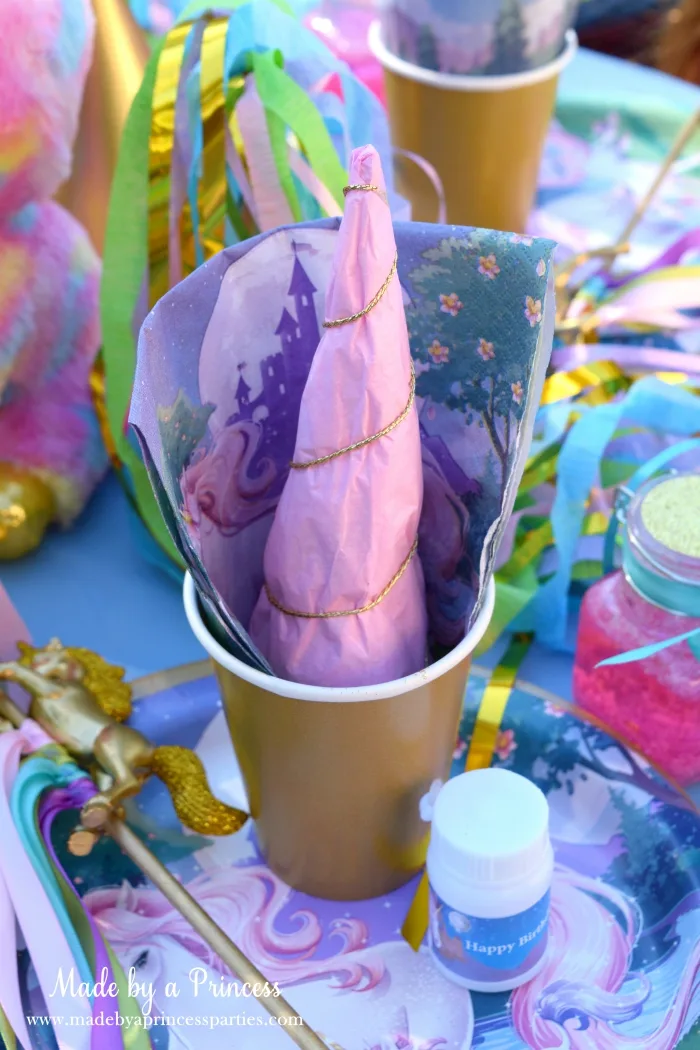 Spray Paint Party Hats Gold!
Would you believe I spray painted these party hats? I sure did! You can find out how to make these Unicorn Princess Party Hats here.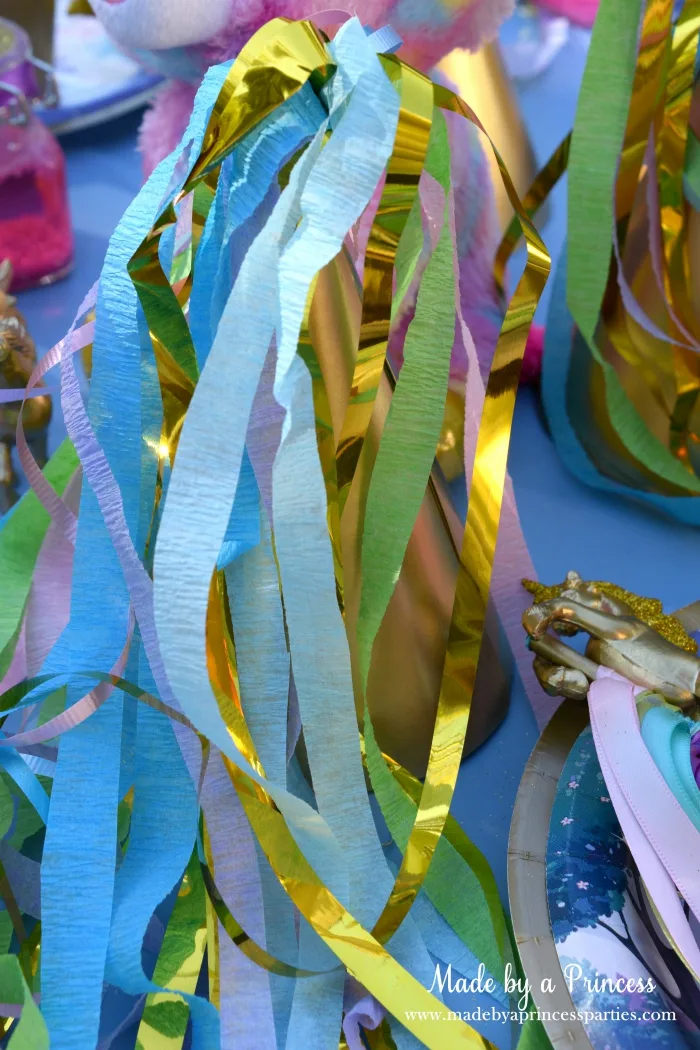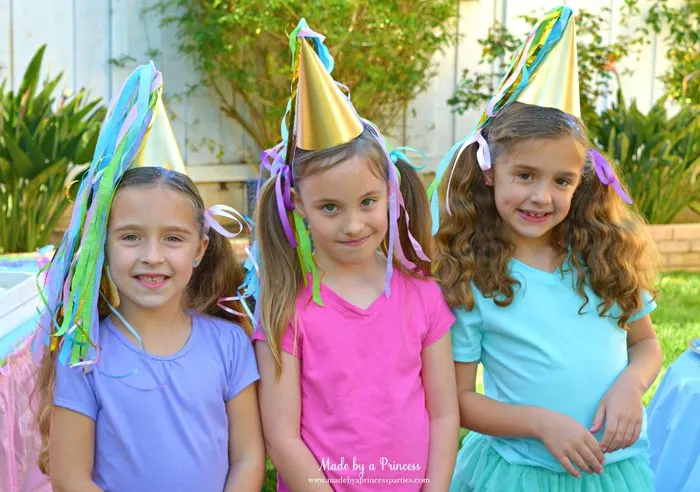 DIY Unicorn Tails
Don't forget the rainbow tails! You can find out how to make these Unicorn Tails here.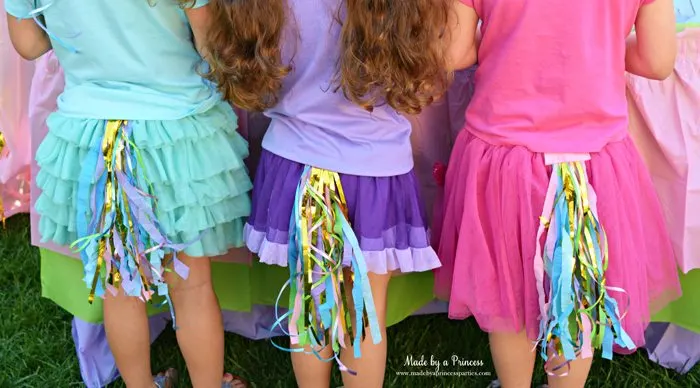 Glitter hair don't care? This was my favorite party activity because it was super easy and it looked so pretty! Find out how to Glitter Hair Tutorial.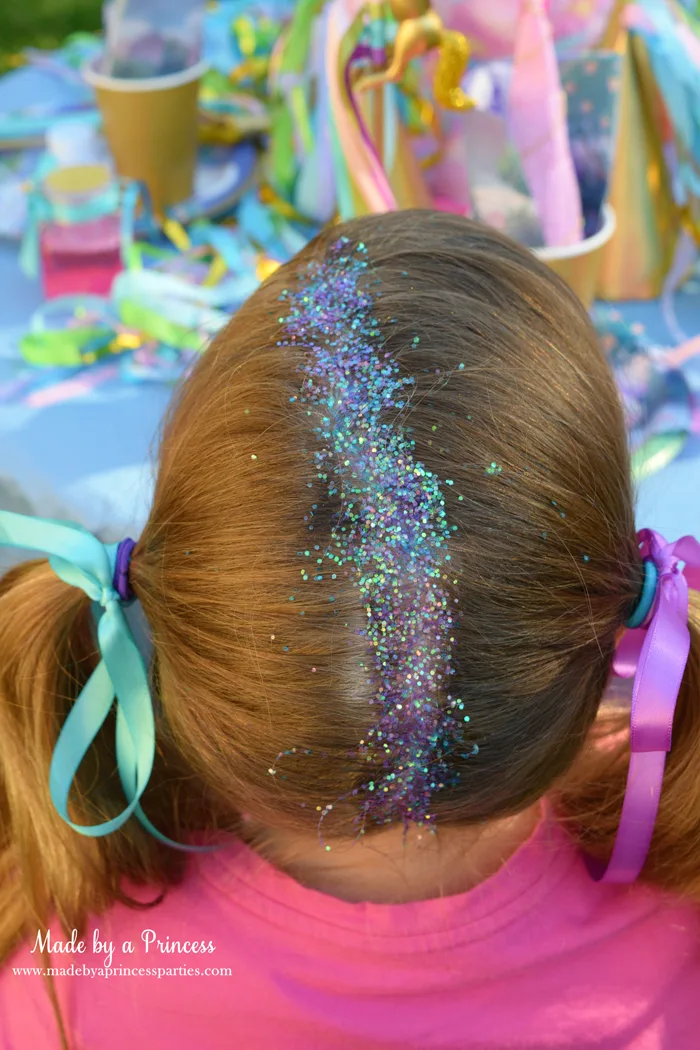 Rainbow Rock Candy
Pretty sure this is my favorite original party idea! I have a bunch of rock candy in a box I use for props and while I was putting them away I noticed that they looked like unicorn horns if you turn them upside down.
I snipped the stick off and decided that they were entirely too plain to be magical unicorn horns though. You can find the Original Rock Candy Unicorn Horn tutorial here.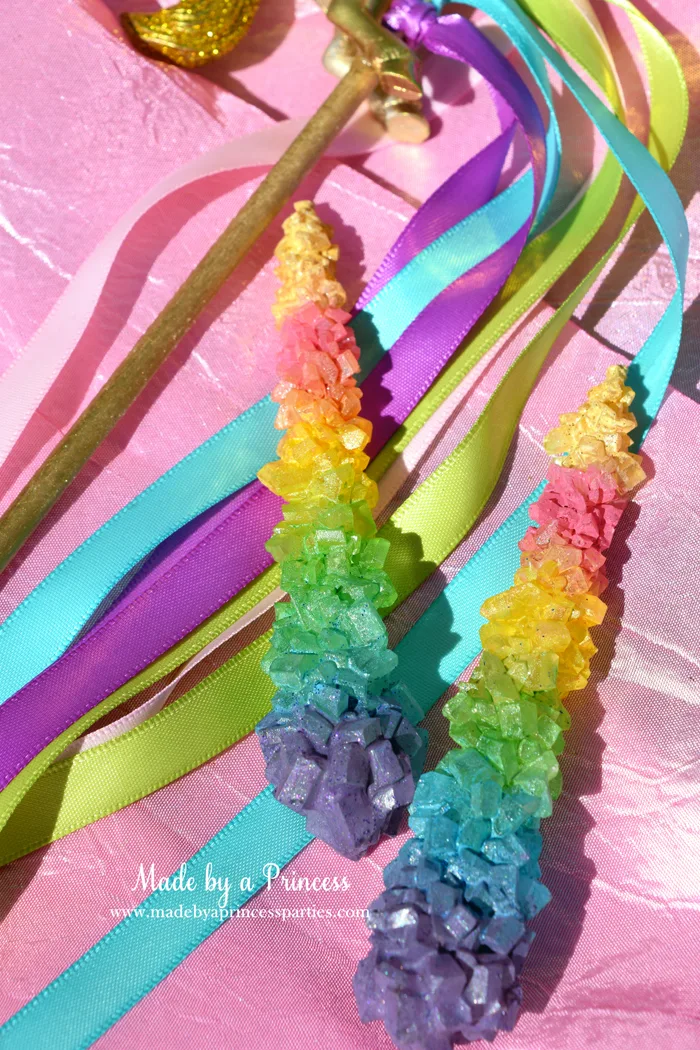 Unicorn Milkshakes
The girls went nuts for this unicorn milkshake. It was so fun to put together and their squeals of joy were so worth it! You can get my Cotton Candy Unicorn Milkshake Recipe here.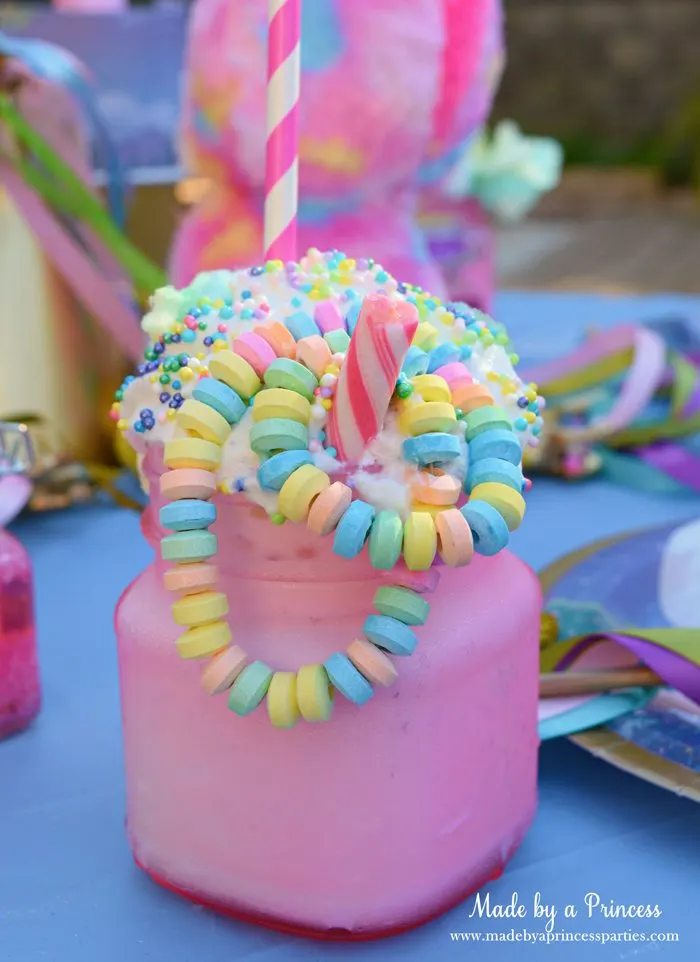 DIY Glitter Fairy Jars
If you are looking for a fun and easy party favor I would highly suggest making Fairy Magic Jars. You could totally turn this into an activity and have each guest make their own too which would be a lot of fun. You can find the Glitter Fairy Jar tutorial here.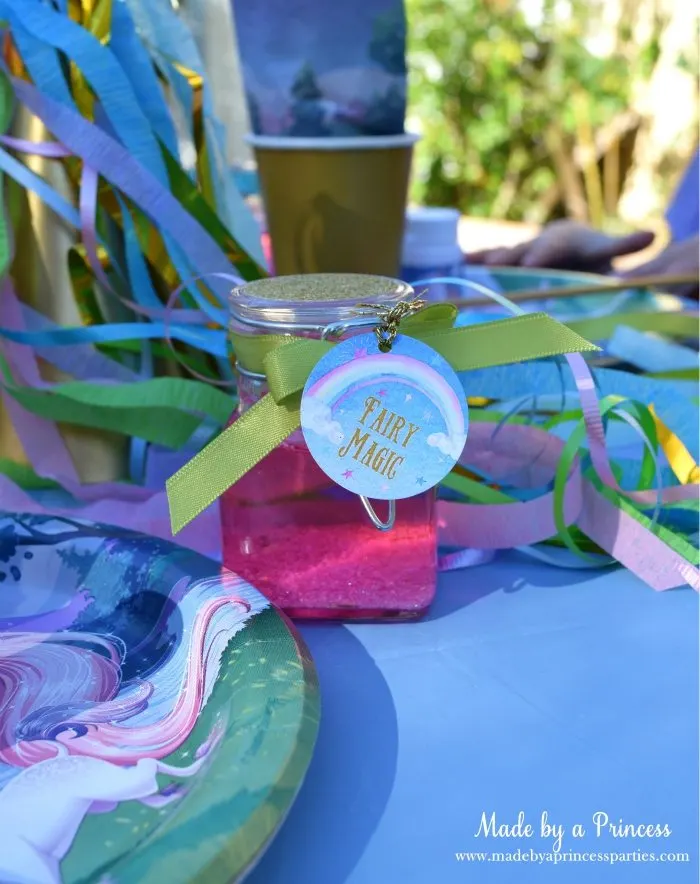 Unicorn Ribbon Wands Party Favor
Sometimes I try something just to see if I can do it and that's what happened here. I had an idea about unicorn wands and just had to see if I could pull it off. These take bit of work (and more gold spray paint) but the girls loved them so it was totally worth it! You can find the Unicorn Ribbon Wand tutorial here.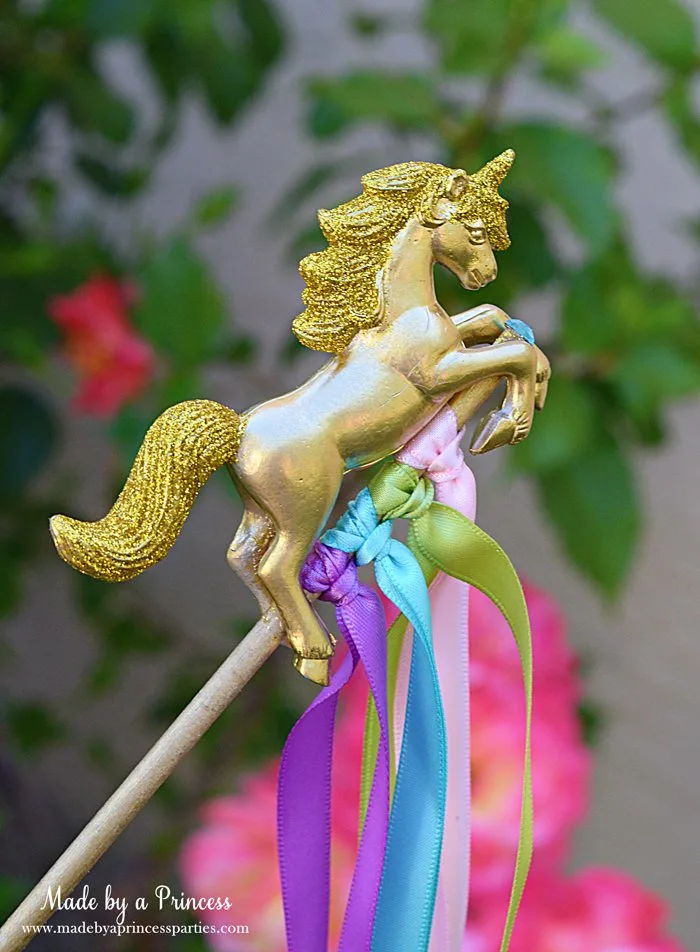 Since every party must have an invitation I designed one to match the colors and feel of this party which you can purchase in my online shop, Parties in Style.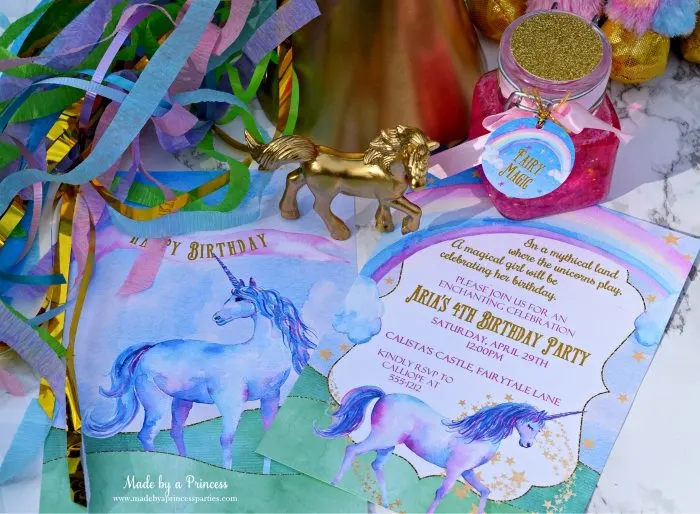 I hope you found some ideas here in my Unicorn Party Ideas post. I would love to hear from you if you do decide to use any of them at your next unicorn party. You can find lots of unicorn party supplies as well more about this party at Birthday in a Box.
FREE Unicorn Party Printables!
Want the unicorn food tents, candy toppers, "Twilight Treats" and "Unicorn Magic" printables featured in this post? Join my Made by a Princess Castle Community and have access to my secret VIP (Very Important Princess) resource library. There you will find all of my party and holiday printables!