Start your day on the sweet side with a Valentine's Day breakfast filled with love…and heart shaped waffles!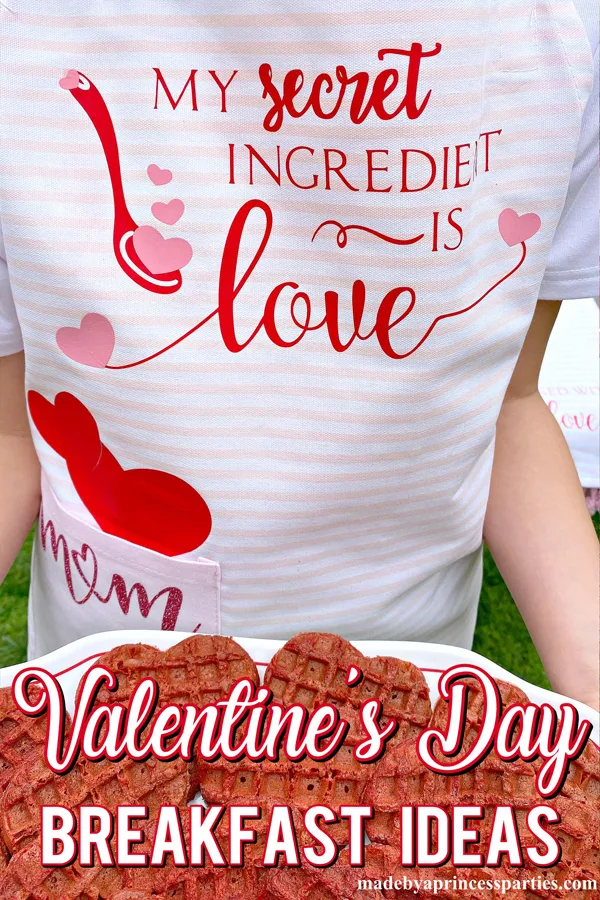 Make your day a little sweeter with these easy Valentine's Day breakfast ideas. Pink milk, heart shaped strawberries, and red velvet waffles made in a mini heart shaped waffle maker are the perfect way to start the day with your loves.
Valentine's Day Breakfast Ideas
Make red velvet heart waffles, turn the milk pink, and cut the strawberries to look like hearts and your kids will think you're the Queen of Hearts!
Target Valentine's Day Finds
Target always the cutest holiday items and this year's collection did not disappoint. Hit up your local Target and you will find so many cute things. Look for:
Valentine cards
Heart plates
Heart place mats
Glitter tumblers
Kitchen towels
Heart detail serving trays
Glass pitcher with hearts
Ceramic bowls with heart cutouts
Pink striped apron
This whole Heart Day breakfast was inspired by the items I found actually. Since getting my Cricut Explore Air 2 I have been personalizing #allthethings and really wanted to make the plates, apron, and place mats more personal. I am so happy with how this set turned out. I was able to create everything in under an hour and will happily share the designs with you!
Cricut Valentine Ideas
It is really easy to make adorable Cricut Valentine's Day projects using your Cricut cutting machine. This was a plain pink striped $3 apron that I customized with red and pink Everyday Iron On vinyl from Cricut. The "Mom" design on the pocket was made using pink glitter vinyl.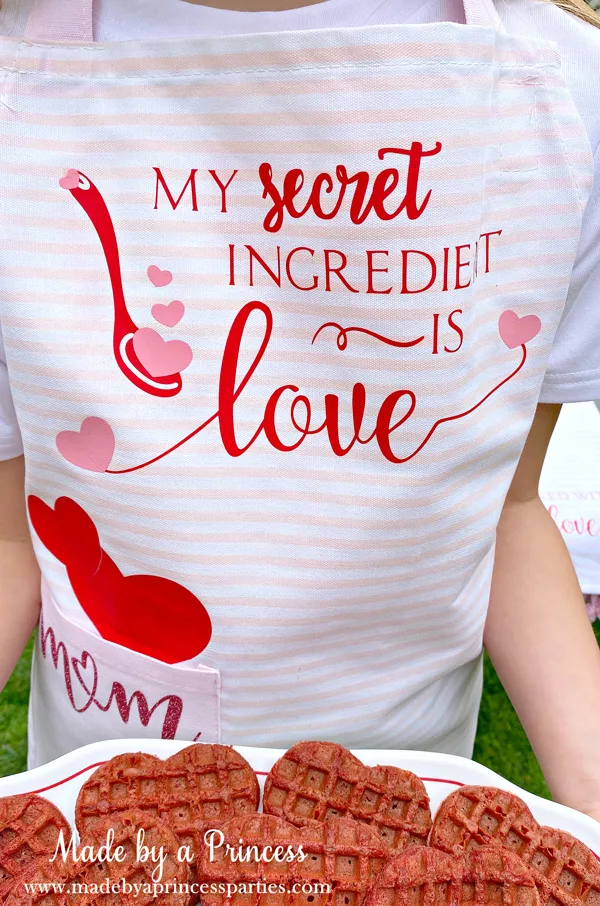 DIY Secret Ingredient is Love Kitchen Apron
When my son was in 3rd grade I chaperoned the trip to the zoo. One of the boys conveniently forgot his lunch so the teacher purchased something for him at one of the concession stands. When one of the girls in my group said it wasn't fair that he got "zoo lunch" I said, "That's ok…his lunch wasn't made with love." She agreed and happily ate the peanut butter sandwich her mom had packed.
Even now when my kids ask me how I make something I always say, "With love". I thought that would be the perfect message for this cute apron.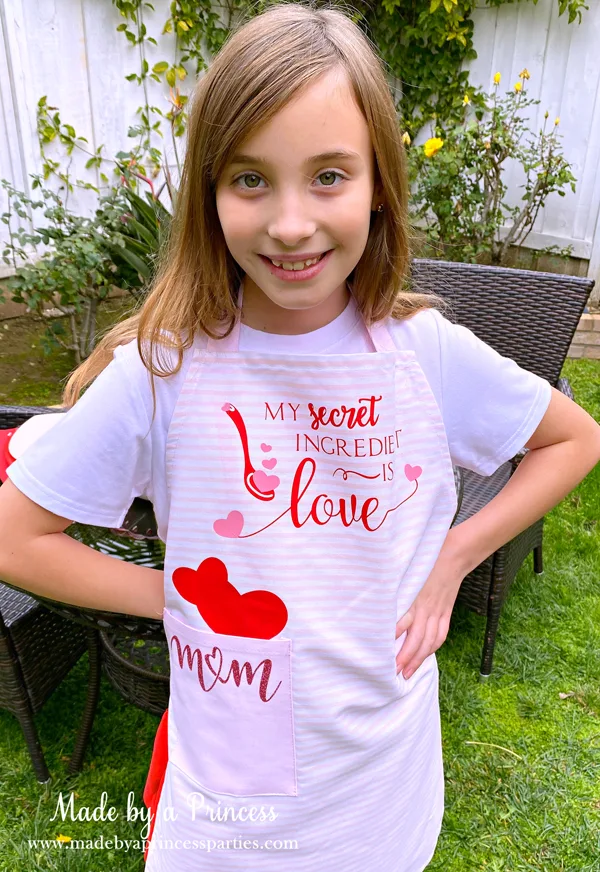 Valentine's Day Shirt Made with Infusible Ink
You can also make a custom shirt for the occasion using Cricut's Infusible Ink. Here's what you need:
This design was inspired by Corita Kent and our love of pandas. I attended Immaculate Heart school in Los Angeles and Sister Mary Corita is a very special part of our Immaculate Heart Community. Also, pandas are our school mascot and my daughter's favorite animal. #pandapower
Create this Panda LOVE shirt in minutes.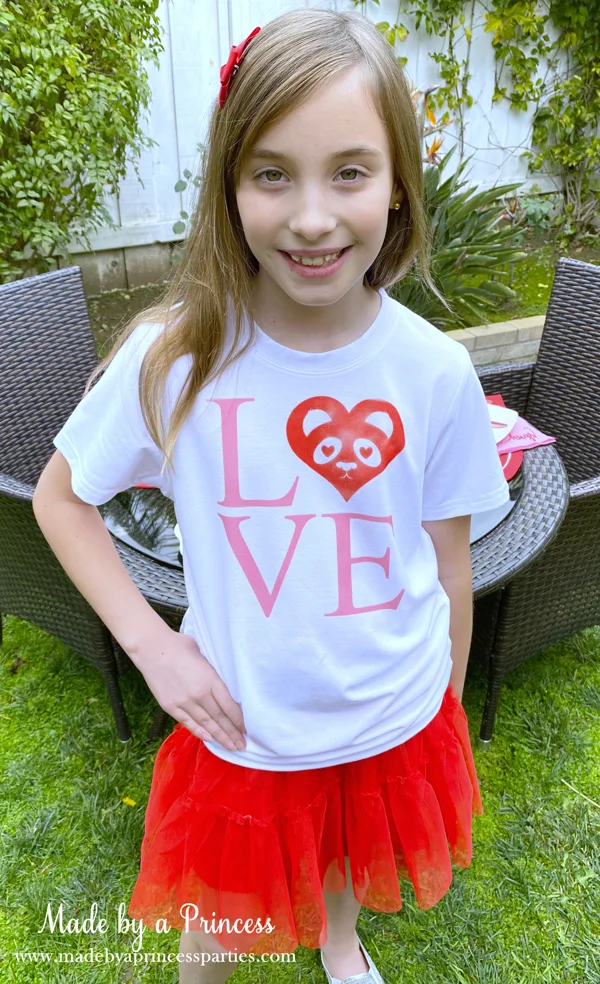 Use Iron On Vinyl on Kitchen Towels
This pink striped kitchen towel comes in a set with a pretty pink pot holder for $3. You can add a "Baked With Love" iron on decal in minutes using Cricut Design Space.
For this project you need: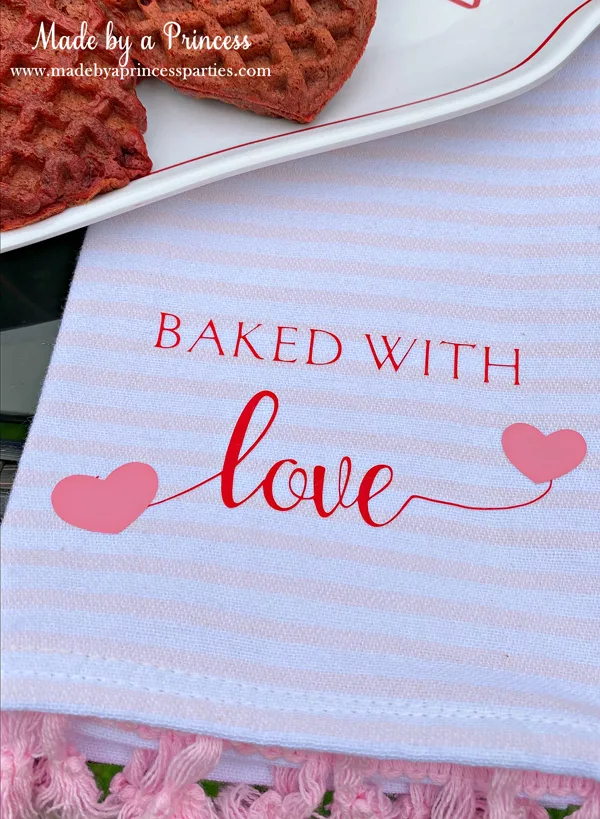 Personalize Name Place Holders with Vinyl
These name place holders come in a pack of 3 are and easy to personalize with your Cricut and pretty holographic red vinyl. The name cards are made using the Draw and cut files method which I'm kind of obsessed with now.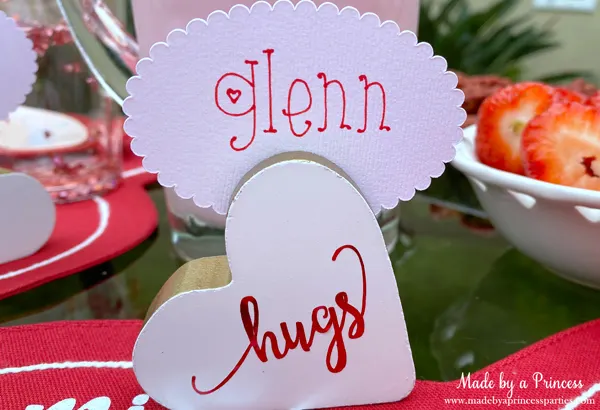 Customize Melamine Plates with Vinyl Decals
Can you believe the heart plates are under $2.50?! The small pink one is only $2. I highly suggest you get to Target and stock up!
Party Tip: You can use iron on vinyl on napkins! Choose a low heat setting on your Cricut EasyPress 2 and press lightly for about 10 seconds. Carefully pull off transfer tape when cool.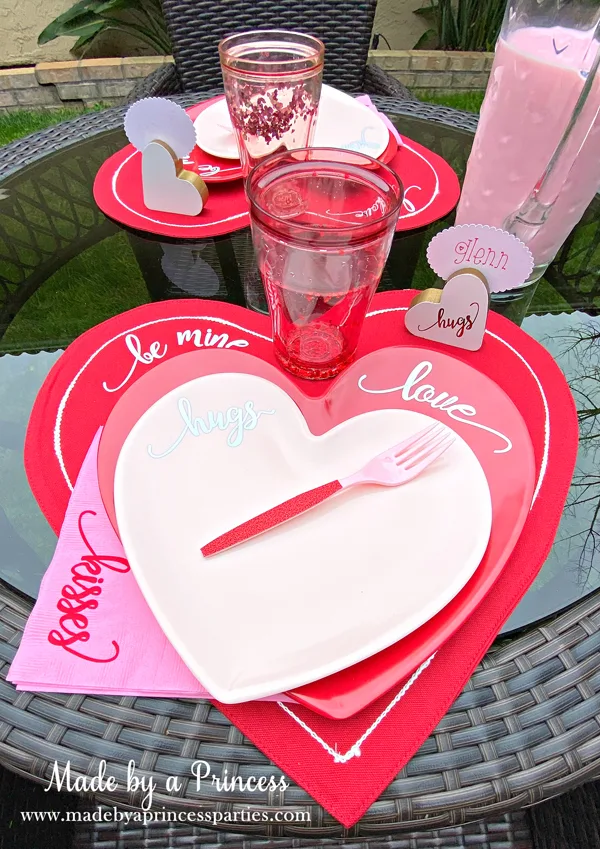 Use red washi tape from Cricut to decorate your plastic utensils.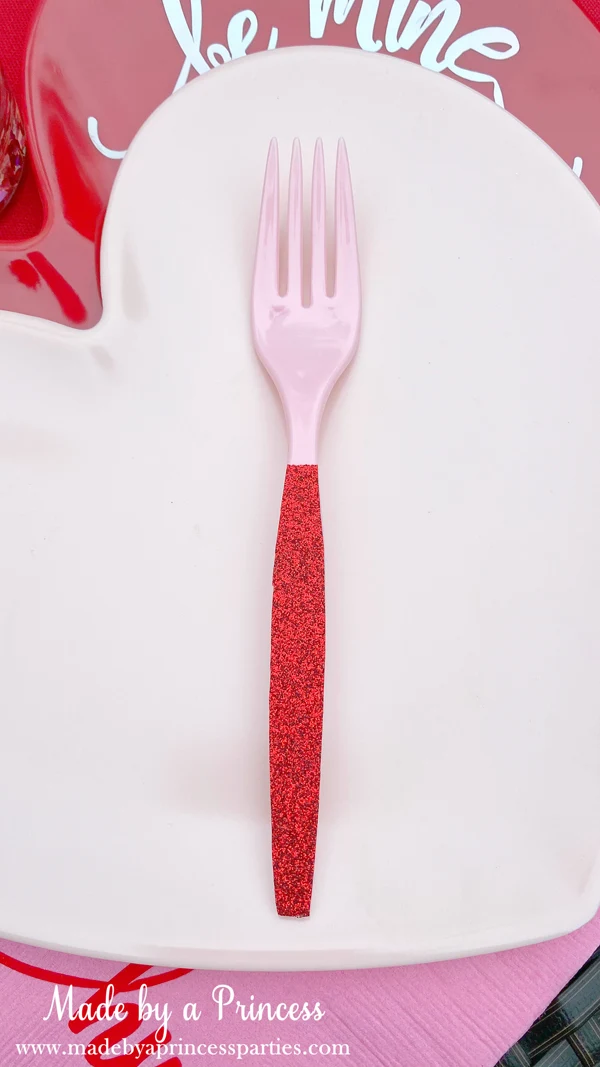 Isn't this so cute?! Now all we need is the heart shaped food.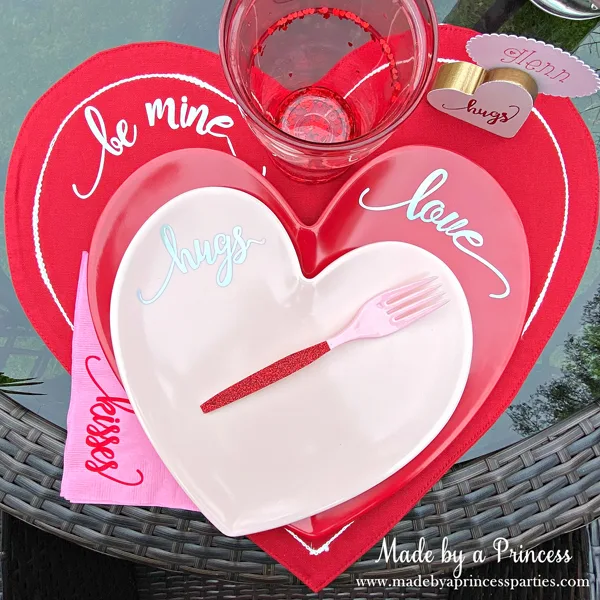 Mini Heart Shaped Waffle Maker
As soon as I saw this mini heart shaped waffle iron I just had to have it. The waffle maker from Dash comes in red or pink…naturally I needed pink. It seriously makes the cutest little waffles.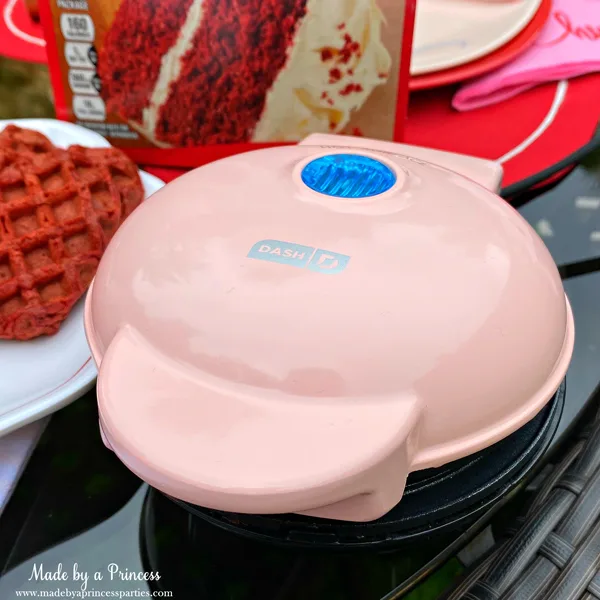 Red Velvet Waffles
Make red velvet waffles with a box of red velvet cake mix, water, vegetable oil, and eggs. Pour batter onto griddle, close, and cook for about 45 seconds. One box of cake mix will make about three dozen little heart waffles.
You can easily make pink waffles by adding red food coloring to pancake or waffle mix if you are not a fan of red velvet.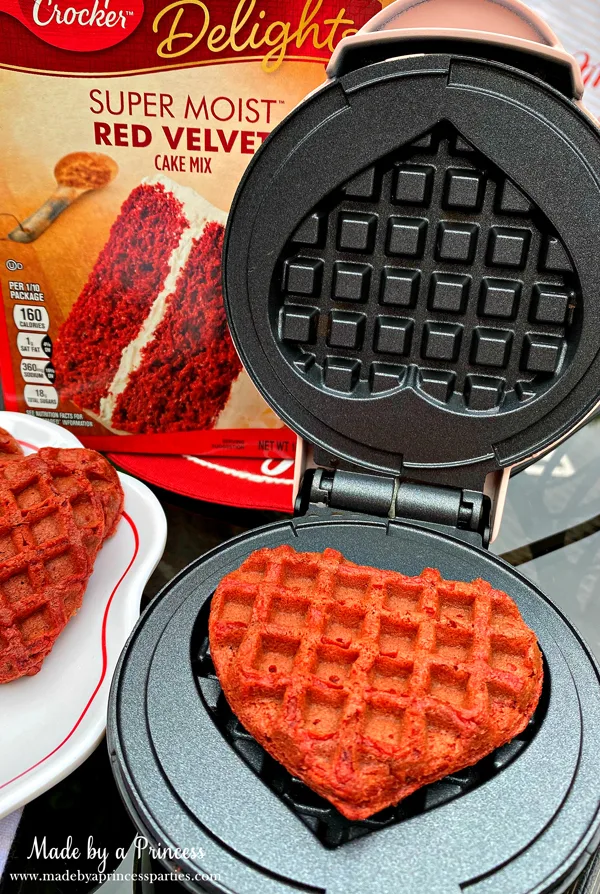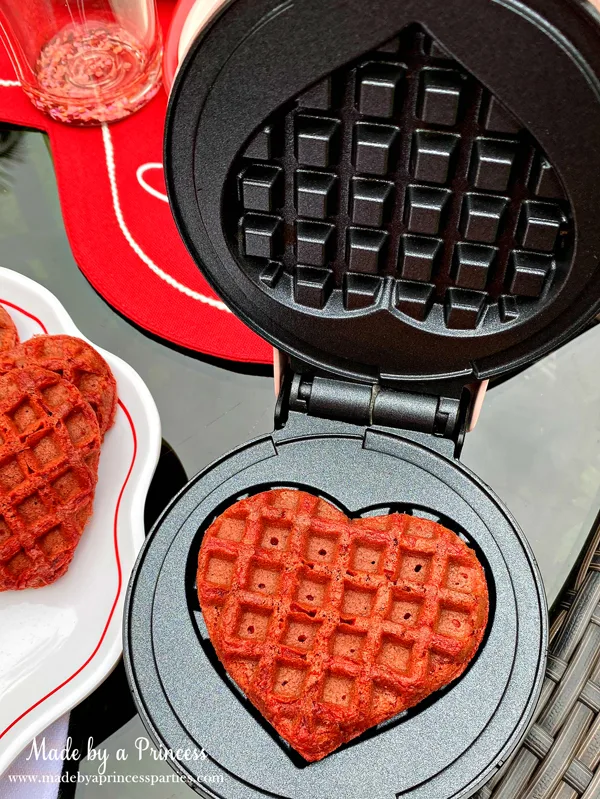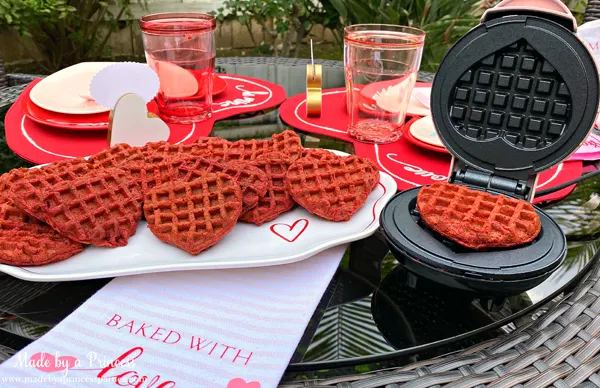 Valentines Day Brunch for Two
Now that our place settings are all ready, set up a super simple breakfast outside. If you're into the whole breakfast in bed thing you can do that too. You really don't need much to make this special. Waffles, strawberries, milk, and strawberry shaped marshmallows will be a big hit…trust me.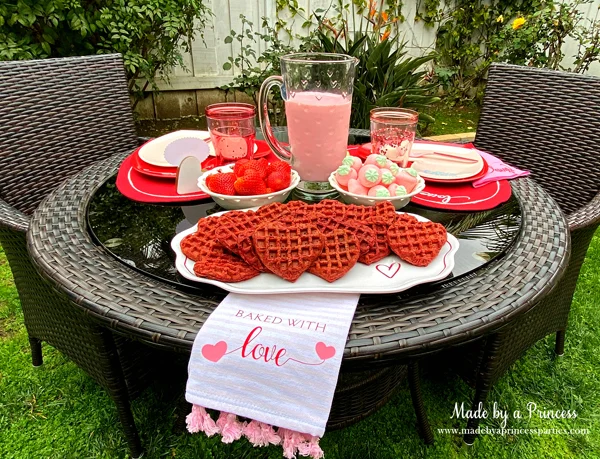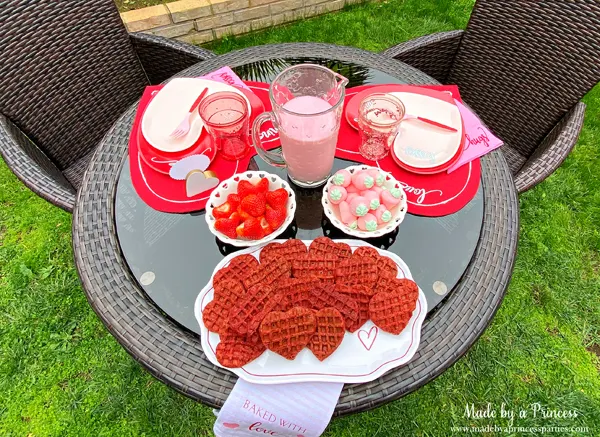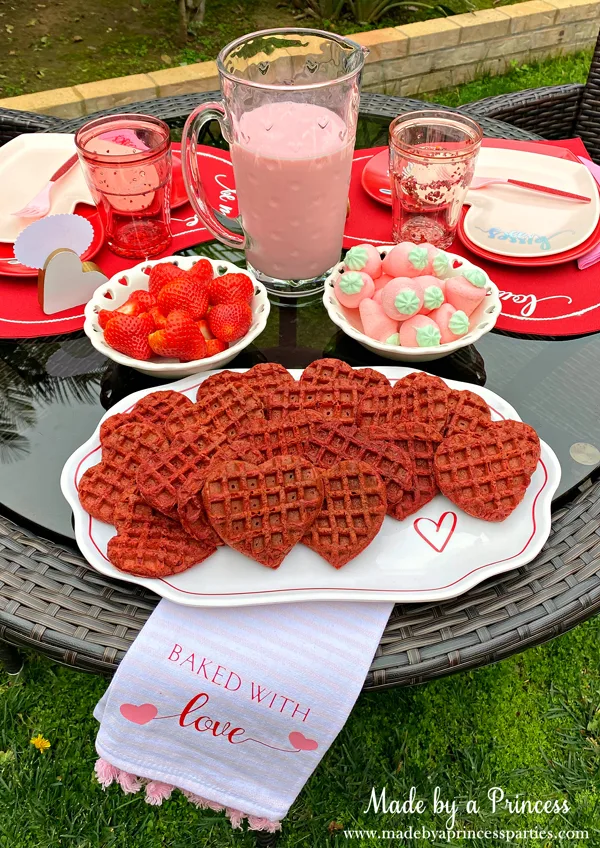 Cut the stems off of strawberries to make them look like hearts.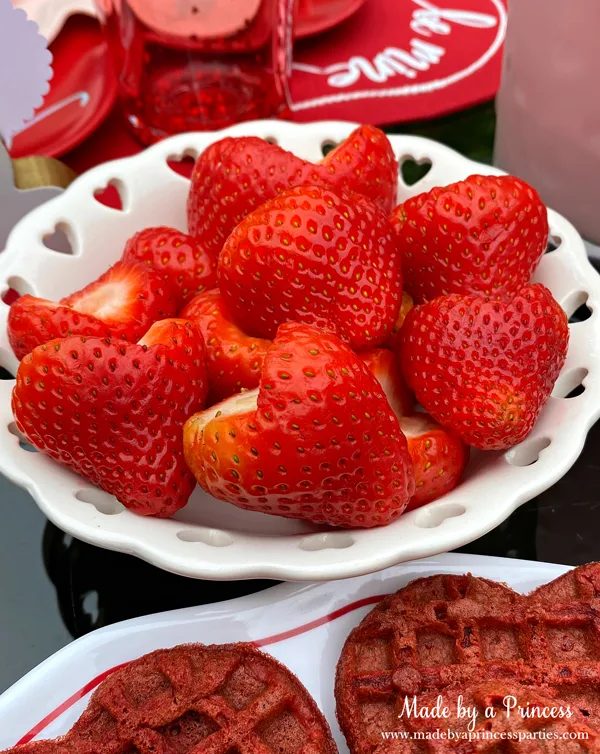 Heart Shaped Strawberries
You can find chocolate filled strawberry marshmallows on the candy aisle at Walmart.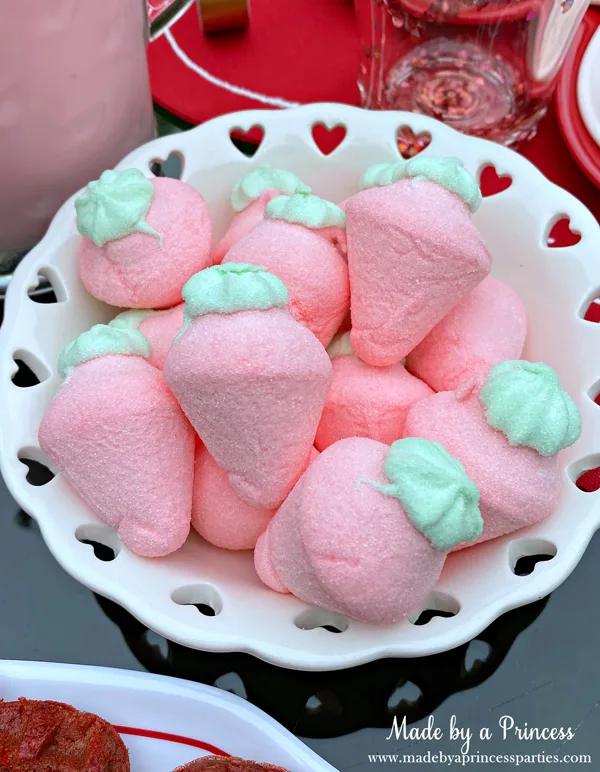 How to Make Pink Milk
If you don't like pink strawberry milk don't worry, you can make your own pink milk. Add a few drops of red food coloring to make the milk pink.
If you have LoveBugs you could tell your kids the LoveBugs did it.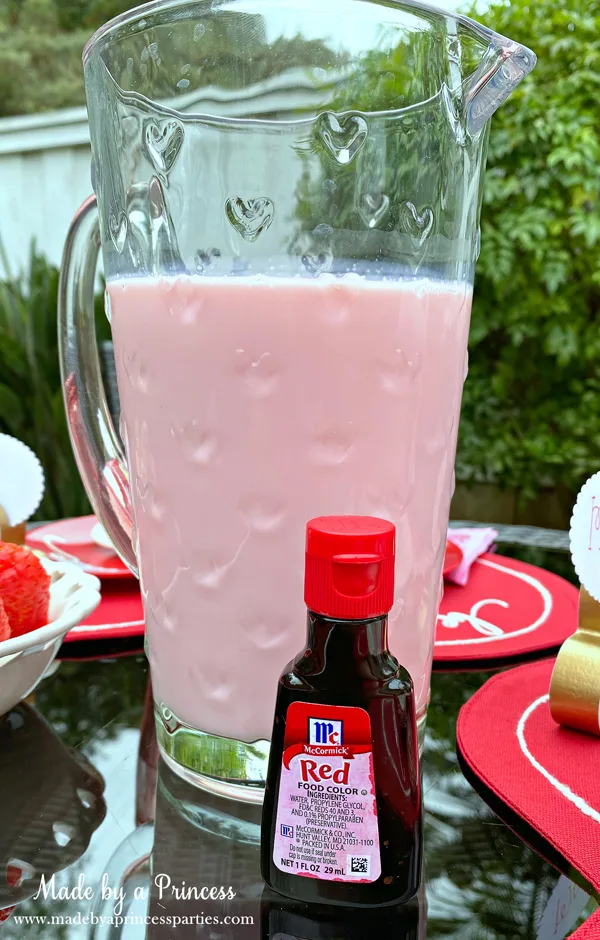 Add a little whipped cream and Valentine sprinkles to make it festive and you are ready to celebrate Valentine's Day with your little loves!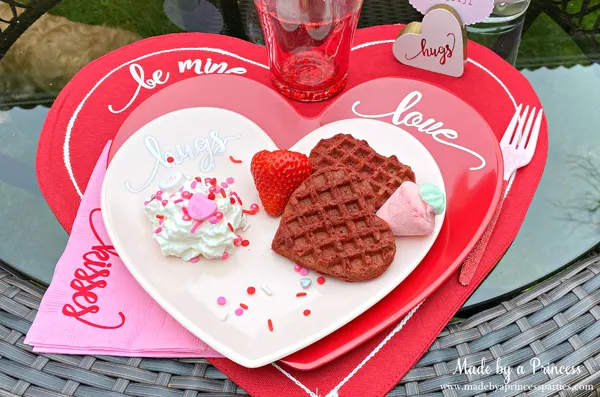 My son didn't want to me photographed but I thought it was cute he was pouring for his little sister 🙂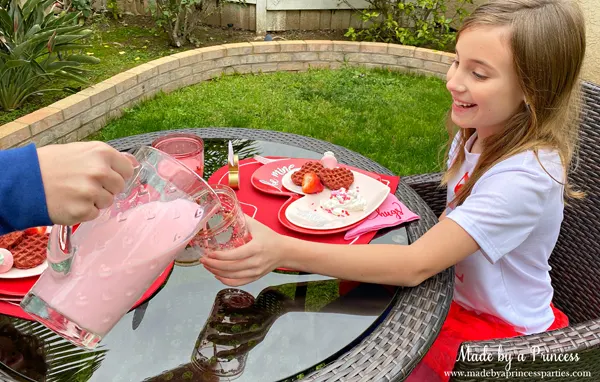 This is our rescue pup…she was dismayed to find out this plate of Norwegian waffles was not for her.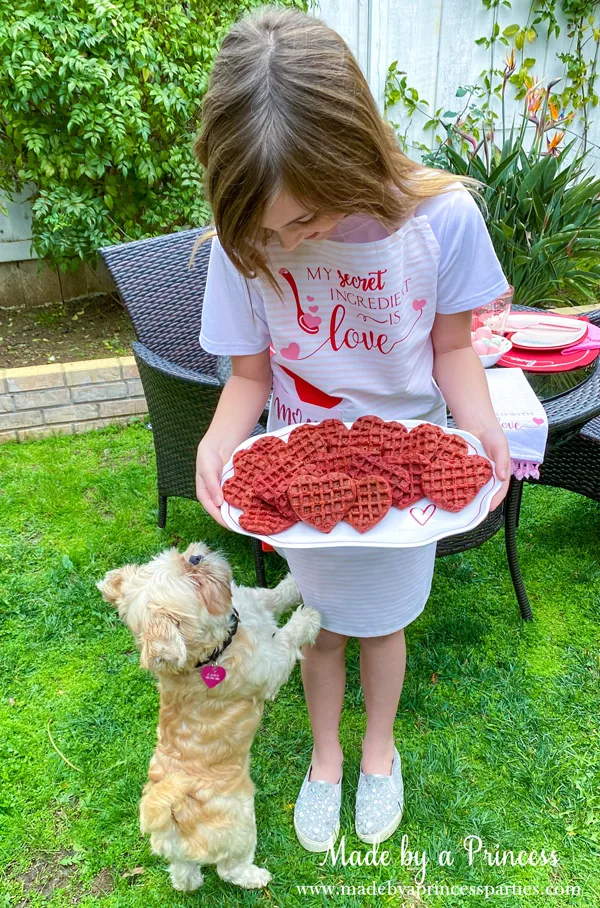 I hope you enjoyed these easy Valentine's Day breakfast ideas. Just remember, you don't need to make it fancy…just make it memorable and always with love… I think next time I'll make eggs benedict with heart shaped eggs and heart shaped bagels with cream cheese. Sounds delish right?!