Nothing smells and tastes like the holidays like gingerbread. Make your own gingerbread liqueur with fresh ginger, spices, and vodka and enjoy the tastes of Christmas whenever you want.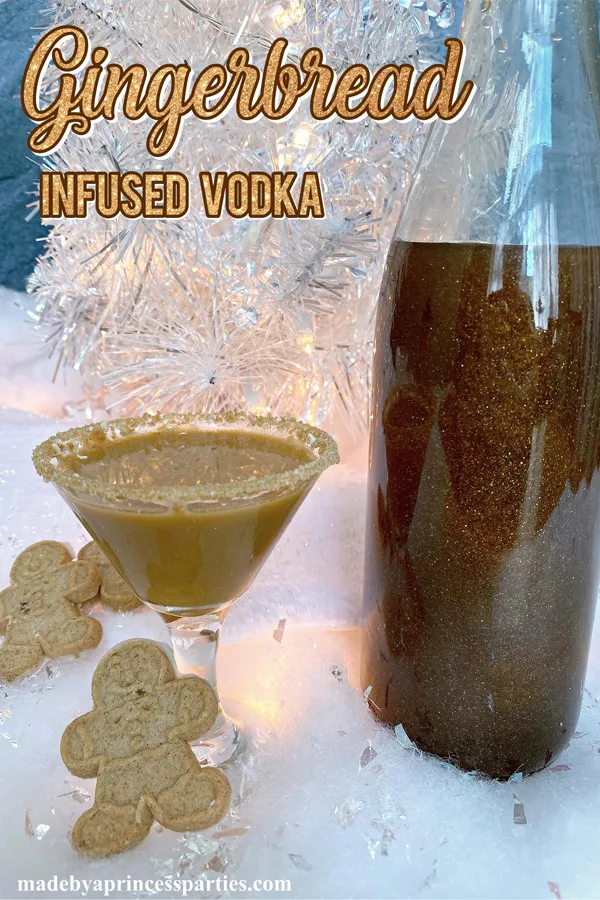 Do you love the smell and taste of gingerbread? It is my absolute favorite holiday flavor. This year I created a gingerbread infused vodka to enjoy with all of my favorite gingerbread treats and it is delicious! I'm sharing my recipe for gingerbread liqueur and gingerbread cookie martini so you can enjoy them too!
Gingerbread Liqueur
I know "pumpkin spice is life" for a lot of my friends out there but nothing beats the smell and taste of a good old fashioned gingerbread cookie. Last year Trader Joe's had a ton of gingerbread foods and I was in heaven. I was kind of disappointed in their selection this year especially since they didn't have the gingerbread granola. It was so good! I did manage to find gingerbread coffee which smells amazing. In fact, I am enjoying a cup right now with the roof from our gingerbread tiny house.
This gingerbread liqueur tastes yummy in coffee, Christmas cocoa (just like regular cocoa but instead of milk you use light eggnog), and in a gingerbread cookie martini!
FYI there are ten infused vodka recipes in this holiday series including homemade Creme de Menthe vodka, DIY Candy Cane Vodka, (strongly flavored) Coffee Vodka, Toffee Vodka, Holiday Cranberry Orange Vodka, Toasted Marshmallow Vodka, Spiced Pear Vodka, Amarena Cherry Vodka, and Hot Cinnamon Vodka.
How to Make Gingerbread Infused Vodka
To make this gingerbread vodka you will need the following: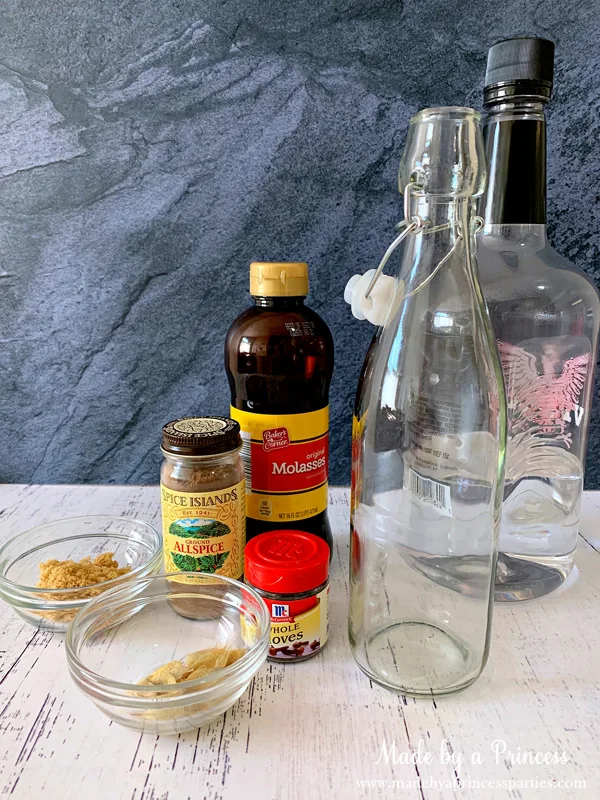 Place crystallized ginger in mason jar or air tight glass bottle.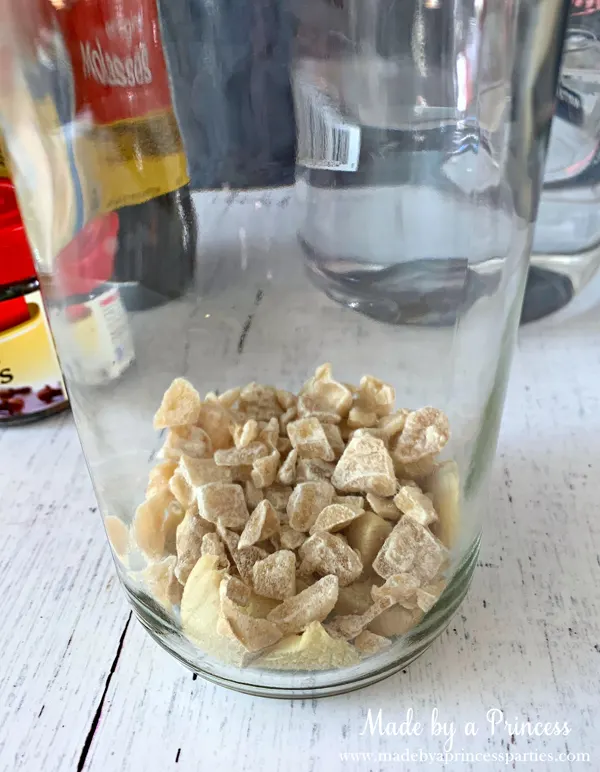 Then add whole cloves.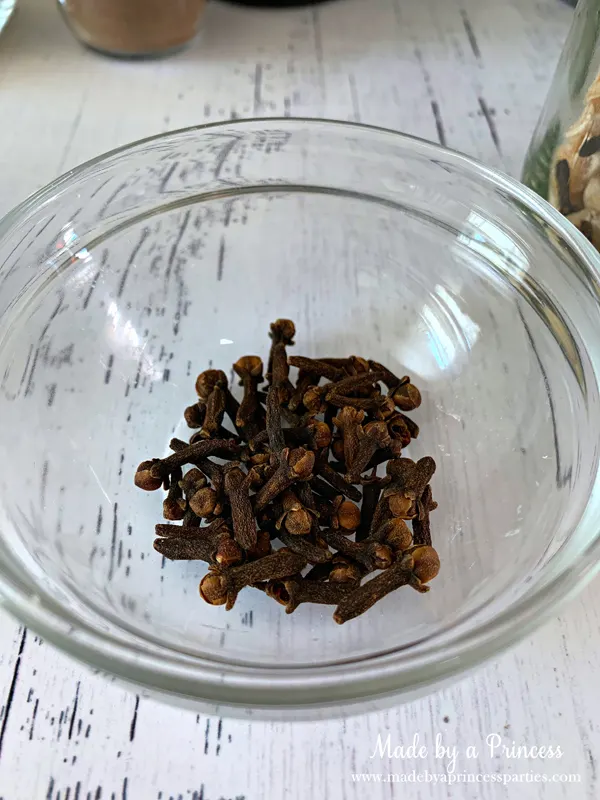 Next add ground allspice and fresh ginger.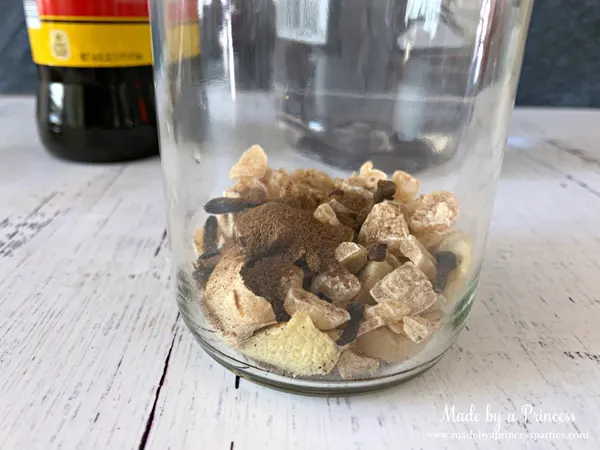 Then pour molasses into jar using a funnel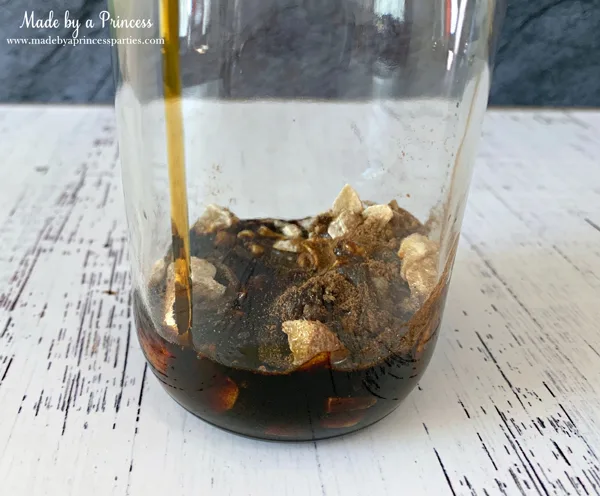 Finally, pour vodka over ingredients, replace cap, and shake well.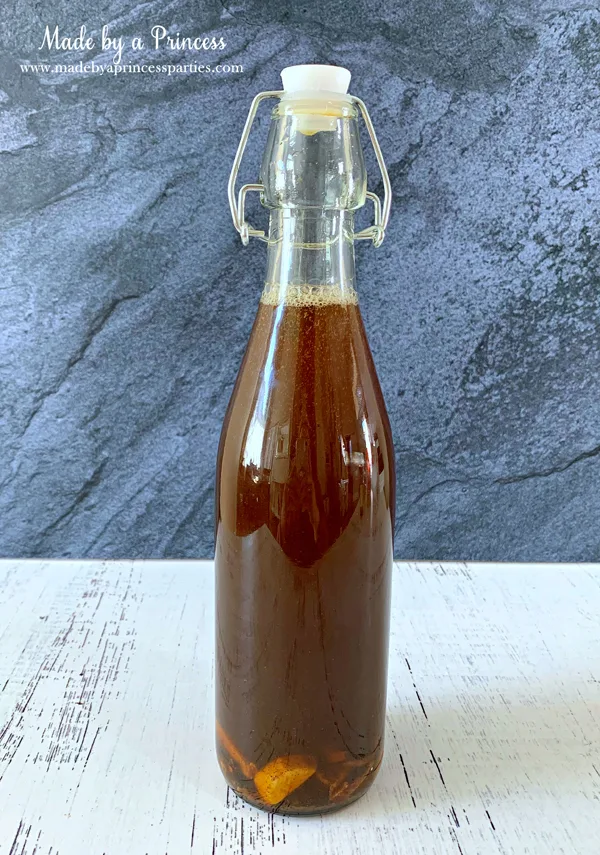 When ready, add a cute gift tag for gift giving. Store the bottle in a cool dark place.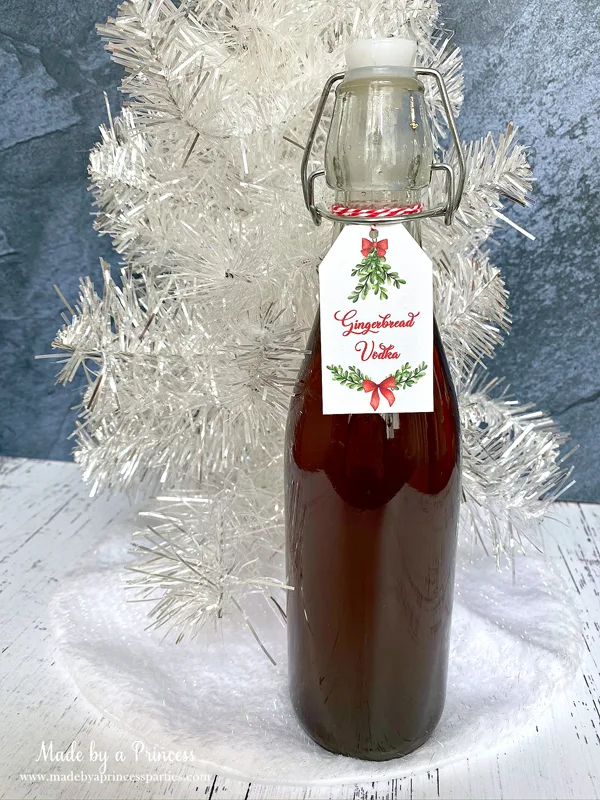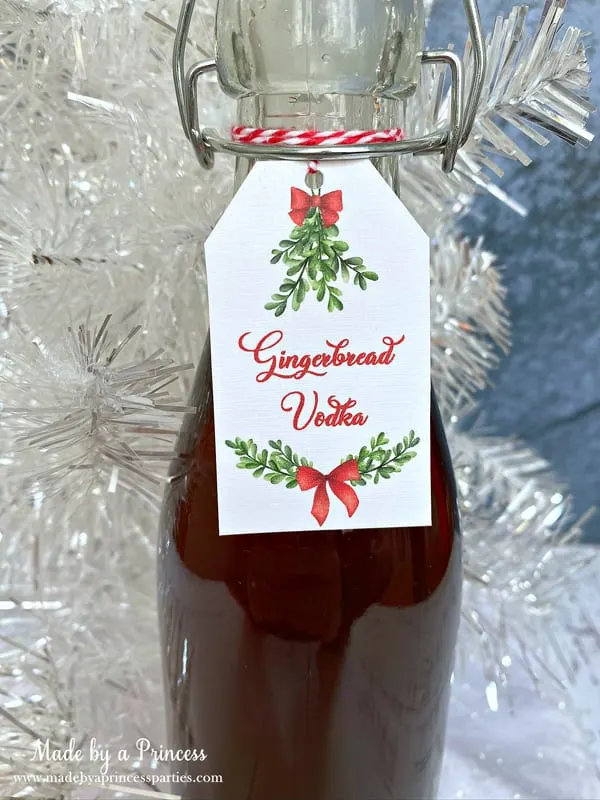 Add Brew Glitter from Bakell
It's time for the GLITTER!! Bakell makes the best edible glitter in so many colors. I mixed both Gold Brew Glitter and Bronze Brew Glitter to give it a multi-dimensional look. Add about a 1/8 tsp of each Brew Glitter to your gingerbread liqueur recipe, seal the bottle, and shake well.
The glitter settles to the bottom after about 20 seconds so make sure you shake it each time you pour.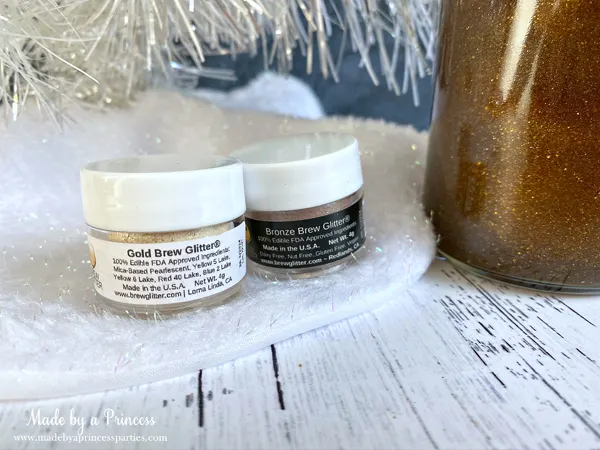 I found these mini shot glass ornaments at Target.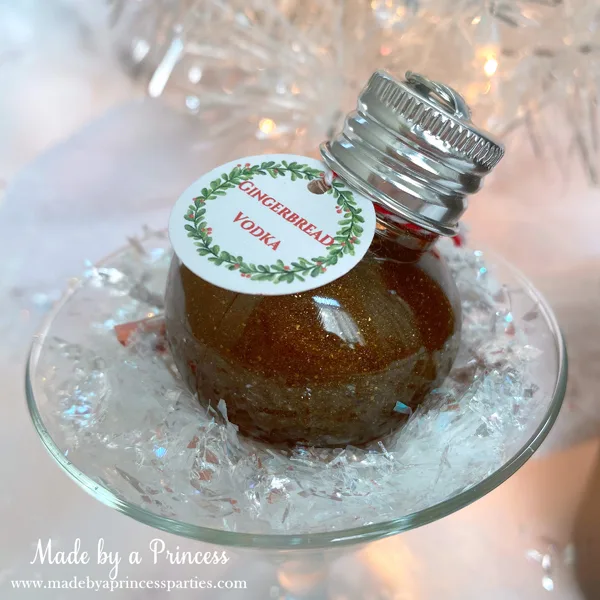 All those pretty little flakes you see is glitter!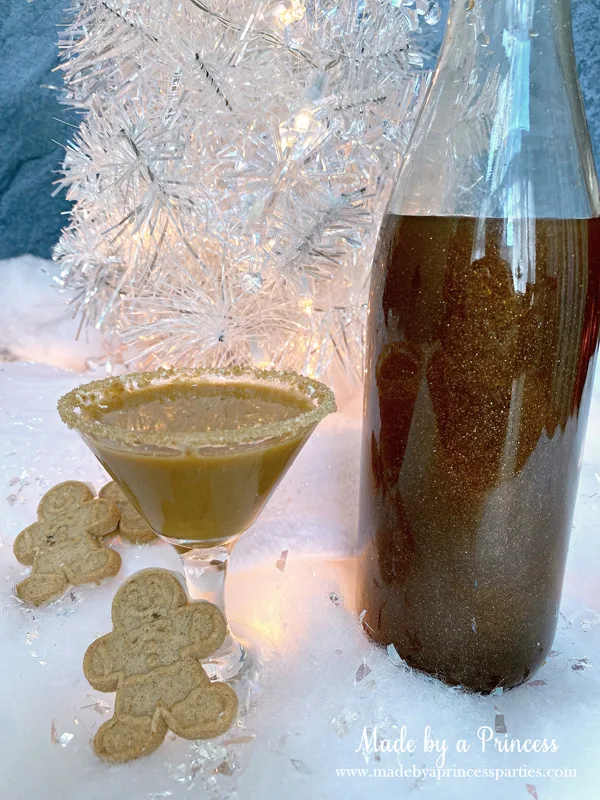 Gingerbread Cookie Martini
This delicious gingerbread cookie martini is made with Gingerbread Infused Vodka, Bailey's Irish Cream, Butterscotch Schnapps, and a splash of molasses. Dip the rim of the glass in Butterscotch Schnapps and crushed Nyakers Ginger Snap cookies. You can drop a dollop of whipped cream in the middle if you like as well.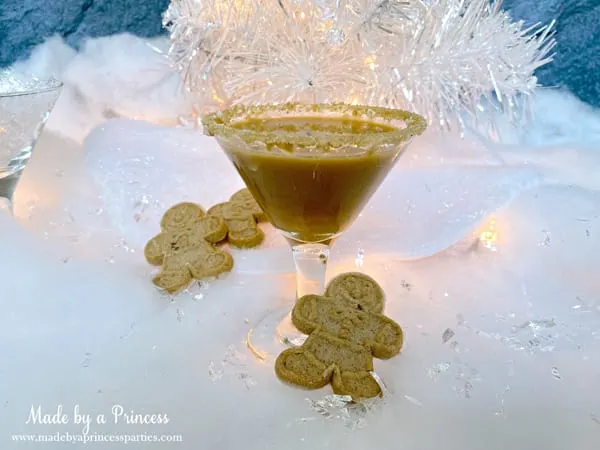 Spicy Gingerbread Liqueur Recipe
Gingerbread Cookie Martini Recipe
*this post contains affiliate links. Brew Glitter was sent to me by Bakell. I received no monetary compensation. All opinions and ideas are my own.