Wondering what to do with leftover hot cinnamon candies? Use it to make infused vodka! This two ingredient Red Hot liquor recipe is so easy you can make it tonight!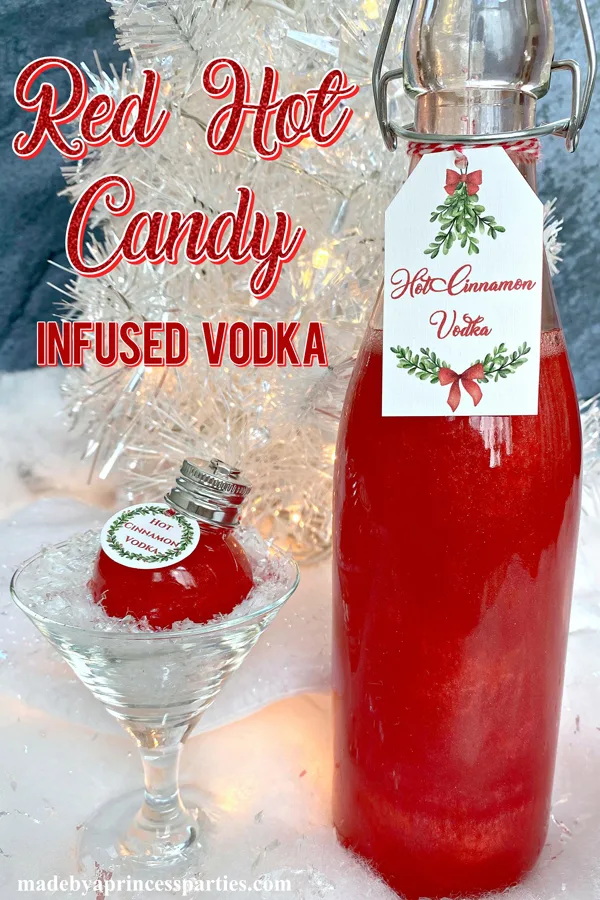 If Fireball cinnamon whiskey is a bit too strong for you but you love the taste of hot cinnamon candy this is the recipe for you. It only takes two simple ingredients to make this Red Hot Liquor infused vodka. You can make it for yourself tonight in no time!
Red Hot Liquor
Hot cinnamon candies are my favorite. Hot cinnamon flavored anything really…cinnamon apples, cinnamon Altoids, cinnamon gum. The hotter the better. My mom used to make hot cinnamon apples growing up and I just loved them. Have you ever had baked or boiled hot candy apples? They are delicious. You can find the recipe for those as well down below.
If you have extra Red Hots or hard cinnamon candies and some vodka you can make this super easy Red Hot Liquor flavored vodka recipe.
FYI there are ten infused vodka recipes in this holiday series including homemade Creme de Menthe vodka, DIY Candy Cane Vodka, (strongly flavored) Coffee Vodka, Toffee Vodka, Holiday Cranberry Orange Vodka, Toasted Marshmallow Vodka, Spiced Pear Vodka, Amarena Cherry Vodka, and my personal favorite, Gingerbread Vodka.
How to Make Hot Cinnamon Infused Vodka
You only need two things to make a bottle of hot cinnamon infused vodka:
Crushed hot cinnamon candies or Red Hots
Bottle of vodka
Mason jar or glass bottle
If you want it to taste a bit more like Burnett's Hot Cinnamon add a couple cinnamon sticks.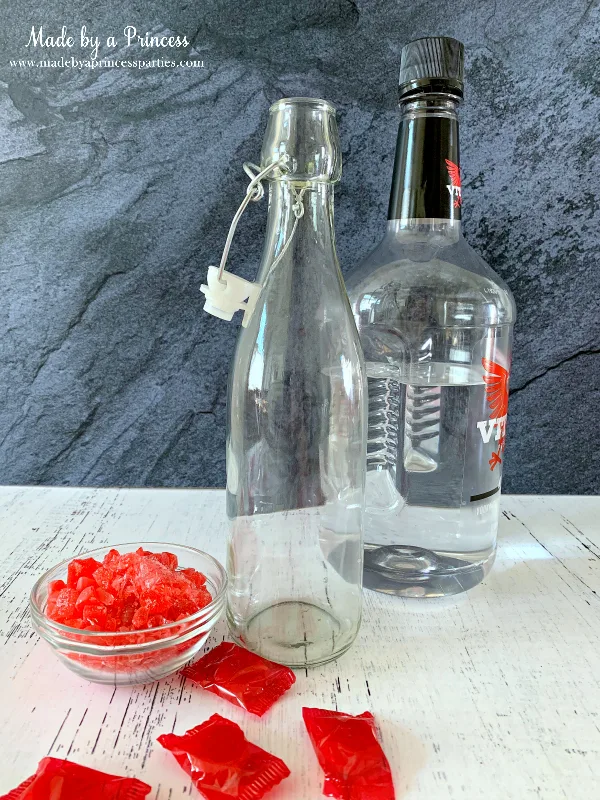 Place crushed Red Hots candy in mason jar or air tight glass bottle.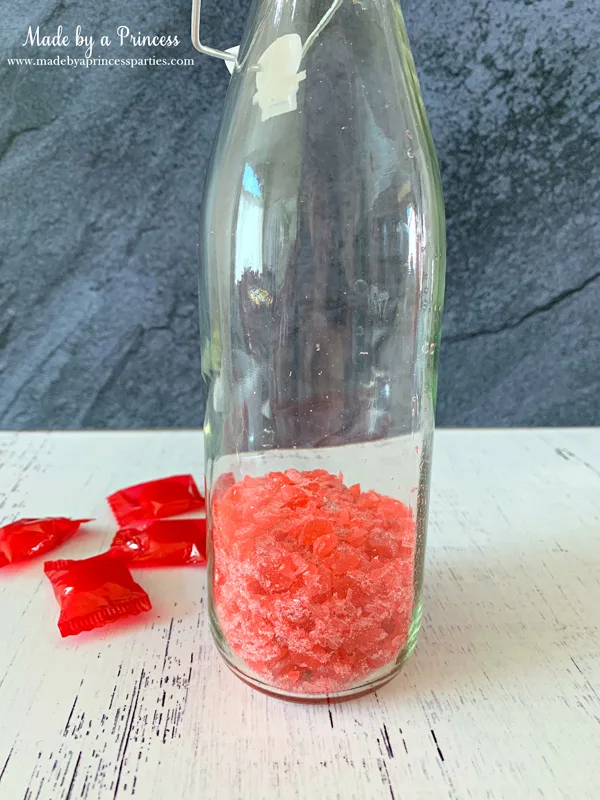 Pour vodka in bottle over crushed candies.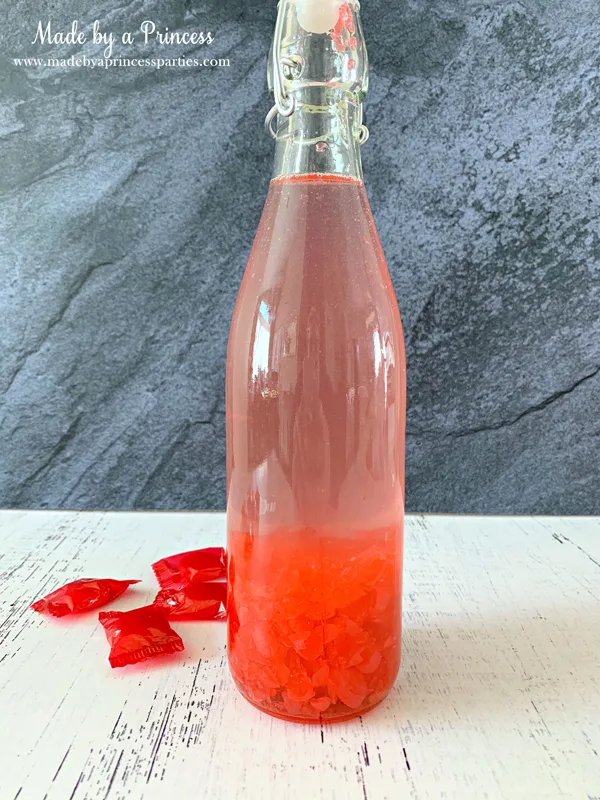 When ready, add a cute gift tag for gift giving. Store the bottle in a cool dark place.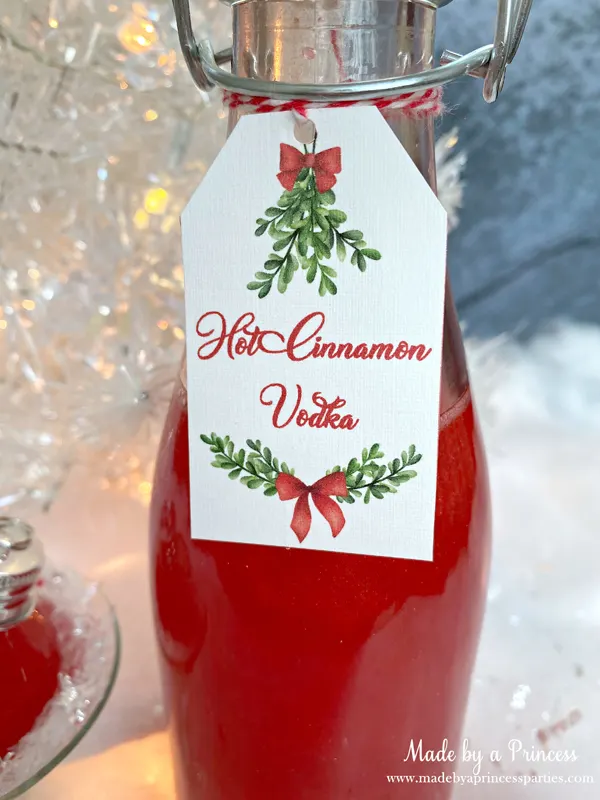 Add Patriot Red Brew Glitter from Bakell
Oh, did I forget to mention this is GLITTER infused vodka? Whaaaaattt?! Yaasss. I want to glitter all the things including my food. Bakell Brew Glitter is 100% edible…not just for decoration like so many others. It comes in a ton of gorgeous colors too. I'm obsessed with this glitter to be honest.
Add about a 1/4 tsp of Red Brew Glitter to your Red Hot liquor vodka recipe, seal the bottle, and shake well.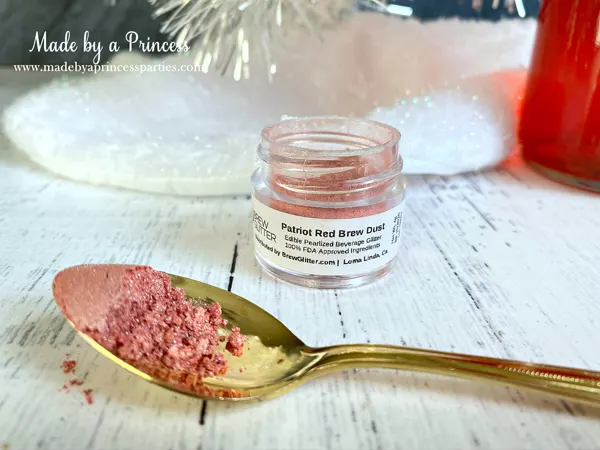 Glitter just makes everything so much better!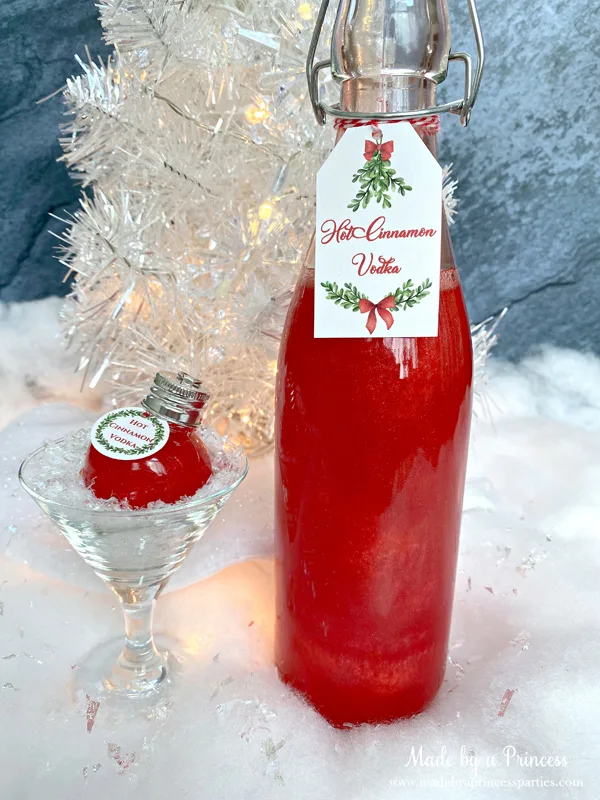 I found these mini shot glass ornaments at Target…aren't they so cute?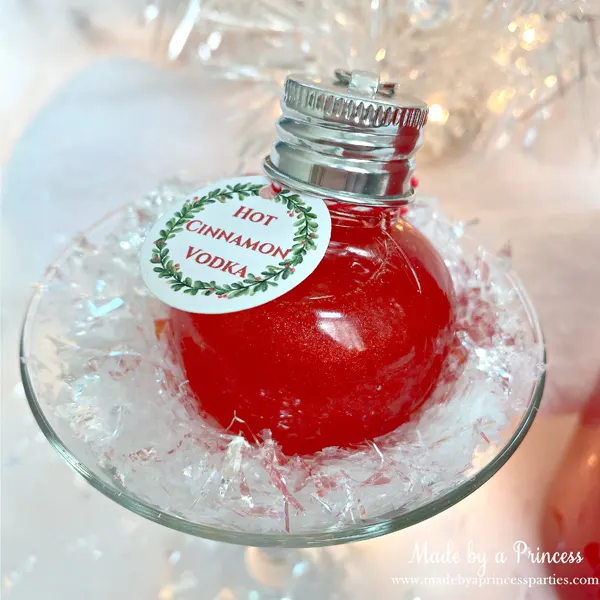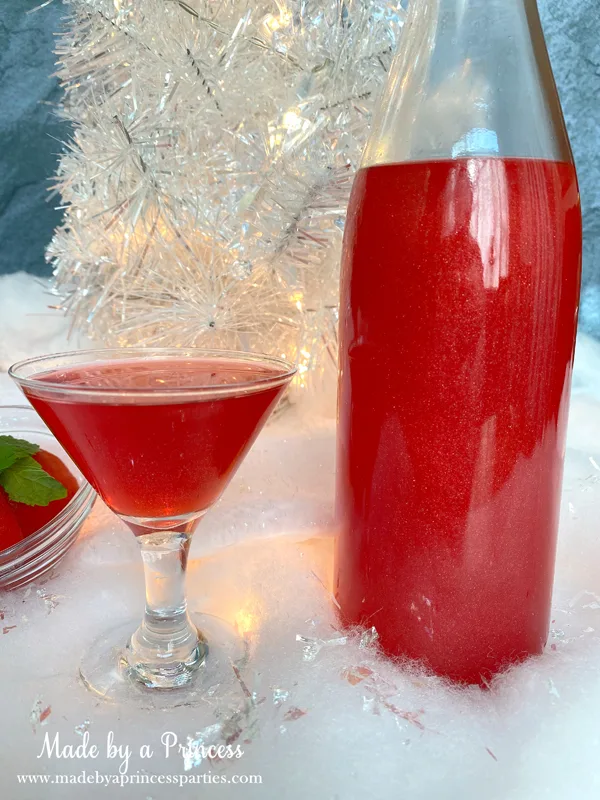 Candy Apple Martini
One of the things you can make with hot cinnamon vodka is a candy apple martini. In a cocktail shaker, add the vodka, sparkling apple cider, a bit of grenadine, and some pomegranate juice and shake well. Pour into a martini glass.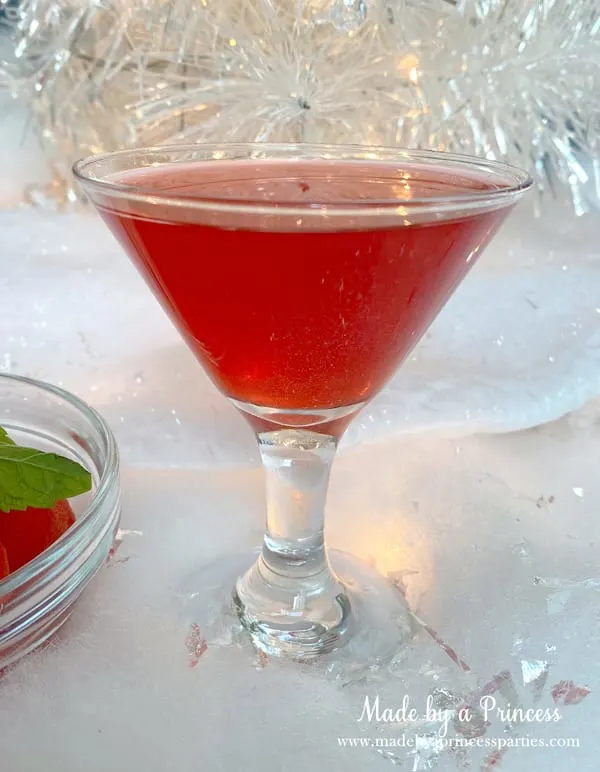 Hot Cinnamon Apples
These remind me of my childhood. Pour 2 cups of water and at least 1 cup Red Hot candies in a medium saucepan over medium-low heat. Stir constantly with a wooden spoon until candy has dissolved. Add pieces of peeled apples (Granny Smith, Jonagold, Honeycrisp, Braeburn, or Pink Lady are best) and cook on low for 20 minutes. Remove from heat and let sit until mixture has cooled.
You can serve them at this time or place them in an air tight container in the refrigerator for several days. How red they become depends on how long they have marinated in the mixture. Mine have been in the refrigerator for over a week and they are delicious!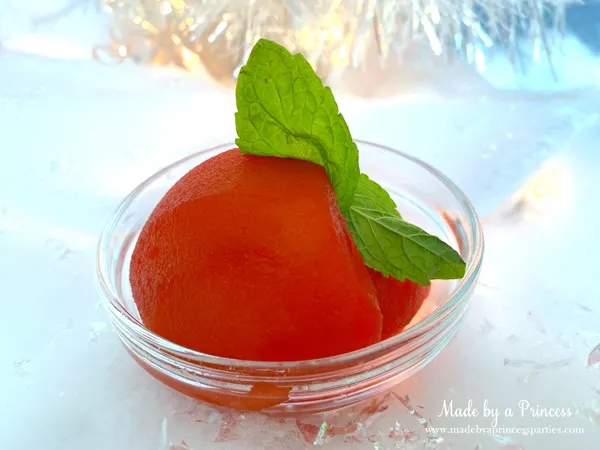 Serve hot cinnamon apples with your candy apple martini.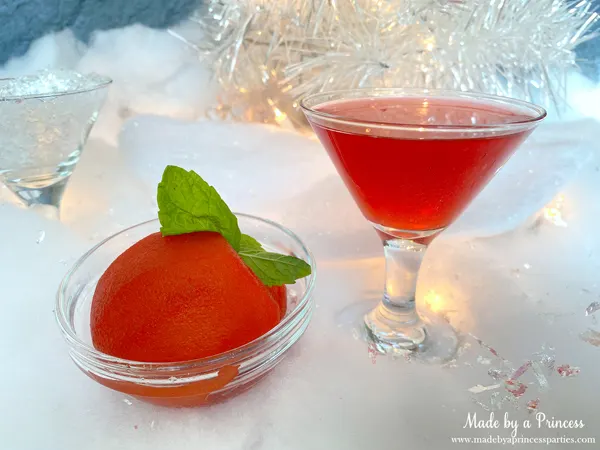 I hope you enjoyed my Red Hot Liquor recipe and are inspired to create a batch for yourself or to give as a gift!
Red Hot Liquor Recipe
Candy Apple Martini
*this post contains affiliate links. Brew Glitter was sent to me by Bakell. I received no monetary compensation. All opinions and ideas are my own.