Buddy the Elf…what's your favorite color?! If you love candy, candy canes, candy corn, syrup, and smiling then you will love my Buddy the Elf Movie Inspired North Pole Breakfast!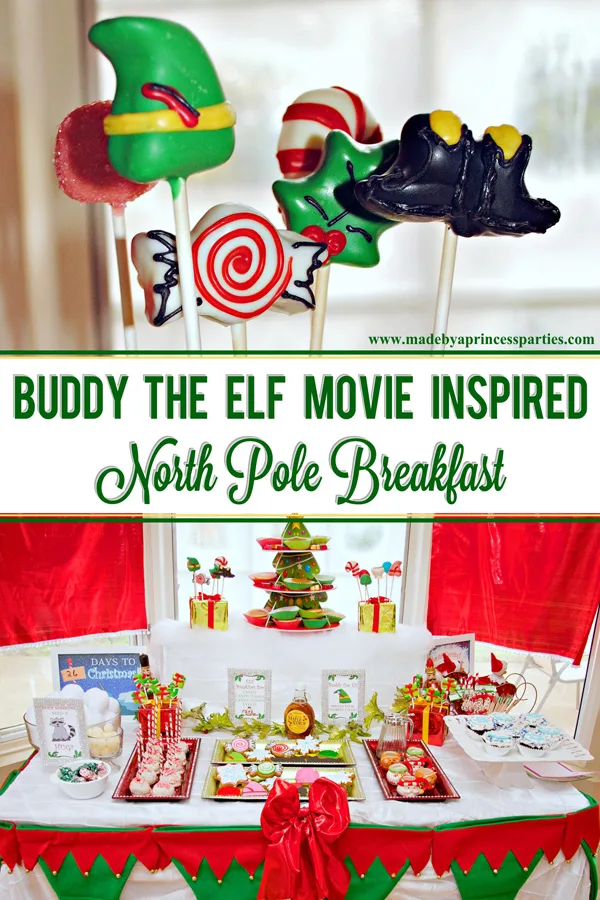 Planning a Christmas breakfast this year? Why not make it, "ELF" themed?! Don't forget food from the four main food groups: candy, candy canes, candy corn, and syrup. Maybe throw in some of the World's Best Coffee and you are ready to greet your guests at a Buddy the Elf Movie Inspired North Pole Breakfast!
Buddy the Elf Movie Inspired North Pole Breakfast
Our very favorite Christmas movie is "ELF" and for years I have wanted to put on an "Elf" inspired party. My very talented friend, Sunny Duran of Sunny by Design, created the most incredible and perfect illustrations for me to use. Sunny captured the spirit of the movie perfectly with her hand drawn images.
We invited our family and some friends the day after Thanksgiving to enjoy a Buddy the Elf Movie Inspired North Pole Breakfast complete with food from each of the four main elf food groups: candy, candy canes, candy corn, and syrup.
Christmas Party Decorations
I decorated our dining room with tons of snowflakes, some made by my son, "snow" on the windows, a candy cane forest, a sea of swirly twirly gumdrops, "icicles", paper chains, and posters with two famous lines from the movie. I really wanted my guests to feel like they had stepped into Santa's workshop so I spent a lot of time crafting and creating all the details.
To recreate this look you will need white paper chains (made out of computer paper), felt icicle garlands, can of Santa SnowFrost, glittery snowflakes, and red curtains. I made these red curtains out of satin fabric and then finished them off with white trim.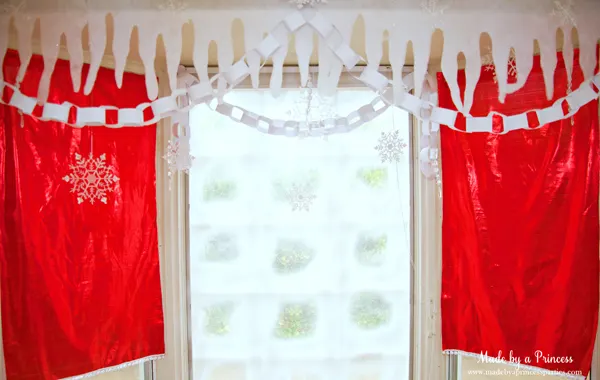 Dollar store elf hats make the perfect garland for an elf party. All you need to do is sew the ends together. You can make them as long or as short as you need. Buddy the Elf made lots of paper chains and snowflakes to decorate Santa's workshop and his new New York home. You cannot have too many snowflakes at a Buddy the Elf party!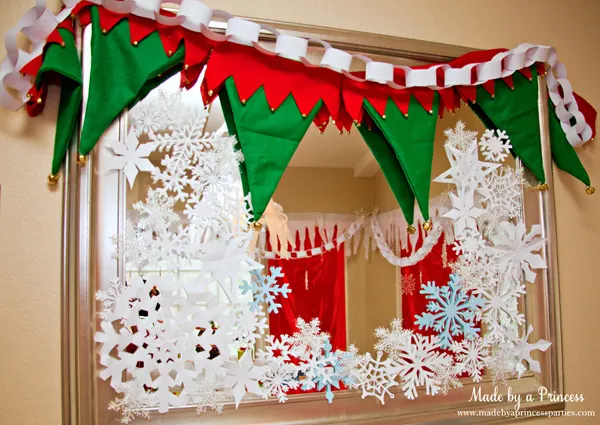 "I just like to Smile Smiling's My Favorite"
There are so many great quotes in "ELF"…I just can't choose my favorite. I think this one, "I just like to smile, smiling's my favorite" is so quintessential Buddy the Elf that it needed it's own sign on the wall.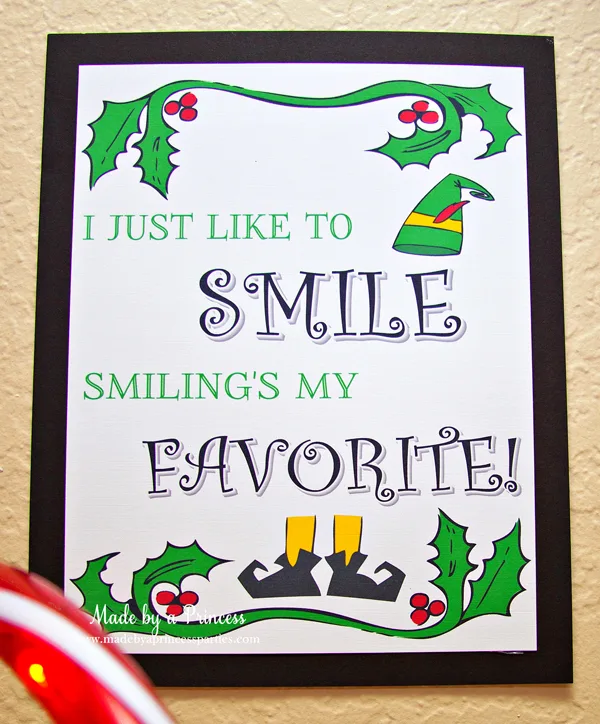 First We'll Make Snow Angels for Two Hours, Then We'll Go Ice Skating, Then We'll Eat a Whole Roll of Toolhouse cookiedough as Fast as We Can, and Then We'll Snuggle
Buddy just couldn't wait to meet his dad and had a whole day of activities planned. Unfortunately for him, his dad was on the naughty list for a reason…he's not much of a snuggler.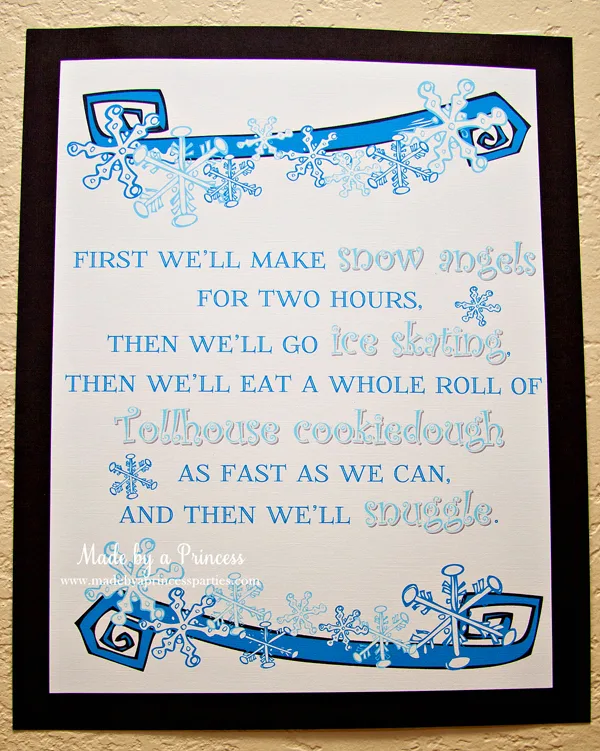 Before our cousins and friends arrived our elves, Icicle & Snowy, greeted them with treats and goodies.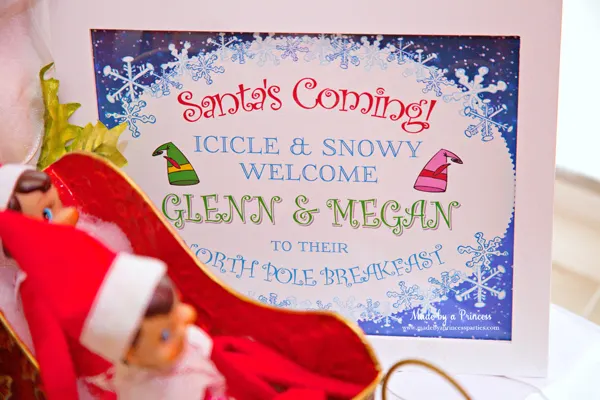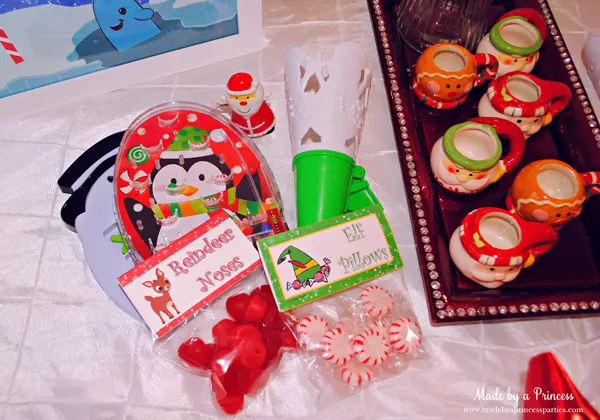 Candy, Candy Canes, Candy Corn, & Syrup
For breakfast the kids ate food from an elf's four main food groups: candy, candy canes, candy corn, and syrup (with pancakes). We had a table full of sweet treats including lollipops, mini pancakes with syrup (of course), chocolate Kisses, cupcakes, custom cookies, and OREO peppermint truffles.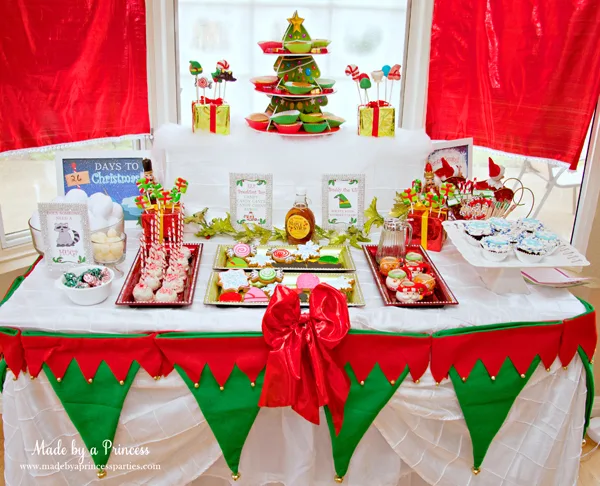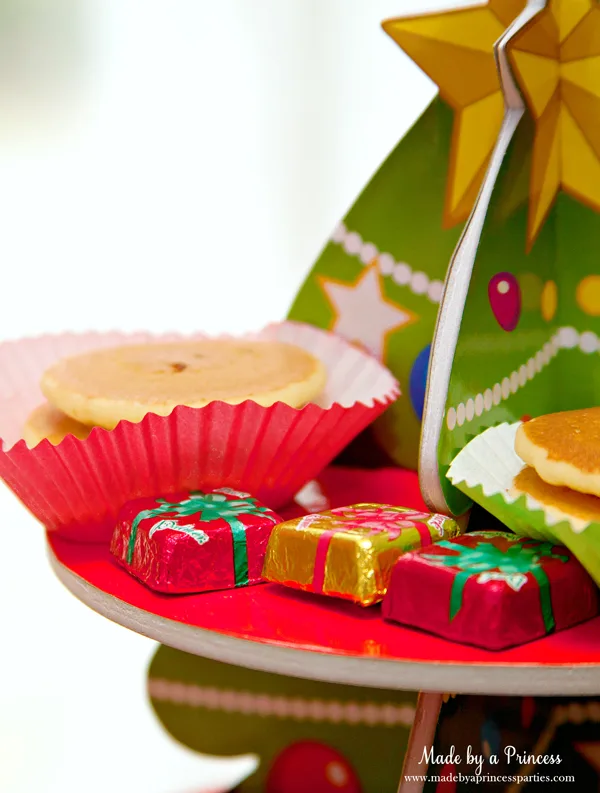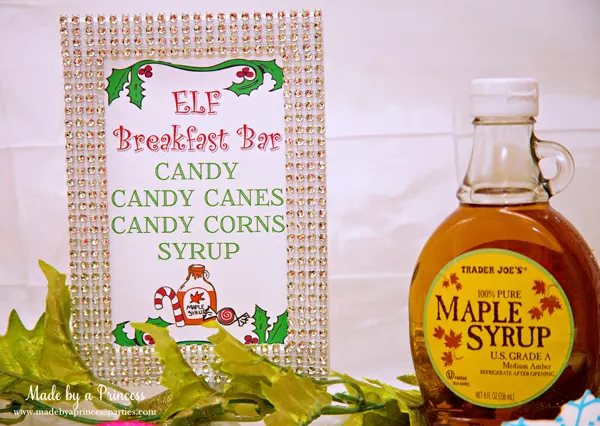 Does Someone Need a Hug?
A favorite scene in, "ELF" is Buddy asking a raccoon if he needs a hug. Poor Buddy!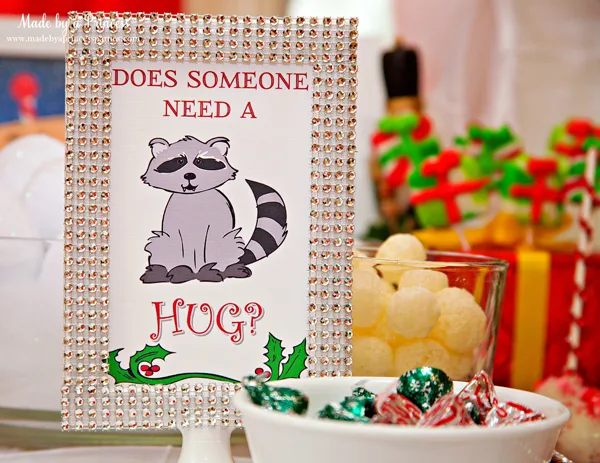 Party Tip: Don't have a lollipop stand? Create your own with a block of styrofoam, wrapping paper, and ribbon. Wrap the styrofoam in wrapping paper and stick the lollipops right in.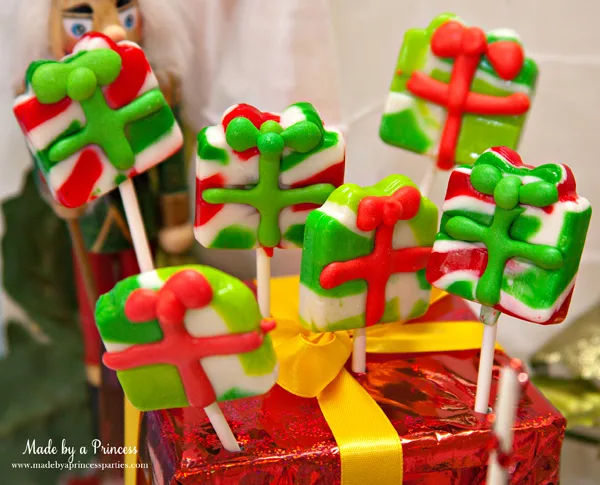 Sweet Treats
For the adults I made peppermint Oreo truffles and blinged them up a bit with some of my original Candy Cane Sparkle Sticks™.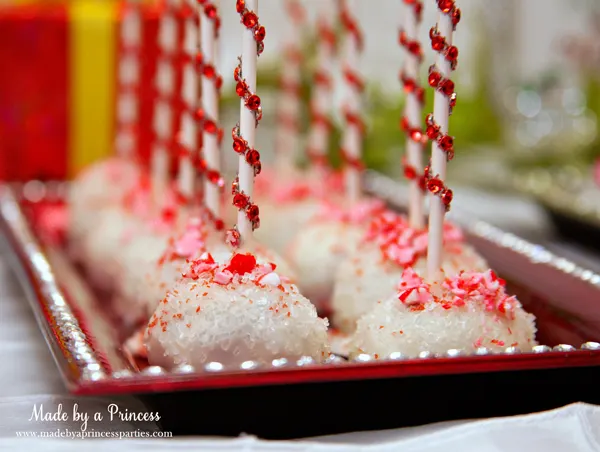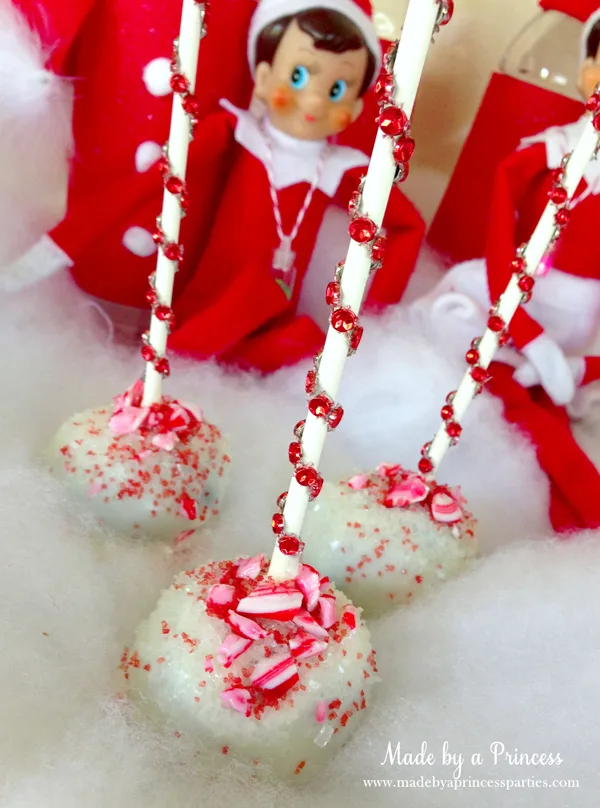 Bethany Gist of Auntie Bea's Bakery created the most adorable and tasty cookies to match Sunny's graphics.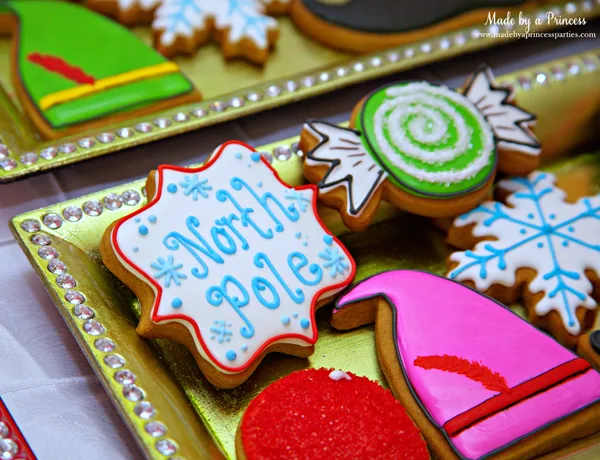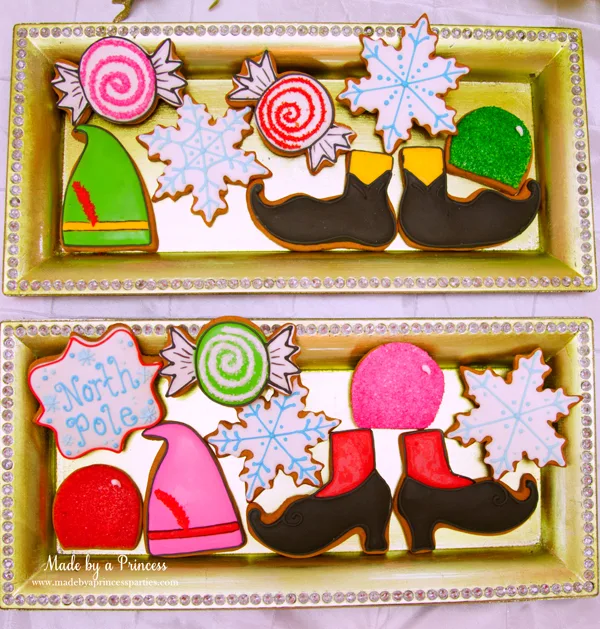 Elaine of Elaine's Cake Pops made matching cake pops as well. The kids were beside themselves over all the treats and the adults were blown away by how perfect they coordinated with the printables.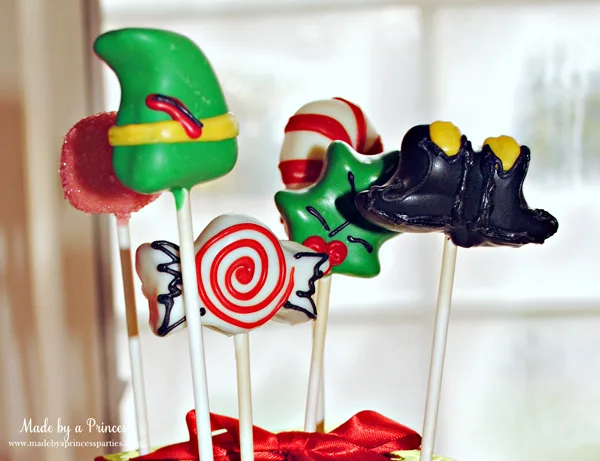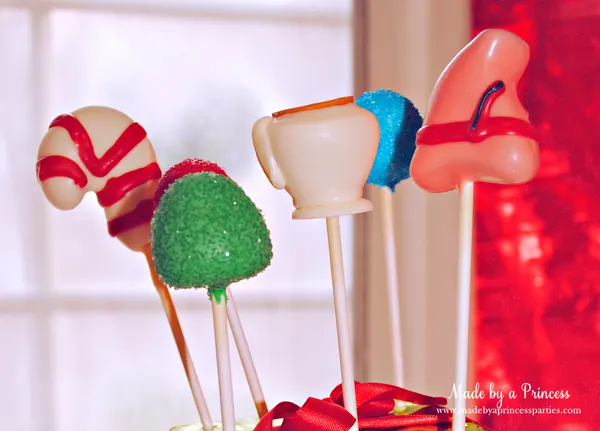 Brittany Rumohr of Edible Details sent me the most beautiful snowflake cupcake toppers that sparkled and shimmered and were such a big hit. I actually faked it; I used Hostess cupcakes, some frosting, and snowflake sprinkles.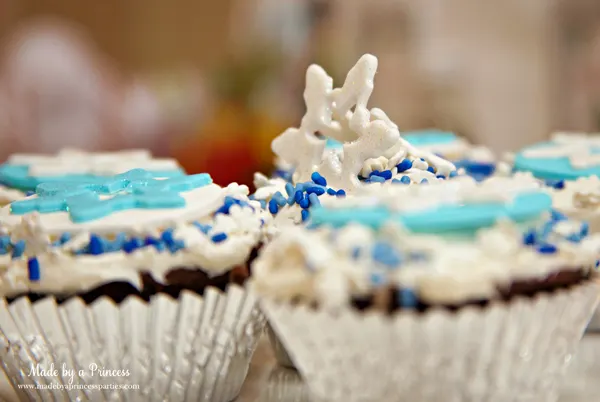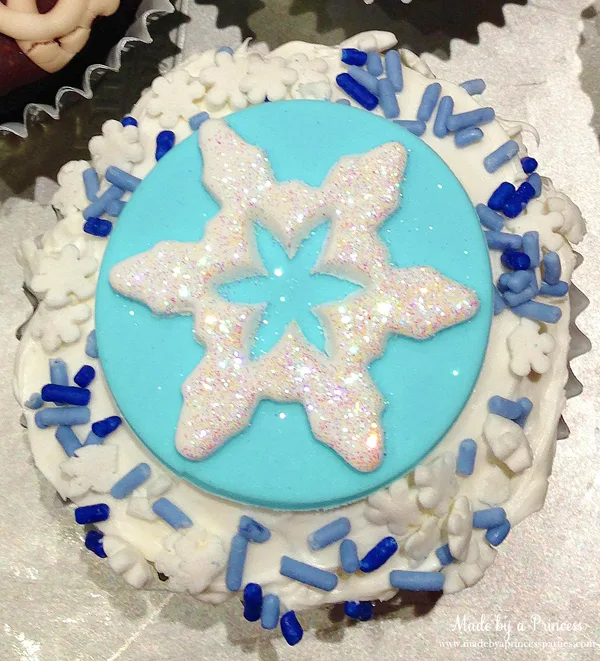 Candy Cane Forest
Want to make your own candy cane forest? Stick candy canes in a sheet of Styrofoam and cover with "snow". You can find bags of fluffy snow at your local craft store.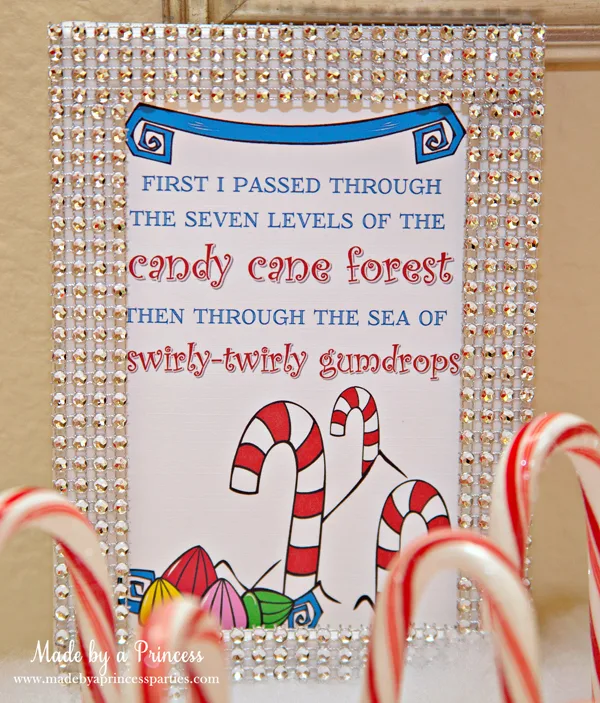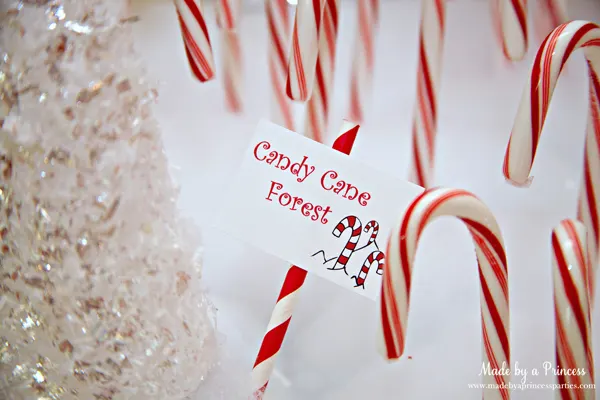 Cover a Styrofoam cone in Mod Podge and roll in glittery snow. Bags of loose snow can be found at your local craft store along with the bags of fluffy snow.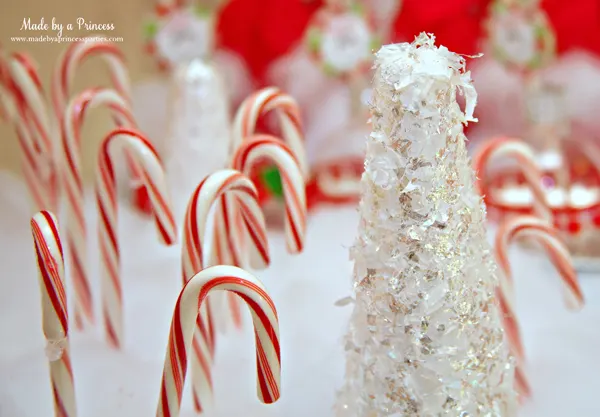 Mr. Narwhal
One of my favorite characters from the North Pole is Mr. Narwhal. He is so misunderstood! All he wants to do is say goodbye to Buddy and everyone scatters when he pops up. I suppose if I were a penguin I'd make a beeline out of there if a narwhal popped up!
The Narwhal Nibbles (Swedish Fish) were eaten in about two seconds by the kids so I could not get a picture of them.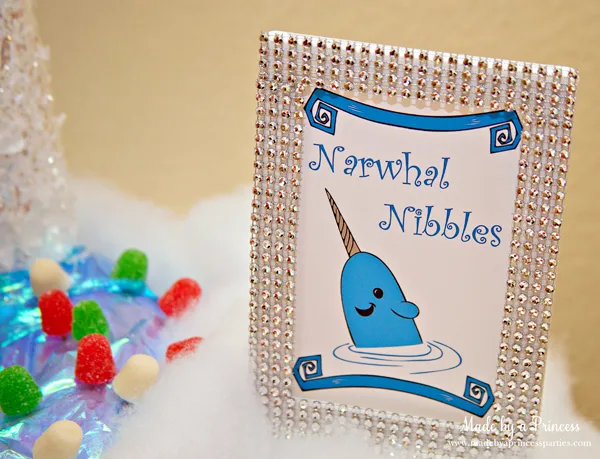 Sea of Swirly Twirly Gumdrops
If you have an, "ELF" themed party you must have a Sea of Swirly Twirly gumdrops! To make your own, cover a Styrofoam ring in blue cellophane to look like water, then stick toothpicks all around, and place gumdrops on the toothpicks.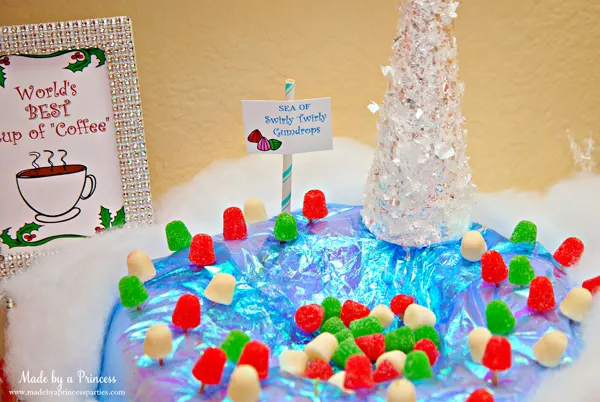 Decorate wooden forks with Christmas stickers to make them match your them.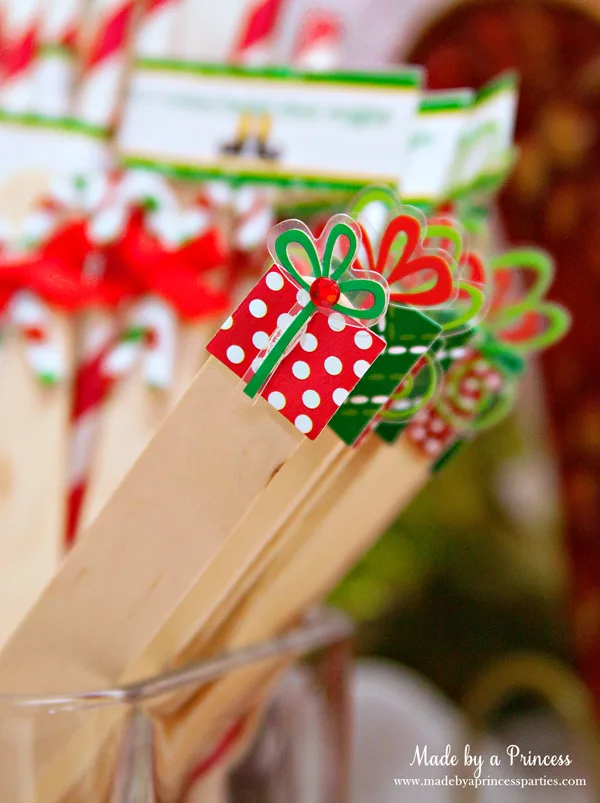 Attach custom straw flags with a favorite movie quote, "I'm a cotton-headed ninny muggins" to red and green paper straws.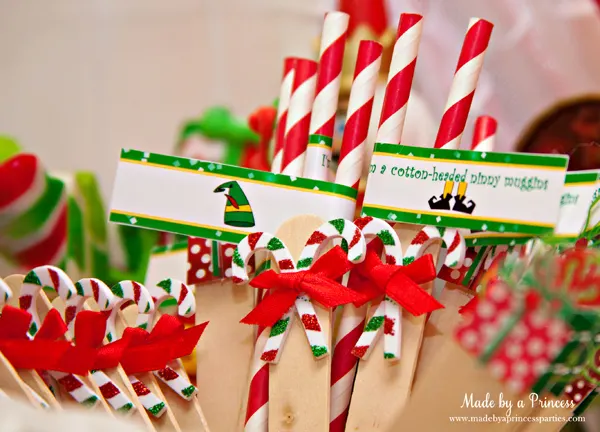 Buddy the Elf, What's Your Favorite Color?
Years ago I met Will Ferrell at a charity golf tournament and he graciously agreed to sign our,"ELF" DVD. He signed it, "Glenn, what's your favorite color? Will Ferrell". I die.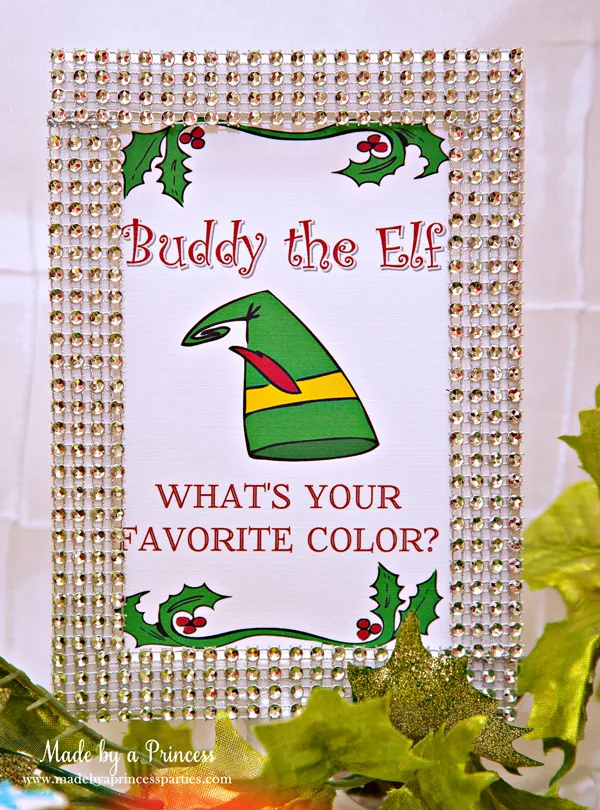 World's Best Cup of Coffee
Drank The World's Best "Coffee" (hot cocoa) out of ornament shaped cups made out of Aquaballs decorated with some bling and pom pom trim. This is an easy craft that will score you major crafty mom points!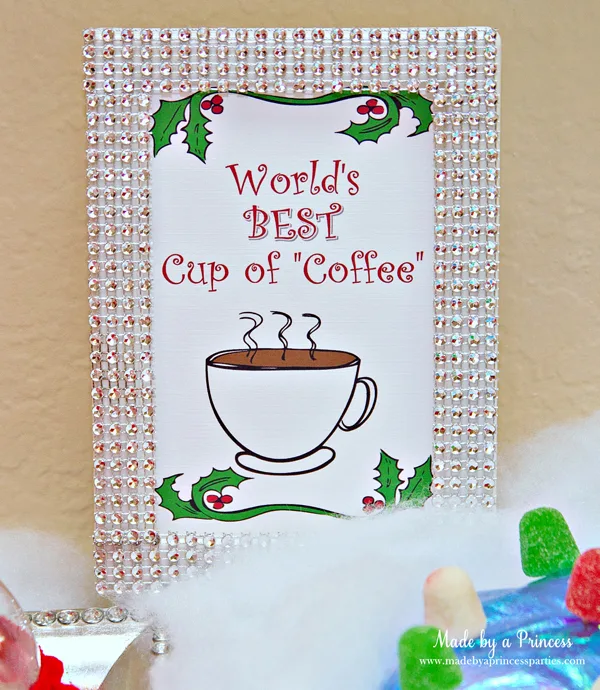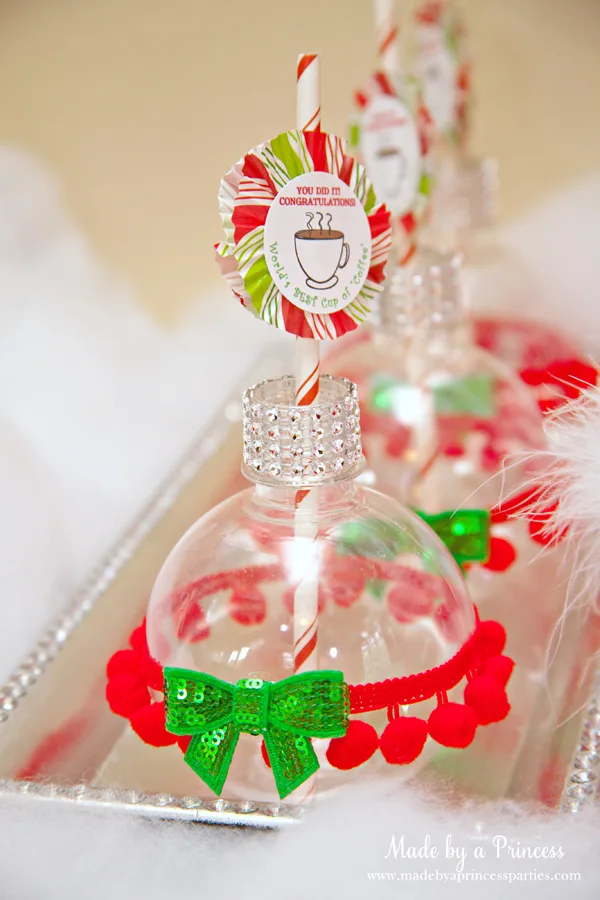 Dress up your water bottles to look like Santa. With some mini Santa hats, scarfs, red felt, and tiny white pom poms you will have the cutest water bottles ever!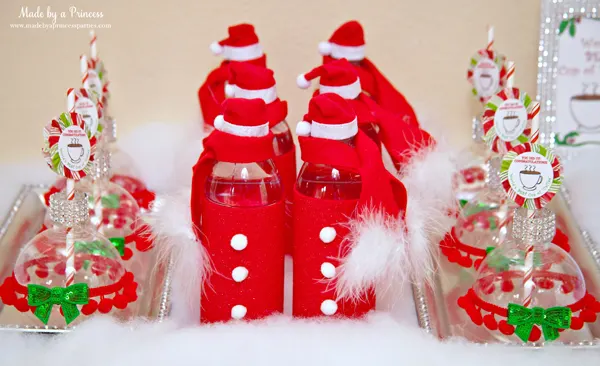 We had a Toy Testing station complete with a Mr. Potato Head, Etch-a-Sketch, Jack-in-the-Box, and teddy bears. Each child also had a special Buddy or Jovie hat to wear that I made using my Silhouette and ribbon.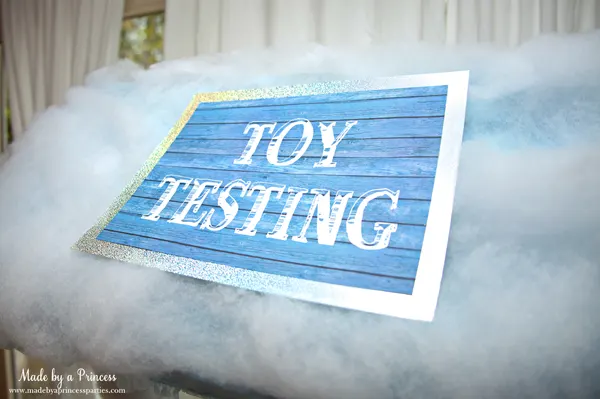 I found indoor snowballs online so the kids had fun throwing snowballs at each other. I am still finding snowballs hidden all over my house!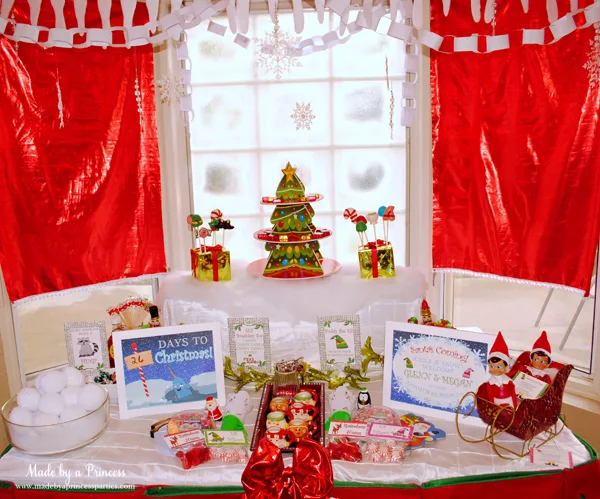 One of my favorite parts of the party was my 2.5 year old daughter's outfit. I have admired Kristal Lee of Atutudes and her work for years and was so excited to work with her. I contacted her a couple of months ago about making a Jovie the Elf tutu dress and was giddy/teary the day the box was delivered. You can see my daughter's reaction in the video on Instagram. She was running around the backyard and refused to take it off. I had to bribe her to get it off for bath time! Even now she will not let anyone touch her Jovie dress and will tell anyone, "Kristal made it for ME. Don't touch it. Please."

The same is true of the Jovie hat my friend Keisha Sibert of Cupcake Wishes and Birthday Dreams made for her. Oh my goodness…the whole outfit put together looked like she just stepped out of the movie and was ready for her little elf closeup! I am so lucky to have such talented friends!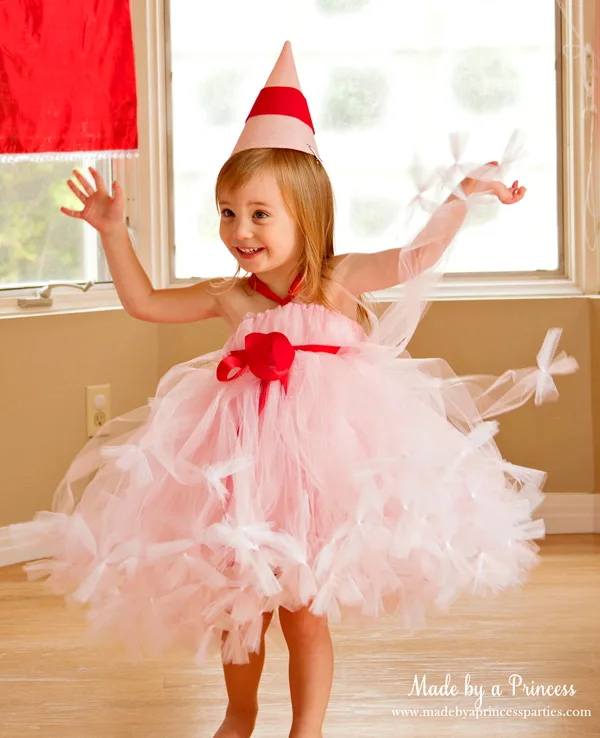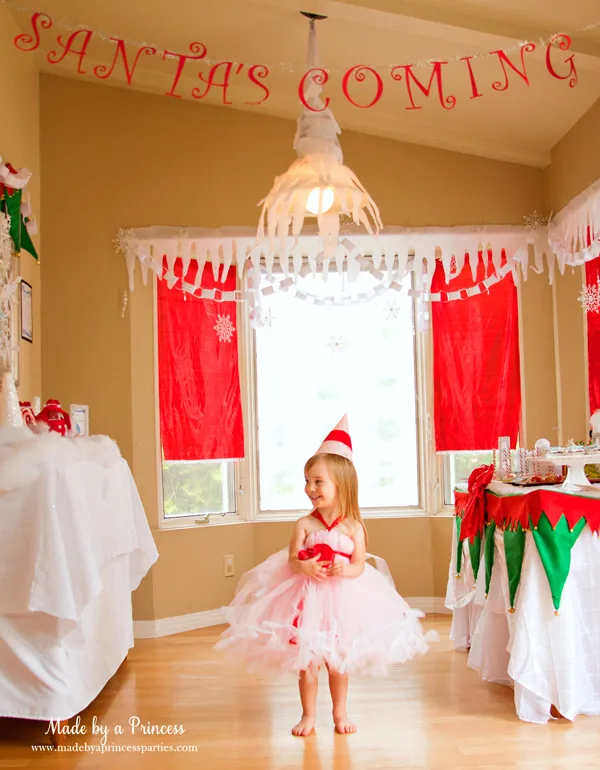 A huge thank you to my friend and photographer,
Maria Healey
, who came as a guest with her sweet little boy but ended up saving the day and took all of these wonderful photos for me. In all the prep the one thing I forgot to do was charge my camera battery! Disaster diverted thanks to a sweet friend. I would like to point out that you can see a huge difference in the pictures I took before my camera died and the pictures Maria captured. Having a professional shoot your party is way better than trying to do it yourself if you are a novice like me!
Until next year…Merry Christmas & Happy New Year!
Styling and Printables: Made by a Princess Parties in Style
Custom Elf images: Sunny by Design
Photography: Maria Healey Wedding Photography
Jovie the Elf Tutu Dress: Atutudes
Jovie the Elf Hat: Cupcake Wishes and Birthday Dreams
Matching Cookies: Auntie Bea's Bakery
Matching Cake Pops: Elaine's Cake Pops
Snowflake Cupcake Toppers: Edible Details
Ribbon Banner: A to Zebra Celebrations
Labels for straw flags: OnlineLabels